ST. LOUIS — Hospitalizations for COVID-19 in the St. Louis region continue to drop despite a slight uptick in new admissions for the disease, the St. Louis Metropolitan Pandemic Task Force reported Tuesday.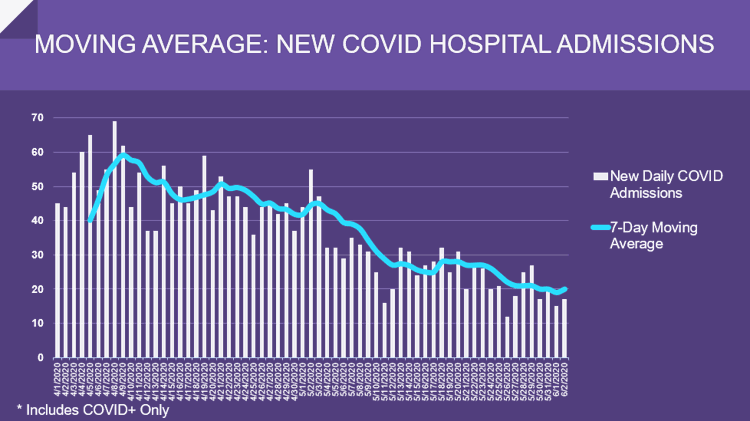 The average number of COVID-19 patients in the hospital over the past week fell from 363 to 354, the task force said.
But hospital admissions for new patients with the disease rose from 15 to 17, with the seven-day moving average of admissions up from 19 to 20.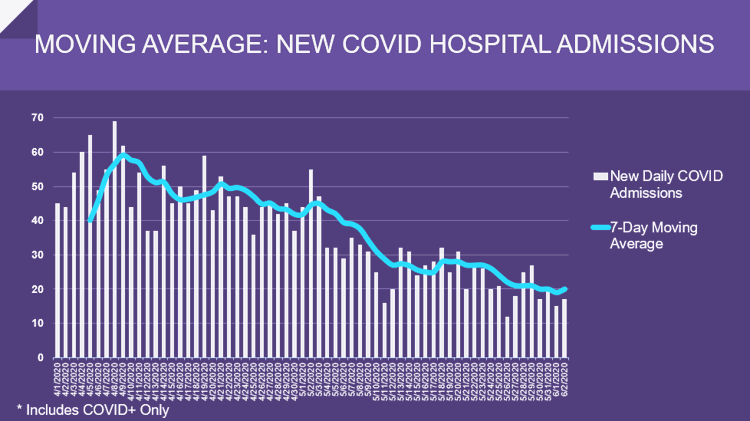 The number of patients in intensive care units fell from 78 to 68 on Tuesday. The number on ventilators fell from 53 to 46.
The task force compiles numbers from four leading health systems in the region: BJC HealthCare, Mercy, SSM Health and St. Luke's Hospital.
Missouri on Tuesday reported 248 additional positive cases and eight additional deaths, increasing the toll to 783. Illinois, by contrast, saw 1,614 new cases and 113 additional deaths, bringing the number of dead to 5,525.
St. Louis County, which accounts for more than half of the COVID-19-related deaths in the state, recorded 50 new cases, for a total of 5,084, and one additional death.
The city of St. Louis and St. Charles and Franklin counties each reported one additional death from the disease. Jefferson County reported three new deaths.
During a press conference Tuesday that was largely devoted to the governor's condemnation of protest-related violence, Missouri Health Director Dr. Randall Williams spoke of the state's push to increase testing.
"We now have more than 20 labs in Missouri that are doing the testing," Williams said, "We have a capacity now to do 11,000 a day."
Among testing opportunities available in the St. Louis area:
• Total Access Urgent Care is providing tests at two of its locations that can yield results within 30 minutes. The two centers — at 1090 North Highway 67 in Florissant and 12616 Lamplighter Square in South County — are using the Abbott molecular test, which analyzes nasal swabs and has been approved for emergency use by the FDA.
The Florissant location was chosen because nearly 20% of patients seeking tests there were found to be infected, compared to just over 9% for the rest of the region, company officials said.
The FDA warned two weeks ago, however, of possible inaccurate negative test results and is working with Abbott to address the problem."This test can still be used and can correctly identify many positive cases in minutes. Negative results may need to be confirmed," Dr. Tim Stenzel with the FDA stated in a press release.Missouri's public lab Jefferson City takes 24 hours to process results once specimens are received, while private labs take anywhere from one to six days, said Lisa Cox with the Missouri Department of Health and Senior Services. Hospitals also have their own tests with quick turnaround.Total Access' health insurance partners have agreed to cover costs of visits related to COVID-19, according to a company press release. Uninsured patients will have to pay $99 upfront. The cost will be submitted to a federal relief fund, and patients will be reimbursed later. The cost is not covered however, for Medicaid patients.
• The St. Louis Housing Authority will host two free testing opportunities: from 9 a.m. to noon Wednesday at Al Chappelle Community Center, 1401 LaSalle Lane, and from 9 a.m. to noon Thursday, at the housing authority headquarters, 3520 Page Boulevard. Patients are asked to bring identification and evidence of health insurance, if available. Results will take three to five days.
• The Family Care Health Center at 401 Holly Hills Avenue in St. Louis will also offer free testing for those with symptoms from 9 a.m. to 1 p.m. every Wednesday .
Concerned about COVID-19?
Sign up now to get the most recent coronavirus headlines and other important local and national news sent to your email inbox daily.