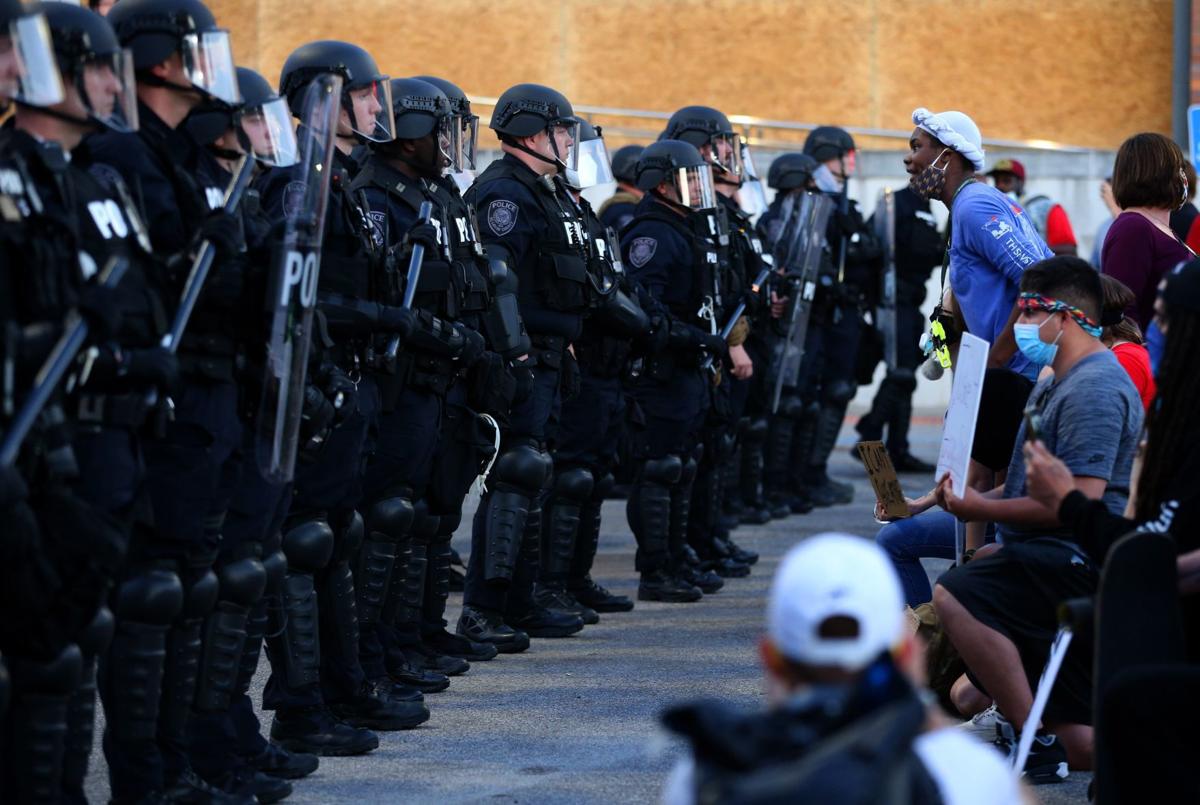 ST. LOUIS — As protests continued for another day over the death of a black man in Minneapolis, St. Louis-area officials expressed concern Monday that demonstrations could allow the coronavirus to further spread and urged protesters to take precautions.
"We can't stop thinking about COVID," Krewson said. "We know that black and brown communities have been more devastated by COVID than white communities. We don't want these protests to contribute more to that tragedy."
The protests come in response to a widely shared video in which George Floyd can be seen and heard telling Minneapolis police that he can't breathe as one officer knelt on his neck for several minutes May 25. An autopsy determined Floyd died of asphyxiation and one officer has been charged with third-degree murder in his death.
Krewson on Monday encouraged protesters to self-quarantine in an effort to prevent the spread of the virus.
"(Self-quarantining) is a good idea," she said. "I could say it, and I imagine it will fall on deaf ears. I just want to say COVID is still out there and being transmitted in our community."
With the reopening of many St. Louis businesses two weeks ago, Krewson said the St. Louis Metropolitan Pandemic Task Force is monitoring if hospitalizations for COVID-19 increase. Health officials also must watch to see if the protests drive up infection rates, she said.
Large protests in the St. Louis region began on Friday and have continued each day since then.
"Any time that you get more people together in a more confined space, it's always going to increase your probability of the risk of transmission," Dr. Alex Garza, head of the task force, said Monday. He encouraged anyone participating in a protest to wear a mask.
Hospitalizations due to the virus continue to drop, he said.
Missouri health officials say the state has seen at least 13,327 cases and 775 deaths. The state of Illinois has counted at least 121,234 cases and 5,412 deaths.
There have been more than 1.8 million cases recorded nationwide and 104,799 deaths, according to a database maintained by Johns Hopkins University. The number of U.S. deaths make up 28% of the world's deaths, according to the university.
He previously announced millions in budget cuts and now says another $209 million must be eliminated, with more than $131 million coming from K-12 education.
"These were extremely difficult decisions I never thought I would have to make in just a few months," Parson said during a press briefing.
Meredith Pierce, spokeswoman for St. Louis Public Schools, said the district previously participated in a conference call with other districts where cuts were discussed.
"So we were not surprised by the announcement, and like our colleagues in districts across the state, we are working through our 2020-2021 school year budgets with these restrictions in mind," Pierce said.
"There'll be limits on crowd sizes, requirements for masks, social distancing and cleaning and disinfecting protocols, all necessary to make sure that employees and their patrons are kept safe as more people are out and about," county Executive Sam Page said at a news conference.
"This is no time to be selfish. This is no time to think that you are an exception for the rules," Page said. "Common sense saves lives and bad decisions will jeopardize the good work that we've done to get us to the point where we are today."
Jack Suntrup and Jeremy Kohler of the Post-Dispatch contributed to this report.
Concerned about COVID-19?
Sign up now to get the most recent coronavirus headlines and other important local and national news sent to your email inbox daily.