ST. LOUIS — Upon hearing the news that children ages 12 through 15 would be able to get COVID-19 vaccine shots as soon as Thursday, Kerri Alper of Chesterfield immediately booked 7:40 a.m. appointments at Mercy for her two young teens.
After more than a year of not doing much outside of going to school or work, "getting the girls vaccinated is the last piece of the puzzle to safely return to more normal," said Alper, 48.
Parents of busy and social young teens are particularly excited about the latest federal approval for use of the Pfizer vaccine in those as young as 12. Appointments are already booked with area hospital systems and some school districts are hosting clinics on campus, with hundreds of students signed up.
Stephanie Kirk's 13-year-old son is among about 700 mostly middle schoolers who have signed up for vaccination clinics scheduled for Wednesday at the middle and high schools in the Clayton School District.
Kirk, 55, said it's been difficult to balance letting her son, Eddie, be a typical teenager with keeping him healthy. She lets him play with friends outside and indoors with masks on, but in the back of her mind, she is always worried.
She's concerned about rare cases of multisystem inflammatory syndrome seen in children after getting COVID-19, and the long-term and sometimes severe symptoms about which doctors are still learning.
"He's a bit more independent now, so this also makes me feel better when he's out and about with his friends," Kirk said. "This is just an extra layer of safety I can feel less stressed about."
She can also worry less about him possibly spreading the coronavirus to others, and even think about a visit to the United Kingdom to see his grandparents, she said.
Some area families did not even wait to get the vaccine until final hurdles for approval were met: endorsement from the U.S. Centers for Disease Control and Prevention, which came Wednesday afternoon, and the green light along with guidelines from the Missouri Department of Health and Senior Services, which came Wednesday night.
Many parents got their young teens and preteens vaccinated after the Food and Drug Administration on Monday approved the Pfizer vaccine for emergency use in the younger age group. The families were able to find appointments Tuesday and Wednesday at some Mercy locations.
A federal walk-in clinic at The Dome at America's Center in downtown St. Louis turned such families away, and other hospital systems and schools also said they weren't scheduling appointments or clinics before Thursday.
State health department officials said vaccinators are supposed to wait, but Mercy officials said they believe that while the CDC's recommendation provides further guidance, the FDA approval was all they needed to proceed.
"We felt it was important to act expeditiously to meet the needs of our 12- to 15-year-old patients," read an emailed statement from Mercy spokeswoman Bethany Pope.
The FDA reviewed a study of more than 2,000 12- to 15-year-olds that found that giving them the same dose as adults is safe and strongly protective. There were no cases of COVID-19 among volunteers given the two-shot vaccination compared with 16 in the group that was not vaccinated. Kids also developed higher levels of virus-fighting antibodies than vaccinated adults.
Pfizer is not the only company seeking to lower the age limit for its vaccine. Moderna recently said preliminary results from its study in 12- to 17-year-olds show strong protection and no serious side effects, data the FDA will need to scrutinize. Both companies have begun tests in youngsters ages 6 months to 11 years.
'Another layer of protection'
Dr. Jason Newland, pediatric infectious disease physician with St. Louis Children's Hospital, said while children have largely experienced few complications with COVID-19, it is still important for them to get vaccinated.
Over 400 children have died from COVID-19, Newland said, and more deaths can be prevented with a safe vaccine.
"Children ages 12 to 15 can definitely transmit this virus just as well as an adult … so adding another layer of protection with another group who's vaccinated just helps those who are most vulnerable," he added.
Newland's 15-year-old daughter is scheduled to get a dose Friday. "It's really exciting to a lot of kids out there who have watched their friends and family members get vaccinated, and they've seen that now they get to do more things," he said.
Teens as young as 16 got the green light for the Pfizer vaccine in Missouri on April 9. State data shows 23% of those ages 16 to 24 have started the two-dose regimen given three weeks apart. Nearly 50% of Missourians ages 18 and over have initiated vaccination.
Once fully vaccinated, which is two weeks after getting the second dose, individuals with no symptoms no longer have to quarantine after close contact with someone who tested positive.
Sharonica Hardin-Bartley, superintendent of University City School District, said 94 eighth graders were home in quarantine this week. If vaccinated, more students would be able to stay at school.
"That is enough for me to advocate for the vaccine," Hardin-Bartley said. "We need to keep schools open, and I need to ensure that staff and teachers and our school community that we are safe."
She said she's seen children's mental health decline from isolation. She's also seen families struggle from losing a loved one to COVID-19, or not able to work and fall behind financially.
Upcoming clinics
On Wednesday, the University City district is partnering with the Urban League of Metropolitan St. Louis to host a vaccine clinic at its middle school in hopes of removing any barriers to families finding doses, Hardin-Bartley said.
"By hosting a clinic on site, it helps to make it more accessible and it helps us to further emphasize the importance of getting the vaccine," she said.
Heather Christman, nurse coordinator for Clayton schools, said the district decided to host vaccination clinics at school after repeated requests from parents. Their kids are eager to no longer have to miss school events or sports practices, and Christman is eager for some normalcy as well.
"I could be having dinner on a Sunday night and have to stop and quarantine a class," she said.
Ladue School District also is hosting an after-school vaccine clinic for students age 12 and older for two hours Friday at its high school. More than 370 students have signed up for the full event, officials said.
Schools allow students to get doses on their own with consent forms from parents. It's the same with the St. Louis County Department of Public Health, which provides printable forms on its website. Hospital systems require an adult guardian to be present.
Kathryn Fair, 49, of St. Louis, said she has been counting the days until Tommy, 12 and her youngest child, could get the vaccine. She, her husband, and 17-year-old son are all inoculated.
Tommy's life revolves around sports, she said. He is on three hockey teams and plays lacrosse and baseball. The reports of heart damage from COVID-19, even in professional athletes, petrified her.
As soon as he gets through hockey tryouts this week, she is taking him to get the vaccine, she said. Then she's looking forward to visiting older relatives and letting her teens have more freedom.
"They can have a summer, you can think about camp or travel, you at least just don't have to be so worried all the time," Fair said. "It will be so good to get our lives back. It just feels like everything has been on hold."
Photos: Vaccines open to 12-15-year-olds as older teens get final shots
Vaccines rolled out for 12-15-year-olds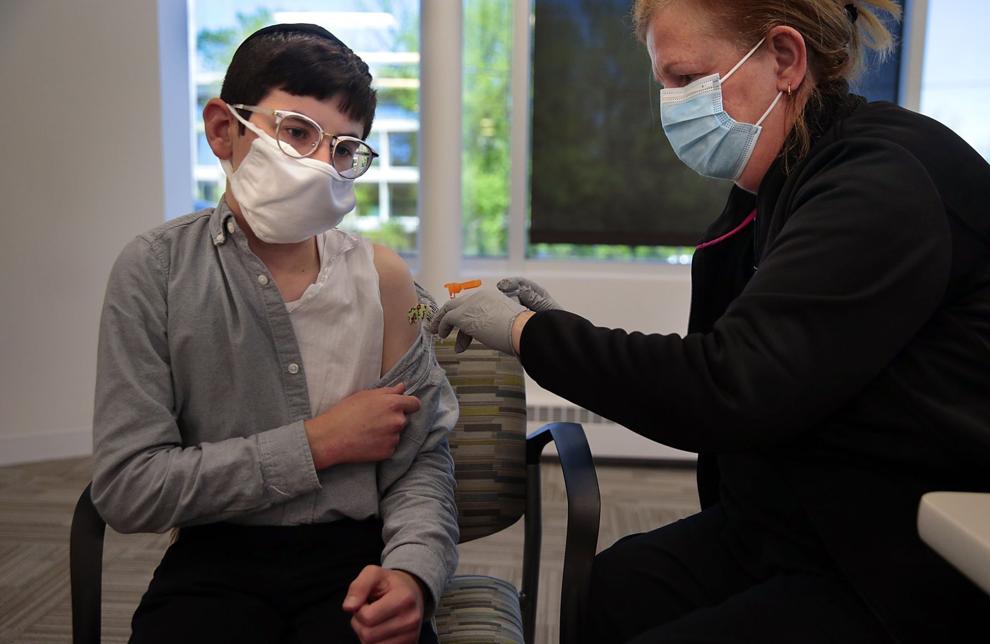 Vaccines rolled out for 12-15-year-olds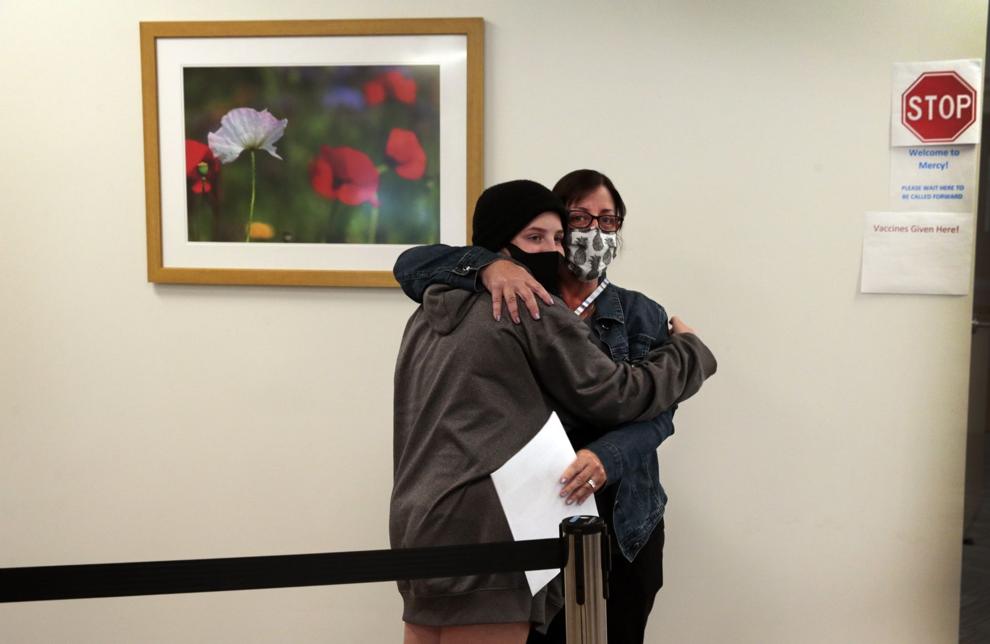 Vaccines rolled out for 12-15-year-olds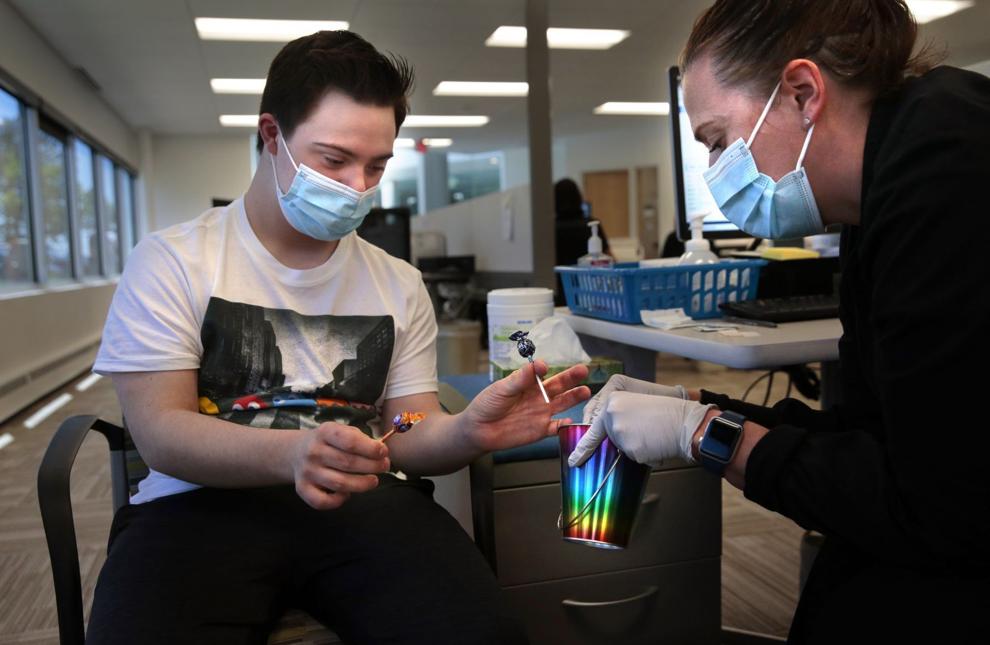 Vaccines rolled out for 12-15-year-olds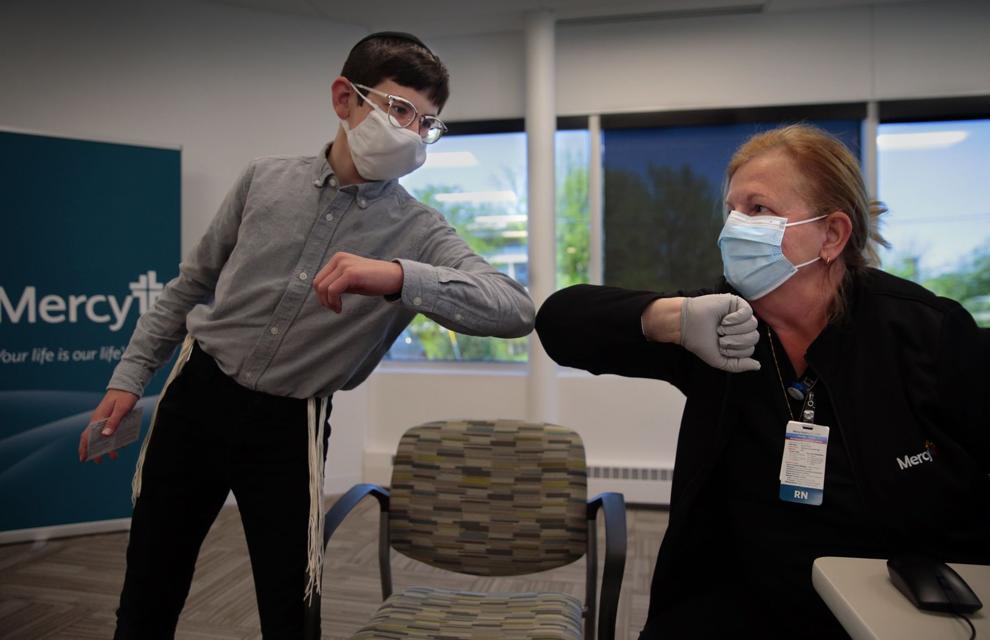 Vaccines rolled out for 12-15-year-olds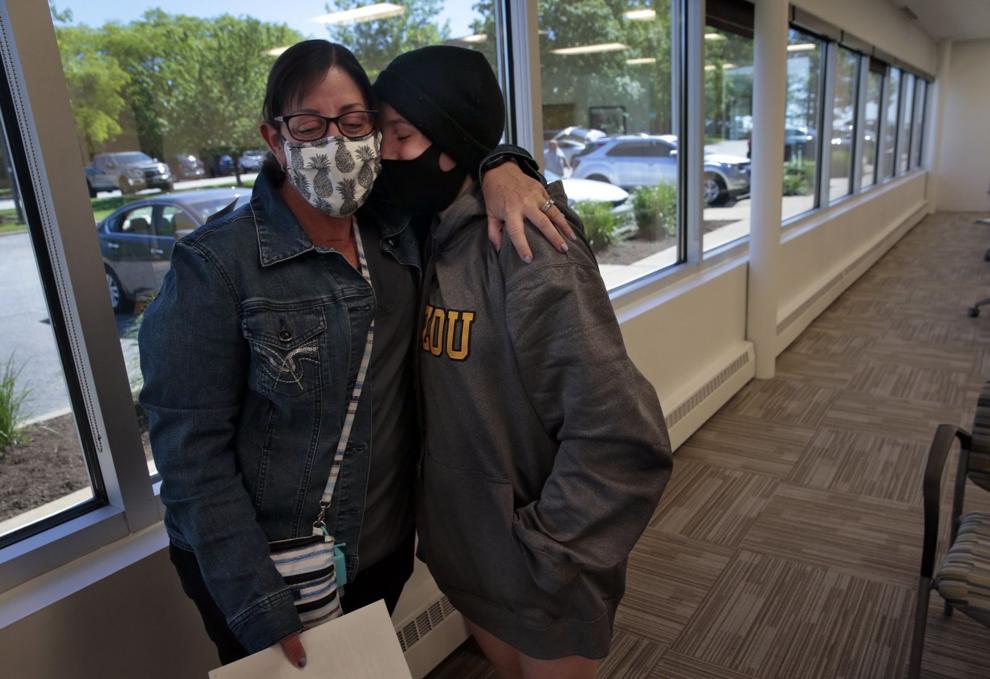 Vaccines rolled out for 12-15-year-olds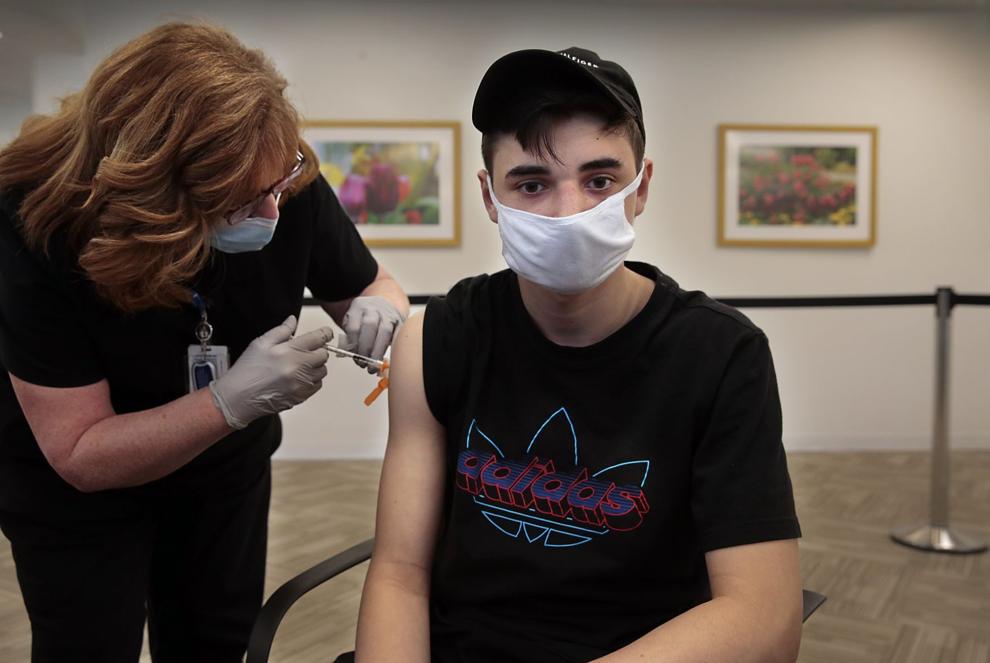 Clayton HS students ages 16 and up get fully vaccinated
Clayton HS students ages 16 and up get fully vaccinated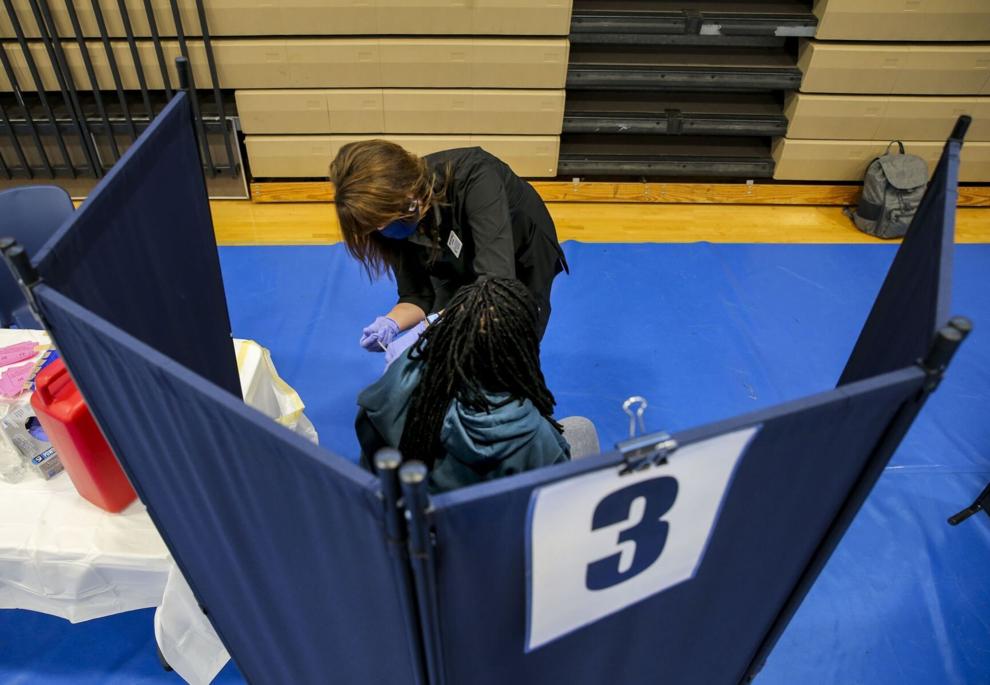 Clayton HS students ages 16 and up get fully vaccinated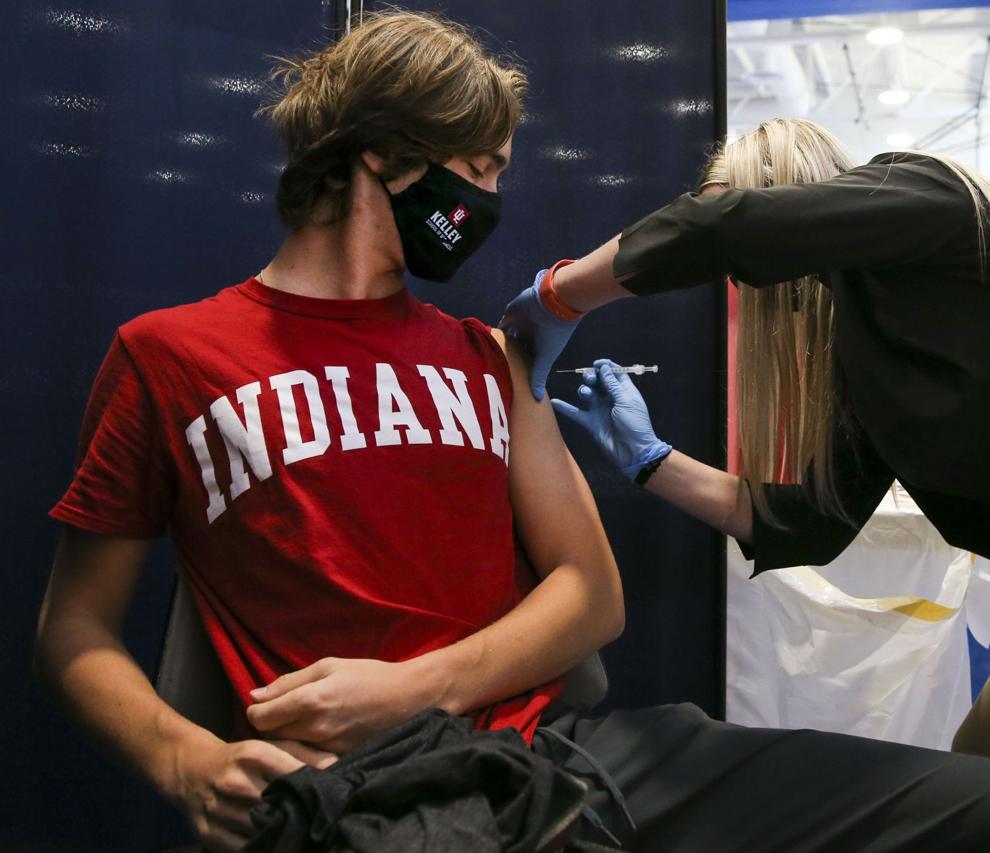 Clayton HS students ages 16 and up get fully vaccinated
Clayton HS students ages 16 and up get fully vaccinated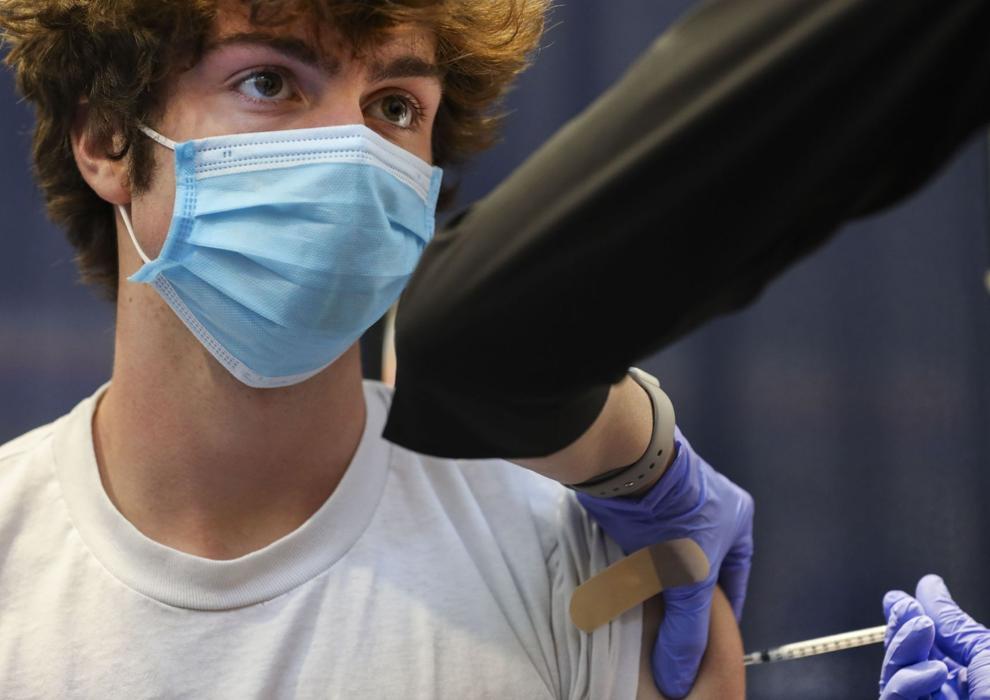 Clayton HS students ages 16 and up get fully vaccinated