ST. LOUIS — When COVID-19 took hold here in 2020, local health departments didn't have the staff, tools, or technology they needed. Asking employees to work overtime was often the answer, according to an analysis of local government payrolls.
In St. Louis County, home to 1 million people, the health department was armed with 10 COVID-19 tests, a paper-based system for reporting and tracking the virus, and as one former official put it, a highly competent but "horrifically understaffed" team of contact tracers trying to find and alert people who had been exposed to the potentially fatal illness.
St. Louis and St. Louis County together have now logged more than 325,000 cases of COVID-19, and nearly 4,300 deaths. The region has spent millions of dollars on overtime so that health departments could build up a COVID-19 response out of shoestring infrastructure.
But the agencies are still overburdened and understaffed, and some officials fear there's little public and political will to fund the tracking, communications and data management systems that will become critical when another crisis hits.
"I think what we lifted out of nowhere, on the back of nothing, in a really limited amount of time was amazing," said Spring Schmidt, former deputy director of the St. Louis County Department of Public Health.
The work came with financial and personal costs.
During the first two years of the pandemic the St. Louis County health department logged four times as many overtime dollars as it did in 2017 and 2018. In the city of St. Louis, public health nurses went from making nothing in overtime, pre-pandemic, to thousands annually.
Health department employees worked beyond their shifts answering endless phone calls from panicked residents. They traced contacts. They developed protocols for quarantine and isolation. They launched testing centers and then vaccination centers. They guided residents through some of the most difficult days of their lives, all while receiving anger and abuse from a frustrated and frightened public.
"Everything, for two years, was just go, go, go," said Will Bogan III, a community health service manager at the St. Louis County health department. "It seemed like everything was a small fire."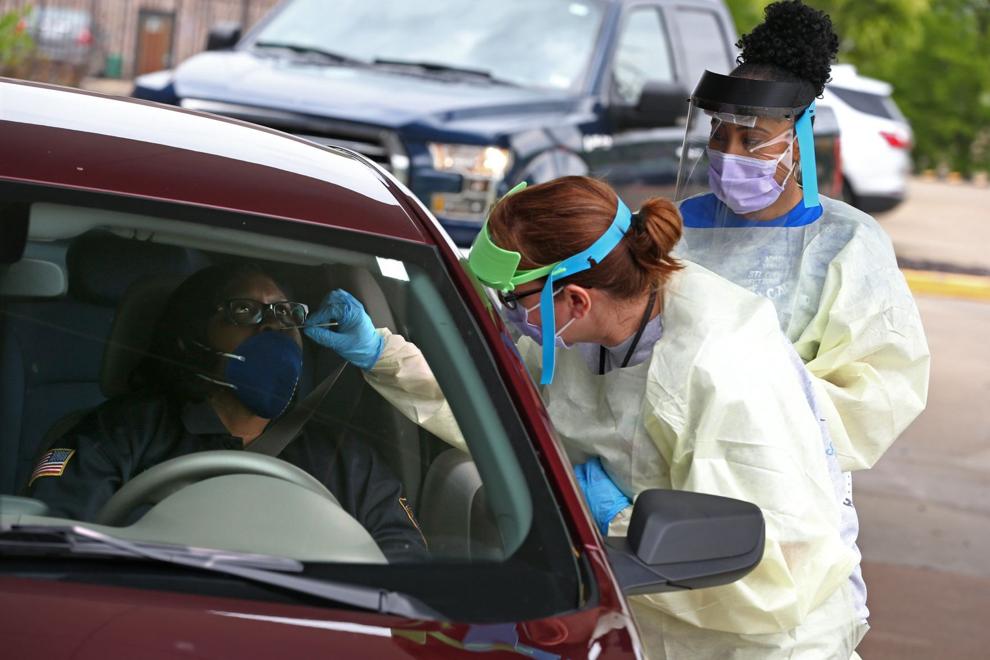 COVID-19 hits
In normal times, public health workers inspect restaurants, pools, hotels and day care centers. They educate and vaccinate, test for sexually transmitted infections. They track and investigate communicable and chronic diseases, and mosquito and tick-borne illnesses.
Health departments touch nearly all aspects of daily life, but it's a business of prevention and was largely unseen by the public before the pandemic.
That changed March 7, 2020, when Missouri's first known COVID-19 case was reported in St. Louis County. Public health workers were on the front line of fighting a new virus that was spreading fast, filling up hospital intensive care units and killing hundreds.
Knowledge of the virus and medical guidance constantly evolved. Every day, hundreds of residents called their local health departments with questions no one yet had definitive answers for.
The crisis required an all-hands-on-deck response. Restaurant inspectors started enforcing mask rules. Computer programmers became customer service representatives. Employees were pulled from all areas to staff the newly organized 24/7 call center, talking with people who were sick or believed they'd been exposed, or phoned to complain that the county had too many restrictions — or not enough.
Alex Bukatko, at the time a county biostatistician and epidemiologist, was assigned to answer phones. He said he suspects the county's overtime bill began to climb when the virus began to spread in local schools.
The Post-Dispatch requested payroll numbers and found that in 2020 and 2021, St. Louis County health department employees worked $3.3 million worth of overtime — up from $758,000 in 2017 and 2018 (the county was unable to provide department-level salary data for 2019).
Search the salaries of thousands of St. Louis-area teachers, mayors, judges, police officers, engineers and more with our Public Pay database. 
Federal aid paid for roughly half of the overtime worked in 2020 and 2021, said county health department spokesman Chris Ave. The county had to cover the rest.
"It was a massive investment," said Schmidt, the former deputy director. "But that's a trained staff person who already works for the health department, has the infrastructure and all of the rest of that stuff in place. That's not replicable in the middle of a pandemic, no matter how much money you have."
In 2020, the county health department staffed 722 positions, and in 2021, it had 673.
The city of St. Louis didn't provide department-level salary data to the Post-Dispatch, but did show a modest increase in overtime for city nurses.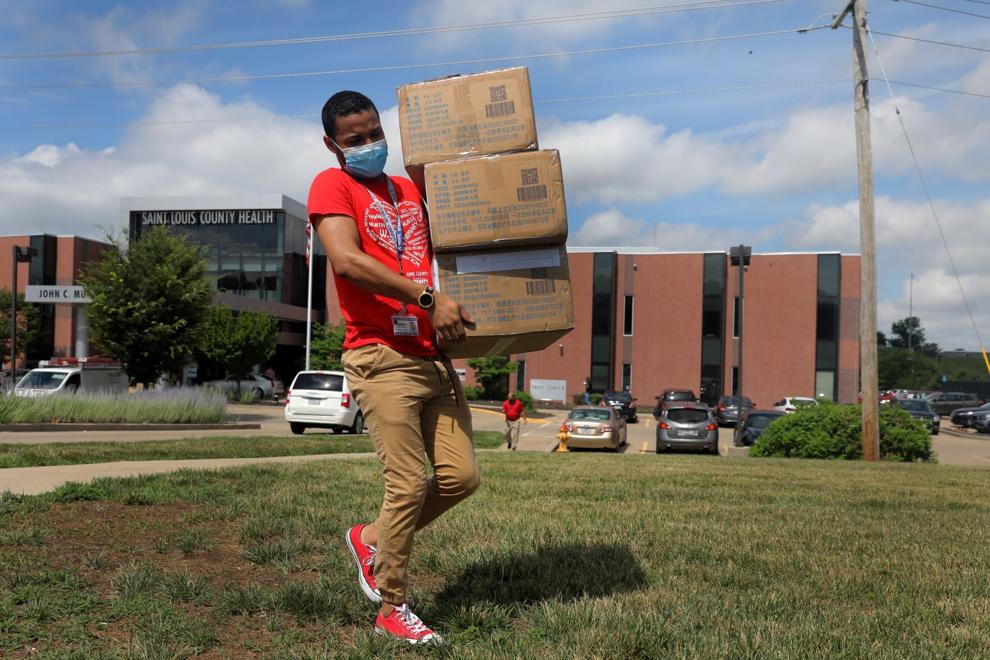 Endless calls, complaints, fatigue
Crystal Ellis had just been hired to work on the St. Louis city health department's HIV prevention team when COVID-19 hit. She was still in the middle of onboarding when she was diverted to work the phone lines.
The phones essentially became complaint receptacles, Ellis said. A resident would call to report a business or person breaking social distancing guidelines, and the health department would refer the caller to the city's customer service line, the Citizens' Service Bureau. The bureau would sometimes refer the caller to the police, Ellis said, who would refer the person again to the health department, or back to the Service Bureau.
Many COVID-19 complaints and reports were written on paper, and Ellis spent time digitizing the information and data in the reports. But she isn't sure if it was ever used for anything.
"Ninety percent of the time, all of the notes, and all of the things I wrote down, and everyone else on the phones wrote down — it didn't equate to change. It didn't equate to people making better behavioral health decisions," Ellis said.
Whitney Anderson was also pulled from the city department's HIV prevention team to staff phone lines. Especially at first, it was a tough job. The Centers for Disease Control and Prevention were still working to understand the virus.
"It was just a feeling of being helpless at times," Anderson said. "It's hard to address every question you have about this virus that the CDC doesn't even fully understand yet."
Anderson departed in May 2021 for a job in clinical oncology research at Washington University. Ellis left about a year ago for a job as a sexual health training coordinator at Planned Parenthood of the St. Louis Region, citing "COVID fatigue," and an offer for a better salary.
Ellis said she'd wanted to hold on and do more work in HIV outreach at the health department, but as she tried to return to that, the delta wave arrived. Then omicron.
Suzanne Alexander, the department's communicable disease bureau chief, said the city lost several of its case investigators and some of the HIV prevention team members who'd been drafted as contact tracers.
"A lot of people got 'COVID fatigue,'" Alexander said.
Bogan, the county health department staffer, was a business manager when the pandemic hit. He joined the department's COVID-19 task force and started working 12-hour days, often starting at 5 a.m. He helped put together the department's drive-thru COVID-19 testing sites over the course of three days. He accompanied doctors to residents' homes, hotels, and homeless shelters to help administer tests.
"It was scary," Bogan said. "It was putting yourself at risk, but it was for the greater good. It was scary, but it was worth it."
But by the following winter, when he helped organize the county's first vaccine clinics, he was exhausted.
"Up until January of 2021, I was boots-on-the-ground, whatever you need," Bogan said. "I had just gotten burned out. ... I couldn't even do overtime, when it was offered."
Bogan took another position in a county home health care program. Last fall he rejoined the COVID-19 team as a community health service manager.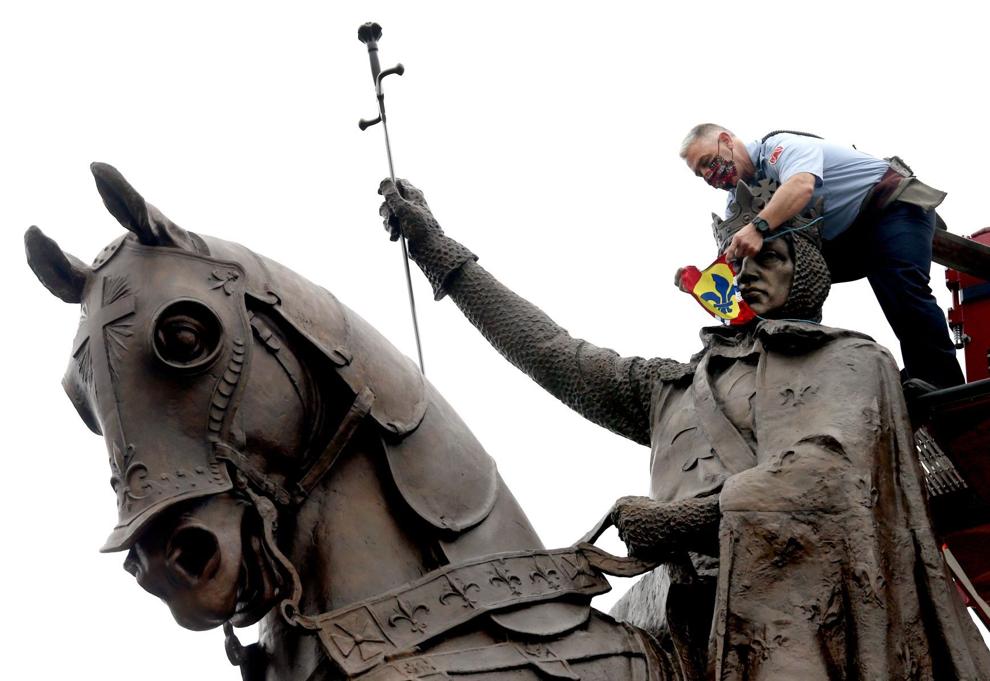 Lessons learned
Some lessons from the pandemic have been frustratingly obvious, public health workers said. Hospitals, local and state health departments, and medical providers must be able to easily and quickly share information about infections, potential exposures and health data — a need that remains largely unaddressed.
When COVID-19 took hold, it didn't take epidemiologists across Missouri long to realize the state's antiquated communicable disease reporting system wouldn't be able to keep up with the rapid spread of the virus. The state system required manual entry of case data, said Bukatko, the former county biostatistician.
"Having a system that is scalable to personnel doing outreach would have been great," Bukatko said. "The state system couldn't do that, and that's why the county had to build its own."
That system, however, is specific to COVID-19. Other older, slower systems are still used to track most other diseases.
"We were short on man hours, only so many people were able to do this work, and we needed everything yesterday," he said.
Planning and preparation require money and personnel — two resources that have stretched thin, health officials said, while they address other vital and constant needs, like opioid addiction, measles outbreaks and sexually transmitted infections.
Federal pandemic aid flooded into communities beginning in 2020 and paid for additional health workers. That influx has abated, leaving local governments to decide if they want to keep those staffing levels.
Part of the issue with gaining political traction for health department funding is that the work is often invisible to the public, said Adriane Casalotti, spokeswoman for the National Association of County and City Health Officials. That makes it difficult for the community to see the return on its investment for dollars spent on public health.
"When public health is most successful, people don't really know what you're doing," Casalotti said.