ST. LOUIS — The St. Louis region is getting less than half the COVID-19 vaccine doses it should based on population, area government and health officials said Tuesday, warning that the state's distribution policies are hindering the ability to reach residents who are most at risk of severe illness.
"We don't believe that we're being allocated the amount that we need in order to address the needs of our region given its population size," Dr. Alex Garza, head of the St. Louis Metropolitan Pandemic Task Force, told the Post-Dispatch.
For vaccine distribution, the state of Missouri is divided into nine regions, which mirror those used by the Missouri Highway Patrol.
About 2.2 million people, or 37% of the state's population, live in Region C, which includes the city of St. Louis and Franklin, Jefferson, Lincoln, Perry, Pike, St. Charles, St. Francois, St. Louis, Ste. Genevieve, Warren and Washington counties.
With the state receiving about 93,000 doses of COVID-19 vaccine a week, Region C should be getting more than 34,000 doses per week, Garza said. Instead, health care systems in the state's most populous region are getting only about 15,600 doses per week. And local public health departments and Federally Qualified Health Centers — neighborhood clinics that serve those without insurance or on Medicaid — are getting far less.
"This is why we are having a hard time getting to as many people as we can or meeting the needs of people that go to public health or FQHCs because we are not allocated enough to do that," Garza said.
Tim Brinker, the presiding commissioner of Franklin County, in an email Tuesday asked Gov. Mike Parson's office and Department Health of Senior Services officials for an explanation.
"There have been vaccination clinics cancelled in Region C as a result of the stated inequity of distribution to date. If there is an amount that would be fair and equitable, that amount would be 34,456 to match the 37% population represented by our State population ratio," Brinker, a Republican, wrote.
"Please know that I understand the shortage of available vaccines, but also know that I would not be fulfilling my duties as Presiding Commissioner if I did not request this action be explained or addressed as soon as possible."
Officials had not responded to his email by Tuesday evening.
On Feb. 1, the governor's office announced a plan that called on hospital systems to lead the way in vaccinating residents in their regions. Each week, 53% of vaccine doses would go to the selected hospital systems in each region. The amount would be based each region's population.
The next biggest chunk — 23% — would go to mass vaccination events led by the Missouri National Guard. Then slices got much smaller from there: 8% to public health departments, 8% to FQHCs and another 8% to community providers.
However, the mass vaccination events are not based on population and allocations to the public health departments and clinics don't appear to be either, Garza said.
At the mass vaccination events, about 2,000 people are vaccinated. While that can be a significant portion of the population in more rural regions, that's a drop in the bucket for Region C, Garza said.
"Those events are not proportional to the population," he said. "They are a one-size-fits-all approach."
When it comes to how many doses are going to public health departments and other clinics, Garza called the allocations a "black box" that seem hit or miss.
It's uncertain whether those amounts are based on population or not, he said. "They haven't told us how they make those allocation decisions."
The Post-Dispatch on Jan. 20 filed a records request under Missouri's Sunshine Law for data showing how much vaccine is going where across the state. The state has yet to respond to the request.
The St. Louis County health department was identified along with the region's hospital systems to get 53% of vaccine allocation because of its ability to vaccinate more than 5,000 people a week. It was the only health department across the state lumped in with the hospital systems to lead the vaccination effort.
Garza said task force hospitals were unsure if that meant they would have to split their allocation with the county health department. But county officials say they were assured by the state that the health department would continue to receive at least 3,900 doses a week, in addition to what the hospital systems were receiving.
Based on the expectation, the county set up five vaccine sites, including the John C. Murphy Health Center in Berkeley, the St. Louis Community College Florissant Valley campus in Ferguson, and the fire districts in Affton, Eureka and Mehlville.
Those plans, however, have suddenly changed course. St. Louis County is now entering its third week without any new shipments of doses and has relied on hospital systems to share some of their doses in order to meet appointments.
Christopher Ave, a health department spokesman, said the state now expects the county to get doses from the hospital systems, but they're not getting enough to do that.
"The St. Louis County Department of Public Health, whose mission it is to serve the most vulnerable among our million residents has no idea when or where or how it's getting its next shipment of vaccine," Ave said on Tuesday. "That's the bottom line."
The county has about 1,000 first doses left, Ave said, and it is using those doses to vaccinate elderly and disabled residents in group homes that are not among the skilled-nursing and assisted-living facilities getting vaccinated through a federal partnership with private pharmacies.
The county also has dozens of employees and volunteers taking vaccine registrations over the phone for those that don't have computer or Internet access to register with hospital systems. Over 280,000 people have registered for vaccine with county.
Garza said that while health systems can easily identify and reach their most at-risk patients, the public health departments and community clinics know how best to reach resident who face barriers such as lack of transportation, insurance or access to information about vaccine safety and registration.
State officials did not respond to requests for comment on Tuesday.
On Monday, Parson's office issued a release insisting that the vaccine distribution has been equitable across the state.
"Some want to push the narrative that we are not adequately supporting vaccine efforts for our urban populations, specifically in the St. Louis and Kansas City regions, but that is simply not true," Parson stated in the release. "Our targeted vaccination teams are working tirelessly to support critical populations, and high throughput metro hospitals are receiving shipments of Missouri's allotted vaccine doses that reflect the large regional populations they serve."
Photos: First responders vaccinated at SLU Hospital
Two hundred first responders were scheduled to be vaccinated on Monday, Feb. 1, 2021, and approximately 1,000 this week at SSM Health St. Louis University Hospital in St. Louis.
Photos: First responders vaccinated at SLU Hospital
First responders vaccinated at SLU Hospital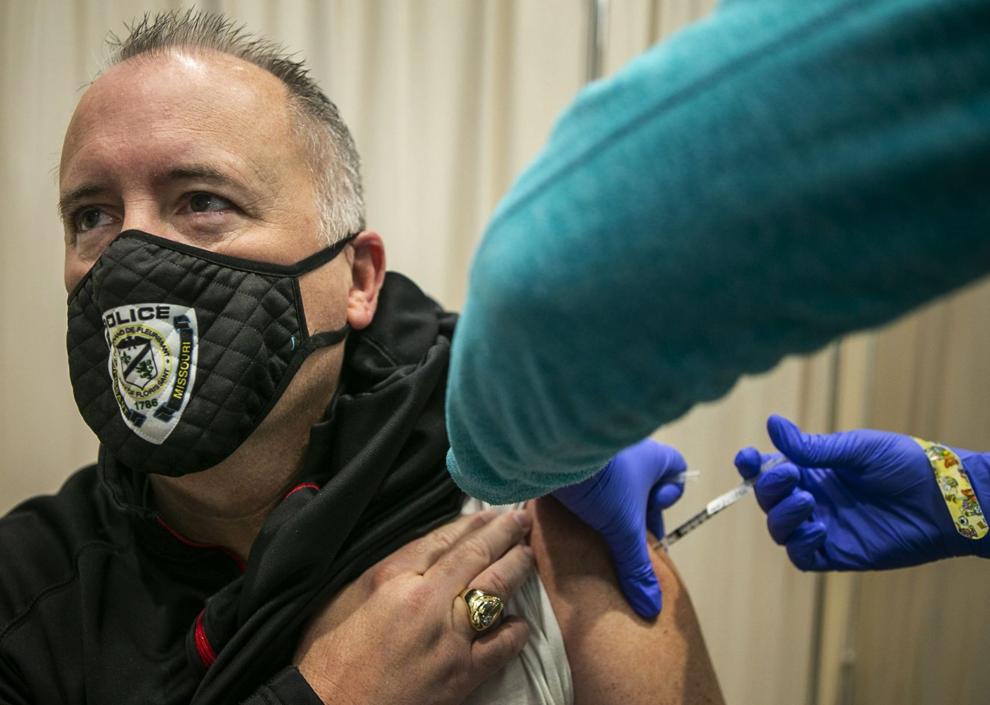 First responders vaccinated at SLU Hospital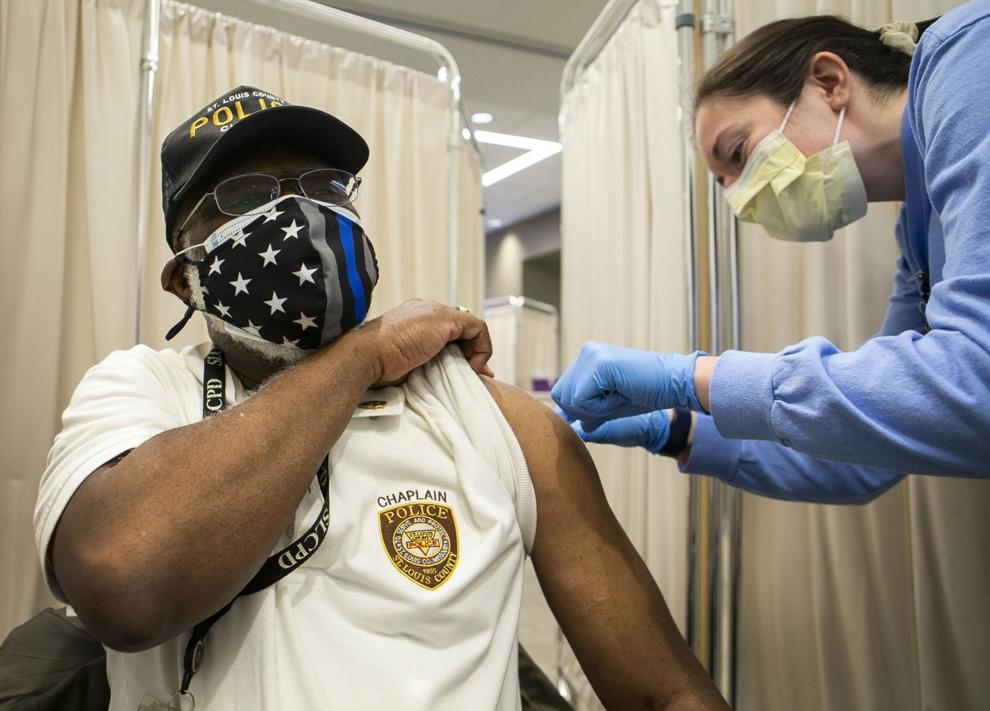 First responders vaccinated at SLU Hospital
First responders vaccinated at SLU Hospital
First responders vaccinated at SLU Hospital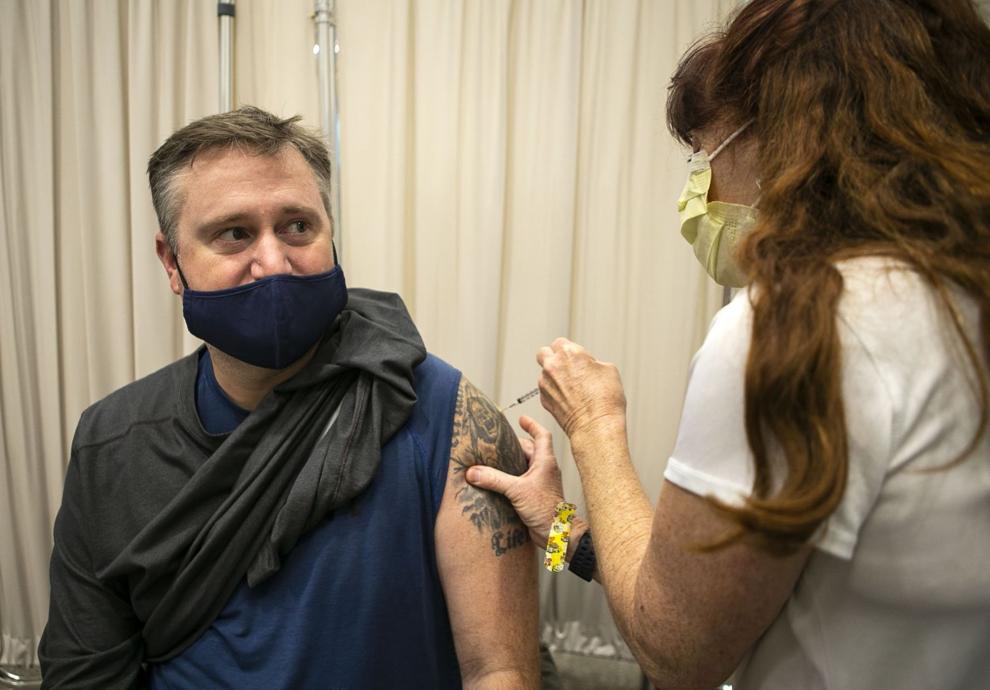 First responders vaccinated at SLU Hospital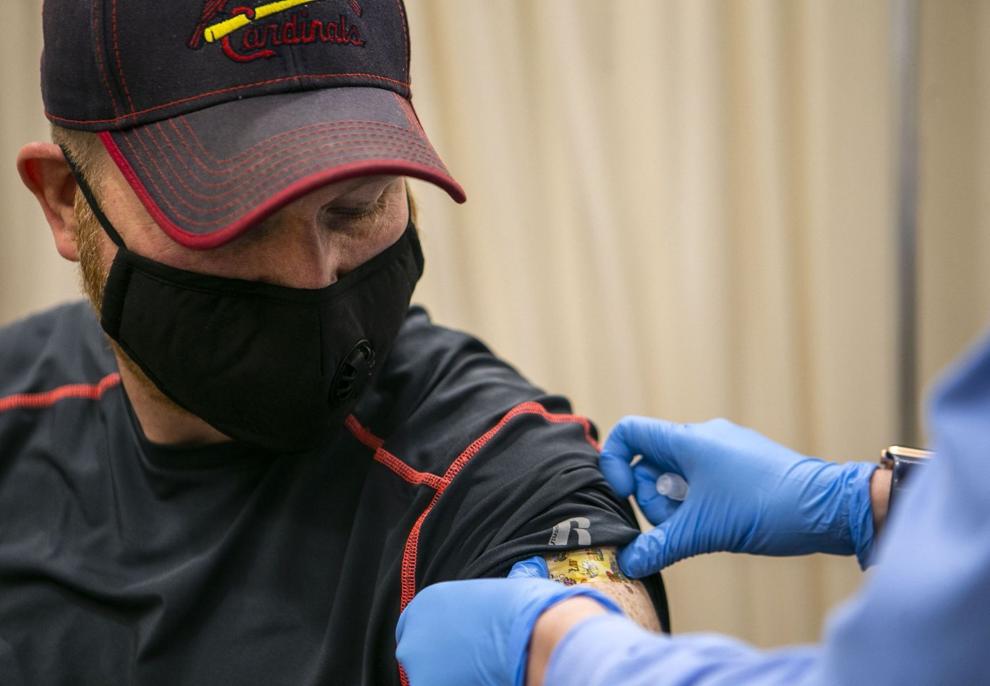 First responders vaccinated at SLU Hospital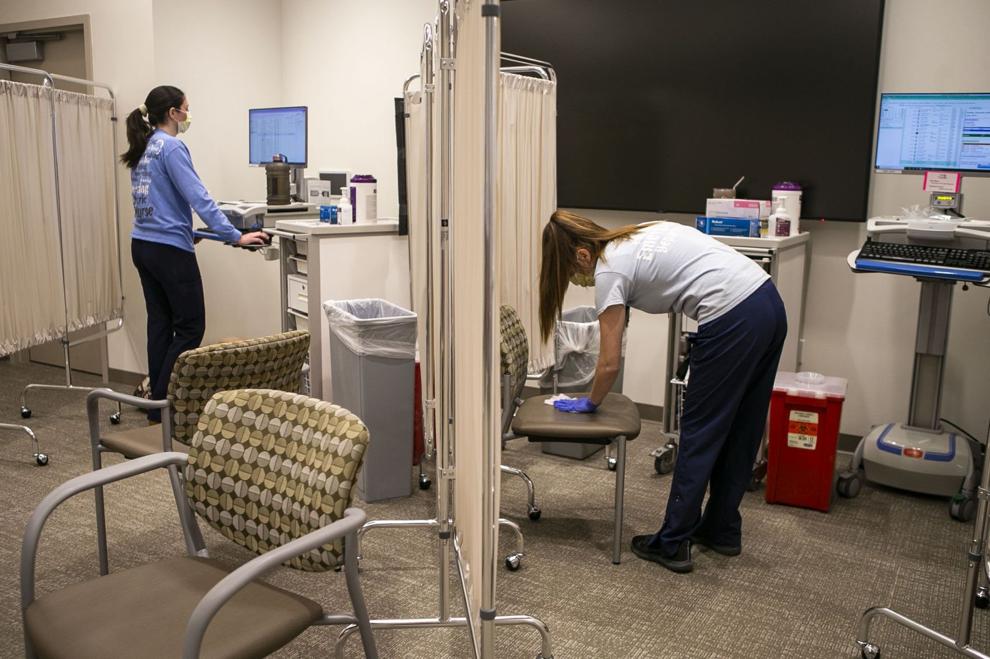 First responders vaccinated at SLU Hospital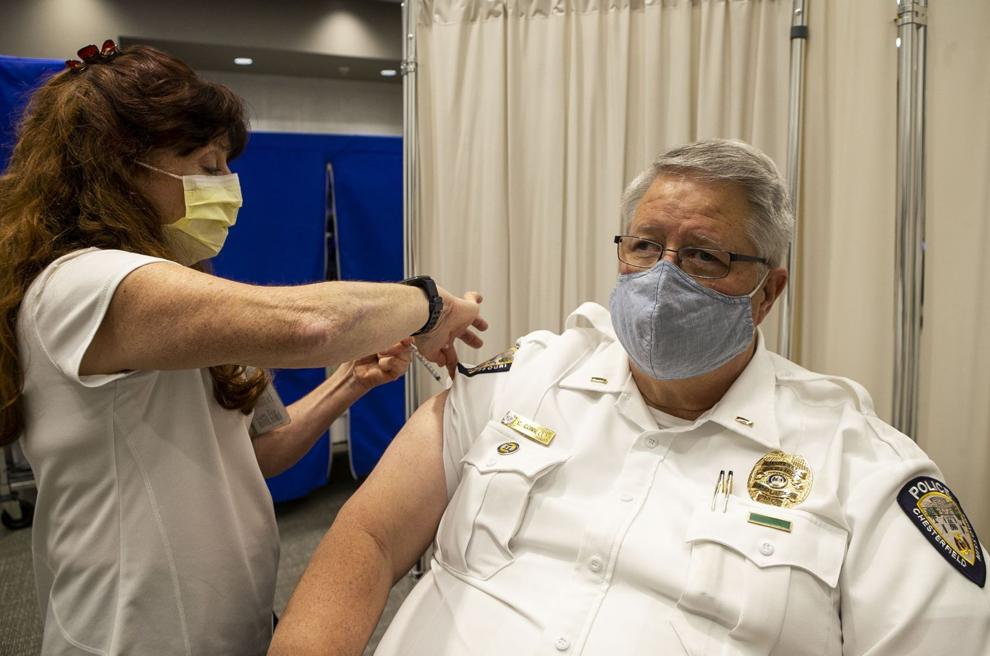 First responders vaccinated at SLU Hospital