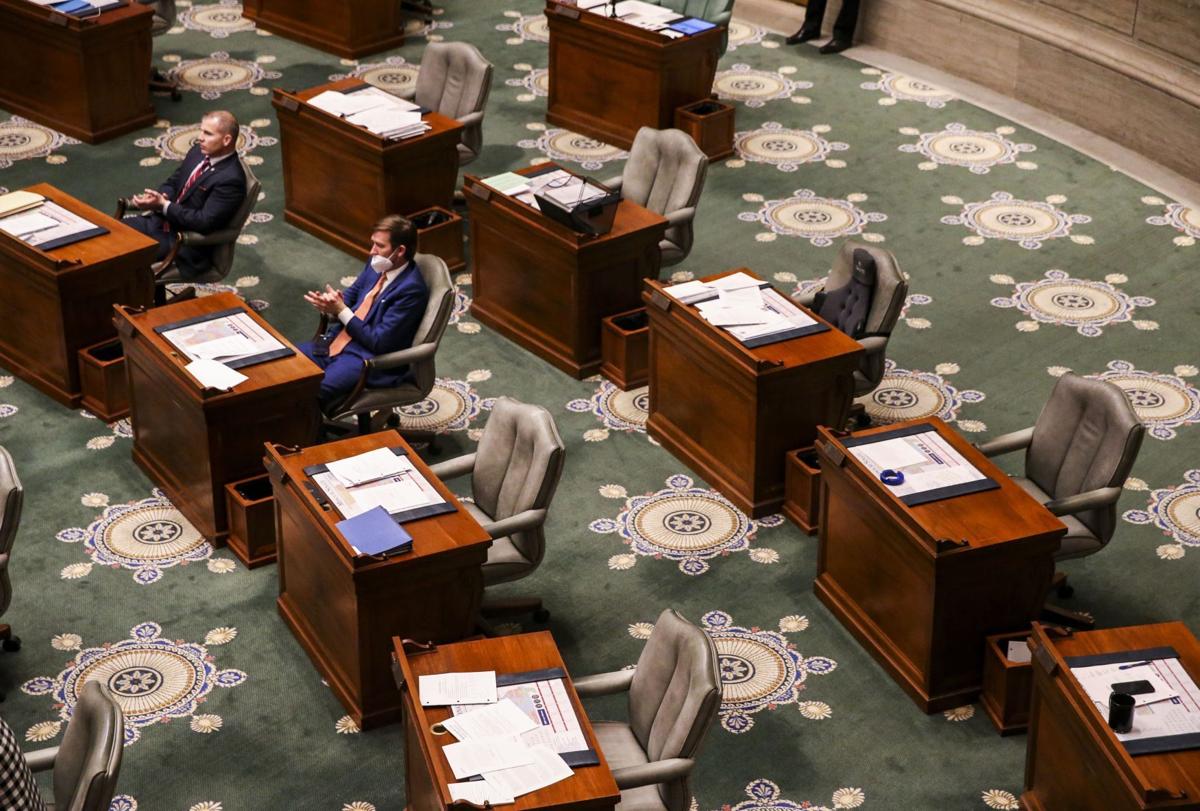 JEFFERSON CITY — Officials on Thursday tightened access to COVID-19 vaccines for state employees, a day after Missouri lawmakers and their staff members lined up at a capital city hotel to receive shots intended for other state employees.
In a memo to state workers, Office of Administration Commissioner Sarah Steelman didn't mention Wednesday's debacle, but said only eligible workers that had been provided preregistration information would be able to get the shot Thursday and Friday at the Capitol Plaza Hotel.
"We know that many are eager to receive this vaccine," Steelman said. "Everyone who wants to be vaccinated will have the opportunity when the supply is available."
Wednesday's scramble — lawmakers said they heard of the vaccines through word of mouth, and through a notification from the top House Democrat — frustrated many, including House Majority Leader Dean Plocher, R-Des Peres, who said he didn't receive a shot Wednesday.
"I don't think special preference should be given to any members just because you're a member," Plocher told the Post-Dispatch. "I will tell you: I heard (of) members who were in line. I heard staff was in line. And I heard some of them may not have met the standards of distribution," Plocher said. "To that I say: Get the hell out of line."
The state has opened vaccinations to high-risk individuals, including those 65 and older and those with certain preexisting conditions.
"Everybody in this building knows what the guidelines are to get a vaccine," Gov. Mike Parson said at a news conference Thursday. "If you got a vaccine yesterday, and you don't have underlying health conditions and you're under 65 years old, and you used your position to be able to get a vaccine — it is totally uncalled for."
Wednesday's vaccine scramble only added to a historically dysfunctional day at the Capitol.
Parson wanted to give his annual State of the State address in the House chambers. But that didn't happen.
Kelli Jones, spokeswoman for Parson, said Wednesday before the governor's speech that a decision by House leadership, factoring in COVID-19 considerations, prompted the move to the Senate.
Senate Majority Leader Caleb Rowden, R-Columbia, confirmed he attended a meeting Wednesday with Parson, House Speaker Rob Vescovo and others.
He downplayed the possibility of any friction between the speaker and Parson at the meeting, though other GOP insiders say the two have long feuded.
"I don't think anybody was yelling," Rowden said. "It was a pretty massive change to a pretty massive situation late in the game, but I don't — I'm not sure I fault either side. I think everybody was trying to make the right decision.
"The governor wanted to give the speech. Rob (Vescovo) wanted to be cognizant of his chamber, and it was his right to do so," Rowden said.
Rowden said the House proposed options to the governor, and "the governor didn't entirely feel comfortable with that. And that's why he ended up in the Senate."
Plocher said questions emerged about the House holding a joint session of the Legislature because it was unclear whether the Senate would have a quorum, given multiple senators were in isolation after contracting or being exposed to COVID-19.
"The State of the State was not able to lawfully be assembled because we wouldn't — we were told there couldn't be a quorum of senators," Plocher said. "If you do not have a quorum, of either the House or the Senate ... you cannot assemble a joint session.
Because joint sessions have historically met in the House, without one, Parson had options, Plocher said. He said he believed the House was offered as a venue, and said "I imagine" there were conditions placed on Parson's use of the chamber, but Plocher said he wasn't "privy to what exactly the conditions were."
"The governor had free will to choose where he wanted it," Plocher said.
Rep. LaDonna Appelbaum, D-St. Louis County, said in a news release Thursday she was "disgusted" that state vaccine czar Robert Knodell and the director of the Department of Health and Senior Services, Dr. Randall Williams, did not show for a House committee hearing Wednesday to testify on the vaccine rollout.
Appelbaum, the top-ranking Democrat on the House Health and Mental Health Committee, was one of the lawmakers who received a dose of COVID-19 vaccine on Wednesday.
"Gov. Mike Parson should be held personally responsible for the decisions he has made throughout this pandemic," Appelbaum said. "The Legislature has a responsibility to provide crucial oversight and ask questions of this effort that our constituents have entrusted us to ask. I am disgusted that Mr. Knodell and Dr. Williams did not find this hearing important enough to attend or even make the committee aware of scheduling conflicts."
Lisa Cox, spokeswoman for the Department of Health and Senior Services, said Williams wasn't able to attend because the committee changed the time of the hearing, "which created scheduling conflicts that prevented a full and complete presentation."
The hearing was eventually canceled, though Williams said Thursday he plans to meet with the committee next week.
Parson, during a news conference Thursday, said partnering with pharmacies CVS and Walgreens slowed the state's vaccine distribution.
"When we entered the federal contract our hope was to put more needles in more arms" as quickly as possible, he said, "and let them handle the nursing homes and assisted the living side.
"We thought that was a good plan; the federal government thought that was a good plan," Parson said.
But that wasn't working out as planned, he said.
"They're well behind, and that was taking away doses from us that could be deployed across the state to other health care industries," Parson said. "We are currently asking for many of those doses back that they haven't been able to implement."
Parson said another factor was that pharmacies asked for doses for all health care workers.
"We all know now that only like 50% of those health care workers are probably taking that vaccine," he said.
Parson said the Biden Administration is "well aware of that issue and they're going to allow us as governors to take all the doses back that we need to take back to implement into the system."
Maria Benevento and Kurt Erickson of the Post-Dispatch contributed.(tncms-asset)ce539746-60e4-11eb-a73e-00163ec2aa77[0](/tncms-asset)(tncms-asset)091891a0-60f0-11eb-b1cd-00163ec2aa77[1](/tncms-asset)