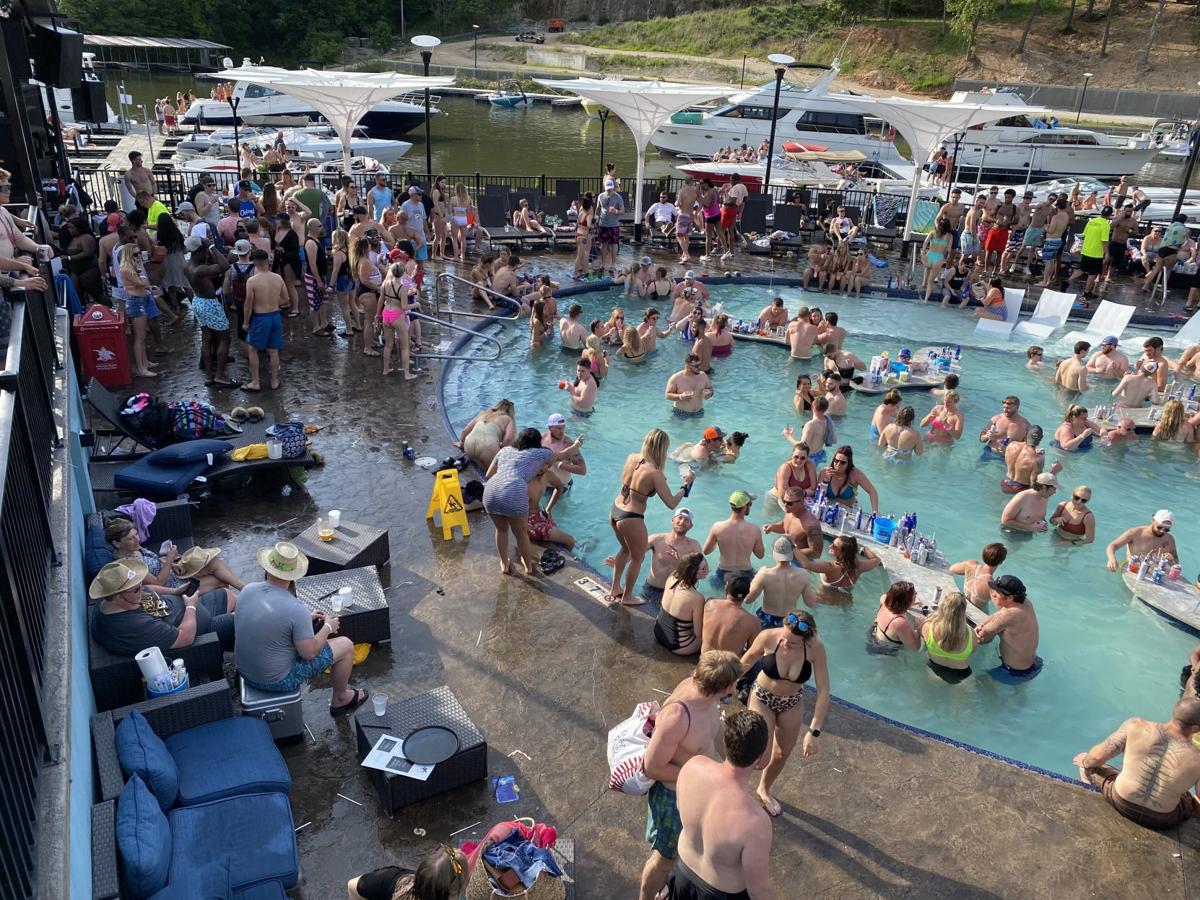 ST. LOUIS — Missouri's top health official said again Thursday that no new cases of COVID-19 have come from the large Memorial Day weekend crowds at Lake of the Ozarks, but that doesn't mean that blue skies and Bud Light can prevent the spread of infection, experts warn.
"Wouldn't that be the best if sunlight and beer is all we need?" said Dr. Hilary Babcock, director of infection prevention for BJC HealthCare. "It would suddenly become my favorite infectious disease instead of my least favorite."
In reality, Babcock said, it is still too early to tell the impact on spread of the disease, and increases can be difficult to pinpoint given the number of tourists to the lake from across the Midwest.
"We can't say for sure that there have not been cases associated with Lake of the Ozarks," she said, "and we may still see cases that can be attributed or traced back to exposures at Lake of the Ozarks."
On Thursday, more than 2½ weeks after the parties, health officials in the Kansas City suburb of Johnson County identified a resident who tested positive for COVID-19 after spending Memorial Day weekend at the Lake of the Ozarks, the Kansas City Star reported.
The person visited the same waterfront bar as a resident who tested positive for COVID-19 in Boone County — the only Missouri case that has been linked to the lake crowds.
The Boone County case was announced one week after the holiday weekend. The Camden County Health Department, which has jurisdiction over much of the Lake of the Ozarks region, said the person was likely infectious while at Backwater Jack's and Lazy Gators, waterfront restaurants with outdoor bars and pools.
A reader contacted the Post-Dispatch saying a person at Whiteman Air Force Base in Johnson County, Missouri, has also tested positive for COVID-19 after spending Memorial Day weekend at Lake of the Ozarks. A nurse at the Johnson County Health Department said Whiteman traces the contacts of positive cases there. The public affairs department at the base could not confirm the case by deadline Thursday. Dr. Randall Williams, director of the Department of Health and Senior Services, said on Thursday he was also looking into the case. 
"When you have an incident like Lake of the Ozarks where all these people come in and leave, it's not as simple," Williams said, as compared to tracking contacts with positive cases at a facility or business with a list of appointments.
When Williams was asked on June 3 whether any more cases had come from the gatherings at the lake, he said, "The answer, to our knowledge, is no." On Thursday, he again said local health departments have not come across anyone testing positive who said they were among the crowds.
Cases climb
Pictures and videos of crowds prompted concern nationwide among the public and health officials, who called the behavior irresponsible and dangerous. Many said they feared the partygoers could spread the disease across the Midwest when they returned home.
While being outdoors is, in general, safer than being indoors because the virus is more easily diluted into the air, Babcock said, a lot of people close together and not wearing face masks still increases risk of infection.
The spread of COVID-19 from such a crowded event can take a while to be recognizable in the data, she said, for several reasons. Symptoms can take as long as 14 days to appear after exposure to the coronavirus. Not everyone with symptoms will get tested right away. Some may not get that sick and not get tested. Those people could also unknowingly infect others.
"It may take several cycles" of infections to symptoms, Babcock said. "I don't think we have enough time or enough data yet to say that there was no impact from that event."
The rolling seven-day average number of new cases in Missouri has been on the rise since May 17, when the average was 135. On Thursday, it was 190, a Post-Dispatch analysis of state data shows.
During that time, more businesses have reopened and more testing has taken place. People also may have ignored distancing and mask rules on Easter and Mother's Day.
"I think we will see case numbers go up, and it will be hard to attribute them to any one thing in particular," Babcock said.
Chris Prener, a sociologist at St. Louis University who is closely tracking Missouri cases, said the data can be maddening because people are looking for clear answers.
"But people in my world just want to say, 'Well, it depends' or 'maybe,'" Prener said.
The four counties that cover areas surrounding the lake have seen few new cases since Memorial Day weekend, despite providing the wait staff and bartenders to the crowds.
"These would be folks that maybe work in the service industry, work in health care, that could have been exposed over Memorial day," Prener said. "We would expect at some point to see potentially locals getting COVID as a result of that, and we have seen no new cases really to speak of."
"It's hard to tell just how rigorous the contact tracing has been and whether they are able to trace everyone," Prener said. Some people can be hard to find or uncooperative.
Prener agreed that it's still too early to see an impact, especially since many at the lake parties were likely young and healthy.
"They may not be in the group that is at the highest risk for being symptomatic or very, very sick themselves," Prener said. "But could they have passed it on to other people? That's a risk that's certainly still there, and that's going to take more time to unfold."
We may never know to what extent Lake of the Ozarks contributed to the rising number of cases the state is currently seeing, he said.
"I don't think we're at the point to shut the book on this for sure."
Concerned about COVID-19?
Sign up now to get the most recent coronavirus headlines and other important local and national news sent to your email inbox daily.