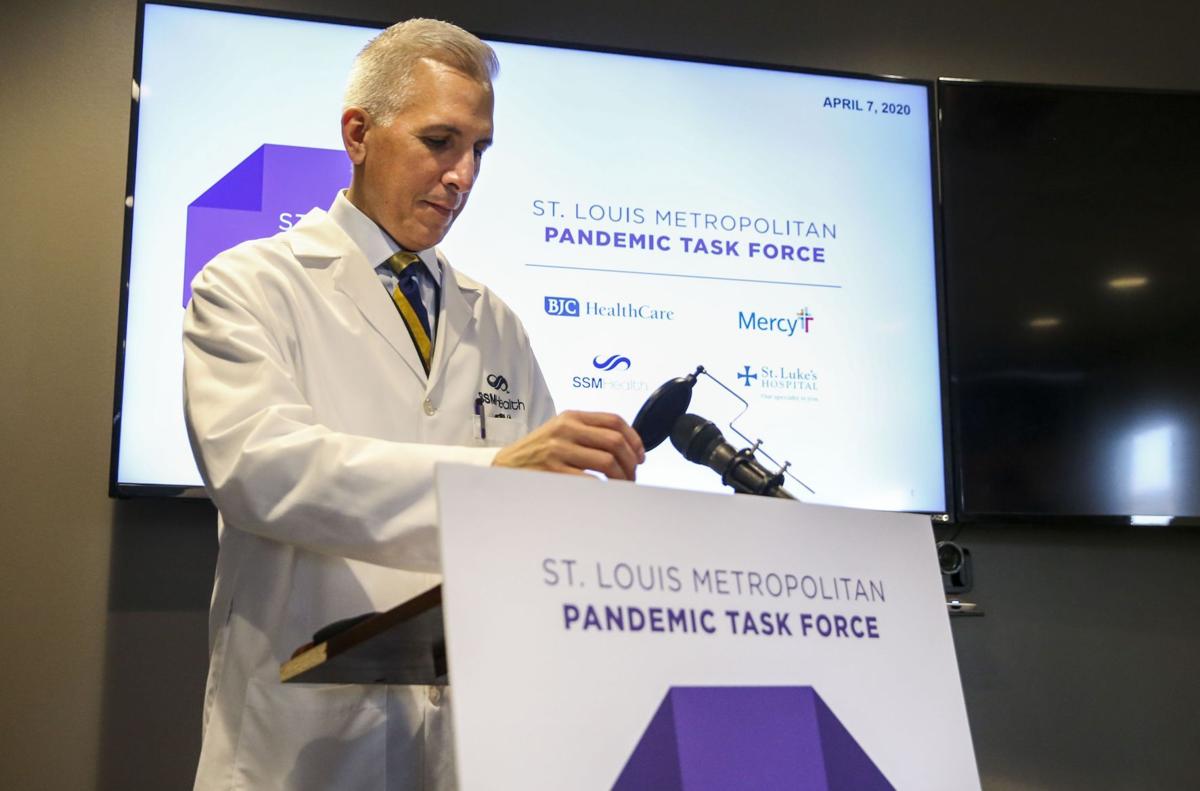 ST. LOUIS — Although African Americans comprise about 19% of the population in the greater St. Louis region, they are four times more likely to test positive for the coronavirus, the head of the St. Louis Metropolitan Pandemic Task Force said Monday.
They're also two and a half times more likely to be admitted to a regional hospital due to COVID-19 than those who are not black, and one and a half times more likely to wind up in an intensive care unit, Dr. Alex Garza said during a news conference.
As a consequence, the death rate for African Americans is higher than for other racial groups, he said.
"The death rate … is around 47 (per 100,000 people) for the black community, and it's around 13 for the nonblack community," Garza said.
The higher rate of positive tests for African Americans means that "at the end of the day it's more black lives that we're losing because of that rate of positivity," he said.
"COVID disproportionately affects the black community much more than the nonblack community," Garza said.
The task force on Monday released updated figures showing the seven-day moving average of hospital admissions decreased from 255 on Sunday to 251 on Monday.
The number of people hospitalized Monday with COVID-19 fell by two patients to 246. Of those 246, 66 patients with confirmed or suspected cases are in ICU and 42 are on ventilators.
Garza noted that nine patients were discharged Sunday, bringing the total number of those who have been discharged to 2,581.
His briefing came on the same day city and St. Louis County gyms, fitness centers, pools, casinos and banquet halls were allowed to open with 25% capacity, among other restrictions.
"I think especially at a gym, where everybody is breathing hard and sweating, it would be a really good idea to maintain at least 6 feet … and wipe down equipment," St. Louis Mayor Lyda Krewson said in a briefing Monday. "But you know how it is: If you're at the gym breathing hard and exhaling all this — if somebody there has COVID, that will be an issue."
Although Krewson warned of transmissions of the virus at fitness centers, she said the city is not requiring people to wear masks as they work out. Businesses may independently require patrons to wear one, she said.
Garza said even though wearing a mask may not be required in some situations, wearing one is always better than not wearing one.
Missouri health officials on Monday said there are at least 16,189 coronavirus cases in the state and that 880 total deaths have been recorded. The number of positive cases in the state has increased by 6.5% from last week.
St. Louis County has seen at least 5,604 cases, according to county figures.
Illinois has counted at least 133,016 cases in addition to at least 6,326 deaths. Illinois Gov. J.B. Pritzker on Monday announced $275 million in federal emergency relief, promising to assist eligible recipients with food, rent, temporary shelter and medical services, according to a news release from the governor's office.
The state is offering an additional $90 million.