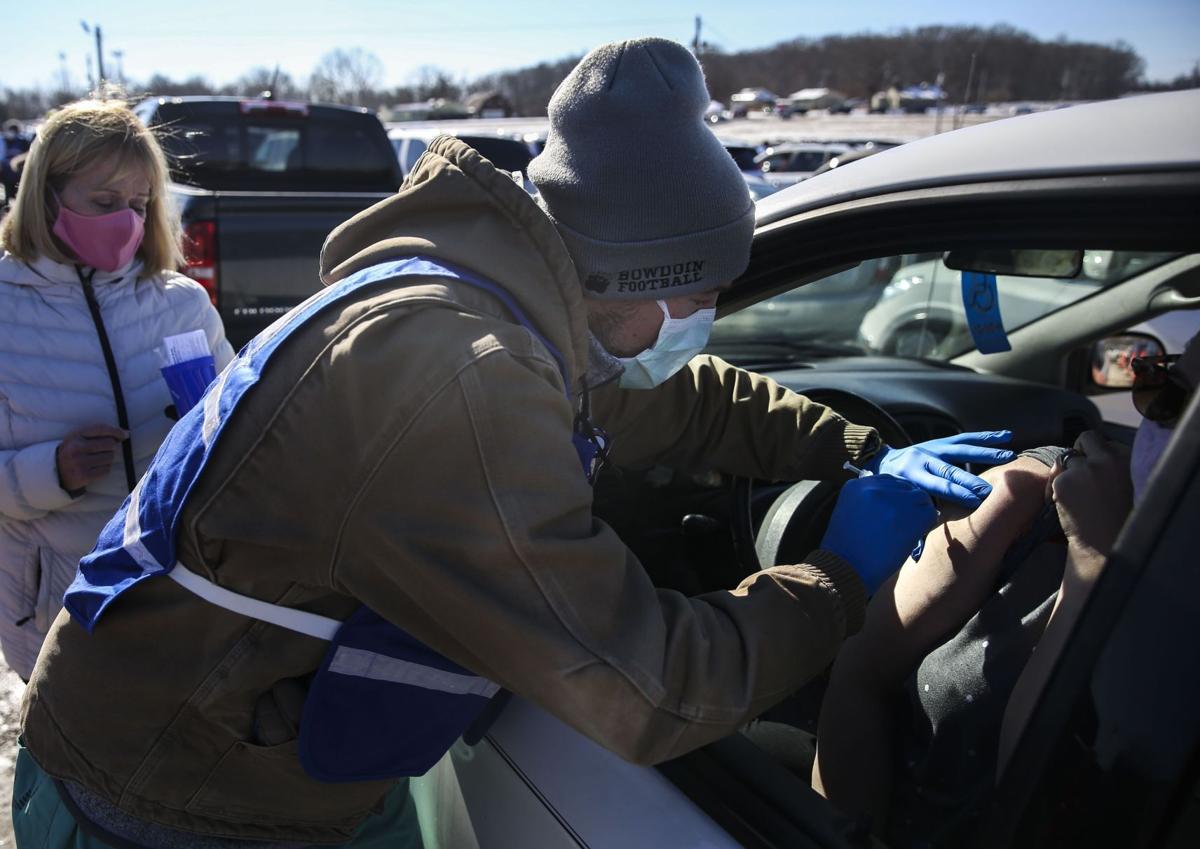 BELLERIVE — A mass immunization event Saturday drew thousands to the University of Missouri-St. Louis campus to receive their first of two doses of the COVID-19 vaccine.
As of about 6:30 p.m., more than 2,200 of the 2,340 people who registered to get the vaccine had received a shot of the Pfizer vaccine, said Capt. Jeremy Idleman, a spokesman for the National Guard, which partnered with the St. Louis County Health Department to run the clinic.
Missouri reported Saturday that 12,451 more people received a first dose of the vaccine the day prior. In total, 693,402 people, or about 11% of the state's population have received the vaccine, and almost half of those have received their second dose.
Illinois reported 2.1 million doses administered, or about 13% of the population, and 541,000 people with second doses.
Ceceilia Murphy, 95, of south St. Louis County, who came with her daughter to get the shot Saturday, said coming to the event was only the third time she'd left her house in about a year. She said it was worth it and that the distribution event was efficient, well-organized, and took only about 30 minutes to cycle through the Millennium Student Center.
"They are working great," Murphy said. "I can relax now."
After her next shot, Murphy said she looks forward to getting out and going to the grocery store again.
Ken Baker, 75, and Ruth Baker, 71, of Arnold, said they were excited to get the first shot Saturday after scavenging for available appointments on numerous state, county and health websites. They said they can't wait to join friends again at their favorite restaurants after they get the second shot in a few weeks.
"It's a relief," Ruth Baker said. "We were waiting for it a long time."
Jan Titchen shouted "woohoo!" as she and her husband, Jay, walked back to their car, saying they hoped the vaccine will restore a sense of normalcy to their lives and furniture business in Maryland Heights.
Jefferson County also held a mass vaccination event, giving 690 doses on Saturday at First Baptist Church of Arnold, said health department spokeswoman Brianne Zwiener.
Meanwhile, COVID-19 infection rates continued to drop in Missouri and Illinois, the states' health departments reported Saturday.
Missouri reported 566 new cases of COVID-19 on Saturday, up four, but the seven-day average of new daily cases dropped 11 to 548, according to a Post-Dispatch analysis. The average peaked on Nov. 20, at 4,723.
Virus hospitalizations rose three to 1,257, continuing to trend down from a peak of 2,862 on Dec. 22. Data lags three days, and not every hospital reports every day.
The state also reported six more deaths related to the virus.
Illinois reported 1,922 new cases, a drop of almost 300 from the day before. The seven-day average of new cases fell 25 to 1,757, according to a Post-Dispatch analysis, the lowest level since mid-September.
Hospitalization data had not been updated as of 6 p.m. on Saturday, but trends there were falling too. Daily death counts fell 13 to 58.
The St. Louis Metropolitan Pandemic Task Force reported 45 new COVID-19 patients admitted to hospitals in the area, down three from the day prior, and 293 total patients, a drop of eight.
Area hospitals, however, remained full: Staffed beds hung at 77% of capacity on average, and ICUs at 83%.