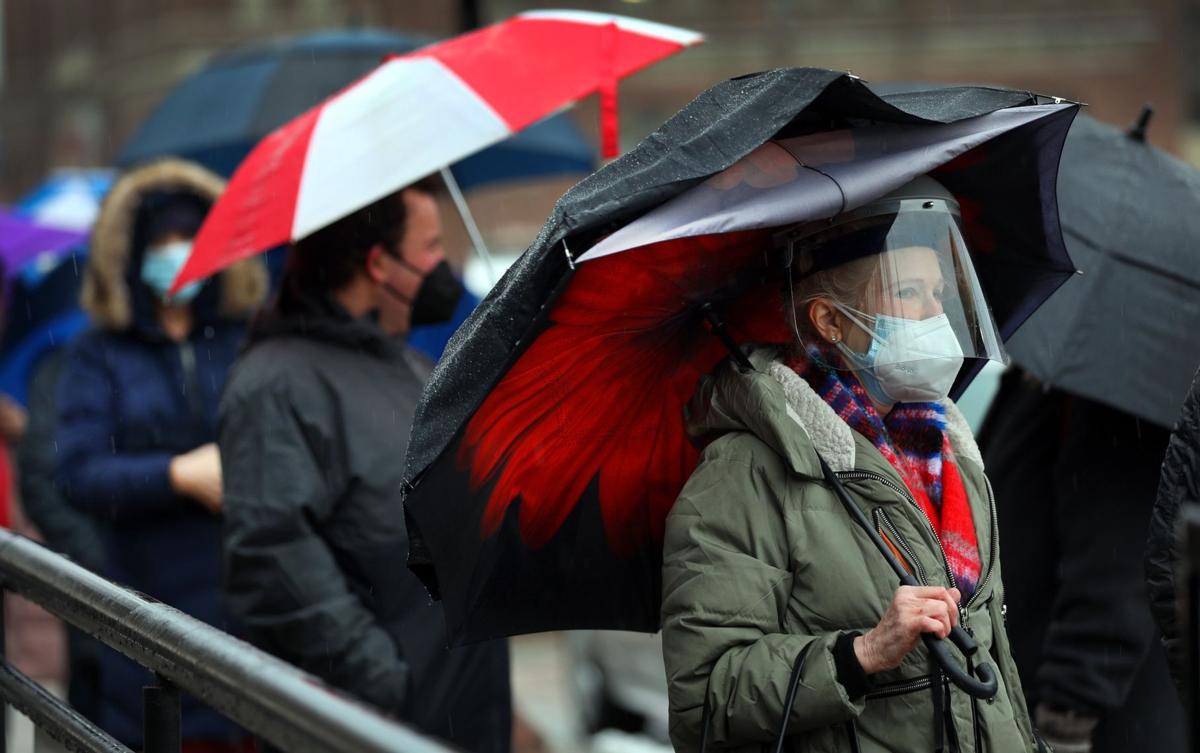 ST. LOUIS — Jessi Kniffen is 39, healthy and works in finance from her home in St. Louis. On Friday afternoon, she got an invite from the City of St. Louis Department of Health saying she was eligible to receive the COVID-19 vaccine at a clinic the next day at Union Station.
Kniffen thought it would be much longer until she got such an invite, given that she did not fall into any of the categories now eligible to get the vaccine in Missouri — those either over age 65, with certain chronic conditions or with jobs such as patient-facing health care workers, first responders and public works employees.
"I was surprised by it, but filled out the form and got vaccinated because we've been told that when you get a chance to be vaccinated that you should," she said. "I didn't know if I turned down this opportunity, if I would get booted from the city's vaccination list."
Meanwhile, others who are elderly or with conditions that make them more at risk of suffering from severe illness with COVID-19, report not getting an invite at all after having registered with the city.
About 1,800 people ended up getting doses at Union Station, the site of the city's first large-scale vaccination event, which many said was organized and moved quickly. However, there were several reports of invites not going to proper individuals registered with the city.
Marva Borders is 68 and has sarcoidosis, hypertension and heart issues. She lives within a 10-minute walk from Union Station, but did not get an invite, said her daughter Dorris Scott.
Scott, 36, of St. Louis, volunteered in the trial for the Pfizer COVID-19 vaccine because of the lack of volunteers among minorities. "As a family we have done all we can, and it is frustrating that our vulnerable groups are not getting the information that we need," Scott said.
Vanessa Berra said she signed up her father Ron Leggett, a city resident, through the city health department as soon as registration was available. Despite being 86 and suffering with chronic obstructive pulmonary disease, he did not get an invite, she said.
However, Melissa Shields, 40, was "very surprised" to get an invite, she told a Post-Dispatch reporter on Saturday while standing in line for her dose. Shields works from home and doesn't have any underlying health conditions.
Alderman Christine Ingrassia, D-6th Ward, said she also heard from 20 to 30 people who received vaccines at the event and later figured out they were not yet eligible under state guidelines.
"I've spoken to several other aldermen who've received similar concerned messages from constituents either who were eligible and signed up but didn't get notified, or that ended up getting the vaccine and then realized that they probably did not qualify," she said.
Alderman Cara Spencer, chair of the board's health and human services committee, has requested a hearing this week to learn more about the problems and how they can be fixed. The coronavirus special committee, chaired by Board of Aldermen President Lewis Reed, is also looking into the issues.
Ingrassia said, "This is a new massive undertaking for the city, and I'm sure that rough patches will happen. I'm hoping that we learn from the challenges and keep moving forward."
Jacob Long, spokesman for St. Louis Mayor Lyda Krewson, said on Sunday that overall, city officials feel Saturday's event was a "tremendous success." The city health department received its first shipment of vaccine this week, which included 3,900 doses, and not one dose went to waste, Long said.
Most doses were used to vaccinate the city's first responders while the rest were used at the Union Station event.
Some people showed up at the event with a copy of the emailed invite that had been sent to someone else, and they were turned away, Long said. He said officials will look into reports of other problems with notifications.
"We are going to take a look at that and will happily make adjustments if we need to," Long said. "We want to make sure we are getting shots into the arms of those most at risk from COVID-19."
More than 34,000 people have registered for vaccine through the city, and officials are making plans for another 3,900 doses that could arrive this week, Long said.
St. Louis County Executive Sam Page said on Sunday that he has already received questions asking when business restrictions can be eased.
With just over 6% of Missourians vaccinated, the county can't yet make "substantive changes," Page said. However, he did announce one change: Restaurants, bars and banquet centers can stay open until 11 p.m. starting Monday.
The county has handed out 4,744 doses and will be working with SSM Health this week to begin vaccinating 4,000 of the county's first responders, mostly police officers, Page said Sunday.
A large-scale vaccination site at St. Louis Community College Florissant Valley campus in Ferguson should be open by "mid-week," he said. Individuals must pre-register by emailing dphcovidvaccine@stlouisco.com or calling 314-615-2660.
Missouri reported on Sunday that 394,065 people have received at least one dose of vaccine, or 6.4% of the population. Of those, 117,592 have received a second dose.
The state also added 1,040 new cases of the coronavirus, bringing the seven-day rolling average down to 1,326, the lowest average seen since Oct. 8, according to data maintained by the Post-Dispatch. However, Missouri is not counting the results of antigen tests (also called rapid tests), which in January have grown to make up about one-third of all tests, state data shows.
The number of patients hospitalized with COVID-19 continue to drop statewide. The latest data reported by the St. Louis Metropolitan Pandemic Task Force shows the seven-day average of hospital admissions dropped to 65, and the average number of patients in the hospital dropped to 490 — levels not seen since early November.