CLAYTON — About 150 protesters gathered here Monday to demand that St. Louis County officials roll back coronavirus-related restrictions on youth sports and in-person learning.
The demonstration followed a protest Sunday night outside County Executive Sam Page's house in Creve Coeur. This time, a group marched up and down Central Avenue in front of the county government building, chanting: "Back to school! Back to sports!" Some carried signs that said "#LetThemPlay" and "FIGHT SOCIALISM."
Many expressed frustration because the county has allowed people to enter restaurants, bars and casinos despite known risk of virus spread, but it has restricted competition in some youth sports. Some insisted there was no science to justify keeping some sports locked down.
Page countered Monday that "we've taken a more conservative approach to protect our kids than some areas of the state but it's consistent with the rest of the country. And that's the approach we're going to continue."
And in response to a claim by a sports medicine task force that it couldn't confirm a single case of infection from youth sports, Page said on Monday, "They don't have access to the same data that our health department does."
The U.S. has 4.25% of the global population but more than 20% of the world's coronavirus-related deaths.
Most of Monday's protesters wore masks and about a dozen people interviewed by a reporter over an hour said they understood the danger of the coronavirus. But most said they should be in control of decisions about their family's health and that St. Louis County's actions limited their personal freedoms.
Sue Catanzaro, 63, of O'Fallon, Missouri, carried a sign that said: "If you can go to BARS they should Play Sports!" She said she wants her four grandchildren in St. Louis County to be able to compete even though it means she can't hug them.
"At least let them play, and if cases go up then you can discontinue them," she said.
John Testa, 54, of Brentwood, used a white marker to alter a T-shirt with a classic line from the 1993 baseball movie "The Sandlot." It now said: "You're killing me, Page!"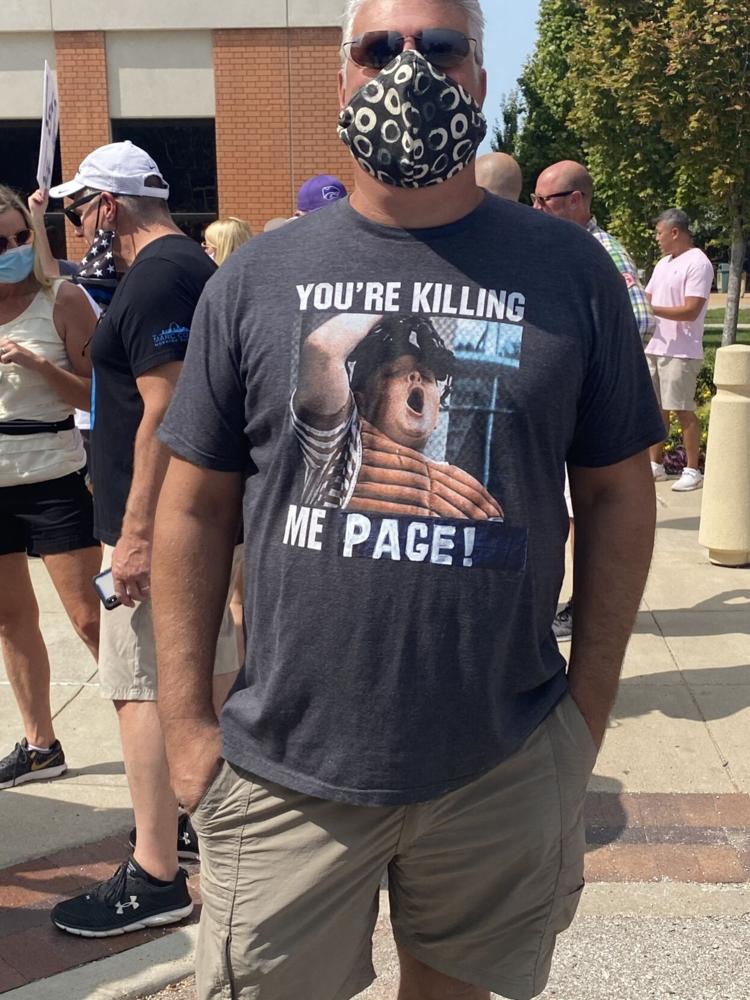 Testa said his daughter is a freshman at Brentwood High School and his son is a junior at De Smet Jesuit High School who plays football, basketball and lacrosse.
"We've had to tread so delicately on special years for these kids," he said. "You can't make these years up. These are once-in-a-lifetime opportunities. … It was one thing in the spring and summer when this was all new, but we can't stay closed forever."
About one-third of the signs supported Paul Berry III, the Republican candidate facing Page in the Nov. 3 election for county executive.
Berry — a perennial candidate for political office who lost by 20 points to Steve Stenger in the 2018 election — passed out the signs just as the protest got underway. The other candidates are the Green Party's Elizabeth "Betsey" Mitchell and Libertarian Party candidate Theodis Brown.
Among those fueling the rally Monday was Dan Buck, managing partner for Big Sports Properties, the group planning a massive — and massively taxpayer-subsidized — youth sports complex in Hazelwood.
"The facts and science are with you!" he said into a bullhorn. "We're going to stop the agenda, stop the lying, stop the half-truths … I'm tired of him putting hospitalization numbers with the young counts. They are not correlated!"
And he claimed that Page people are hiding from people that hospitalization numbers are "dwindling greatly."
That's not true, according to statistics from the St. Louis Metropolitan Pandemic Task Force, which is distinct from the sports medicine task force. The seven-day average for the number of people hospitalized on Monday was 274, an 11% decline from the three-month peak on Sept. 1 — but still about double what it was in late June.
There was some promising news, though. The pandemic task force on Monday reported the lowest number in two months of new COVID-19 admissions on a single day: 24.
Some protesters also spoke in favor of bills proposed in the County Council that would limit the powers of the county executive and the health department during a pandemic.
Councilman Tim Fitch, R-3rd District, said he had filed bills that would require approval from more than two-thirds of the County Council to extend a state of emergency beyond 15 days and allow the council to decide how long the emergency should last. The other bill would require two-thirds of the council members' approval to extend orders from the director or acting director of the health department.
Fitch had initially proposed these bills as charter amendments to be placed on a countywide ballot, but his revised bills would create county ordinances.
Concerned about COVID-19?
Sign up now to get the most recent coronavirus headlines and other important local and national news sent to your email inbox daily.