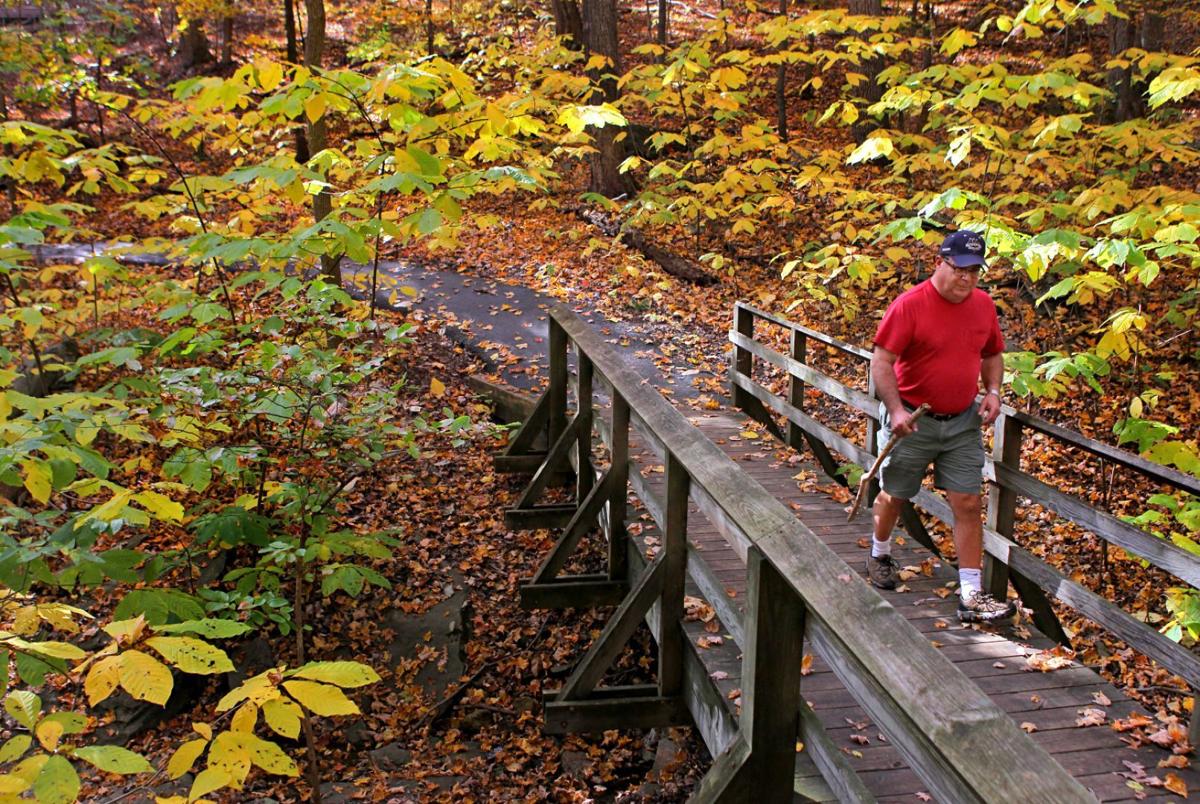 AARP has joined forces with Ten Toe Express, a St. Louis walking program for seniors, to get people over 50 off the sofa and into the community.
Kimberly Cella, executive director of Citizens for Modern Transit, which created the Ten Toe program, says AARP will add its network of people 50 years old and older and other resources.
Ten Toe began in 2007 to help seniors get out and walk for health, as well as introduce them to public transportation, especially MetroLink, the commuter train service. Over the years, it evolved into what could be called a tourist attraction; the twist is "The tourists are from the St. Louis region," Cella said.
Participants meet at a station, travel to a place near an attraction, then walk to the attraction. The walks can be a third of a mile to five miles for more serious walkers. Generally, trips run from 10 a.m. to 3 p.m.
Sheila Holm, community outreach director for AARP in St. Louis, said joining with Ten Toe was a way to advocate fitness and active lifestyles.
"People learn to be physically engaged, using transit; it was a natural fit," Holm said.
Ten Toe has roughly 1,500 participants in St. Louis, and AARP has about 300,000 members in the region, she said.
AARP also is sponsoring a Saturday breakfast walk, especially for people who might be working and can't make mid-week sessions.
"More people are working beyond 65, and it (the Saturday walk) opens the opportunity to a broader audience; an opportunity to engage, try a new restaurant, it's cool. And we're contributing to the local economy." she said. "The Breakfast Bunch on Saturday offers social interaction and creates new relationships."
Several days during the week, from 10 a.m. to about 3 p.m., groups meet at a commuter train station or less frequently at a bus stop. The group can number from a half dozen to 50.
The activities take place over two, 12-week sessions. The next session starts in April. There's a $10 registration fee for a 12-week session, and the cost of anything you do during a trip.
Participants can take in as many outings as are available through the week. Some are so popular they require pre-registration because numbers must be limited, Cella said. "It wouldn't be fair to walk into a (destination) with 50 or 60 people," Cella said.
Volunteer leaders guide people during the outings. They take the train to a stop close to a pre-selected destination. Sometimes the walks are through ornate neighborhoods or places where people can learn about urban living and happenings. Restaurants are popular.
"We get a lot of comments from people who say they didn't know such things existed in St. Louis," Cella said. "People could have lived here their whole life and still learn about all of the features around St. Louis."
Loretta Davis, 61, a retired Air Force sergeant, is a volunteer leader who joined the program in 2013. Her groups meet at the North Hanley Road station. Their walks have downtown and the Delmar Loop.
The program requires that she plan her schedule before April. She has about 20 people on her email list and nine show up for her Friday walks.
She walks the routes before turning in her schedule for the session, she says. "When I'm planning, I have to do a dry run," she said. "To make sure no one gets lost."
This year, she plans to incorporate scavenger hunts into some of her walks. Participants will look for things such as specific stars on the Delmar Loop Walk of Fame and other features.
"It's all healthy, meeting new people, getting out," she said. "Everyone has the same thing on their minds. I want to live and have a good quality of life."
Mary Frances Balmer, 73, is another volunteer. She has taken the program to another level, using Amtrak.
"We've taken train trips to Alton, Jefferson City, Sedalia ..." she said. "One-day train trips. It's a long day, so the train doesn't come back until (evening)."
Balmer, who still works as a personal accountant, has been with Ten Toe since it started in 2007. Her groups start at the Forest Park MetroLink station on Wednesdays.
Her group has grown to about 145 email addresses, and as many as 104 have shown up for an outing.
"We've been everywhere, man, we've been everywhere," she said, laughing. "We try to get in all directions.
She has taken groups to Powder Valley Nature Center in Kirkwood, Lambert airport to see the art, across the Eads Bridge, the McKinley Bridge and even a beer run to Ballpark Village. "We really try to spread our wings," she said.