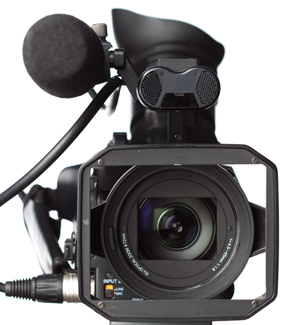 Hospitals have long competed for patients by advertising in television commercials and newspaper ads. Increasingly, the ads can blend into news as economic pressures in the health care and media industries have created partnerships that some say cross the ethical line separating marketing and journalism.
Hospitals sponsor health segments that are aired during the evening news. In some cases, large hospitals produce their own stories and send them directly to TV stations. And in newspapers and on media websites, advertisements can take on the look of news articles.
With hospitals losing insurance reimbursements and media budgets getting slashed, the collaborations can benefit both sides — hospitals can promote their services and news outlets can fill their columns or air time.
Hospitals and news organizations that team up on coverage say they provide valuable medical information to the public. But media critics say consumers lose out on well-rounded and objective journalism.
"It looks prestigious, it looks clean, it looks expert, but this is information that is coming from and being bought by one medical center source," said Gary Schwitzer, publisher of Health News Review. "Who has vetted that to say that is the best information, and when are we going to hear from other players in town?"
In St. Louis, the latest media/hospital partnership is a campaign from Barnes-Jewish Hospital and local NBC affiliate KSDK (Channel 5) called "8 Ways to Prevent Cancer."
The 10-month project started this month and includes weekly news segments with KSDK health reporter Kay Quinn answering viewers' questions with experts from the hospital's Siteman Cancer Center.
The hospital also produces two-minute stories on cancer prevention that air during commercial breaks in some newscasts, and the station hosts monthly phone banks and online chats with Siteman doctors.
As part of its public outreach, Siteman also promotes cancer prevention through community events, health fairs and lectures.
"We were looking for a way to push that message even further and perhaps get a bit more regional," said Arlinda Warren, Siteman's director of marketing and communications. "We went to KSDK and really said, 'Here's what our need is, help us develop a program that will help us meet that need.' "
Warren said she wasn't comfortable discussing how much the hospital paid KSDK for the project.
In a similar deal launched in 2003, HCA hospitals in Kansas City paid $1.5 million for a three-year partnership with CBS affiliate KCTV that included commercials and news segments featuring doctors from the local hospitals, according to a 2007 report from the Columbia Journalism Review.
Mike Shipley, KSDK news director, said stories about cancer would likely feature Barnes-Jewish doctors even without a financial relationship between the hospital and his station.
"The most authoritative voice in this community in regards to cancer is the Siteman Cancer Center," Shipley said. "We decided that we would participate with them in a project where we would help educate the community on cancer prevention."
Shipley said KSDK maintains editorial control over the news segments sponsored by the cancer center.
"Nobody's funding news coverage," he said. "I fail to see the conflict. Who's against curing cancer?"
Cancer is big business for hospitals competing in a "medical arms race" to attract patients with insurance to fund hospital investments in MRI scanners and robotic surgical instruments, said Charles Ornstein, president of the Association of Health Care Journalists and senior reporter at ProPublica, a non-profit investigative newsroom based in New York.
"There's a reason they chose cancer instead of diabetes care for the uninsured population," he said.
Even a medical topic as seemingly straightforward as cancer prevention generates differing viewpoints and requires health reporters to reach out to multiple sources, Ornstein said.
"There is a lot of dispute about certain cancer screenings and whether they're appropriate," he said.
Radiology scans and lab services have the highest markups of any hospital service, with insurance plans billed up to six times the cost of the tests, according to the Centers for Medicare and Medicaid Services.
There's also competition to bring in suburban patients to dedicated cancer centers — including Siteman's planned $17 million expansion in south St. Louis County, a new $9 million cancer center at St. Joseph Hospital West in Lake Saint Louis and the recently opened $2.5 million pediatric cancer center at St. John's Mercy Medical Center in Creve Coeur.
Hospitals that promote their services during news broadcasts say the exposure is more effective than pure advertising. The Mayo Clinic in Minnesota launched its own news department a decade ago to distribute its "Medical Edge" stories to media outlets nationwide. A Mayo survey showed patients' stated preference for the hospital increased about 60 percent within three years of the news service's launch. Hospital executives said the business value of "Medical Edge" was more than 10 times the cost of producing it, according to the Columbia Journalism Review.
The Radio Television Digital News Association's guidelines for maintaining journalistic integrity in the face of financial pressures say "news operations should not show favoritism to advertisers."
In response to a rise in hospital-media partnerships, the Association of Health Care Journalists and the Society of Professional Journalists released guidelines in 2008 stating newsrooms should not favor sponsoring hospitals on story topics or sources and should prohibit news staff from appearing in sponsored programming or ads.
As the representative of the KSDK/Barnes-Jewish campaign, Kay Quinn appears in commercials for Siteman community events, and the cancer center's website includes an "Ask Kay Quinn" link.
Quinn referred questions to Shipley, the news director.
He said, "I'm happy for anybody to promote my talent and to promote the newsgathering operation we have here."
Media outlets are more often approached with partnership offers for medical news than for other topics, said Stacey Woelfel, news director at KOMU, the NBC affiliate in Columbia, Mo.
"Health news on TV is popular so you find sponsors who want to get involved in that," Woelfel said. "Most of us would want to steer clear of something that would look like an endorsement."
Another local TV news director said he avoids any partnerships that could pose a conflict of interest.
"We don't have any relationships like that," said Sean McLaughlin, news director of KMOV, the St. Louis CBS affiliate. "We work really hard to ensure that news is news and sales is sales. It takes a lot of discipline to keep those things separate."
Other local hospitals have formed similar partnerships with media outlets. Several years ago, St. John's Mercy doctors appeared on KSDK newscasts and commercials in features called "Bringing Up Baby" and "Take Heart."
Doctors from a rotating group of hospitals write three columns for the STL Health section of the Post-Dispatch. Newspaper staff edits the columns; no payment is involved.
Newsroom reporters choose the topics and sources for health articles without regard to advertisers.
St. Louis University Hospital pays for its doctors to be featured on STLhighschoolsports.com, the high school sports portion of the Post-Dispatch website, STLtoday.com. A sponsorship ad runs over sports health columns that are written by SLU doctors, although the columns are not clearly labeled as paid content.
"We work with all our advertisers to help disseminate their message through various programs and multiple platforms, which does not influence news coverage," said Jennifer Wood, the Post-Dispatch's senior vice president of advertising.
Representatives of smaller community hospitals in the area said they hope media partnerships don't lead to any imbalance or favoritism in news stories.
"I'll continue to pitch the stations about any of our patients," said Kristen Johnson, spokeswoman for SSM Health Care, which owns seven hospitals in the St. Louis region. "I hope (stations) wouldn't put themselves in a situation that would compromise anyone's chance of getting coverage."