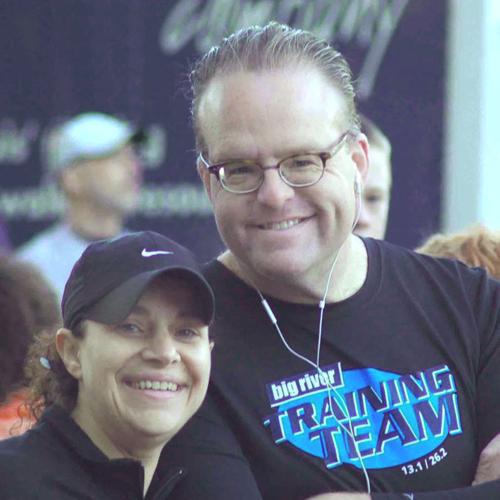 Local attorney Jim Hacking, 44, took a walk in September of 2013 and hasn't stopped moving since.
"I run a mile a day," he says. "I'm afraid if I don't do it, I'll stop."
Hacking is happily married, has four children between age 5 and 12, resides in Webster Groves and at the end of the day was happy to see to the children growing up, watch TV and relax. His hobby? Coaching his son's baseball teams.
His wife, Amany Hacking, tried for years to get him moving. She competes in short races around the area. She has completed a marathon and a couple of half-marathons. She likes to win.
One day in 2013, she got a note from Big River Running Company about a new program "From Couch to 5K." She urged her husband to give it a try.
He'd reached 325 pounds in the 1990s and had started walking. He and Amany Hacking got married 14 years ago. He was 235 by then.
"I've never been athletic," he said. "So that was about it for me."
Over the years, the weight began to inch up as his life became work and rest. He agreed to give the program a try.
With a new pair of walking shoes, he stepped up for his first event, a 1-mile walk. About 50 people showed up, 47 women and three men. "So there was always a lot of chit chat," he said. That made the walks easier to endure, he said. "Just walking up that hill on Olive, ugh."
Still, the company was one of the elements that helped him keep going, two nights a week for three more months. "It's hard to do it by yourself," he said.
The process went from walking to walk-run, to running. He admits not being competitive when it comes to running. "I just huff and puff," he said.
On Jan. 1, 2014, he ran his first 5K. "Amany finished, then came back and ran the rest of the way with me," he said. Forty of the original 50 made the run.
He has kept going, putting in about a mile a day. Since he started, he says he has dropped 30 or so pounds. His health numbers are better, even though they weren't so bad. Also a chronic backache has gone away, helped by using a back massage machine at home after a run.
Dr. Denise Hooks-Anderson, assistant professor with St. Louis University School of Medicine, practices family and community medicine. She considers Hacking's method ideal.
She encourages her patients to exercise, especially starting with walking.
"There are lots of benefits," she said. "The first of which is it's free. It's at your disposal quite easily. It lowers blood pressure, lowers blood sugar, strengthens bones, improves lipid profile (cholesterol).
"And it improves your mood." About 30 minutes of "something like walking improves mood for people who are depressed, stressed."
She favors walking as a starting point for people she counsels. "You have to start walking," she said. While running burns more calories, it's harder on the joints. And walking on an incline is almost as good as running, she said.
Still, the most difficult part of starting to exercise is starting. "I tell my patients, you have to want to live," she said. "You have to want to live for your grandchildren and great-grandchildren. The only way to do that is a healthy diet and regular exercise."
She advises patients to start slowly, even walking around the house for 5 minutes a day. Then increase the time.
"Results aren't just in pounds lost, it may be in inches lost," she said. "I tell patients don't get stressed with the scales."
Setting a pace helped Hacking stick with his program. "Set your own pace," he said. "Sign up and show up; your pace, your way.
"If I can do it, anyone can do it," he said. "Just build on it little by little."
He's not eyeing a half-marathon or more competitive races; he just wants to keep running for his health.
His goal in May is to start running 2 miles a day, he said.
"I don't know if I can do more than that."
Do you know a 'How I did it?'
900 North Tucker Boulevard
St. Louis, Mo. 63101-1099