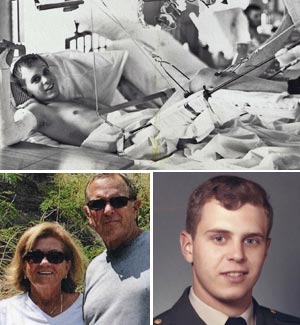 U.S. Army helicopter pilot William Marcrander commanded an "ash and trash" Huey, a workhorse helicopter during the Vietnam War. In January 1968, he'd been in Vietnam five months.
A mortar round struck in the midst of several Huey helicopters prepared to head out on a mission. One helicopter inverted.
Rotors from the damaged craft ripped across the right side of Marcrander's Huey like a rotary saw. The hollow blades exploded into shrapnel.
Marcrander's crew chief and door gunner were killed. Marcrander and his co-pilot, who had lost his legs, initially survived. The crew of the other helicopter was killed.
"We were spread out over the runway," Marcrander said. A crew from an undamaged helicopter "picked me up and flew straight through the artillery barrages. My co-pilot died in my arms."
Marcrander's right leg was crushed. He had 15 broken bones and lost two fingers from his left hand.
He recuperated in a hospital in Japan, then was shipped stateside for more repair and rehab.
From there, he became a military test pilot, evaluating new and upgraded helicopters in Fort Worth, Texas.
After his discharge in the early 1970s, he returned to St. Louis, where he got married and started a small construction company. For 40 years, the business supported the couple and  their two sons.
His hand and arm were never 100 percent. Year by year, the pain in his right knee developed traumatic arthritis, caused by the wound.
As the years went by, he found himself unsteady on construction jobs. "My hand got to where I didn't trust holding a hammer," he said.
As for his leg, "I just had to take positive, careful steps. You didn't want me walking high steel," he said. "My right leg would give out at the worst possible time.
"I just adapted. I became more supervisory than hands-on."
He'd had some surgeries over the years through the Veterans Administration. But he'd resigned himself to having a sore leg for the rest of his life. "I didn't think there was a way to fix it," he said.
His wife, Sharon Marcrander, is a registered nurse and persuaded him to see a hand surgeon.
He did. Eight years ago, for the first time since before the crash, "I could use my thumb on my left hand."
After Marcrander retired, his wife asked friends and co-workers about knee surgeons.
The name, Dr. Robert Barrack, an orthopedic surgeon with Barnes-Jewish Hospital, kept coming up.
The word was he fixed war wounds and repaired work that predated modern technologies.
His thigh bone, or femur, "was deformed because he had this war injury," Barrack said.
The femur is normally hollow, so for a knee replacement, "a rod needs to go into the hole in the femur," he said. But there was no hole.
Barrack, a professor of orthopedic surgery at Washington University School of Medicine, said he's helping to develop "patient specific guides" for cases where standard protocols don't work.
"This is a new technology that has just become available," Barrack said.
The surgical team mapped Marcrander's leg bones with magnetic resonance imaging and drew a plan for a customized artificial knee.
Marcrander had the surgery in May 2010. He said going in, he was ambivalent; he'd been disappointed before. "It was just a part of life," he said. "I've had so much surgery."
The surgeon had modest results in mind.
"When you're dealing with an old injury and a major deformity, your goal is to allow him to get back to normal daily activities, like walking without pain," Barrack said.
So Barrack was a bit surprised when nine months after the surgery, Marcrander walked into the office for a checkup and handed over a photo: William and Sharon Marcrander had scaled Diamond Head, the volcanic cone on the Hawaiian island of Oahu.
"I was surprised he did it so soon," Barrack said. "He was motivated. He'd been in pain for so long."
The walk was one the couple had wanted to make for years. During Marcrander's rehabilitation, the couple walked four to five miles several times a week. He found it much easier and not painful — and fun.
So they decided to tackle the volcano.
"It's not a towering mountain," Marcrander said with a laugh. "It took about 45 minutes to get up there, some hills, a lot of steps, walking on uneven lava.
"But it's something we wanted to do for years."
Marcrander still doesn't like talking about the war. "Unless you were there, it sounds too much like bragging," he said. "You wouldn't understand. It wouldn't add up."
He says he's lucky that he never suffered any psychological ills from the experience.
Still, while he's not haunted by the memories, he can see it like it happened yesterday.
His son, Thomas, is named for William Thomas Jacobus, his co-pilot. The Marcranders have another son, Ryan Marcrander.
---
Do you know a "How I did it?"
Send submissions to: Jackie Hutcherson, health editor
St. Louis Post-Dispatch, 900 North Tucker Boulevard, St. Louis, Mo. 63101-1099