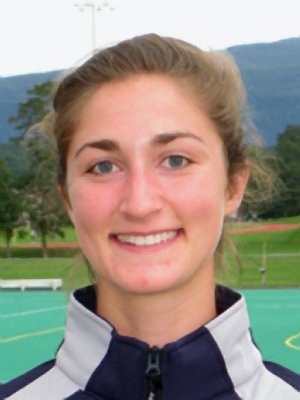 Doctors coined the term female athlete triad 20 years ago to describe athletes who had decreased bone mineral density (osteoporosis), disordered eating and irregular menstrual cycles.
But athletes like Hana Kahn, 20, a former field hockey player at Mary Institute and St. Louis Country Day School, are putting a new face on the condition.
Kahn, who now plays field hockey for Middlebury College in Vermont, has had three stress fractures in the past four years — two in her feet, one in her back. For awhile, she had irregular menstrual cycles and low estrogen levels. But birth control pills were able to regulate both.
But she's never been obsessed with her calorie-intake, she said. "I never paid attention to what I was eating. I was kind of along the lines of eating when I was hungry."
Dr. Heidi Prather, associate professor of orthopedic surgery at Washington University, notes how years ago most of the girls and women who were diagnosed with female athlete triad were visibly underweight and had eating disorders such as anorexia nervosa and bulimia.
"When the triad was first designated, everything was to the extreme," Prather said. "Most of the girls or women we found this in were in aesthetic or endurance sports (such as gymnastics and distance running) which emphasize leanness or low body weight. But what we've figured out now is that they occur along a spectrum and that was one end of spectrum."
In other words, she said, it's harder to tell who has female athlete triad by looking at them than once thought.
Last month, Prather presented the findings of a study on the condition at the annual meeting of the American Academy of Orthopaedic Surgeons in San Francisco.
She and fellow researchers looked at 220 female soccer athletes who played on elite soccer clubs, an NCAA Division I university team or a professional team. Their median age was 16.
They found that about 20 percent of the athletes reported having irregular menstrual cycles and, in some instances, no periods at all during the previous year. In addition, about 14 percent had a history of stress fractures, typically in the foot or ankle.
The study also revealed that the athletes began menstruating, on average, at age 13 which is about a year later than average for most American females.
When Prather tested the athletes for eating attitudes to assess their risk of eating disorders, however, she found that most of them scored in the normal range and were not underweight.
How the triad happens is not fully understood, Prather said. There's probably no one mechanism driving it though medical experts suspect an energy imbalance leads to irregular menstrual cycles. And they do know that not menstruating can permanently affect bone mass.
"When you ovulate that's when right amount of hormone balance happens in our system which is important for building bone," she said. "And we build most of our bone mass between grade school and our mid 20s which is why it's so important. You get that one chance in life to do that. After you reach peak bone mass you're trying to hold your own and prevent loss of bone mass."
Rather than thinking in terms of body weight and eating attitudes, Prather believes the sports and medical community should be thinking in terms of energy in and energy out.
When a female athlete suffers a bone injury, Prather believes coaches and doctors should be asking the following questions:
• How long she has been menstruating?
• Are her cycles irregular?
• How many hours a week is she training and playing?
And if her answers indicate that she's at higher risk for female athlete triad, her doctor should assess her bone quality by ordering a dual-emission X-ray absorptiometry test which assesses bone density, Prather said. "Then maybe they should have her see a dietitian and determine what kind of calories, protein, fiber, carbs she needs. Fueling before and after (practice and play) is good practice for exercise, in general."
Kahn estimates that she practices and plays at a high-intensity for about 15 hours a week.
Since suffering the stress fracture in her back last summer, she's been paying closer attention to her calorie consumption with the help of her coaches.
"It's something that I would say teams are more conscious of," Kahn said. "My coach is more of an influence in making sure we're eating before and after practice and providing snacks when we go on trips and before and after games."