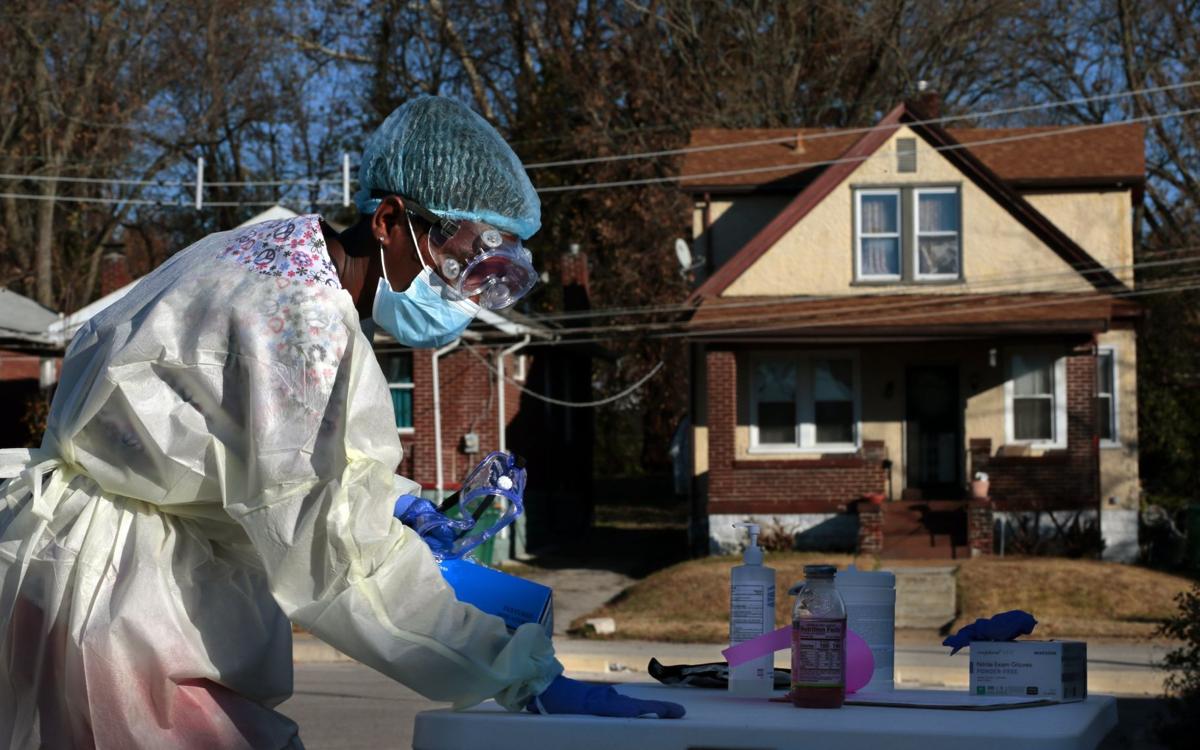 Need a COVID-19 test? Here's the truth: Finding one quickly can be tricky. There's a plethora of providers, a litany of online forms to fill out and a maze of options to choose from.
That said, it's by no means impossible. Around the St. Louis area, there are methods of free testing accessible to anyone, often as a result of funding from the Coronavirus Aid, Relief and Economic Security Act and partnerships between government agencies and private entities. For individuals with health insurance, a wider range of options exist.
Besides different testing locations, there are multiple types of tests, too. Diagnostic tests like polymerase chain reaction (PCR) tests can take a few days to provide results, but are regarded for their high accuracy. Quicker though less accurate "rapid" tests can also be found in certain settings, which experts said can be suitable for people without symptoms who think they've been exposed to the virus.
Be prepared to spend some time signing up online. Many providers ask for personal information, from name and address to phone and email. And, no matter the provider, many locations could be full on the days you need an appointment. Brace for a process.
eTrueNorth
One network of free testing sites is offered through eTrueNorth, a company that has partnered with the U.S. Department of Health and Human Services and hundreds of local pharmacies and labs to run drive-up test locations in 44 states, including at sites in south St. Louis and in O'Fallon, Missouri.
The service is "open to anyone who believes they need a test," said Tom Wiser, an eTrueNorth spokesman.
People looking to get tested at the sites can go to eTrueNorth's website, doineedacovid19test.com, and set up an appointment. Once at the testing location, the swab tests are self-administered by the patient while a professional observes.
Patients are generally told the outcome within three to five days, or even sooner, through an update to the online account used to schedule the test.
"Results are coming back really quickly now," said Wiser, explaining that, lately, tests are getting processed in about two days.
St. Louis County
St. Louis County offers free drive-thru testing at the John C. Murphy Health Center in Berkeley and at the South County Health Center in Sunset Hills. Both locations require scheduling a test in advance at stlcorona.com.
The county department of health has also teamed with local groups to offer free "pop-up" testing at different locations, for those with scheduled appointments.
As of Tuesday, many of the pop-up sites — which might not be in operation on a given day — did not list any openings in the coming weeks and months. The two permanent county sites were more reliable bets for urgent testing needs, but even they were booked until next week.
"There's been a pre-Thanksgiving rush to get tested," said Christopher Ave, a spokesman for the St. Louis County Department of Health. "Just in the last week, testing has increased as people have flocked to these places."
In either situation, the testing sites are intended for county residents, and patients will be asked to show proof of residency, such as a locally addressed piece of mail.
The test performed at the sites is a PCR test, which copies a small amount of patient DNA, and is considered "the gold standard" of coronavirus tests, Ave said.
"It's the most accurate," he said.
He added that many people express interest in antibody tests, which can reveal past exposure to the virus.
"We don't see that as diagnostic at all," Ave said. "People should not substitute an antibody test for a PCR test."
Clinics and drug stores
Despite the public channels for free testing, Ave noted that the bulk of tests done in the area today are from other sites, widely available at urgent care facilities, drug stores, clinics and doctor's offices.
No advanced scheduling is needed for a test at Total Access Urgent Care, where patients come in, sign up, get tested and receive results in two to four days. Costs of the test are covered by medical insurance. Those without insurance are charged $99, which can be refunded through the CARES Act after about six to eight weeks of processing.
Even major pharmacy chains, like Walgreens, offer drive-up diagnostic testing — for those able to snag an appointment. The company's online scheduling page warns that "due to high demand, available dates and times for testing may be limited."
Indeed, when the Post-Dispatch checked Monday, appointments at a Walgreens anywhere in the region were few and far between. The soonest: Tuesday in Hannibal, nearly two hours north of St. Louis. A Bonne Terre location, an hour south of the city, had available slots on Wednesday.
But at local sites — Arnold, Crestwood, Fenton, Hazelwood, St. Ann, St. Charles, and more than a half-dozen in St. Louis — no testing openings were listed in the next three days. A Post-Dispatch reporter could only find one available slot Wednesday, at one St. Louis location.
Those who do secure a testing appointment will need to show up in a car, because the company doesn't take walk-up customers.
People getting diagnostic tests at Walgreens can pick from PCR lab tests, which typically yield results in about three days, or a "rapid" alternative that can offer results in less than a day. The tests are both $129, which could be covered by insurance.
But, in many places, patients won't get to pick which test they want.
"It depends on what their testing site has available," said Stephanie Zoller, a spokeswoman for the regional hospital system, SSM Health, which processes more than 1,000 tests per day.
Quarantine until results
Once tested, doctors urge you to isolate until your results come in — a delay that can extend for several days.
And, remember, a test only captures one snapshot in time.
Though a negative result can provide some peace of mind, it doesn't endow patients with any protection moving forward. Good pandemic behaviors are still critical to uphold.
"A test result is only good for the moment you get the test," Ave said. "If you get a negative test result, don't have complacency."