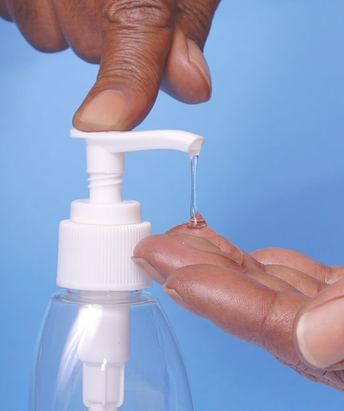 The claims in question say that hand sanitizers prevent MRSA infections, or resistant staph infections. The bacteria from MRSA (methicillin-resistant staphylococcus aureus) are resistant to antibiotics and more difficult to cure. They tend to be more common at health care facilities.
MRSA can cause cause severe and even life-threatening infections that don't respond to the antibiotic methicillin.
Don't buy over-the-counter hand sanitizers or other products that claim to prevent infection from MRSA, E. coli, salmonella, flu, or other bacteria or viruses.
Ask your pharmacist for help distinguishing between reliable and questionable information on product labels and company websites.
The best defense against germs and other microbes is to wash hands often, especially before hanlling food. Wash hands with warm water and soap for 20 seconds. For children, this means the time it takes to sing the "Happy Birthday" song twice.
Hand sanitizers originally were used in hospitals and health facilities by health care workers who washed their hands frequently. The consumer versions are useful when employed properly, says the U.S. Center for Disease Control and Prevention.
The CDC has an extensive section on hand cleanliness. Washing hands with soap and water remains the best way to reduce germs, the CDC says. If soap and water aren't available, use hand sanitizers that are at least 60 percent alcohol. Sanitizers can reduce the number of germs on hands, says the CDC, but they don't eliminate all types of germs. Also, hand sanitizers aren't effective when hands are visibly dirty.
The CDC gave these instructions on use of hand sanitizers:
Apply the product to the palm of one hand.
Rub your hands together.
Rub the product over all surfaces of your hands and fingers until your hands are dry.
If you find products on the Internet that you believe make false or unproven claims or have side effects you believe are from using hand sanitizers report the incident to the FDA at the site for Reporting Unlawful Sales.