About 12 years ago, Nancy Menchhofer's husband was diagnosed with Alzheimer's at the age of 59. When she moved him to a care facility five years ago, it was the hardest thing she had ever done. Menchhofer visits him once a week and feeds him lunch. He doesn't know who she is or why she's there.
It's been a long road, she said. A road filled with frustration, sadness and worry.
"So often people would say, 'How's Bob?'" said Menchhofer, 70, of Chesterfield. "But they would never say, 'How are you?'"
When the St. Louis chapter of the Alzheimer's Association last spring developed a program to pair a seasoned caregiver with one new to the role, Menchhofer didn't hesitate to volunteer.
"I thought, 'Oh, caregivers need this,'" she said. "Caregiving is such a lonely job."
A report released this month by the nation's top experts on aging found that despite how essential family caregivers are to the health of older Americans, caregivers lack the recognition, information and support needed to fulfill their roles.
The study raises concerns about society's dependence on family caregivers, calling their needs "among the most significant and overlooked challenges facing the U.S. population."
The report was written by the National Academy of Medicine, a nonprofit group established by Congress to gather data to inform public policies. It is made up of top researchers in their fields.
Caregivers must navigate complicated and fragmented health care and support systems, serve as surrogate decision makers and handle technical medical procedures and equipment — all with little information and training, the report found.
Their health is greatly affected. Caregivers experience elevated stress hormones and higher rates of chronic disease. They don't get enough sleep or exercise, and they don't eat well. They suffer social isolation and economic harm because of the many hours of care devoted to their loved one.
"Caregivers are potentially at increased risk for adverse effects in virtually every aspect of their lives — from their health and quality of life to their relationships and economic security," said University of Pittsburgh psychiatry professor Richard Schulz, chairman of the report committee.
Millions, out of a sense of personal responsibility, quietly go about caring for older loved ones with physical or mental limitations. According the AARP, about 34.2 million adults — more than 14 percent of the adult population — have been a caregiver for an adult age 50 or older in the past 12 months. They spend an average of five years in the role.
Experts are predicting a "caregiving cliff." By 2030, more than 1 in 5 U.S. residents will be 65 or older, while the pool of potential family caregivers is shrinking. Families have fewer children, and adult children often live far from their parents. Older adults are more likely to have never married, or to be divorced.
Little has been done to prepare, the report warns. Recommendations call for changes in doctors' offices, health insurance policies and workplaces.
Marla Berg-Weger, executive director of St. Louis University's Gateway Geriatric Education Center, has been studying caregivers for more than three decades.
"I don't think we pay enough attention to these people laboring away for years on end with no pay or no compensation," Berg-Weger said, "and sometimes no acknowledgment by family members or professionals for what they are doing."
'Going to explode'
Some health providers are better than others at addressing caregivers' needs, says Deb Bryer, outreach manager for the area Alzheimer's Association.
Caregivers tell her after their loved ones received a diagnosis, they were handed a prescription and told to come back in a year. They leave feeling terrified and abandoned. But Bryer also hears about physicians explaining how families will be affected.
"They've been steered toward us by their physicians," she said, "and it makes a difference for them that their physicians took time to address their nonmedical needs."
Menchhofer said it wasn't until later, when she was taking her husband to a dementia specialist for counseling, that the observant doctor pulled her aside. "You need to talk to someone or you are going to explode," she recalled him telling her. It was a wake-up call.
"To a certain extent, you have to be a little selfish," she said. "If you crumble as a caregiver, you are not going to be able to care for your loved one."
Menchhofer began taking an antidepressant. She learned to tell her doctors that she is a caregiver, so they can better care for her. She was able to continue working part time as a teacher, which was her respite. Connections she made with other families through the Alzheimer's Association were her emotional anchor.
She said she decided, "Alzheimer's is not going to get both of us."
The report recommends health and long-term care services do more to assess the health, skills, employment and willingness of family caregivers. At the minimum, asking caregivers about their health, stress and training, and information they might need.
Other recommendations included implementing insurance payment reforms that motivate providers to spend time engaging family caregivers. Most older adults are covered by government programs such as Medicare, Medicaid and Veterans Affairs.
"If we could get everyone to ask caregivers, 'How are you doing?' that would be a tremendous gift," said Berg-Weger at SLU. "If they say they are doing great, ask how and why they are doing great, so you can learn what their coping and adaptation strategies are."
She developed a caregiver assessment of six items: Do you meet personal daily needs, take time to have fun with others and treat or reward yourself? Are you receiving appropriate health care, feeling good about yourself and secure about your financial future?
"We are looking at training professionals in how to engage adult caregivers as part of the patient health care team," she said. "That is something, despite how logical that sounds, frequently does not happen."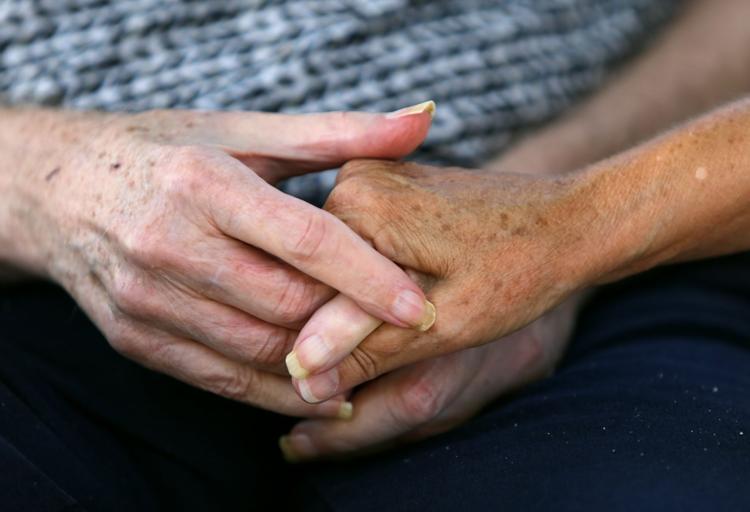 Spend his savings
Like many families, Menchhofer and her husband took a hit financially. They both had to retire early as teachers.
With no long-term care insurance, they needed Medicaid to help cover his care. In order to qualify, they had to spend his savings. She bought a car and paid off as much of their house as she could.
Caregiving and employment are increasingly intertwined, the report found. About half of the nation's caregivers for adults over age 65 are employed.
In the past, families relied on women not in the workforce to provide elder care. The typical caregiver is still female, but is almost as likely as a male to be employed.
Nearly 80 percent of caregivers missed work in the past year because of their responsibilities, according to a recent Caring.com report. Nearly one-third missed at least seven days. A third also frequently arrive late or have to leave early.
The Family Medical Leave Act in 1993 helped caregivers balance responsibilities, but it covers only certain family relationships and does not apply to employers with fewer than 50 employees. Some still may not be able to afford the unpaid leave it protects.
Four states — California, New Jersey, New York and Rhode Island — have enacted paid family leave statutes. Five states — California, Connecticut, Massachusetts, Oregon and Vermont — have laws requiring employers to allow workers a reasonable number of paid sick days to care for an ill family member.
The report recommends evaluating how the laws alleviate economic hardships and consider other policies, such as tax credits for caregivers.
Disease of its own
In a presentation Berg-Weger gives for caregiver groups, she has a slide that reads: "Being selfish is a must."
"It would be great for them to know that it is OK to ask for help," she said. "It's not a sign of their love, their loyalty or their obligation to not ask for help."
While public policies and health systems can do more to address the needs of caregivers, friends play a key role in helping caregivers stay strong and healthy.
Cindy Traub's husband suffered a stroke three years ago at the age of 35. At the time, she had a newborn and a preschooler.
One friend organized others to come nightly to help hold their baby while Traub made and ate dinner. Another organized drivers to take her husband to doctor appointments so she could go back to work. Another organized meal donations. In the early stage of his recovery, friends came to help him shower, shave and dress.
The help allowed her to focus on the more complex care of her husband and children.
"I realized that for people whose communities are not as strong, a lot of those tasks fall solely on spouse or caregiver," said Traub, 37, of Kirkwood.
That is why Byer at the Alzheimer's Association said she started the program pairing a seasoned caregiver with a newer one. The seasoned caregiver calls the other at least once month. Sometimes new caregivers don't even realize they need help.
As a volunteer making the calls, Menchhofer said she's struck by how lonely many are.
"Now," she said, "we are becoming more aware that caregiving is a disease of its own."