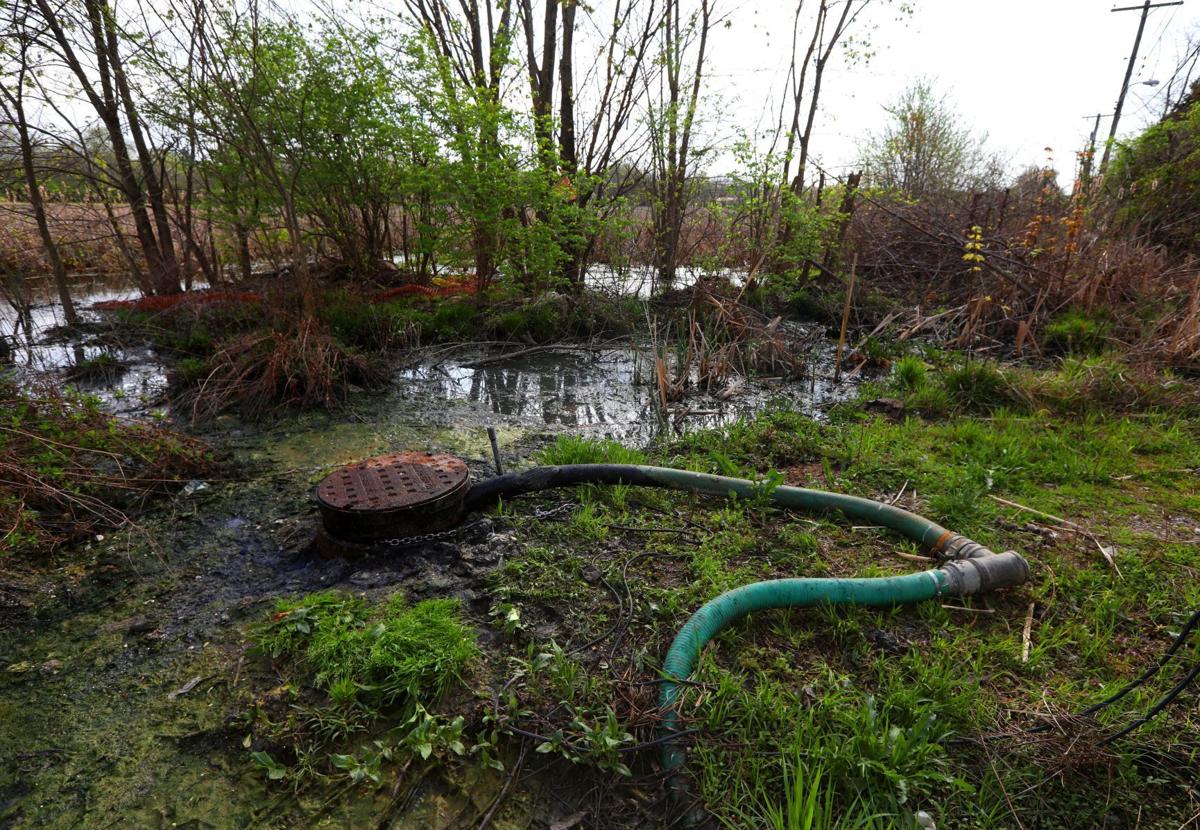 CAHOKIA HEIGHTS — Residents of this newly merged Metro East community, continuing to press for a permanent fix to a broken sewage and drainage system, on Tuesday filed a federal lawsuit against the city for violating the Clean Water Act by allowing wastewater to continue to flow into area creeks and rivers.
Filed on behalf of Centreville Citizens for Change and 24 residents, the lawsuit seeks compensation to cover damage to homes as well as infrastructure repairs to address the flooding and sewage issues that have plagued some neighborhoods for decades.
"It's horrendously inhumane for any human being to live with contaminated water coming into their home," resident Yvette Lyles, 62, said in a news conference Tuesday announcing the lawsuit. "Whatever comes out of the drain comes into our house, comes into our crawl space."
The lawsuit is the second filed by residents of the former city of Centreville, which formally merged in May with neighbors Cahokia and Alorton to form the new city of Cahokia Heights. The first was filed a year ago on behalf of two residents seeking immediate fixes to prevent further damage to their homes. That never happened.
Residents said Tuesday they are scared every time it rains.
"We can no longer live like this anymore. It's unacceptable," Lyles said. "Do what you say you are going to do."
In addition to approving the merger that created Cahokia Heights, voters also approved the dissolution of the sewer utility Commonfields of Cahokia and creation of the new Cahokia Heights sewer department. But residents said Tuesday that nothing has been done to repair the damaged pump stations that are supposed to move sewage to treatment plants. The drainage ditches for stormwater also remain clogged, causing water to mix with sewage and seep into the ground and waterways. In addition, residents say they are still being billed by Commonfields of Cahokia, which has not completed the process of dissolving.
"I thought things were going to be different (after the merger), that we were going to see a change. We have not seen change," said resident Mary Anthony, 62, who has lived in Centreville since she was 15.
Anthony's mother, 87, still lives in the house she grew up in. The foundation there is rotting away and animals are making their way in. Anthony has also spent $12,000 trying to keep water out of her own basement.
"We need help. We need someone to fix this problem," Anthony said.
Cahokia Heights Mayor Curtis McCall Sr. did not return calls for comment.
Residents shared stories of worsening damage to their homes over the past 20 to 30 years. They tried repeatedly to get local officials to make repairs, but were met with finger-pointing among public agencies and temporary fixes.
In April, before the Cahokia Heights merger became official, the Centreville Citizens for Change had given Commonfields a 60-day notice that the group would file a lawsuit under the Clean Water Act — federal legislation that protects U.S. waterways from pollution. Overflows, however, have continued to make their way into the Mississippi River and its tributaries.
"We will fight until the flow of raw sewage stops," said Debbie Chizewer, attorney with Earthjustice, a national nonprofit environmental law organization that helped file the latest lawsuit on the behalf of the residents.
Grant application rejected
McCall has previously said the new Cahokia Heights, with 27,000 residents, will be on better financial footing than its predecessors and better able to compete for state and federal grants.
City officials were holding out hope for the grant as one of the most promising signs of relief. Illinois politicians at every level had also put their weight behind its approval.
Residents, however, say they are not dismayed by the rejection. After years of broken promises, they were leery about how the money would be spent, even asking state officials for independent oversight if the grant was awarded.
Many officials in the new city government are the same ones who have been in charge for decades — serving as both elected officials, board members and employees for Commonfields and the former cities.
"I didn't think they were going to do things right," resident Walter Byrd, 64, said on Tuesday. "If you don't do things right, don't do it at all."
None of the 29 applications from Illinois for the federal funding were approved, said Rebecca Clark, spokeswoman for the Illinois Emergency Management Agency.
The agency hopes this week to learn why the applications weren't selected and share that information with local jurisdictions so they can improve their requests for next year, Clark said.
Many of the applicants, including Cahokia Heights, may be eligible for funding under the most recent coronavirus relief measure, the American Rescue Plan, she added. "The state will work with the local jurisdictions to guide them through the next series of applications."
Illinois' two U.S. senators, Tammy Duckworth and Dick Durbin, who had sent letters of support along with the BRIC application, both issued statements Tuesday saying they were disappointed with the rejection but will continue to work to find federal solutions.
"While this isn't the result we hoped for, this was just one source of funding for the area," Duckworth said. "I'll keep working with state and local leaders to help bring federal funding to the residents of Cahokia Heights who have lived for far too long with a public health crisis in their backyard."