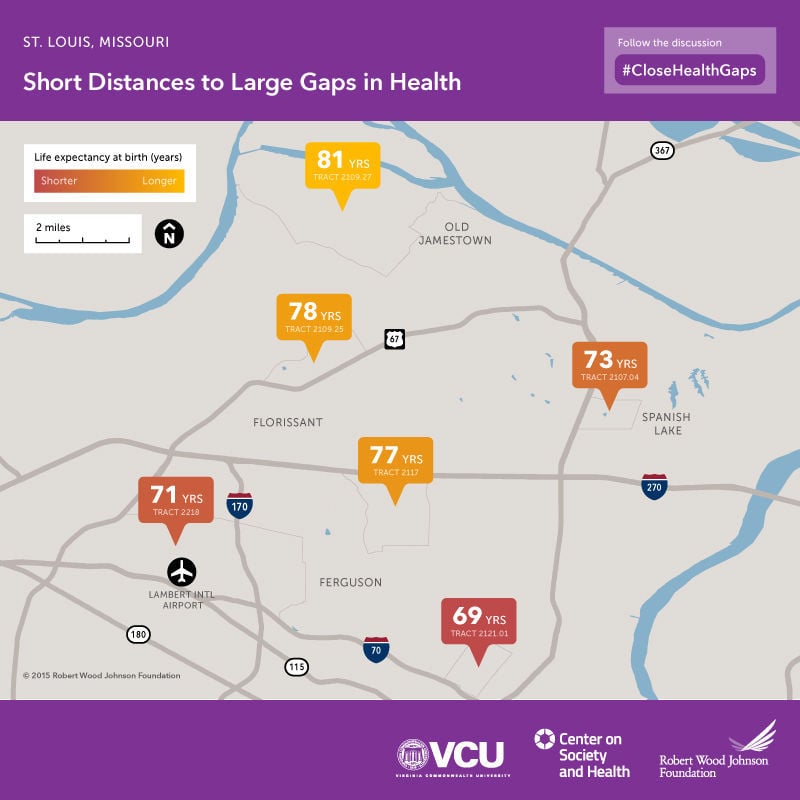 A new report confirms that life expectancy projections vary widely by geography in north St. Louis County, where some people can expect to live 12 years longer than their neighbors a few miles away.
Life expectancy is 69 years near Ferguson compared to 81 years in the area north of Florissant along the Missouri River, according to the researchers.
The report echoes a 2014 study on African-American health in St. Louis, "For the Sake of All," which included a life expectancy map showing age 67 just north of downtown St. Louis and age 82 in Chesterfield.
Census data shows an even greater disparity of 35 years between some ZIP codes. The highest projected life expectancy was 91.4 years in the 63040 ZIP code near Wildwood compared to a low of 55.9 years in the 63140 ZIP code of Kinloch.
Life expectancy is driven primarily by education level and income. The reports also look at the effects of unsafe housing, crime, segregation and air pollution plus access to grocery stores, health care and outdoor fitness opportunities.
Overall, racial gaps in life expectancy in the U.S. have been reduced. White men can expect to live 76.7 years compared to 72.3 years for black men. White women live an average of 81.4 years while black women can expect to live to 78.4 years, according to 2013 figures from the U.S. Centers for Disease Control and Prevention.
The latest report was sponsored by the Virginia Commonwealth University Center on Society and Health and the Robert Wood Johnson Foundation.