ST. LOUIS — A year ago, on what was the 49th anniversary of the historic Roe v. Wade decision, the two abortion providers in the Metro East announced an initiative to assist patients forced to travel long distances because of increasingly restrictive policies in their own states.
The move proved prescient when five months later the U.S. Supreme Court overturned Roe, triggering a number of state abortion bans and causing an even bigger influx of out-of-state patients.
In its first year of operations, the Regional Logistics Center has provided nearly half a million dollars in navigation services to more than 5,000 patients seeking care in southern Illinois, according to a report released Friday by Planned Parenthood of the St. Louis Region and Southwest Missouri highlighting efforts to protect abortion access ahead of what will be the 50th anniversary of Roe on Sunday.
"This anniversary marks the launch of our work to re-imagine Roe," the report reads. "This report celebrates our year of work rebuilding reproductive freedom in bold and innovative ways that have already and will continue to support every person's ability to access abortion, no matter their ZIP code."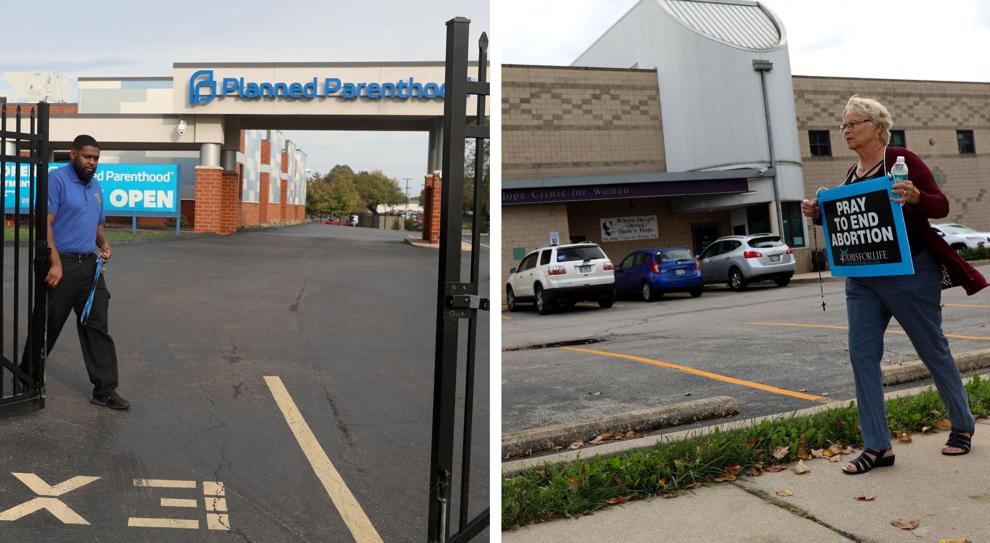 Meanwhile, thousands of abortion foes convened in Washington, D.C., Friday for the annual March for Life, held around the Roe anniversary. The theme for the march: "Next Steps: Marching into a Post-Roe America."
"With Roe now behind us, we are empowered to save countless innocent American lives by continuing to advocate for commonsense protections at the state and federal level, educating Americans on the intrinsic dignity of all human life," said Jeanne Mancini, president of March for Life Education and Defense Fund.
Instead of heading to the U.S. Supreme Court, participants this year detoured past the U.S. Capitol, where Congress is their new focus in the effort to strengthen abortion restrictions at the federal level.
Rep. Mike Kelley, R-Pa., last week reintroduced federal legislation prohibiting abortion after a fetal heartbeat is detected, which is around six weeks of pregnancy. Over 60 GOP lawmakers have signed on to the bill.
Michele Landeau, the chief operating officer for Hope Clinic in Granite City, said even in states like Illinois, providers can't take for granted that abortion access is permanently safe.
"It's important for folks to be vigilant," Landeau said. "We really can't let our guard down."
Despite efforts to handle in the influx of patients to abortion-friendly states, abortion access has been decimated across the U.S. since Roe was overturned, which left it up to each state Legislature to decide how and if to make the procedure available.
Twelve states have since banned abortion, including Missouri, and very limited exceptions have made it unavailable in two states. And the list is expected to grow.
Currently, about 17.8 million women of reproductive age — almost a quarter of the total in the U.S. — have to travel outside of their state to get an abortion. This especially affects groups such as minorities, teens, those with disabilities and rural residents, providers say.
Indeed, the vast majority — 70% — of patients who utilized the Regional Logistics Center services identified as a person of color, according to the new report.
"The main consequences that we've seen thus far from the decision and this fallout have been both predictable and preventable," said Dr. Colleen McNicholas, chief medical officer for the St. Louis region's Planned Parenthood. "It has always been true that abortion bans and restrictions impact those who are struggling the most."
Patients face wait times up to two weeks for an abortion at the Planned Parenthood's Fairview Heights facility in southern Illinois, McNicholas said, which sees patients travel hundreds of miles from across the South where abortion has been banned.
The wait time has not budged despite efforts such as expanding hours and adding telehealth services for medication abortion, and an additional medication abortion provider, CHOICES, opening about two hours farther south in Carbondale.
"Every time we are able to open up more spots, they just fill that quickly," McNicholas said.
Still, despite the current state of abortion in the U.S., she says she has many reasons to hope for a post-Roe environment where abortion rights are protected more than ever.
Even before Roe was overturned, abortion restrictions had already made abortion inaccessible in states such as Missouri, which had only one abortion provider prior to the ban.
McNicholas pointed to more engagement among young people, a renewed commitment among long-time abortion rights advocates and the results of state ballot initiatives, even in conservative states of Kansas and Kentucky, which maintained abortion access.
Abortion funds, which operate on donations to help cover the cost of abortions for those who can't afford it, provided nearly $2 million to patients coming to southern Illinois since June, she also said.
On Sunday, the STL Women's March is hosting a "Bigger than Roe" event from noon to 2 p.m. at the World's Fair Pavilion in Forest Park. In Kansas City, the Reale Justice Network is hosting a "Reproductive Justice is More than Roe" rally at noon at Mill Creek Park.
"In the longer term," McNicholas said, "I'm actually hopeful that the system that we recreate is going to be much better than what Roe ever provided for folks."