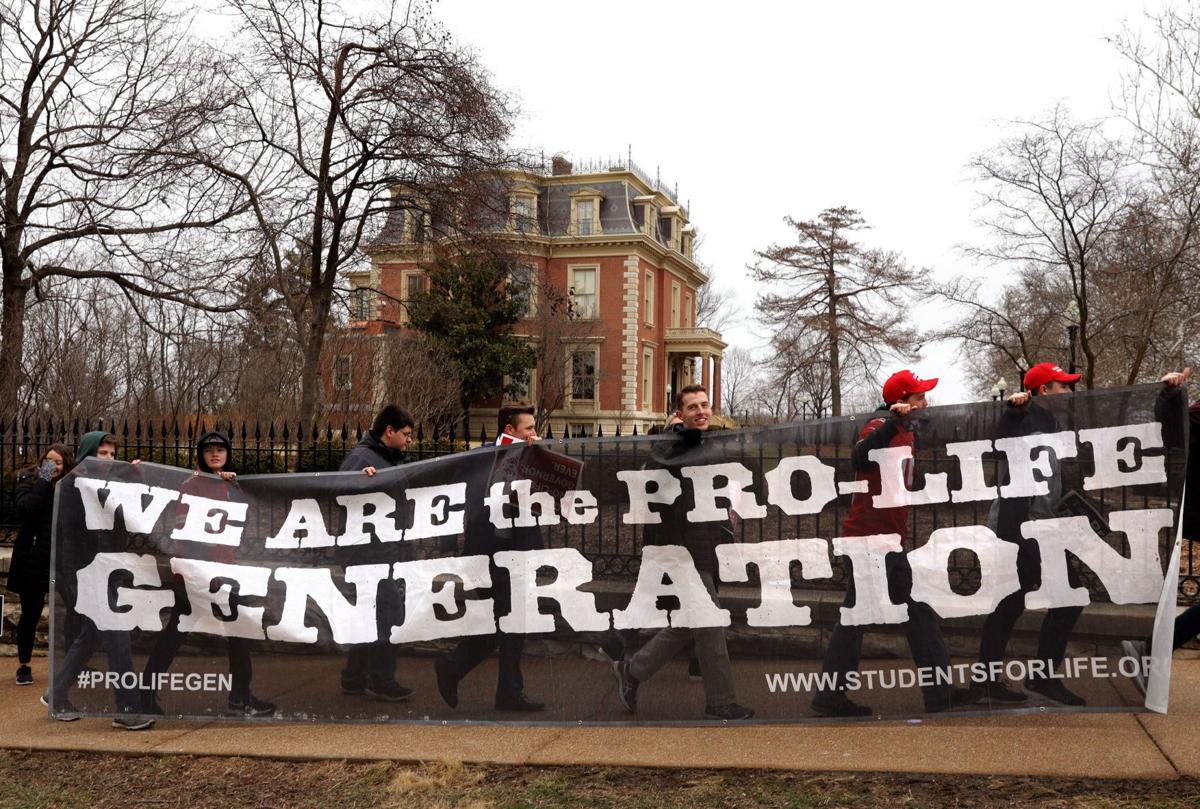 KANSAS CITY, Mo. — Missouri Republicans, encouraged by an upcoming U.S. Supreme Court decision many anticipate will severely reduce or eliminate the federal right to end a pregnancy, are poised to push an aggressive new slate of anti-abortion measures in the General Assembly next year.
Proposals include requiring women to undergo an ultrasound before an abortion, raising criminal penalties for illegal abortions and mandating medical care for babies "born alive" during the procedure. Other bills would strengthen existing prohibitions on public funding of abortion providers.
Missouri, where Republicans dominate state government, has already nearly eliminated surgical abortions. Years of restrictions and regulations have steadily chipped away at patient access. Abortion is available at just one location in Missouri, a Planned Parenthood clinic in St. Louis, and only a few dozen were reported in 2020. Patients with time and means often travel to Kansas or Illinois instead.
But the Supreme Court's ruling on a Mississippi law that bans abortion after 15 weeks of pregnancy, expected in June, has raised hopes among Missouri abortion rights opponents. They expect that lawmakers, many who are running for higher office in 2022, will soon go further than ever in attacking the procedure.
They're also adamant the Legislature shouldn't wait for the decision.
"Any statutes we have in place prior to the Supreme Court ruling can only be strengthened and I think it is very important to pass bills such as mine this session," said Rep. Brian Seitz, a Branson Republican who has introduced a bill to increase the minimum prison sentence for performing an illegal abortion from one year to three years.
Following oral arguments on Wednesday, many legal observers said that, at a minimum, they expect the court to let Mississippi's 15-week ban stand. It could also overturn Roe v. Wade, the landmark 1973 case that guaranteed the federal right to an abortion. Missouri already has an 8-week ban on the books, but it's currently blocked in federal court.
A Supreme Court decision upholding the Mississippi law could quickly allow the Missouri statute to go into effect, depending on the reasoning of the justices. The measure, signed by Republican Gov. Mike Parson in 2019, includes "trigger" provisions to ban abortion at 14 to 20 weeks if the Mississippi law is upheld but the court still preserves some right to an abortion and the 8-week ban is unconstitutional.
"We do anticipate, potentially, even a record number of anti-abortion bills and really anti-sexual and reproductive health bills," Emily Wales, interim CEO of Planned Parenthood Great Plains, said.
"I do think there's a level of extremist politicians feeling emboldened by the direct challenge to Roe v. Wade," Wales said. "Although we don't know exactly what the Supreme Court will do, this is the most direct threat to abortion access, particularly in our region of the country, that has happened in many, many years."
The General Assembly on Wednesday began accepting bills from lawmakers ahead of the start of session in January. At least 10 abortion-related measures had already been filed as of Thursday afternoon.
"I think we're going to be looking to get more things done in the Missouri House," said Rep. Hardy Billington, a Poplar Bluff Republican.
Billington has pre-filed a bill that would require medical professionals, prior to an abortion, to perform an ultrasound of the fetus while explaining to the patient what the image is showing. Current law only requires that women be given the option of receiving an ultrasound.
Billington said he had introduced the bill before, but that the current Supreme Court case "shines a light" on abortion.
"I think that would have a great impact if you look at a baby," he said of his bill. "I think it could change people's minds, I really believe that it could."
Rep. Sara Walsh, an Ashland Republican running for Congress, is offering the "Born-Alive Abortion Survivors Protection Act." The measure specifies babies "born alive" during failed abortions have the same rights as any live-born child.
The effect of such a bill is unclear. In 2002, Congress passed the "Born-Alive Infants Protection Act," which defines any baby born alive as a person, no matter what stage of development or whether the birth is the result of an abortion. Walsh's bill would require doctors to care for "born alive" babies as they would any other child at the same stage of development.
In a statement, Walsh said the bill is necessary "to ensure babies who survive the horror of an attempted abortion are given a chance to grow into healthy adults."
Elizabeth Nash, interim associate director of state issues at the Guttmacher Institute, a research organization supportive of abortion rights, said the born alive and ultrasound bills are fairly popular trends in anti-abortion legislation. Because of Missouri's decades-long record of abortion restrictions, she said, it's not surprising legislators are pursuing additional measures.
Momentum around both abortion bans and restrictions is likely to continue, even as the country awaits the Supreme Court's decision, she said. At least 26 states are certain or likely to ban abortion if Roe v. Wade is overturned, according to an October analysis of state laws co-authored by Nash.
"Missouri will certainly be in the mix of these states that are looking to either ban abortion or make it much more difficult to access care, which in Missouri sounds almost impossible," Nash said. "But it does feel like that's the direction we're going to see until we get this decision."
Democrats are offering their own measures affirming or expanding abortion rights, though the Republican makeup of the General Assembly makes it highly unlikely their bills will advance.
Rep. Emily Weber, a Kansas City Democrat, is offering bills that would codify the right to an abortion under Roe v. Wade and require organizations that provide pregnancy-related services to offer medically-accurate information in order to receive state funding.
"These radical and extreme partisans have shown they're willing to go after not only abortion, but even against birth control and other forms reproductive health care," Weber said in a statement. "I'm filing this legislation to stand up for my right, and the right of millions of Missourians, to have control over their own bodies."
Earlier this year, Republican infighting nearly led to the defunding of Missouri's Medicaid program after the General Assembly failed in its regular session to reauthorize a tax that pays for a large portion of the program. Parson called a special session that temporarily stalled after a group of hard-right senators wanted to tie approval of the tax to provisions that some lawmakers feared would endanger Medicaid coverage of birth control.
The General Assembly eventually passed the tax without the birth control language, but disputes over Medicaid coverage are almost certain to reemerge.
"I do have some disappointments, but some of the things we did at the end of the session we had to do to get certain bills passed for the good of the state and to pass the budget," Seitz said. "Now that the budget is passed, we can focus back on other priorities and pro-life is one of those priorities."
The Kansas City Star's Jeanne Kuang contributed reporting.