Farmers markets are a new target for promoting healthy eating in low-income communities. While fewer than 1 percent of federal food stamp dollars go to farmers markets, the numbers are rising.
Last year, nearly 15,000 St. Louis County families used food stamps at farmers markets, more than anywhere else except the New York and Detroit areas, according to the U.S. Department of Agriculture, which oversees the Supplemental Nutrition Assistance Program.
The St. Louis area has a comparatively high number of farmers markets that accept food stamps, with 16, said Aaron McMullin, who researches food access and nutrition at St. Louis University. Farmers markets add to the benefits of food stamps by offering cooking demonstrations, a greater variety of fruits and vegetables, and a social aspect, she said.
"So many of the farmers markets already have that goal of working with lower-income communities to make healthy food more accessible," McMullin said.
Still, the movement has a long way to go. Most places that accept food stamps are convenience stores, pharmacies and gas stations. And about half of the food stamps used nationwide are spent at super stores including Wal-Mart, according to the USDA.
The produce is usually more expensive at a farmers market compared to a grocery. To address that issue, the St. Louis Farmers Market Association raised more than $3,000 this summer to double the value of food stamps used at six area farmers markets. Each week, a food stamp recipient can get a match of $10 for spending $10. The group is working on grant applications to increase their funding.
"We'd like to make it affordable for all people to go to the farmers market," said Brian De-Smet, manager of the Schlafly farmers market in Maplewood. "Most corner stores and convenience stores do not have a lot of healthy foods there."
Last year, more than 900,000 eligible people spent $1.4 billion in food stamps in Missouri. The number of retailers accepting food stamps in the 15-county St. Louis region grew by 56 percent in the past 10 years, to more than 2,000 locations. Many of those were in St. Louis County, where the number of retailers in the program rose by 85 percent, according to a Post-Dispatch analysis of USDA data.
A majority of retailers added over the years are convenience stores or what USDA describes as "combination/grocery other," a broad category mostly composed of convenience stores, dollar stores and Walgreens and CVS locations. Those categories account for 69 percent of all food stamp retailers.
The 63136 ZIP code in north St. Louis County and a sliver of north St. Louis city, where 66 stores accept food stamps, has seen the greatest increase in participants in the area. But just one farmers market in North County accepts food stamps at all booths, the St. Louis Vendors, Farmers and Merchants Market in Velda City.
The USDA does not release the amount of money individual retailers receive from food stamps. A lawsuit filed by a South Dakota newspaper to get that information was ultimately successful. The USDA is taking public comments through Monday on a proposal to release some of the data on retailers.
Advocates for transparency say taxpayers should know how much stores take in from the nearly $80 billion food stamp budget, just as private hospitals must report the government dollars they receive through Medicare and Medicaid. The food stamp program's budget has doubled in cost and number of recipients — now 47 million — in the last 10 years. Hunger organizations such as the Bread for the World Institute in Washington also support the release of data, to identify high-volume vendors such as gas stations and work with them on offering healthy food choices.
Information on stores that commit food stamp fraud is also lacking. Last year, the USDA permanently disqualified 1,215 stores and temporarily disqualified an additional 662 for program violations including exchanging food stamps for cash, but did not identify the stores.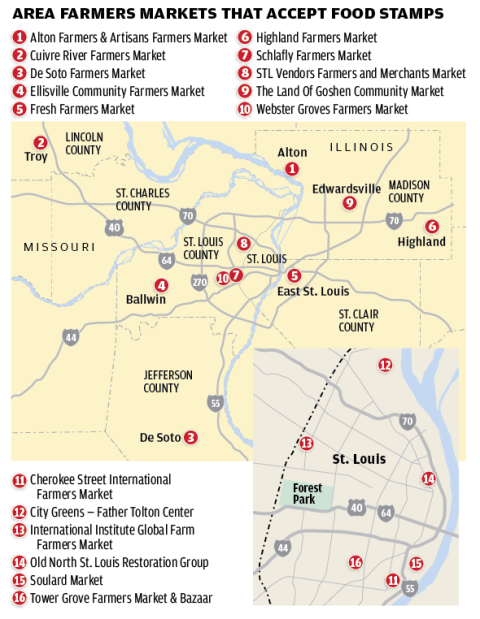 The public also doesn't know whether food stamps are being spent on fruits and vegetables or soda and chips, because Congress hasn't given the USDA the authority to track that information. The stamps can be used on most any food and drinks except alcohol and tobacco products. The American Medical Association has called for a ban on using food stamps to buy sugar-sweetened beverages including soda, which are considered a main contributor to obesity.
EarthDance Farms offers fresh produce weekly at the Ferguson Farmers Market and accepts food stamps for its variety of greens, heirloom beans, five types of tomatoes, okra, cucumbers, zucchini and other vegetables. The pumpkin and winter squash season will start soon, said program director Rachel Levi.