ST. LOUIS − She didn't think heroin would take hold of her the way it did.
"At first, I would do it just to have fun," said Tamara Collins, 35. But she quickly found herself unable to function without it, running out on her lunch break at a mortgage company to buy more.
"It became part of my daily routine," Collins said, "just like getting up and brushing my teeth."
Last fall, she found out she was pregnant. She wanted to continue the pregnancy and stop getting high. Once again, however, she underestimated heroin's power.
She tried to quit twice and failed. The severe stomach pain, vomiting, diarrhea and sweats were unbearable.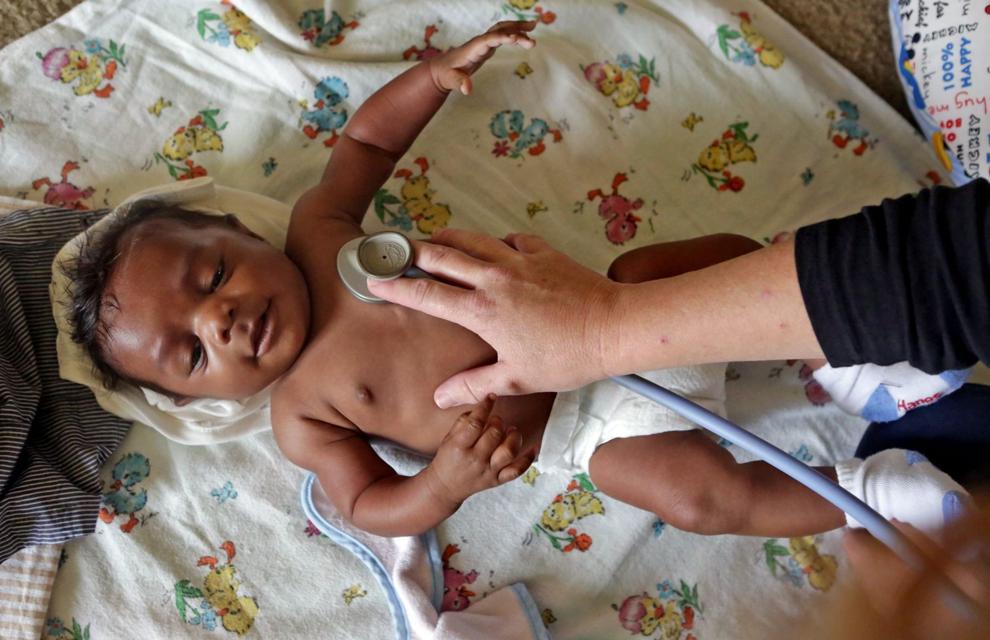 Collins researched ways to get clean and learned quitting cold turkey was very dangerous for her and her baby. Even though her newborn probably would suffer withdrawal symptoms, the safest option was to enroll in a methadone treatment program. Methadone is an opioid like heroin but doesn't cause euphoria in prescribed doses.
"They tell you not to quit because it could kill you and your baby," Collins said, "but it's hard, because you know you need to."
The number of babies born dependent on opioids such as prescription painkillers and heroin has increased fivefold since 2000, according to research led by neonatologist Stephen Patrick at Vanderbilt University.
In 2012, nearly 22,000 newborns in the U.S. were treated for opioid withdrawal, the study showed. That is one infant every 24 minutes.
The babies suffer what is called neonatal abstinence syndrome. They are more likely to be small and have respiratory complications, feeding problems, jaundice and seizures. They may shake, sweat, cry excessively, have diarrhea and be difficult to console.
They are hospitalized an average of 16 days, accounting for an estimated $1.5 billion in annual hospital expenditures in the U.S.
Hospitals are scrambling to figure out how to effectively treat babies with the syndrome and produce the best long-term outcomes — healthy children, women free from addiction and intact families.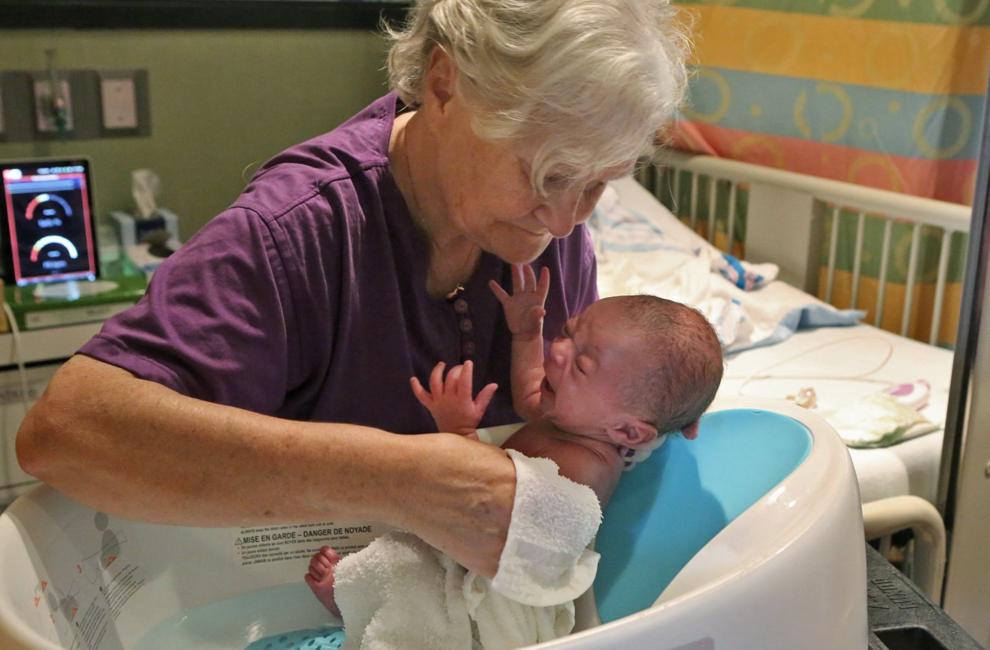 SSM Health over the next few months is opening two full-time maternity care clinics dedicated solely to caring for patients addicted to opioids, one in the St. Louis area and the other in Carbondale, Ill.
Hospitals are connecting with resources in the community to help new moms after they leave their care. They are trying to educate women that even a prescription painkiller can cause problems in their newborn, that doctors are there to help and not judge.
"We are all becoming better at treating these families because we have to," said Dr. Kimberly Spence, a neonatologist for the St. Louis area network of SSM hospitals, where 20 percent of newborns in its intensive care units are withdrawing from opioids.
Collins' baby boy, Cameron, was born full term on June 16 and spent 18 days in the hospital, treated with weaning doses of morphine until his withdrawal symptoms subsided.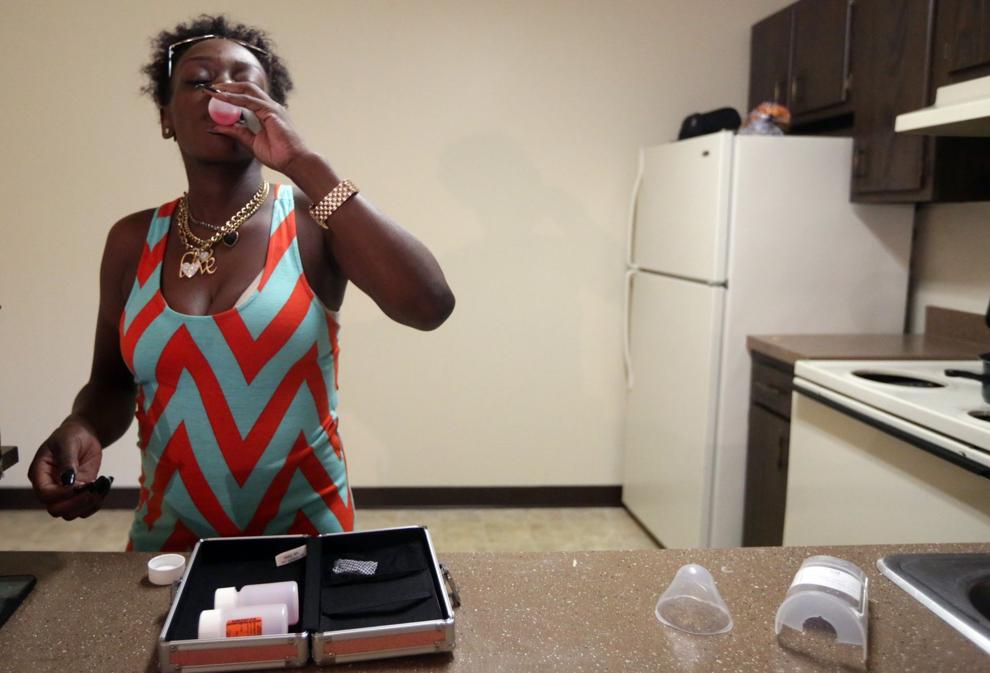 She continues her daily methadone, which must be closely administered by a clinic. She finds strength in church and attending as many group therapy and counseling sessions as she can. She's taking online courses toward an accounting degree.
"I want to be clean. I want to stay clean," Collins said. "I know I had to stay strong once I had the baby … I was scared of that thought, that I might want to get high again."
Alarm bells
The rapid rise in neonatal abstinence syndrome parallels the amount of painkillers prescribed and sold in the United States, which has quadrupled since 1999.
In 2012, the CDC reports, health care providers wrote 259 million prescriptions for opioid pain relievers such as OxyContin, Vicodin and Demerol.
Addiction to painkillers also fueled the sale of the cheaper street opioid heroin. Nearly half of heroin users were first addicted to prescription pain relievers, according to the CDC.
The alarm bells sounded at area neonatal intensive care units about three years ago. "We all started looking at each other, saying, 'You know, we had one of these kids a month, then one a week. Now we have five at a time," said pediatric pharmacist Kelly Burch at Mercy Hospital St. Louis, where the number of babies treated for the syndrome has increased 52 percent in the past five years.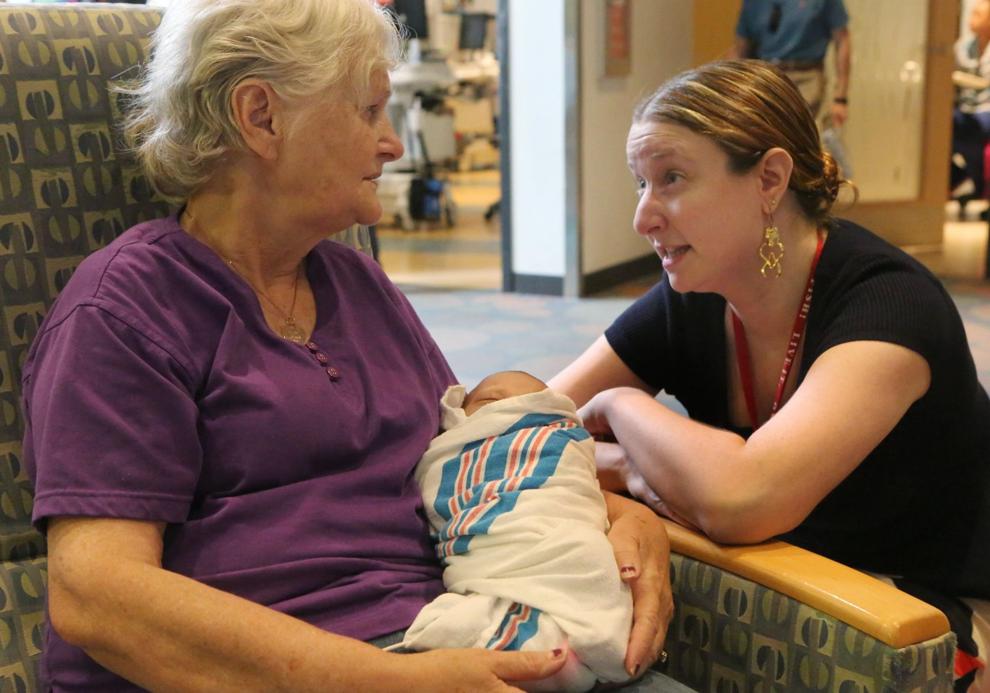 They had to figure out how to care for these babies effectively, safely and efficiently. Mercy, SSM and BJC hospitals formed task forces.
The groups spent months developing and training providers in guidelines such as when and how to screen pregnant women for opioid abuse, how to assess babies' symptoms, how to wean according to those symptoms and when moms can safely breast-feed.
They turned to recommendations by expert groups and gathered opinions from specialists within their institutions. They developed computerized checklists, videos showing the babies' high-pitched cries, clenched fists and tremors, and information sheets for parents.
"One of the challenges is that there's no nationally accepted best-practice guideline. There is no 'this is how you have to do it.' That is the challenge in coming up with one that everyone agrees on and has the best outcomes," said Dr. Rachel Shakofsky, who led the effort as a pediatric hospitalist for BJC hospitals before recently going into private practice.
Despite the variability, data have shown that consistency works in reducing hospital stays. "It's just picking one way to do it and sticking with it," Spence said.
The large hospitals are also reaching out. "Primary obstetricians in the community are having trouble figuring out where patients need to go and how best to treat them," said Dr. Shayna Conner, maternal-fetal medicine specialist at Barnes-Jewish Hospital. "I've been going out in the past few months and giving a lot of talks."
With studies showing more than 20 percent of women prescribed a narcotic during pregnancy, community doctors are unaware that even a prescription dose is not without risk.
"I don't want to blame obstetricians, but we definitely saw moms who were using an opioid during pregnancy and didn't know the potential effects," Shakofsky said. "They were surprised when their baby had to go the NICU."
Over-the-counter medications, chiropractic care, massage, compresses or a pregnancy belt should be tried first to relieve pain, Conner said. "Sometimes conservative measures can help, and sometimes patients just need reassurance that some pain is normal in pregnancy."
Low-tech interventions
Providers have learned what opioid-dependent babies need most is quiet, dim environments, to be held skin-to-skin, swaddled and rocked. These soothing measures can reduce the number of days babies spend in the hospital and even prevent their need for morphine therapy.
Moms are best at doing those things, so hospitals no longer pre-emptively whisk babies to the neonatal intensive care unit, which also affects bonding and breast-feeding.
"The goal is to not have to treat these infants with medication," Spence said. "By improving and standardizing nonpharmalogic measures, we won't have to treat these babies medically."
These low-tech interventions also don't need to take place in the high-tech and costly units, even when medication is needed.
Some hospitals care for infants in their well-baby nurseries; or if there's space, let moms and babies stay for several days in their hospital rooms. More babies are going to Ranken Jordan Pediatric Bridge Hospital, which is flush with volunteers.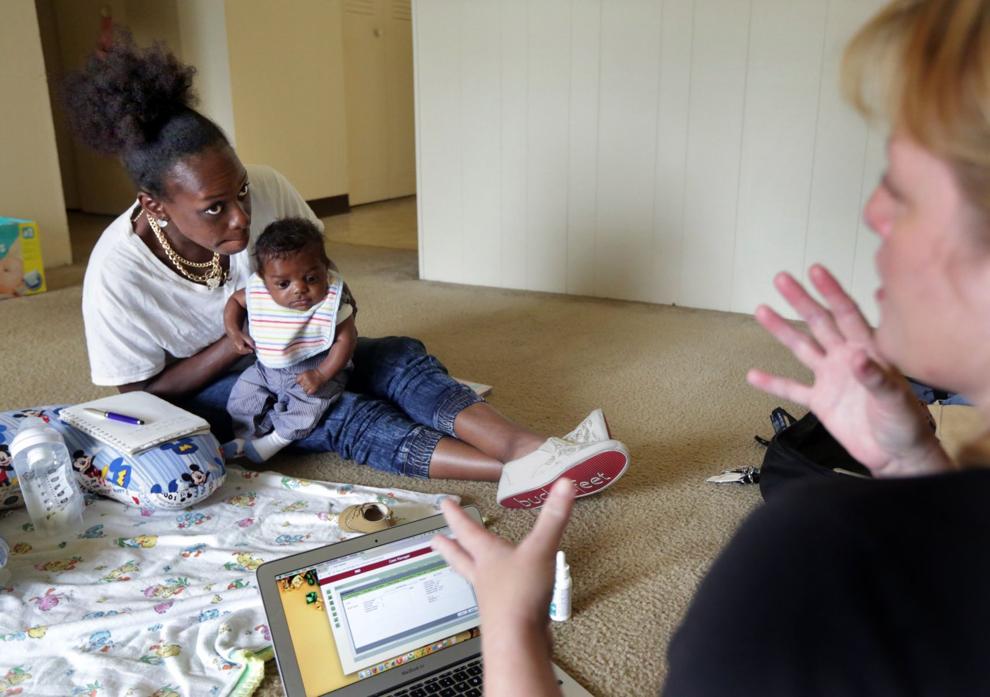 For families who are capable, Mercy Hospital St. Louis prescribes weaning doses of morphine to take home under the supervision of a nurse, social worker and pediatrician.
Above all, providers say they have learned to be kind, and that with compassion comes progress.
"We've worked to make this a healthy environment for moms and babies because it's really easy to judge," Burch said. "We've changed a lot in how we talk about this."
Obstetrician Ravi Johar, while recently on call for the emergency room at St. Clare Health Center in Fenton, saw three pregnant women addicted to opioids in a span of five days.
They showed up late in labor. Despite being full term, they had never received prenatal care, fearful their drug dependence would land them in jail. He was the first doctor they had seen.
"It's a very difficult problem. It's not something we can criminalize away or we can legislate away," said Johar, also president of the Missouri State Medical Association. "We have to start with education, and you have to have the resources and you have to have the support."
Fragile recovery
Two years ago, the high-risk pregnancy clinic at St. Mary's Health Center set aside one afternoon a week to focus on patients addicted to opioids. Their needs were great, said Dr. Jaye Shyken, a maternal-fetal medicine specialist who led the effort.
Patients need drug intervention treatment, counseling, frequent monitoring and other social services. In addition to doctors and nurses who treat high-risk patients, they require social workers, pharmacists and therapists.
Shyken earned her license to prescribe buprenorphine, an emerging opioid replacement to treat addiction. It doesn't cause a high, so it can be taken at home rather than at a clinic. Research shows relapse risk may be higher, but babies born to women using the therapy have shorter hospital stays.
After a year, St. Mary's began to see a backlog of patients needing appointments. Women were being referred from as far away as Rolla, Mo., and Litchfield, Ill.
To handle demand, SSM Health turned a 3,600-square-foot nearby space into a full-time clinic scheduled to open next month. It will include two induction rooms, where patients can begin buprenorphine treatment and be monitored several hours for signs of distress.
In November, a smaller clinic will open in Carbondale.
"We decided we wanted to have a center that just focuses on these moms with a team trained especially to work with these moms," said Donna Bernard, the director of maternal services for the St. Louis network of SSM hospitals.
Because the risk of relapse is high after the baby is born, especially when a partner is using drugs, social workers at the new clinics will continue to work with moms and their families for up to two years, Bernard said.
"We are adding layers," she said. "We are working with organizations on things like job skills, housing, life skills and mentoring. We just want to be able to facilitate that to help mom get the support she needs and stay on the right path."
Providers say it is heartbreaking to learn that a mom who worked hard to stay clean during pregnancy has lost custody of her child or died from an overdose.
Melinda Ohlemiller, director of Nurses for Newborns, which provides home nursing visits to at-risk families, says the recovery process is fragile for moms and their babies.
Initial research shows good long-term outcomes for children exposed to opioids in the womb if they have a healthy and supportive environment at home.
"We need to be able to deliver a message that you can do this. You can maintain your recovery. You can be an excellent parent," Ohlemiller said. "We need to give them the message that they can turn their lives around."
That's the message Collins wants to send to other parents.
"Love yourself enough to do it," she said. "It's not even about loving your baby enough, it's about loving yourself enough. The better you are to yourself, the better you will be to your baby."
Editor's note: This story has been updated to correct information on the number of babies born dependent on opioids in the 9th paragraph.