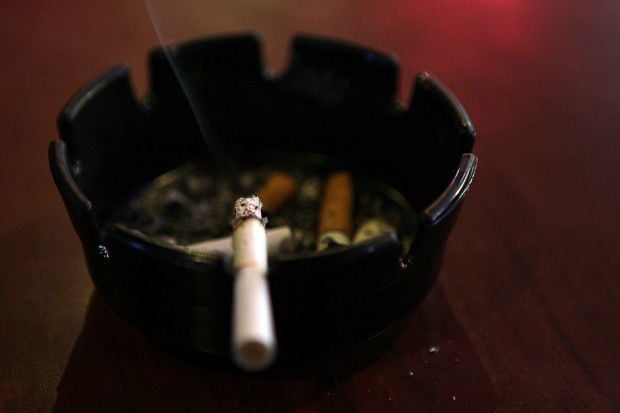 Missouri bars and restaurants would not suffer under a statewide smoking ban, according to new research.
Illinois and 28 other states prohibit smoking in restaurants, bars and other public indoor places. While several cities have strict smoke-free laws in Missouri, including Kirkwood, Creve Coeur, Clayton, Ballwin and Brentwood, there is no statewide law. St. Louis and St. Louis County have some restrictions that smoke-free advocates say could be improved because there are exemptions for some bars and casinos.
A common argument against smoke-free laws is that it reduces revenue and employment in restaurants and bars. The authors of the paper disagree, finding no adverse economic effects on restaurants or bars in smoke-free areas. The researchers studied eight states, including Missouri, without statewide laws to see whether a smoking ban would hurt local businesses.
Using sales and tobacco tax data from 216 cities and counties over 11 years, the researchers projected that seven of the states would have no economic impact, and West Virginia would see a 1 percent boost in restaurant jobs if a statewide smoking ban was adopted. Other benefits of smoking bans in bars and restaurants include improved lung function and a decrease in smoking rates among staff. Some data came from the Missouri Department of Revenue after smoking bans were passed in Lake Saint Louis, Kirkwood, Clayton and Ballwin.
"We found that smoke-free laws had no adverse impact on employment in restaurants or bars," said Brett Loomis, lead author and a research economist at RTI, a North Carolina think tank. "Similarly, sales in Missouri eating and drinking establishments were not affected by smoke-free laws."
Little research is available on competition between border states like Missouri and Illinois that have different smoking laws. Loomis said one study on neighboring counties in Ohio and smoke-free Kentucky found no effect on businesses in either state.
The research shows that going smoke-free would not be harmful to Missouri bars and restaurants, said Pierce Nelson, a spokesman for the foundation of the Centers for Disease Control and Prevention. "More generally, smoke-free laws have health benefits that extend to the entire population of the communities where they are adopted," he said.
The study was funded by the CDC Foundation through a grant from the pharmaceutical company Pfizer. It was published in the August issue of Preventing Chronic Disease, a publication of the CDC.
Smoking ban opponent Bill Hannegan said his concerns are with the small bar owners who can't afford or don't have space for smoking patios.
"The overall industry doesn't shrink, but the property rights of that mom and pop tavern owner are violated," said Hannegan, director of Keep St. Louis Free. "The report in itself doesn't mean if you own a bar and a smoking ban is coming that you're not in trouble."
Pfizer markets the drug Chantix, which is designed to help people quit smoking. Michael Siegel, a professor at Boston University's School of Public Health, has questioned the funding of the study, saying the partnership with drug companies taints the CDC's objectivity and is a disservice to the public.