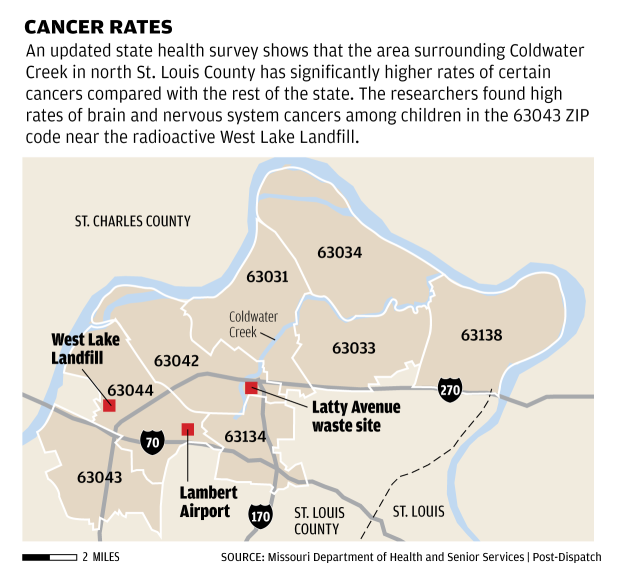 St. Louis County health department officials have joined their state counterparts in asking for further investigation into health concerns that could be linked to nuclear waste contamination in Coldwater Creek, which runs from St. Ann to the Missouri River.
Dr. Dolores Gunn, the county health director, said she is concerned with "the entire range of health problems that can be associated with exposure to radiation," and not just cancer.
A state report released Tuesday showed high rates of leukemia, breast, colon and other cancers in eight zip codes near the creek. The report also found high rates of brain cancers among children in the 63043 ZIP code, which is near the radioactive West Lake Landfill. The same waste from World War II-era atomic bomb production ended up in the creek and the landfill. Cleanup of the creek is ongoing while the landfill situation awaits a solution from the Environmental Protection Agency.
"People have a right to know if the environment they live in is safe for them and their families," Gunn said in a statement. "The report released Tuesday by the state health department raises additional questions that need to be answered."
The investigation should go beyond the years of the state's study, 1996 to 2011, Gunn added.
"We also need to determine if people are still being exposed to any environmental dangers," she said.