Thanksgiving is upon us, which means in just a couple of months, it will be time to deflate from holiday calorie overload.
But before you feast, consider this: Though excess calories consumed during meals can certainly contribute to a "bloated" or full feeling, along with weight gain, there are many other possible reasons why you may feel like you've gone up a jeans size after eating. For these causes of bloating, the popular advice you might find on a Google search isn't likely to help.
"We're using the same word to refer to 50 different things, and so you have no idea if what you read online is referring to the same type of bloating you are experiencing," said Tamara Duker Freuman, a registered dietitian who specializes in digestive disorders and author of the forthcoming book "The Bloated Belly Whisperer."
Below are some myths, debunked, to give you a better sense of what bloating really is, what it isn't and what you can do about it.
Myth 1: All bloating has a common cause.
Feeling "overly full" or experiencing discomfort after eating or having a stomach that is noticeably distended might seem like similar bloating symptoms, but that doesn't mean the cause is the same for each.
Not everyone wants to host Thanksgiving dinner. Almost no one wants to do the dishes after. Give thanks this holiday season for these restaurants that are open on Thanksgiving or are providing pre-cooked meals to make your holiday at home a little easier (dishwasher not included).
"People most often come in saying they are 'bloated,' but what they mean by that is quite varied, and I usually need to do quite a bit of digging to really understand what it means to them. It is a very subjective sensation," said Dr. Yevgenia Pashinsky, a gastroenterologist and clinical instructor of medicine and gastroenterology at Mount Sinai Hospital in New York.
Often, people will come in with a self-diagnosis, "which often has little to do with the actual causes of their symptoms," Pashinsky added.
Technically, anything you put in your GI tract has the potential to cause bloating. But according to Pashinsky, some people are more susceptible to bloating than others, including those with conditions such as gastroparesis (when the stomach is slow to empty), functional dyspepsia (an inability of the stomach wall to relax and accommodate food) and a condition known as SIBO, or small intestinal bacterial overgrowth (in which excess bacteria live in a part of the intestinal tract where they don't belong).
Additionally, one might feel overly full or distended because there's too much gas in their gastrointestinal tract, because they are constipated or because they have aerophagia, or excessive air swallowing.
Identifying the cause of bloating matters because the treatment that offers relief will vary from person to person and is therefore not a "one size fits all" solution.
Myth 2: You don't need a doctor or dietitian to help.
Meeting with a gastroenterologist and a registered dietitian can help you get the most accurate diagnosis for your bloating, along with a tailored treatment plan. What's more, it can help you avoid nutritional deficiencies and rule out more serious problems.
Hey, Food Dude: Why do we Americans eat turkey for Thanksgiving? — Trip Tophan
"Though bloating can represent something as simple as lactose intolerance or mild constipation, it can be something as serious as a malignancy, whether gastrointestinal or gynecological in nature. And you're not going to know that by going online," Pashinsky said.
"I strongly feel that everyone should have a dietary assessment as part of their overall health care whether they are symptomatic or not," she added. "Dietary causes are the most common contributors to gastrointestinal symptoms, and with the overwhelming amount of information available, people get caught up in restrictions that can diminish quality of life and lead to nutritional insufficiencies."
For example, self-diagnosis and treatment might lead someone to eliminate all vegetables, which can adversely affect intake of the essential nutrient folate, when in reality only a handful of veggies with specific types of fiber trigger their symptoms, Freuman explained. Additionally, people often eliminate all calcium-rich dairy foods, when only dairy foods high in the milk sugar lactose actually bother them. In this case, a lactose-free milk, for example, would help ensure adequate intake of calcium.
Myth 3: Sodium causes 'bloating.'
"Excess sodium can cause fluid retention [not bloating per se] and can give a 'puffy' appearance, but more so in the face and extremities than in the abdomen," Freuman said.
Bloating in the gastrointestinal world generally refers to abdominal swelling that is related to either gas, food or stool excess in the intestinal system or the sensation of this, Pashinsky explained.
"It's that feeling of over-fullness and discomfort in the digestive tract, or it's a visible distention of your abdomen, which increases the size of your stomach," Freuman added.
Thanksgiving dessert means pie. But does it have to?
On the flip side, fluid retention is related to sodium and water balance and involves the kidneys and blood vessels. "It can lead to excessive soft tissue swelling, which can cause swollen ankles or indentation from socks, but this is not something that is primarily gastrointestinal in nature," Pashinsky said.
Though it's true that eating a low-salt diet and drinking more water may help resolve fluid retention if your kidneys are working properly, this will do nothing for you if you are clinically bloated, Freuman explained.
Being precise with your terminology and giving examples of both alleviating an aggravating factors for symptoms and how these relate to eating and bowel function are important when talking with your doctor, as that will help determine next steps in testing and potential treatment options, Pashinksy said.
Freuman added that "If you use the term 'bloating,' your doctor might think you are suffering from acid reflux or constipation. But if you are actually retaining water, this might imply blood pressure issues or kidney issues or fluid retention, in which case you might need a low-sodium diet, increased intake of potassium or a diuretic."
Put another way: If you are truly bloated from an underlying digestive issue and you read an article that says "cut back on sodium," that won't be helpful.
"There's a smattering of random advice that's not particularly tailored to people and may not be useful, because you may not be talking about the same problem," Freuman said.
Myth 4: Bloating is caused by a bacterial imbalance.
Our gastrointestinal tracts are home to trillions of bacteria, which you can think of in three ways. The first is probiotic or beneficial bacteria, which may make vitamins and short-chain fatty acids that are good for us, Freuman explained. The second group of bacteria are called commensals, and they seem to neither help nor hurt us. The third is a group that is potentially pathogenic or harmful, like if a particular strain of E. coli is allowed to grow unchecked.
All of us host bacteria from these three categories. "But there's this popular idea that if you feel bloated or have a lot of gas, that you are over-represented by the 'bad' disease-causing bacteria and have too little of the 'good' bacteria ... and that there is some sort of imbalance causing you to have excess gas or discomfort or constipation," Freuman said.
"This is an incredible oversimplification and not necessarily true."
What this means is that the notion of adding more "good" bacteria in the form of a probiotic won't help your symptoms.
In fact, some find that a probiotic makes them more bloated, not less, Freuman said. That's because "good" bacteria can ferment nutrients just as much as the "bad" bacteria -- which means the "good guys" can produce plenty of gas in the GI tract.
Pashinsky added, "I do not routinely recommend a probiotic for bloating because I feel our knowledge of the microbiome at this point is barely scratching the surface, and it will be a few years before we really have an decent understanding on how to manipulate it."
Myth 5: Certain foods can eliminate bloating.
Despite what you may find on an Internet search, there are no magic foods that will help alleviate bloating. "Overall meal patterns and dietary patterns that address the specific cause of your bloating can help reduce the symptoms, but there's nothing magic about, say, asparagus that will cure a truly bloated belly," Freuman said.
In fact, adding foods can make your bloating worse, not better. "If you are full of gas and you eat asparagus or celery, you might assume the gas will go away, but this is not necessarily the case," Freuman added. "Some people find asparagus or celery gassy in and of itself."
Keeping a food and symptom journal can help you determine whether there is something about your diet that is contributing to your symptoms.
"It's best to look at an overall pattern to see what can be contributing to the bloating, rather than seeking out salvation in some random superfood," Freuman said.
Myth 6: Bloating is belly fat.
Bloating isn't belly fat. Belly fat is belly fat.
"People will say, 'I'm bloated,' but what they really mean is that they have gained belly fat," Freuman said.
Gaining weight around your abdomen is common in women during menopause. "Someone might say, 'I feel like I have a spare tire around my middle, and my clothes fit differently,' and they call it bloating, but I realize they are really talking about belly fat and weight gain, and the solution to that is weight loss," Freuman said.
A calorie-restricted diet, rich in protein and fiber, along with increased amounts of exercise, can help.
10 of St. Louis' most wicked holiday-wrecking weather events
Thanksgiving 1993: Ice storm closes highways, causes deadly accidents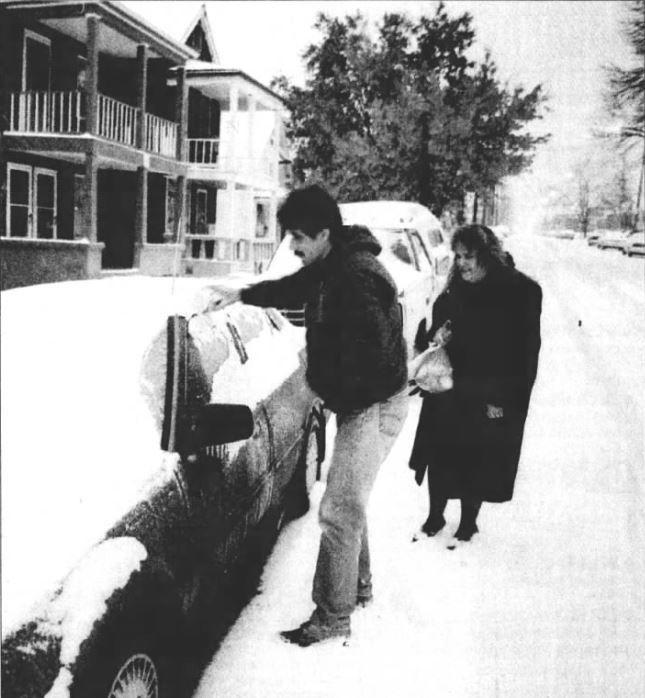 The first ice storm of the winter hit the area late in the day Thanksgiving, coating area roads with freezing rain that lasted well into the night.
The slippery conditions led to scores of accidents on the roads, which left two people dead and injured others.
Road conditions became so treacherous that officials briefly closed Highway 40 (Interstate 64) near Vandeventer Avenue shortly after 7 p.m. after a series of accidents within a few yards of one another on a downhill stretch. The wrecks involved 10 vehicles, but only one person had minor injuries.
The ice also forced officials to close Interstate 70 at two points near Lake St. Louis in St. Charles County for part of the evening. 
New Year's Eve 2010: Tornado outbreak kills one, destroys several homes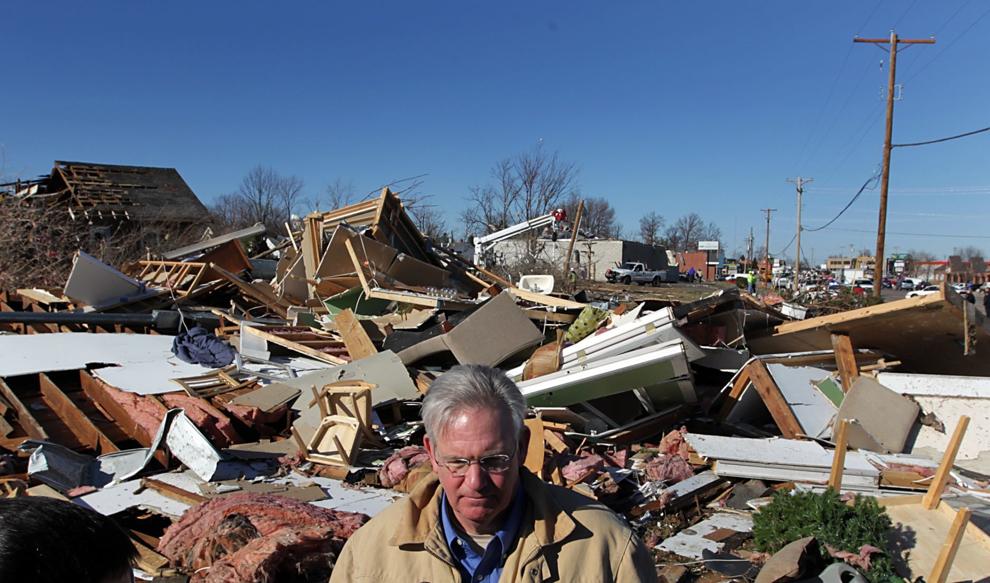 Shortly before noon on New Year's Eve, 13 tornadoes cut through the region, downing trees, damaging and destroying buildings and homes.
The strongest of the twisters packed winds near 150 mph and was rated an EF-3 by the National Weather Service.
The storm first touched down in far north Jefferson County, touched down again at the county line, skipped northeast along Highway 30 and crossed Highway 141, when the tornado picked up a vehicle driven by a 70-year-old woman and slammed it sideways into a median wall on Highway 141. She died a week later from her injuries.
That storm crossed the Meramec River, crossed I-270, then grew stronger, moving one home almost 50 yards from its foundation, leaving the worst damage in Sunset Hills, where several homes were destroyed. Lewis Place and Robertsville, an unincorporated area of eastern Franklin County, also were hit hard.
Weaker tornadoes also touched down in the north part of St. Louis, going through The Ville and North Riverfront neighborhoods, Ballwin, and Augusta in St. Charles County.
Christmas 1983: Deadly cold spell sets records, leaves trail of broken water pipes

While the average high on Christmas is 39, many St. Louisans know it can get really cold around the holidays. 
But Christmas in 1983 went several frigid steps beyond "really cold." 
An unwelcome icy surprise greeted last-minute shoppers, starting on Dec. 23. With most secondary streets still snow-packed from a previous storm, a brutal cold front dropped the temperature to 9 below zero and brought wind, leaving the wind chill well below that.
Christmas Eve was no better. Santa brought the area a heaping dose of Arctic chill. The low temperature hit 13 below, which broke a 101-year-old record, and the -41° wind chill marked the third-lowest recorded value in St. Louis history, according to the National Weather Service.
On Christmas, the high reached all of 7 below, still the lowest high temperature recorded on that date. 
And if the cold weren't bad enough on its own, at least 10 people died in cold-related fatalities, including three on Christmas.
In St. Louis, a Fire Department spokesman said it had received at least 80 reports of pipe breaks by sunset on Christmas in all parts of the city, and thousands of homes in the region had no heat or electricity.
A water sprinkler sstem bursting at a gym sent 6 inches of water pouring onto Dorsett Road, forcing St. Louis County police to close that road near Interstate 270 for several hours on the day after Christmas.
Thanksgiving 2004: Winter storm kills 1, knocks out power for thousands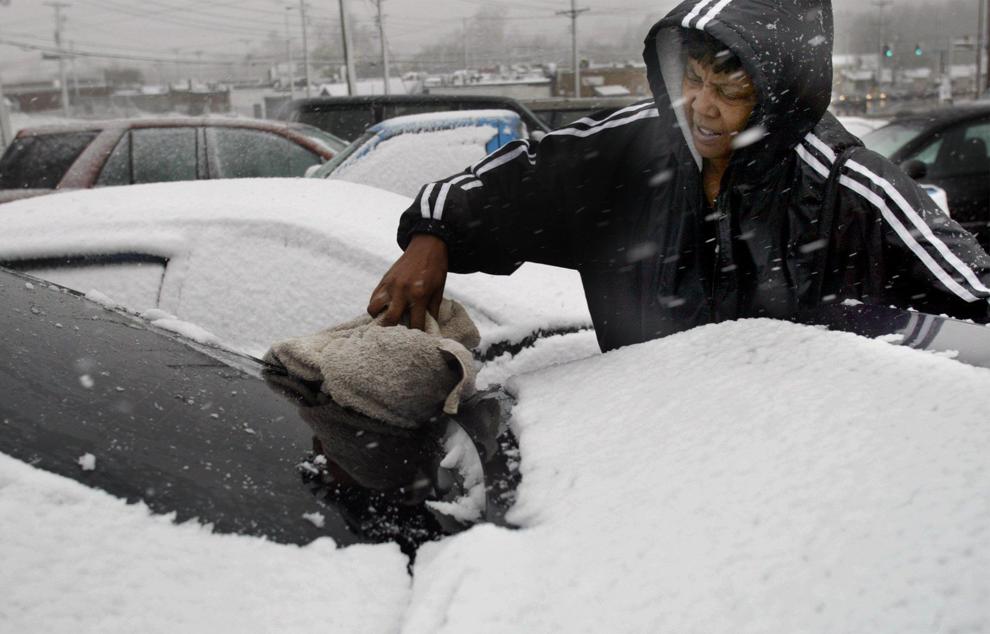 A major winter storm that brought rain, snow and high winds blasted through the area the day before Thanskgiving 2004, leaving one area man dead, knocking out power and MetroLink traffic and bringing travel for numerous holiday travelers to a halt.
While as much as 6 inches of snow fell west of the St. Louis area, closing Interstate 70 near Lake Saint Louis, the metro St. Louis area only saw an inch or two of snow after a morning of hard rain. The bad weather delayed flights for hours.
High winds caused plenty of problems, though. An Affton man died when high winds capsized his 18-foot johnboat on the Mississippi River near Alton. And the gusts knocked a tree onto an eastbound MetroLink train and its power line between Belleville Memorial Hospital and the Fairview Heights station. No one was hurt, though the 25-30 passengers were stuck for two hours.
The snow and wind cut power to about 18,000 customers in north and far west St. Louis County, and some in South County.
Christmas Eve 2010: Winter storm gives area a White Christmas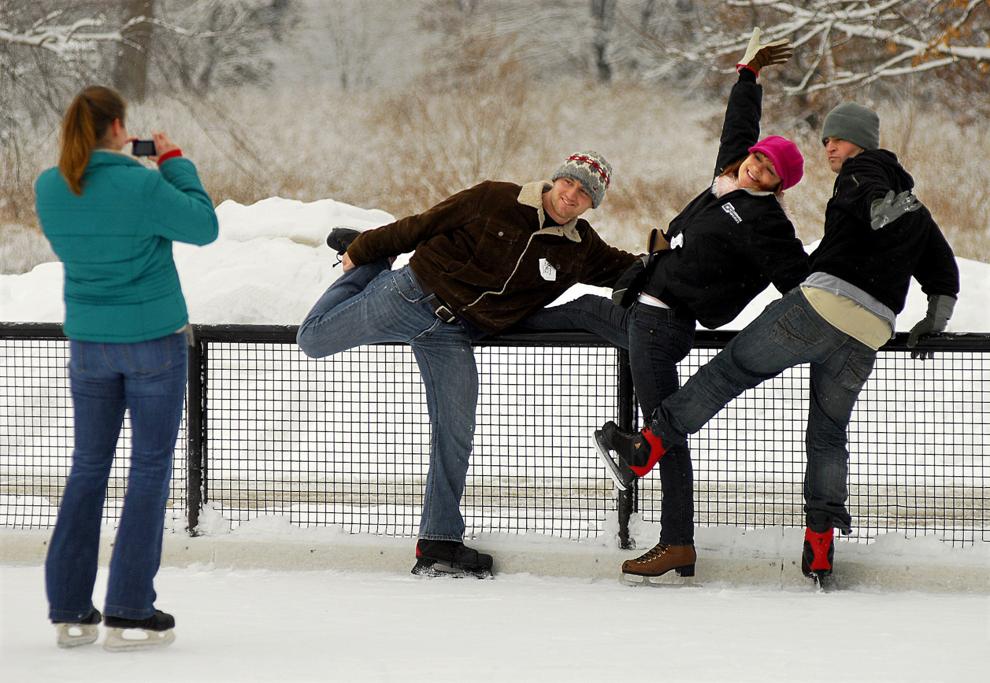 A winter storm that brought two rounds of snow dumped 3 to 6 inches across the St. Louis area, giving St. Louis its first white Christmas in five years.
St. Louis got 3.5 inches, with higher totals in the Metro East. Authorities reported plenty of crashes in the area, though most were minor, such as slide-offs.
Christmas week 2015: Drenching storms close roads, send rivers near record levels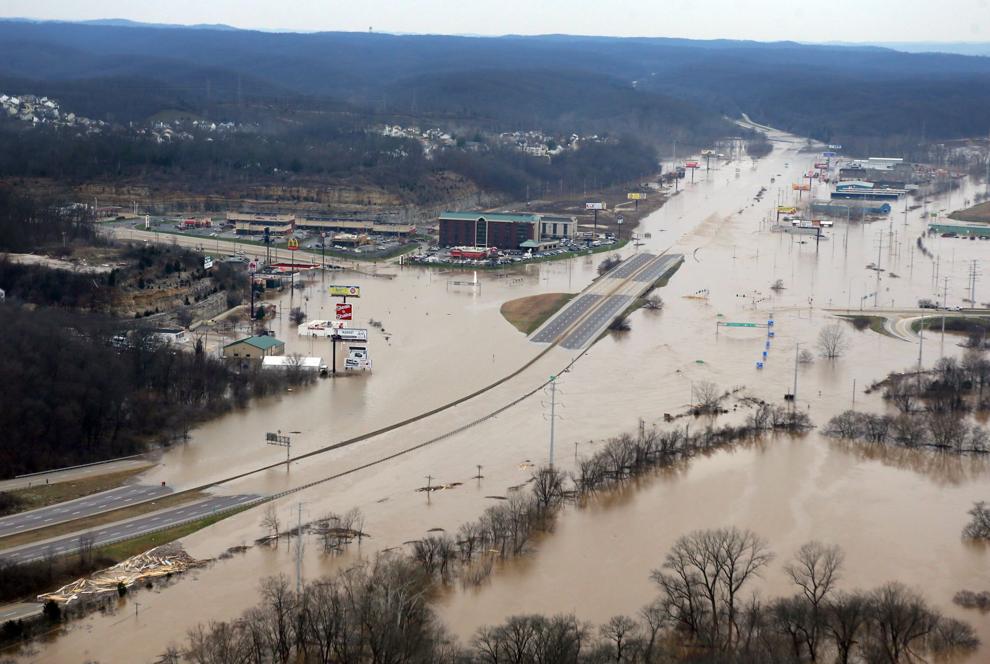 A string of storms dropped between 8 to 11 inches of rain across the St. Louis metro area starting Christmas night through mid-afternoon on Dec. 28.
That sent a massive amount of water into already high channels, with the Mississippi River rising more than 10 feet in two days, climbing several feet above flood stage in downtown St. Louis and water flowing well above the banks of the Missouri and Meramec rivers.
Officials closed Interstate 44 near Highway 141 (above) when floodwaters inundated the roads. In all, flooding forced nearly 300 roads across Missouri to close, with several in the St. Louis area.
At least eight people drowned in Missouri because of floodwater, according to the governor's office.
New Year's Day 1999: Heavy snow, sleet, cold spell leave an unwelcome icy mess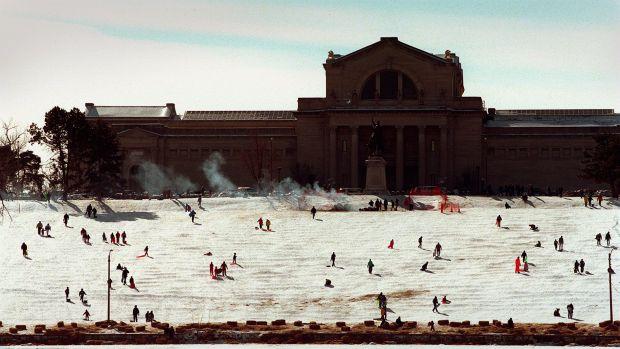 A major winter storm began dropping snow on the area around noon on New Year's Day, with a slightly warmer night bringing freezing rain and sleet that coated trees and bushes and put a crunchy frosting on the ground.
Most spots in the St. Louis area saw more snow the next morning, though southern St. Clair County had four hours of rain.
In all, nearly 8 inches of combined snow and sleet fell at Lambert International Airport, though totals dropped south and east of there. A bitter cold spell followed the storm, leaving the area iced over for much of the next week.
The wintry mess made roads slippery and cut electricity to some residents after branches heavy from ice fell on power lines. But it could have been much worse: Most area forecasters predicted at least a foot of snow for the St. Louis metro area, and snow totals of 12-18 inches were reported as close as 60 miles northwest and north of St. Louis.
New Year's Day 1987: Storm coats roads in ice, drops nearly 2 inches of snow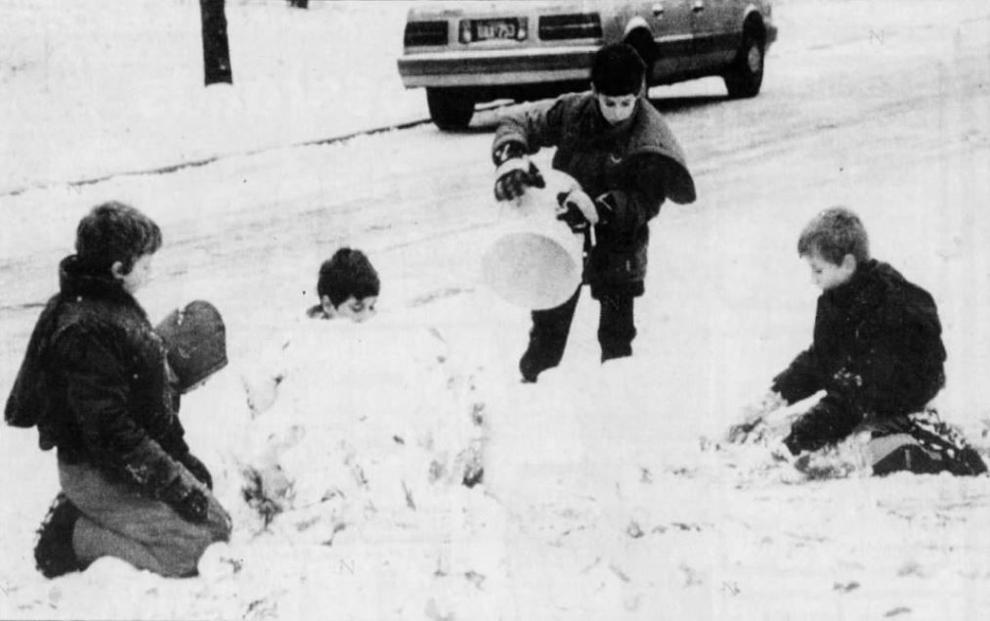 A storm bringing freezing rain and snow began to cause problems with occasional squalls during the final day of 1986.
Road crews managed to keep up with the weather until about sunset on New Year's Eve, when another burst of wintry mix hit, leaving a major mess. A spokesman for the Automobile Club of Missouri said that by 8 p.m., "nearly the entire area was covered with a sheet of ice."
As temperatures and occasional snow fell overnight, things became worse for anyone trying to get on the roads. In all, 1.7 inches of snow fell on the area, but scores of vehicles slid into ditches off highways or got into accidents.
As for kids, they didn't seem to have too big a problem, taking the chance to build a snow fort (above) on the holiday.
Christmas Eve 2012 & New Year's Day 2013: Two storms drop several inches of snow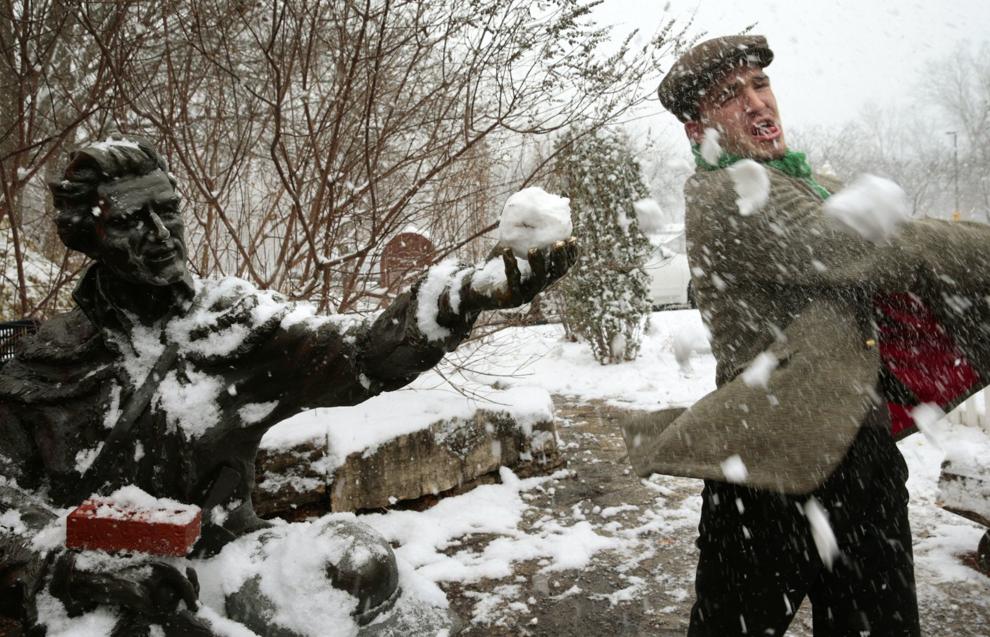 On Christmas Eve, a storm dropping almost 6 inches of snow at Lambert Field and twice that in many spots south of St. Louis County, left a wintry landscape (above) but minimal travel problems.
Temperatures warmed in the next few days, quickly melting the snow, but another winter storm targeted the area on New Year's Day.
A narrow band saw almost an inch of sleet in the evening, and most of the problems stayed north of St. Louis. But Lambert Field wound up with almost 5 inches of snow, parts of western St. Louis County had 3 inches and less fell further south.
That's not to say the storm didn't cause any problems. More than 100,000 customers in the Metro East had no digital cable TV or Internet service for about nine hours after the top of the bed of a salt truck dumping salt cut a major fiber optic cable that was about 16 feet off the ground.
Thanksgiving eve 1983: Heavy rain swamps some streets, leaves drivers stranded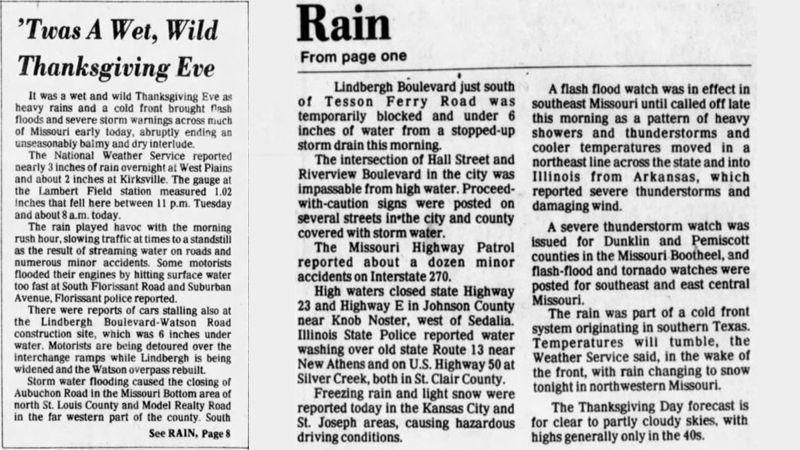 After an unseasonably balmy and dry period, a cold front bringing severe storms and heavy rains left an unwelcome mess across the region the day before Thanksgiving.
About an inch of rain fell at Lambert in a nine-hour span ending Wednesday morning, but more dropped in other parts of the area. That sent streaming water over roads, brought traffic to a standstill at times, caused numerous accidents and left flooding in some places that forced road closures.
Florissant police reported some stranded motorists after they flooded their engines by hitting the water too fast. Other cars also stalled at a construction site at Lindbergh Boulevard and Watson Road, which had water 6 inches deep.
South Lindbergh Boulevard just south of Tesson Ferry Road was under 6 inches of water when a storm drain clogged, leaving the road temporarily blocked. The intersection of Hall Street and Riverview Boulevard in St. Louis was impassable from high water.
Winter is coming: One forecast calls for a brutal season in St. Louis, but then again ...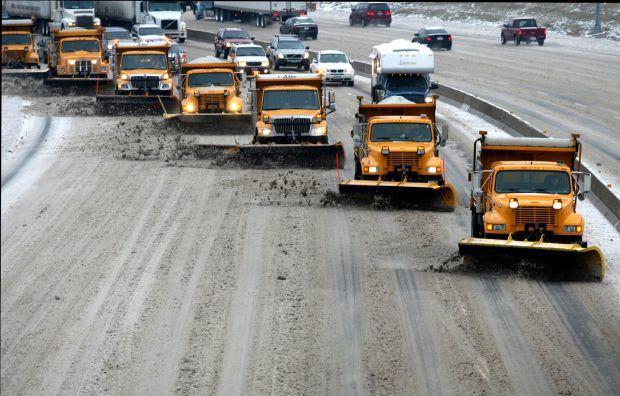 After below-normal snowfall in St. Louis last winter, people looking forward to seeing the area blanketed in white might want to break out their boots.
That's according to one publication that boasts "amazingly accurate long-range forecasts," especially once the calendar flips to 2019. But another prominent publication has a rather different forecast. Click to read more here.
Here comes 'starm mode': St. Louis truisms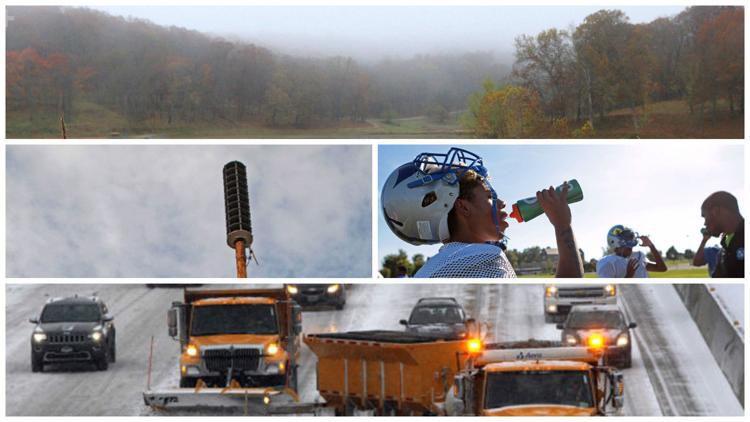 One thing about St. Louis, we get all four seasons. Not in equal portions: the nice weather in spring and fall feels all too short, but we get summer heat and winter snow. Read more here.