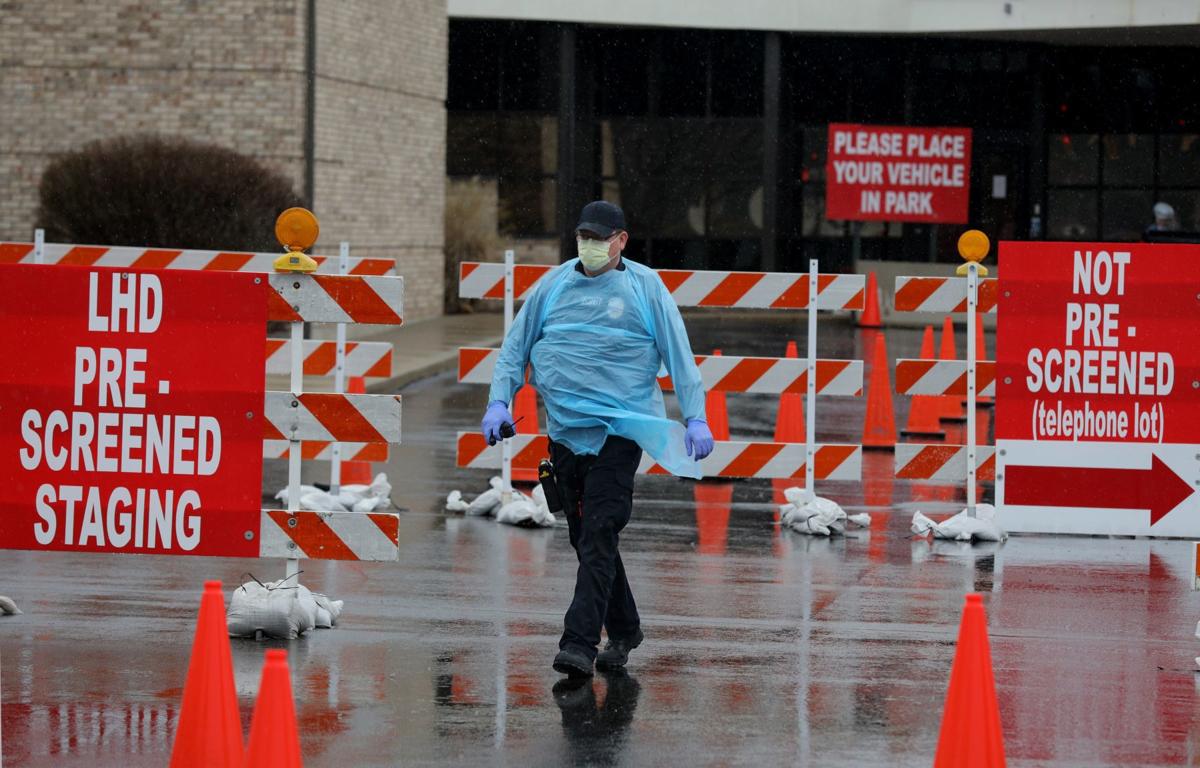 A sobering trio of coronavirus news hit the St. Louis region on Friday, as the city mayor indefinitely extended bar curfews and capacity limits, hospitalizations spiked in St. Clair County, and the state of Illinois, citing a data backlog, reported the most new coronavirus cases in a single day since the pandemic began.
St. Louis Mayor Lyda Krewson announced that bars, restaurants and nightclubs must continue to restrict capacity to 50% and close no later than 11 p.m. each night.
The Illinois Department of Public Health reported 5,368 new positive COVID-19 cases, topping the state's previous single-day record of just more than 4,000 cases in mid-May. Another 29 Illinois residents died from the virus, including two men in their 70s in Madison County, bringing the total number of deaths from COVID-19 to 8,143.
And 11 more COVID-19 patients were admitted to St. Clair County hospitals, increasing that total to 52.
"The hospitalizations are really a telling number," said St. Clair County Chairman Mark Kern. "That's why people want to take extra care this Labor Day weekend and remember that you don't want to end up in the hospital."
Illinois informed some counties earlier in the week that it discovered a problem with some of its data reporting. By Friday, the state said it had fixed the problem, reporting the results from an additional 149,273 testing specimens. The state public health department said it instituted two upgrades to its data systems, which now have "significantly faster processing capacity."
Illinois officials emphasized that individuals' results were not delayed.
Despite the uptick in cases, the Metro East's seven-day average positive test rate, which the state uses to determine public health measures, stayed the same Friday at 9.3%. The Metro East is one of two regions in the state that have exceeded the 8% threshold triggering public health restrictions. The rate has remained above the threshold for weeks in the Metro East, prompting Gov. J.B. Pritzker to close indoor dining at bars and restaurants on Wednesday.
On the other side of the Mississippi River, Mayor Krewson announced the extended restrictions, originally set to end Sept. 7.
"We must remain vigilant to protect our community," Krewson wrote in a social media post.
Large venues, including museums, event spaces and theaters, are also capped at 50% occupancy, down from a previous limit this summer of 75%.
There's growing concern about the Trump administration's plan to release a vaccine before Election Day.
In St. Louis County, the health department released a new report of both public and private school-related COVID-19 exposure during August that found 39 students and 34 staff members tested positive for the virus. Those cases resulted in nearly 450 students and staff being quarantined after school-related exposures to those that tested positive last month.
Dr. Alex Garza, head of the St. Louis Metropolitan Pandemic Task Force, which tracks hospital admissions at the region's four big systems, reported no major changes on Friday, with the seven-day average of hospital admissions ticking up to 41 and the seven-day average of total hospitalizations unchanged at 304.
Garza also said he received a shot Friday as part of a COVID-19 vaccine study being conducted by St. Louis University's Center For Vaccine Development. It's a double-blind study, so he doesn't know if what he received was a placebo or a vaccine, but researchers will be following up with him for the next two years as part of it. He encouraged other St. Louisans to sign up to take part in the study, particularly those who may be from higher-risk populations researchers most need to participate, such as people of color.
"I'm a firm believer in vaccines, vaccines have proved to save millions of lives throughout time, they have very good safety profiles," Garza said. "This is just my small contribution to the science, also to hopefully show people it's perfectly safe and acceptable to participate in these trials."
Dr. Randall Williams, director of the Missouri Department of Health and Senior Services, urged Missourians to remain vigilant during the Labor Day weekend.
"People tend to let their guard down during these long holiday weekends," Williams said in a statement. "We don't want to see people become complacent. We don't want anyone to contract COVID-19, young or old. There are those that may be considered 'high risk' and 'low risk,' for adverse outcomes, but there is no population that is at 'no risk.'"
Erin Heffernan of the Post-Dispatch contributed to this report.
These maps and charts show the spread of COVID-19 in Missouri and Illinois.
Daily updates on the latest news in the St. Louis business community.