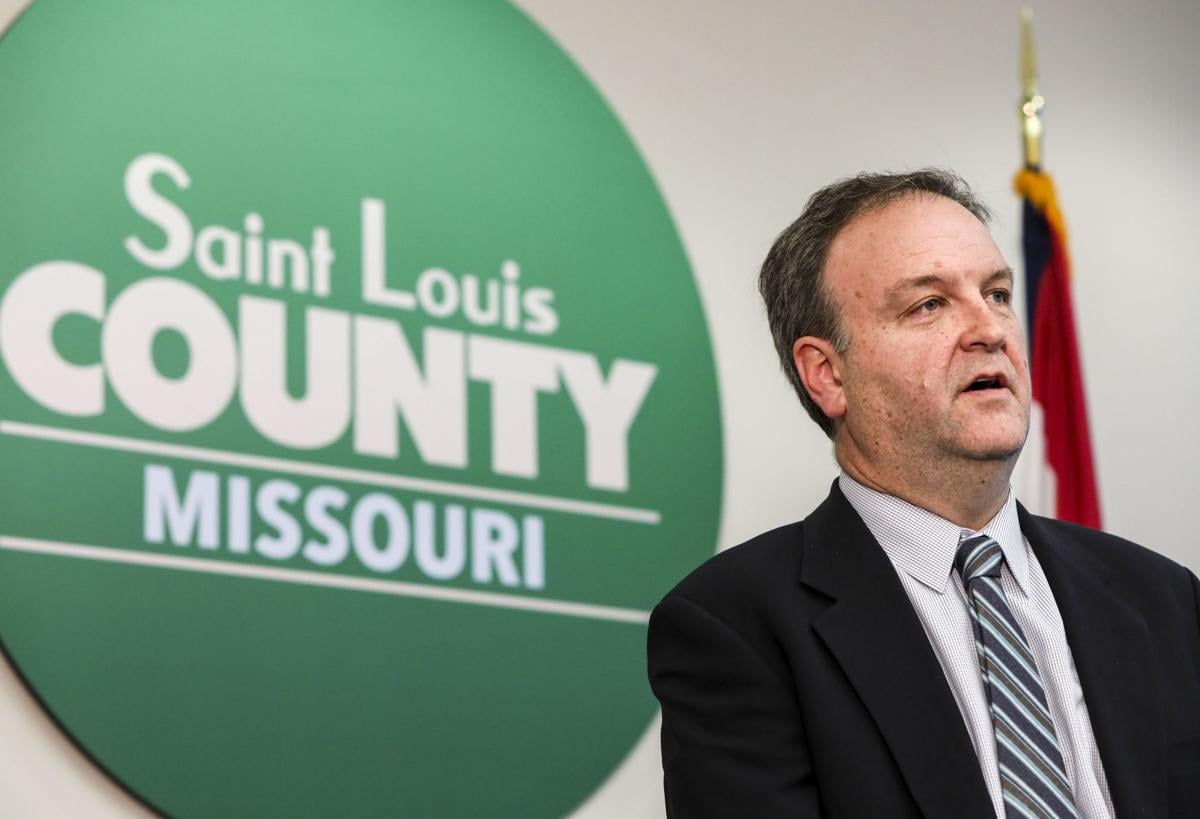 UPDATED at 4:30 p.m. Wednesday with a response from Gov. Mike Parson.
ST. LOUIS COUNTY — St. Louis County Executive Sam Page has asked for help from the Missouri National Guard to prepare for a surge in COVID-19 cases.
Page asked Gov. Mike Parson in a letter Tuesday for the assistance. The Guard could help transport patients and supplies, help with security at hospitals and testing sites, and staff the county's warehouse and the North County Recreation Center, Page said.
"We also need med techs to augment our staff at triage and testing sites," Page said.
Doug Moore, a spokesman for Page, said the county executive is asking for about 50 guardsmen for now. That number could jump, Moore said, depending on how wide and how quickly the pandemic spreads.
St. Louis County Police Sgt. Benjamin Granda said the guardsmen won't be used to enforce stay-at-home orders.
Health officials in St. Louis County on Wednesday announced that the county's death count increased to 26, up from 14 Monday. Overall, 1,280 people in the county had tested positive for the virus, the website said.
"Tragically, we know this deadly virus will continue to spread for weeks and take a larger toll than what we have experienced so far," Page told the governor.
Missouri health officials reported 58 people statewide have died of COVID-19, and more than 3,300 people have tested positive for the virus.
Parson signed an executive order March 27 to mobilize the Guard across the state, and said during his daily press briefing Wednesday that they have already been present in the St. Louis area working to identify locations of overflow hospital sites.
He said his administration would review the request, and said Page would have to "streamline" what his office is asking for.
"I think they know the guard's been up there," Parson said. "We will continue to monitor the request and see what abilities we do to help with and what they are."
Parson's executive order activated the National Guard said the COVID-19 pandemic had "caused conditions of distress and hazards to public health and safety beyond the capacities of local and state agencies." It said "additional resources of the state of Missouri are needed to prevent the risk of COVID-19 and to respond to a declared emergency and the increased health threat to the population."
Brig. Gen. Levon Cumpton said the Guard was prepared to support local and state authorities however it can.
One of the jobs Page suggested for the National Guard was to help at the North County Recreation Center, at 2577 Redman Road. It has been converted into a shelter for homeless people who want to reduce their exposure to the coronavirus and comply with a state-at-home order.
No one is staying there yet, Moore said, because homeless have been able to find space at other shelters. Moore said the county continues to look for other places that can be used as homeless shelters and overflow hospitals.
---
Concerned about COVID-19?
Sign up now to get the most recent coronavirus headlines and other important local and national news sent to your email inbox daily.