ST. LOUIS — Transplant surgeons at St. Louis hospitals had been spoiled, many of them admit. The sickest patients on their hospital waiting lists were the first to receive organs from matching donors who died in an 84-county service area anchored by the city.
An added bonus: those surgeons rarely had to travel to get organs. Since 2001, Mid-America Transplant — the agency organizing the area's transplants — has provided a pioneering intensive care facility to safely and efficiently screen and manage donors, which their own staff travels to retrieve.
The Mid-America facility — the first in the country — ended surgeons' midnight trips to small hospitals and operations whenever a room became available. Just a few miles away from Washington University and St. Louis University medical centers, well-rested surgical teams could schedule organ retrieval and recipient transplants in the morning.
"Hearts procured here and transplanted at Barnes (Barnes-Jewish Hospital) can be beating in a patient in two hours," said Dr. Gary Marklin, chief medical officer for Mid-America Transplant.
Equipped with blood labs, specially-trained nurses, CT scans and other technology, Mid-America Transplant does extensive testing, ensuring donor organs are in optimal condition for transplant. This well-choreographed system — with rigorous policies and procedures that developed over time — has resulted in better outcomes for patients and lower costs, surgeons say.  
A year and a half ago, new national organ-sharing rules changed how lungs are allocated. Changes in the rules for hearts came a year later. New rules for livers were supposed to go into effect last month, but have been temporarily halted because of a lawsuit by Washington University School of Medicine and other medical centers serving less-populated areas.
Under the new rules, St. Louis transplant centers no longer have the first shot at organs donated in their service area. Lungs now first go to the sickest person who matches within 250 nautical miles of where the donor dies, and hearts go to the sickest match within 500 nautical miles.
Livers would first travel to those who are seriously ill within 150 miles, and if there are none, be offered to those seriously ill within 250 and then 500 miles away.   
Transplant centers serving rural areas like Missouri, however, fear the changes will leave the populations they serve with fewer organs, greatly increase cost and endanger organ use and quality.
"The new policy represents a dramatic, far-reaching change in the field," said Dr. Varun Puri, associate surgical director of Washington University's lung transplant program. "The concern for busy transplant programs such as ours that serve rural areas is that the new policy will overlook transplant patients in Missouri, Southern Illinois and the Midwestern region in favor of those farther away, in larger cities" where demand is higher.
How St. Louis hospitals compare with other transplant centers
| Hospitals | 2018 added to wait list * | Waiting 3+ years | Sickest patients** | 2018 transplants *** | 2018 median MELD **** |
| --- | --- | --- | --- | --- | --- |
| Barnes-Jewish Hospital | 133 | 7 | 5 | 114 | 28 |
| SSM Health St. Louis University Hospital | 41 | 7 | 5 | 30 | 28 |
| University of Chicago Medical Center | 44 | 4 | 6 | 34 | 30 |
| University of Kansas Hospital | 114 | 14 | 2 | 79 | 26 |
| Vanderbilt University Medical Center | 185 | 34 | 19 | 126 | 28 |
| Indiana University Health | 196 | 5 | 5 | 164 | 23 |
| Cleveland Clinic Foundation | 227 | 38 | 15 | 137 | 28 |
| University of Kentucky Medical Center | 97 | 16 | 6 | 55 | 29 |
| University of Minnesota Medical Center | 118 | 27 | 12 | 67 | 33 |
| UAMS Medical Center (Arkansas) | 54 | 5 | 2 | 37 | 28 |
| Emory University Hospital (Georgia) | 157 | 17 | 13 | 127 | 28 |
| Baylor University Medical (Dallas) | 158 | 14 | 5 | 105 | 30 |
| Houston Methodist | 240 | 91 | 36 | 145 | 32 |
| U.S. total | 13,147 | 3,290 | 1,419 | 7,849 | 35 |
Costs more than doubled 
Lung transplant surgeons at Washington University decided to take a look at early trends of the policy's impact and are sounding an alarm. Their study was recently published in the American Journal of Transplantation.
Wait lists can fluctuate, but the findings so far show time on the wait list has not decreased but costs have more than doubled for lung transplants. Washington University surgeons do 75 to 100 lung transplants a year at Barnes-Jewish and St. Louis Children's hospitals, the service area's only lung transplant program and one of the busiest in the United States.
Instead of driving practically across the street, Washington University lung transplant teams are flying out two to three times a week — usually in small planes and in the middle of the night (because that is the only time when an operating room is available after scheduled or emergency surgeries) — to procure organs. Each trip can take eight to 12 hours, Puri said.
The study estimated their median cost of retrieving lungs for transplantation increased from $34,000 per patient to $70,203. The price includes fees for transportation, travel time for surgery teams and equipment to preserve the organ while outside the body.
The study results show an organ shuffle, with equal numbers of transplants, but far fewer with local donors. At one time, surgeons said, planes carrying a St. Louis transplant team to Chicago and a Chicago transplant team to St. Louis left around the same time to get organs for their recipients with similar degrees of disease.
Before the change, about 80% of their lung transplants came from donors within their service area, surgeons said. Now 80% come from outside the area.
"That is a tremendous waste of resources," said Dr. Daniel Kreisel, Washington University's surgical director of lung transplantation.
Looking at six months of nationwide transplant data following the lung policy change, the study found the number of lung transplants remained steady with 1,142 performed in the six months prior and 1,146 in the six months after. Before the policy change, 169 patients died while on the waitlist or became too sick to undergo surgery. Afterwards, 190 died or became too sick.
Early monitoring of heart transplants has shown similar results, according to a report released in April by the thoracic committee of the nationwide network of donor service areas. "Hearts are traveling greater distances to be transplanted," the report stated. "There has been no substantial impact on the number of waiting list registrations, transplants performed or heart utilization."
'More time on an organ'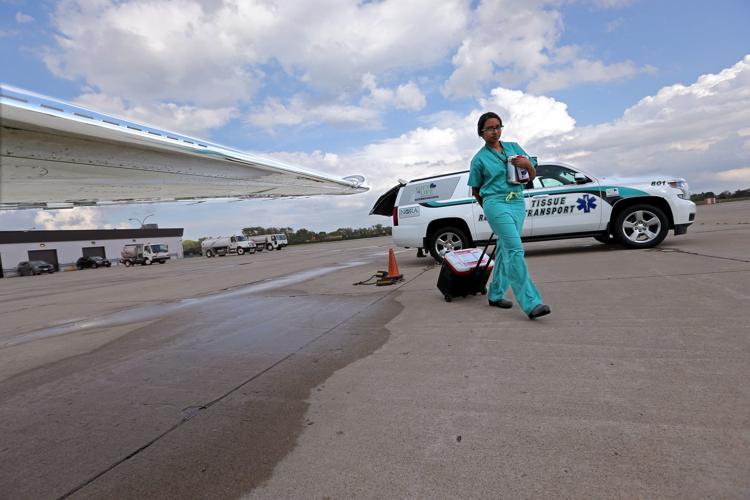 Instead of routinely working with teams from St. Louis hospitals, Mid-America Transplant is now coordinating teams flying in from across the region to procure each different organ — which must be done all at the same time, Marklin said. It's a constant balance of travel delays, surgeons' schedules and recipients' quickly changing health conditions.
Marklin said Mid-America Transplant has had to hire two employees just to handle the communication involved.
Kreisel said, "Theoretically, when people make the decision to donate, they want the organs to go to whoever will benefit. In a way, the system is trying to do that, but in a really inefficient manner."
The cost increases do not include times when teams fly a few hundred miles to procure lungs only to examine the lungs and find them unsuitable for their recipient. Those trips still cost $10,000 to $15,000, the surgeons say.
"There are numerous cases where we're flying a team and making an assessment on site," Puri said. "We have those cases routinely."
This can increase the risk of organ discard, he added, a tragic waste of an organ that has been offered for donation, but time has run out to get it safely to a recipient.
There are other long-term concerns that remain to be studied.
The Washington University lung transplant program has one of the highest one-year survival rates in the country, but surgeons fear the longer times that organs are stored in a cold solution may affect their quality and survival rates.
"When traveling more, there's going to be logistical issues and delays and there's going to be more time on an organ," Marklin said.
Surgeons said they also fear unpredictable, night-time schedules will lead to burn-out and fatigue; and cause delays for other scheduled, elective surgeries.
"We need more national debate about what is fair and equitable," Kreisel said, "but also taking into account the increasing costs, which can become prohibitive to transplant centers and patients."
Glaring disparities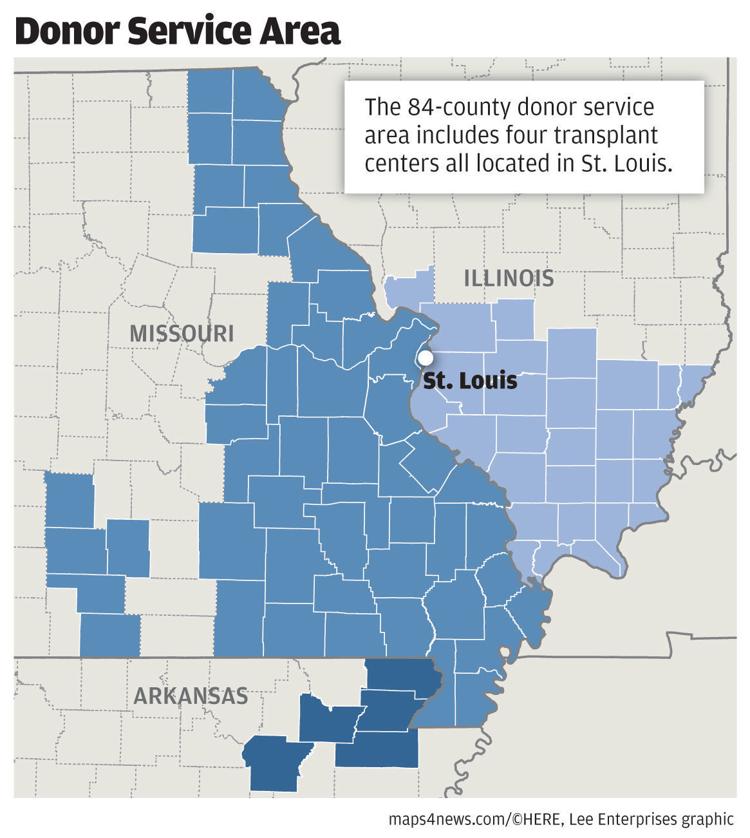 The country currently is divided into 58 donor service areas that vary greatly in size and number of transplant centers. Each area is run by an organ procurement organization like Mid-America Transplant.
The nonprofit organizations are charged with creating programs to increase organ donor rates and coordinating the complex logistics when a donor becomes available within its boundaries. Only about a dozen, however, operate an intensive care facility and operating room for organ procurement like the one in St. Louis.
The staff is required by federal law to follow national allocation policies developed by the United Network for Organ Sharing (UNOS), which generates computerized match lists when a donor becomes available.
Decades-old rules, created when there were fewer transplant centers and transplants, have largely required that donor organs first go to patients in their donor service areas and travel to recipients further away if a match cannot be found.
That local-first policy has resulted, however, in glaring disparities as access improved. In some areas, waitlists are shorter and patients are healthier when organs become available. In others, patients wait for years or are very sick.
For example, the sickness of patients who need a liver is measured by a Model for End Stage Liver Disease score, which ranges from 6, the least sick, to 40, the most sick.
To learn more about geographic disparities, UNOS officials studied hospitals across the country and compared the patients' median MELD scores at time of transplant.
From March 2018 to March this year, the median MELD scores for transplant patients were as high as 34 and 35 at New York and Los Angeles-area hospitals, while they were as low as 23 at the Indiana University Health and University of Alabama at Birmingham hospitals. The score for patients at St. Louis-area hospitals was 28.
Disparities across areas are due to a myriad of factors that affect supply and demand — more elderly, lax helmet laws with more motorcycle fatalities or more minorities (who tend to donate less), higher rates of liver or kidney disease or more small transplant centers that don't take the sickest patients.
Nearly seven years ago, UNOS called on expert panels of medical professionals, organ recipients and donor families nationwide to come up with new rules to address the geographic disparities by distributing organs "as broadly as feasible," which is required by federal law. Debate has been fierce, and a consensus elusive.
A court case in November 2017, however, forced change. A 21-year-old woman was waiting for a lung transplant at Columbia Medical Center in New York. She had a rare and rapidly fatal form of pulmonary hypertension.
Her lawyer sought to temporarily set aside the geographic criteria in favor of a 500-mile concentric circle, arguing the criteria violated federal law. Her chances of getting a lung were four times higher just four miles away in the New Jersey's donor service area.
The case sparked a compromise — a 250-mile circle — which went into effect immediately. The case became a catalyst for change.
'Easy access to organs here'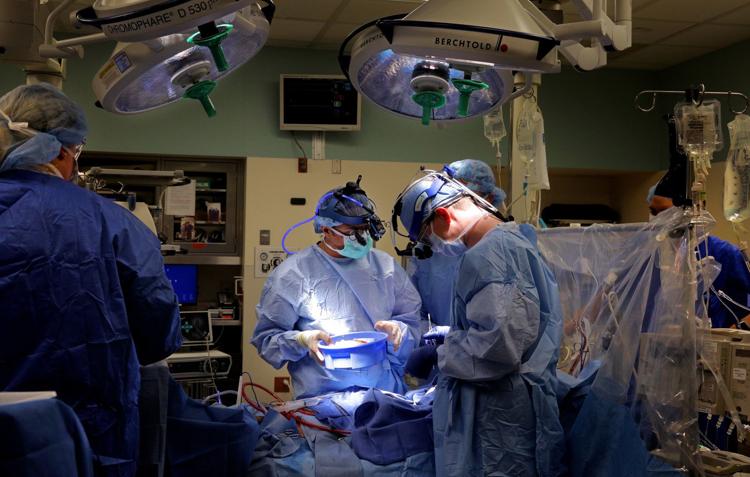 New rules for heart allocations came in October 2018, which required hearts to go to the sickest patients within 500 miles. The new rules for livers were supposed to go into effect May 14, but a federal judge in Atlanta temporarily blocked the new policy because of "the concrete likelihood of harm to the plaintiffs and the public at large if the status quo is not maintained."
The plaintiffs joining Washington University's transplant centers at Barnes-Jewish Hospital include centers in Georgia, Michigan, Kansas and others.
They argue the new rules would give preference to big-city transplant centers, leaving their patients with about 20% fewer organs and increasing deaths. UNOS officials, however, say the changes will save the lives of about 100 more people on the waiting list each year and improve access for pediatric patients.
When adopting the new rules for livers, UNOS Chief Executive Brian Shepard wrote that the shortage of organ donors forces tough decisions. "This is precisely why transplant matching must be as fair as possible, influenced by only the most objective factors," he said. "Our system is built first and foremost to match donor organs with those patients who are sickest and most in need."
While the system uses specific measures like MELD scores to determine which patients are the sickest, Dr. Maria Majella Doyle, a Washington University abdominal organ transplant surgeon, says the scores don't always reflect the health challenges of those living in rural America.
With higher rates of poverty and disease and limited access to care, they are more likely to die while on the waitlist, Doyle said.
"Those more disadvantaged from a social perspective are the ones who suffer the most, and under this new system, they will suffer more," she said.
Some argue that changes in allocation rules must include efforts to increase donors.
In the central region of states including Missouri, over 77% of potential donors consent to donating organs, data shows. Rates are as low as 62% and 69% in the northeast regions.
Studies link high rates of organ donation to whether donor families feel cared for, supported and comforted during a donation request. Educational efforts among the public are also important. Mid-America Transplant has been nationally recognized for its efforts and high rates. 
"If we allow patients in other metropolitan areas to utilize our organs, we are almost disincentivizing those (organ procurement organizations) to increase their donation rates because they will have easy access to organs here," Doyle said.
"The solution," she said, "is not to swap around donors to different places, but to increase the number of donors."
Data reporter Janelle O'Dea of the Post-Dispatch contributed to this report.
New rules governing organ transplants affect donor, recipent pool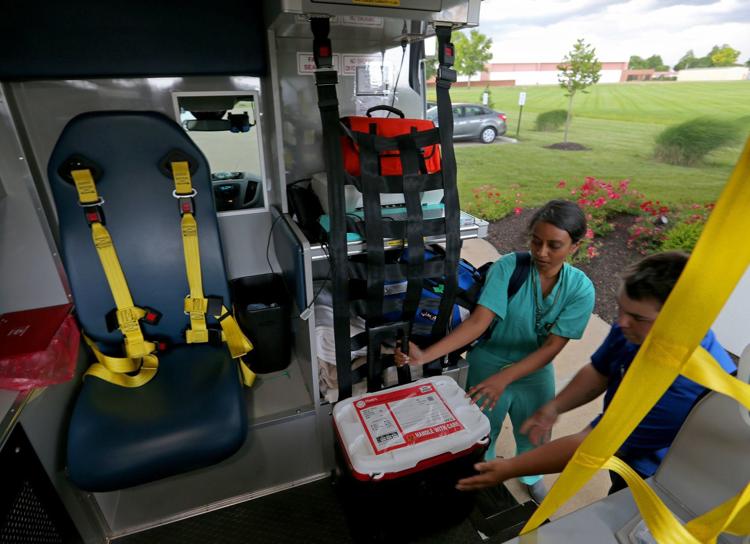 New rules governing organ transplants affect donor, recipent pool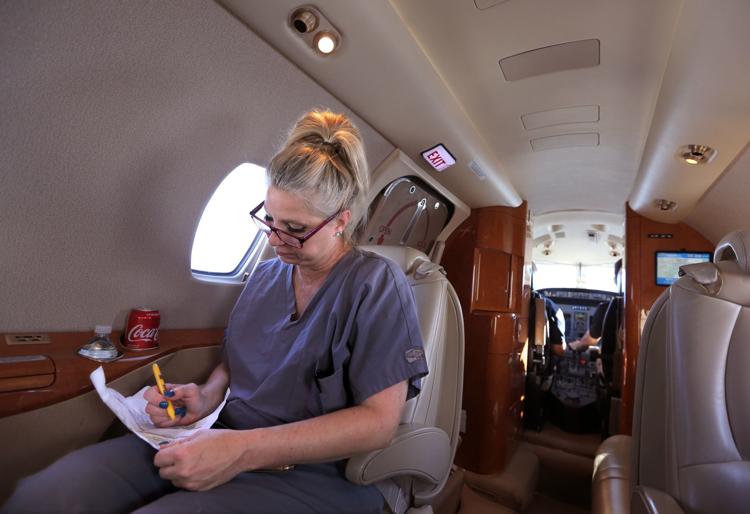 New rules governing organ transplants affect donor, recipent pool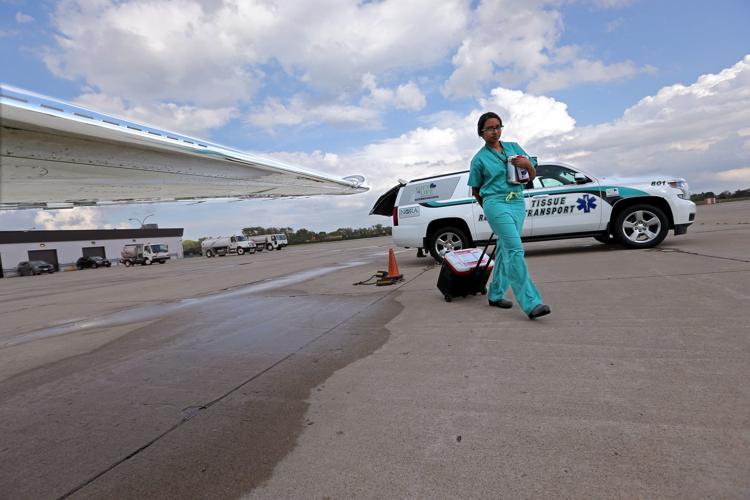 New rules governing organ transplants affect donor, recipent pool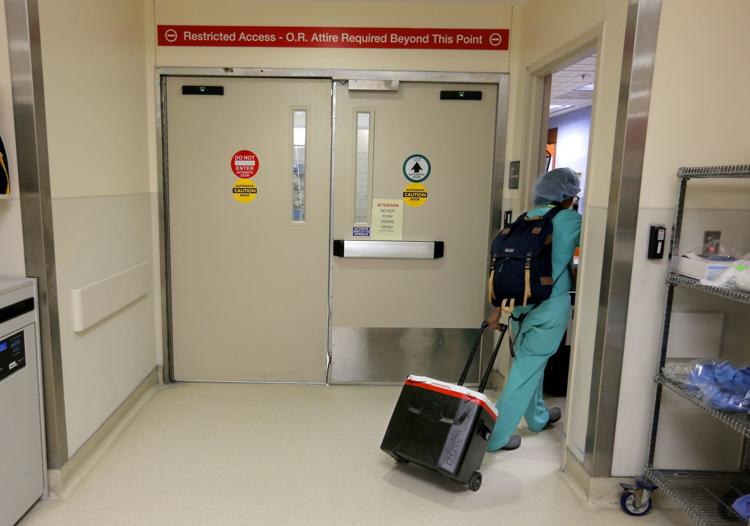 New rules governing organ transplants affect donor, recipent pool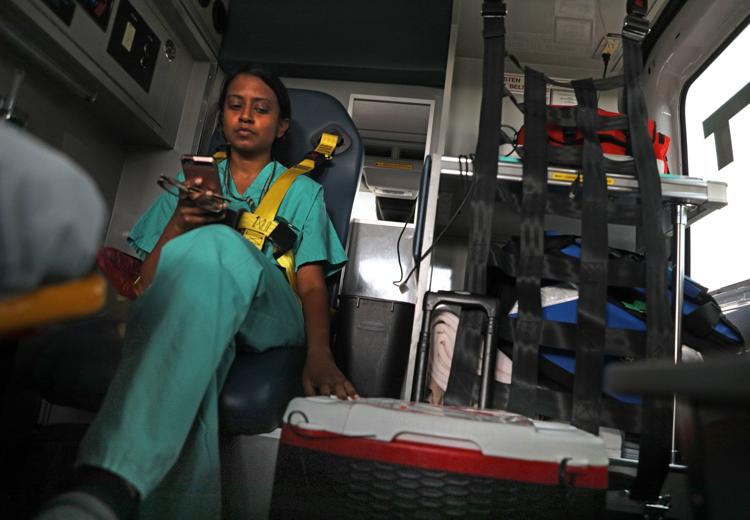 New rules governing organ transplants affect donor, recipent pool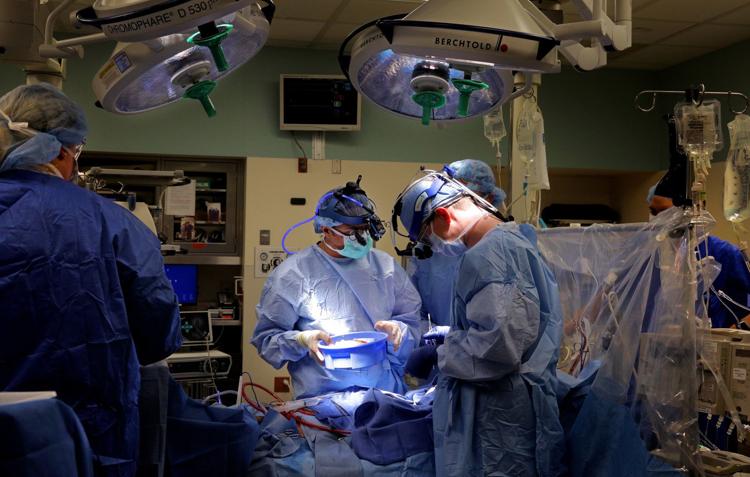 New rules governing organ transplants affect donor, recipent pool