They lovingly call each other X-Men, named after the comic book team of mutant superheroes.
They have a rare genetic form of Alzheimer's disease that makes up just 1 percent of cases. It strikes early — in their 30s and 40s — and decimates families.
Those with the genetic mutation have a near certainty they will develop the disease and a 50 percent chance of passing it on to their child.
"It felt like, in one tiny moment, a giant guillotine chopped 30 years off my life and our future," said Jetske van der Schaar, 37, from Holland, while giving a speech with her boyfriend at an annual conference for families with the mutation.
When van der Schaar learned she had the mutation, she was watching her own heartbreaking future unfold while caring for her mother, who died of Alzheimer's in her early 50s.
It's no comic book. But to researchers, these families are heroes. They may be the key to treating and even curing Alzheimer's disease.
They have provided answers about how the deadly brain disease progresses, starting 20 years or more before the first symptoms appear.
Last summer, St. Louis Post-Dispatch health reporter Michele Munz attended an annual international conference for families with dominantly inh…
They are the participants in the first study to test whether drugs can prevent Alzheimer's dementia or slow its onset, rather than trying to treat the disease after symptoms have set in.
Last year marked a decade since Washington University School of Medicine in St. Louis began an effort to study families across the world with dominantly inherited Alzheimer's disease.
Today, Washington U. leads an observational network of 537 study participants at 20 study sites across the world and drug research at 41 international sites. The federal government has provided a total of nearly $200 million in funding.
At the end of this year, the drug study will be complete, and much-anticipated findings will be released soon after. Another study is expected to begin, one that tests giving prevention medications even earlier — to patients as young as 18.
"This will be an extremely important clinical trial. It could have a dramatic impact," said Dr. Eric McDade, Washington University associate director of the drug prevention research.
Scientists are hopeful they will be able to apply the findings to the more common, but much harder to study, sporadic Alzheimer's disease. An estimated 5.7 million Americans are living with Alzheimer's dementia. It is the sixth-leading cause of death and the leading cause of disability.
"You are the true inspiration," Alzheimer's Association President Harry Johns said last summer to the families at their annual conference in Chicago. "You are the real champions who will ultimately make a difference and realize the answers so much of the world needs."
Since 2015, the families and the researchers studying them have met annually. They help each other cope, find strength and fight in their own way. They motivate each other.
Together, they feel they can change the trajectory of the disease.
For generations, many families knew no one else like them. They suffered in embarrassment and silence. In van der Schaar's speech at the Chicago conference, she told the crowd that their stories could stop the isolation.
"All of us, we are so much stronger than we ever thought we could be," she said. "Our biggest weakness is also our biggest strength."
Finding enough patients
Tests of spinal fluid reveal that the telltale amyloid beta and tau proteins of Alzheimer's disease become elevated long before signs of cognitive impairment.
In the early 2000s, researchers began to wonder: Do elevated levels mean for certain a person will become demented? Do factors protect some people? When do you test for abnormal levels? Could doctors intervene somehow?
Researchers across the world were seeking answers in cases of those with dominantly inherited Alzheimer's and began to recognize the need to work together. Washington U., with research already underway, applied for and won federal funding to organize and lead an international study.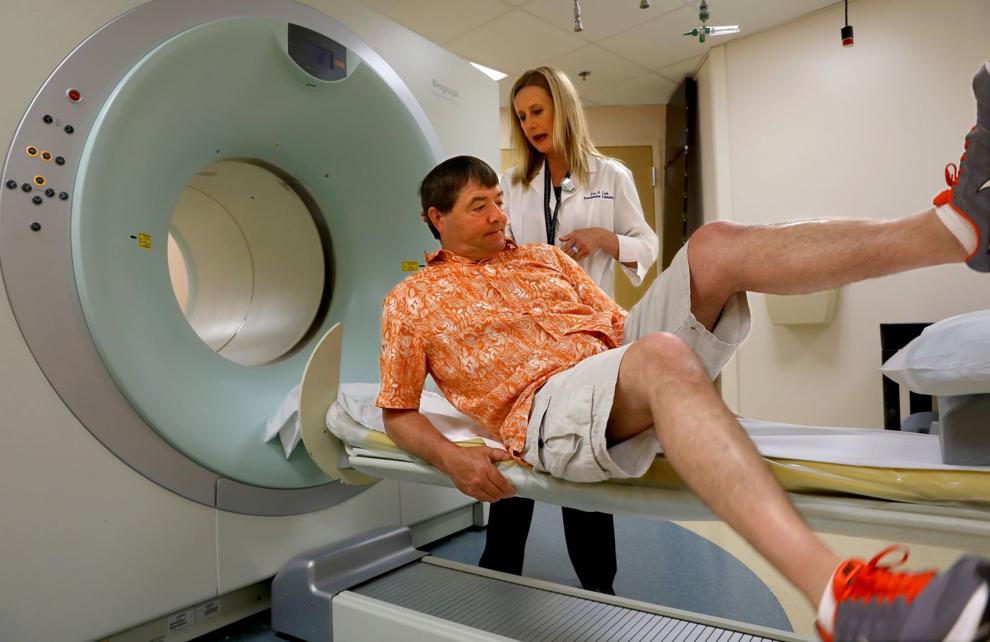 The challenge would be to find enough families willing to participate. They needed 240 participants from across the world.
The network started with seven study sites. Surprisingly, they enrolled almost 400 people, Morris said.
Testing the families revealed how the signature proteins become elevated about 20 years before symptoms. Subjects died at an average age of 52.
The research — called the DIAN-TU (trials unit) — started with two different drugs: antibodies that either removed amyloid beta plaques or prevented the plaques from forming. A third drug was added later — an inhibitor that blocked amyloid beta from being produced.
"We wanted to take a diverse approach and test multiple drugs," Bateman said.
Seventy-five percent of the participants get one of the drugs; 25 percent get a placebo. Participants do not have to know their genetic results to be in the study. Those without the mutation are placed in the placebo group.
The trials unit is unique in Alzheimer's research because it is adaptive. When a drug is ineffective, another drug can be introduced without having to start over. It can take a year or more to enroll participants for a study, so the design allows for discoveries at a faster pace.
The inhibitor drug was found to cause liver damage in patients, so investigators are working to replace it without having to start the recruitment process again.
Investigators can't yet comment on the study of two drugs that will be completed this year. An effective medication would be a major breakthrough.
Despite decades and billions of dollars in research, there is no cure and few medications to treat dementia. The last Alzheimer's drug was approved more than 15 years ago and brings only temporary relief of symptoms. Some drug companies have abandoned their research efforts.
The failure may be because once brain atrophy and symptoms have begun, it is too late. Early drug intervention in those with dominantly inherited Alzheimer's disease — who are almost certain to get dementia but don't yet have symptoms — is the only way to easily test this theory. Scientists have been unable to replicate Alzheimer's in an animal model.
Having dedicated study participants, Bateman said, also has encouraged drug companies to form a consortium to work with the trials unit to develop new drugs for testing.
When Bateman spoke at the family conference, his words drew loud applause: "I would be surprised if we don't have a drug within 10 years."
Especially on his birthday
Of the six DeMoe siblings, all but one had the mutation. Dean DeMoe, 56, and his younger brother, 48, are the only ones with the mutation who are still alive. Alzheimer's has taken the lives of their father, cousins, aunts and uncles — usually in their 50s.
"On paper, he shouldn't be alive," said Dean DeMoe's wife, Deb DeMoe.
He still works, driving more than 400 miles across their home state of North Dakota, delivering parts to oil rigs.
Once a month, he gets a shot from a traveling nurse. He doesn't know if it's a medication or a placebo. Every year, he and his wife travel from their home in North Dakota to St. Louis for nearly a week of tests, including a spinal tap, brain scans and psychological testing.
"We joke our only vacations for us are your Alzheimer's visits," Deb DeMoe said when the couple were in St. Louis last May. The tests and injections are also constant invasive reminders of their fate.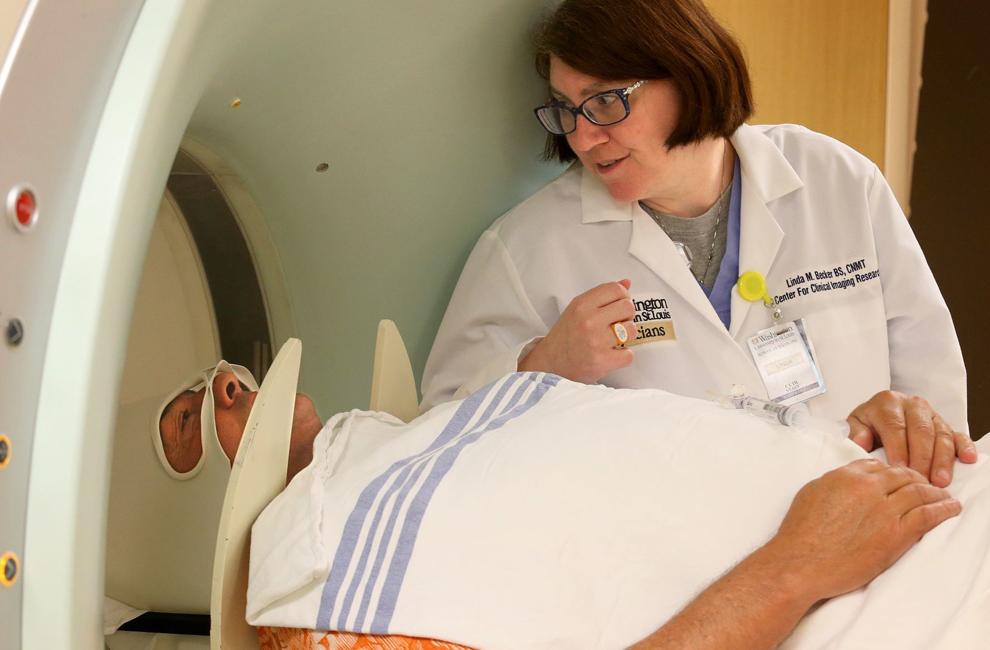 Time is not what these families have, but time is what they are willing to give.
Many are motivated by their children. Learning you have the genetic mutation is devastating, they say, but not nearly as devastating as learning it's a coin toss as to whether your children have it too.
The DeMoes have three children, in their 20s and early 30s. The children underwent genetic testing so they could participate in studies, but they have chosen not to learn their results.
Their mission is to find a cure.
"It may not be in our lifetime," Deb DeMoe said, "but we pray in the lifetime of our kids, not just for our kids, but for all kids and their families."
The annual family conference allows researchers to let families know how their commitment is making a difference, to empower families when they feel powerless.
June Ward, 57, of Asheville, N.C., has attended three family conferences. For the past four years, Ward has driven 3½ hours from her home to undergo testing at Emory University in Atlanta.
"It is somewhat invasive. It's a bunch of tests that costs me about two weeks of vacation from work a year," said Ward, who married at the age of 50 and is thankful she did not have children. "It's nice to be reminded annually how important it (the testing) is, not just for my family."
Many watched their parents suffer without any support.
Carrie Richardson, 37, of Montgomery, Ala., and her brother Bryan Salter, 38, both have the mutation. They remember not being able to bring their friends around their father. He died 23 years ago at age 43.
"We didn't know what it meant," Richardson said. "We were ashamed about it, embarrassed about it. We didn't talk about it. Most didn't know I had a dad. I don't want my children to feel that way about me."
When their cousin began having symptoms in his 30s, their mother searched for answers.
"It was now on to the next generation," Richardson said. "We started to get scared." She learned about the mutation and research group.
Salter decided to get tested in 2011. He did not take the need for support seriously at first, he said. He turned to alcohol and was ticketed twice in two weeks for driving while intoxicated. He began participating in drug research a few years later and has been attending the family conferences since the first in 2015.
Being involved saved him, he said.
"Thank you for giving me a purpose to my life," Salter said in his speech at the Chicago conference. He was already starting to show symptoms.
Richardson said she felt numb for days after deciding to get tested at the end of 2012. Then she thought of her three children. She enrolled in the drug trial a year later and has been an outspoken advocate, educating others about the disease.
"I wanted to let them know that I wasn't going to lay down and let Alzheimer's consume me," she said.
Her oldest daughter, Hannah Richardson, attended the Chicago conference with her. Hannah, 17, said she planned to find out if she has the mutation once she turns 18.
She wants to attend Washington University, where her mother comes for her tests, and become a geneticist, she explained. But that may change if she tests positive. "I don't want to go to school and get my doctorate and die four years later."
Richardson told her daughter that she should follow her dreams no matter what, that it's best if she doesn't find out her results yet. But Hannah was insistent.
These are the kinds of difficult conversations that take place at the conference. Dilemmas surrounding genetic testing, long-term relationships and starting families are discussed with others who understand. It is where they learn to deal with death and the pain that can come even with not having the mutation.
It is where each birthday is cherished.
Dean DeMoe turned 56 at the conference. His family used the day before to see a baseball game and take a tour of Wrigley Field. At an evening event, as participants mingled over appetizers, they surprised him with cake and balloons.
"A lot of his siblings haven't made it to that, or been in nursing homes already," said his son Tyler DeMoe, 28. "It's fun to be here, especially on his birthday with all these people. This conference is like a whole other family."
It means the world
Washington University organized the first family conference in 2015 because researchers could see that the study participants needed each other, but privacy requirements made it difficult to connect them.
Charles Knight died from Alzheimer's disease in 2017 at age 81. Joanne Knight's mother also had Alzheimer's.
The first conference brought 99 people. That grew to 117 the following year, 152 the year after that and then 180.
After the first year, the university won federal funding — about $75,000 a year — to continue hosting the conference, which is held the weekend before and in the same city as the annual Alzheimer's Association International Conference, the world's largest forum for dementia researchers. The Alzheimer's Association also donates $100,000 annually to support the family conference.
Nearly as many researchers as family also attend the family conference. They learn how to make their studies as efficient and sensitive as possible. They can say "thank you" in person. They gain the same inspiration.
After his presentation on gamma-secretase modulators and how they stop the formation of brain plaques, Steven Wagner, a researcher from the University of California, choked back tears as he mentioned families he met that weekend.
"I will take this home to San Diego, to my lab, and we are going to do whatever we can to stop this," Wagner said.
As scientists learn more about dominantly inherited Alzheimer's, they will study how it resembles more common forms of the disease. Scientists need to find other signs that don't require a spinal tap or expensive PET scan to help identify individuals at risk.
A blood test, eye exam and sleep analysis are emerging as potential diagnostic tools.
Morris, now the director of Alzheimer's disease research at Washington U., envisions preventing Alzheimer's much as doctors try to prevent a heart attack by identifying those at risk of heart disease, and controlling their blood pressure and cholesterol levels.
"That is now what Alzheimer's research is trying to do," Morris said. "Why wait until there's so much brain cell loss that dementia occurs and then try to treat it? We are now in a new era of trying to prevent Alzheimer's dementia."
Joanne Knight was one of the last speakers at the family conference, introduced as the "angel donor" who had made it possible. The audience gave her a standing ovation, and she returned the praise.
"I thank you all. It means the world to me and my husband," she said. "You guys are going to find this treatment and find this cure. It's gonna end. I know it is."