Walking feels a bit different during a pandemic, and it's likely you've been doing more of it, whether or not you're forcing yourself or your family to get moving.
You're walking to exercise, socialize, escape, pass the time, indulge the dog (who has absolutely zero problem with any of this, the last we checked), or all of the above.
"A lot of folks are discovering a different way of interacting with the community when they are walking," said Emma Klues, vice president of communications and outreach for Great Rivers Greenway, which has seen a significant surge of people on its 125 greenways throughout the area. "When they're walking, they're seeing houses differently, or they can stop and check something out. You can't do that with a car as much."
Walking improves cardiovascular health, helps you maintain and lose weight, and allows you to get valuable Vitamin D.
During a pandemic, walks simply help.
"These walking experiences can really reduce your stress, and that's really what's important right now," said Joyce Millner, a certified personal trainer and fitness consultant who is co-executive director of the Fit and Food Connection, which provides fitness and food resources to communities in need.
"Don't just go through the motions. Look around, take in a new tree, a new flower, a smiling face. There are so many benefits to absorbing goodness. It can just be a wonderful experience."
So lace up some supportive shoes, fellow bipeds. We'll guide you through a few steps to getting the most out your walk.
Be a polite walker: Viruses can't walk, but they can spread through the air. So it's important to maintain a social distance of six feet from other walkers. If you come to an intersection or a crosspoint, be clear in your verbal or body language about where you are going to go next, Klues said.
Stay to the far right of a path except when you are safely passing, advises Forest Park Forever, which put together a guide for visitors, with tips that apply to other outdoor spaces (forestparkforever.org/coronavirus). However, when walking on a road, walk on the left side, so oncoming traffic can see you.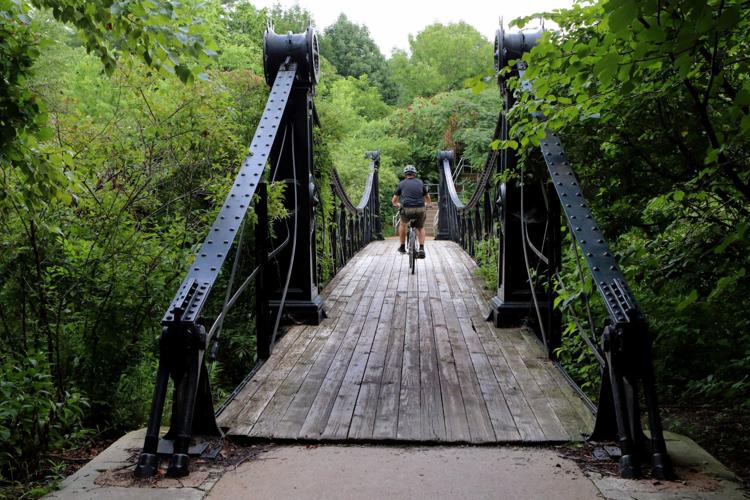 If you're crossing a bridge, make sure there is nobody else oncoming before crossing. If you are passing someone, let them know by calling "on your left" so the other person can give you space, and get out of the way if possible.
Also, don't use trails or go out if you are sick or showing symptoms, and if you do go out, don't touch things like park benches, handrails and bike racks. The Centers for Disease Control and Prevention recommends wearing a face mask in areas where social distancing is difficult to maintain, so if you're going to a crowded path, keep one with you.
Bring a bottle of water as many public park water fountains may not be available.
Also, listen to your mother and use the bathroom before you leave the house. Many parks have closed public restrooms during the pandemic.
Keep a walk interesting: Any scout leader keeps a few tricks in his or her rucksack to keep scouts interested during walks and hikes.
Dave Chambliss with the St. Louis Area Council of the Boy Scouts of America suggests using walks for teaching opportunities: how to identify trees and trail markers, how to build an emergency shelter, as well as learning about first aid or navigational skills.
He's had someone in his group pretend to fall and sprain an ankle. The first person in line behind that person has to tend to the "fallen." After a few hikes like this, scouts figure out they have to be prepared for any emergency. "They didn't know when it would happen next," he said. "You'd hear one say, 'I wonder if we are going to do bee stings?'"
• Go on an ABC walk where you and your companions identify things beginning with each letter of the alphabet. For more challenging letters, like X, look for two sticks or tree branches that make the shape. For a monogram walk, each person has to find something that begins with their initials.
• Rainbow walk: Go through the colors of the rainbow and identify as many things as you can with that color.
• Story walk: Each person on the walk starts a story, then the next person adds a sentence, then the next person. Pick a park that offers a "Storybook Walk," where pages of a children's book are posted alongside a trail. The St. Charles Library Foundation lists some here: stchlibraryfoundation.org/StorybookWalk
• Night walk: Go on a walk at night, and leave the flashlights at home. See if the light of the moon or the light of the streetlights is enough to get you by, and listen to the sounds of the night.
• Penny walk: When you reach a corner, flip a coin. Heads go right, tails go left. Once you get to a spot, give your kids a penny and see how many things they can find that will fit onto it.
• Bring drawing and coloring materials and when you get to your destination, sketch what you see.
• Creek walk: Find a creek and walk up it or alongside it.
• Theme and treat days: change up your walk with different drinks, genres of music, treats and meals. You can enjoy disco music on one day, cucumber-infused water another day, or look forward to a coffee or ice cream at a destination, says Millner. 
Walk with an app
Besides listening to a new podcast, audiobook or music, you can download an app to help put a spring in your step. You've heard of Pokemon Go, but you can also play augmented reality games like Harry Potter: Wizards United, Ingress or Angry Birds AR: Isle of Pigs.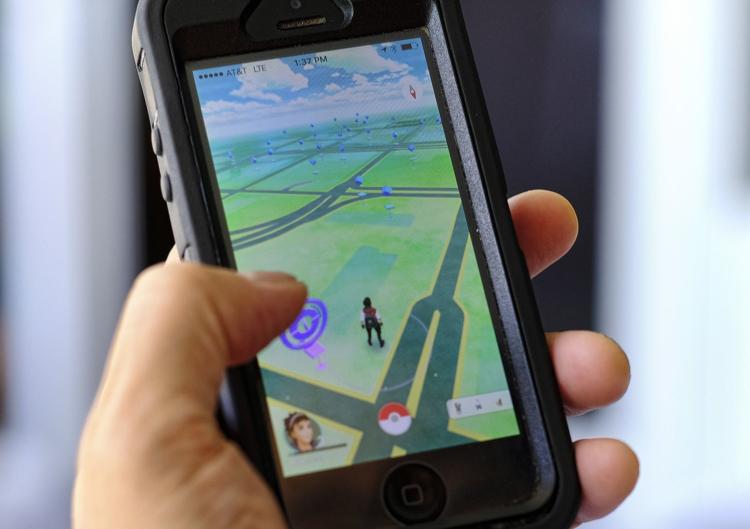 Use the app Walk the Distance to virtually walk the Appalachian Trail, New York City, the National Mall and more, learning about landmarks and passing others along the way.
Slay zombies and ghosts with Zombies, Run, The Walking Dead: Our World and Ghostbusters World.
Use an app like Strava or MapMyWalk to draw a virtual picture as you walk, and use the hashtag #DrawWithYourFeet or #GPSART to share your creation on social media.
To hunt for or leave "treasure," download Geocaching.
Support a local cause by walking a virtual race — you'll probably still come away with a T-shirt and medal. The Gateway Resilience Run & Ride, through June 30, is a virtual event that will help small businesses and charities in the St. Louis region get through the coronavirus crisis. For more information, visit Gatewayresiliencerun.com.
Download an app like Charity Miles to track your movement to make money for a favorite charity. The money comes from corporate sponsors or you can get pledges and donations from friends and family.
Walk somewhere interesting
Find a main street or historic town, peek in the windows or shop and eat if you can: try St. Charles; Kimmswick; Old Town Florissant; Kirkwood; Lebanon; Columbia, Illinois; and Belleville.
Visit a cemetery or the grave of a loved one: Bellefontaine offers a GPS-enabled map and suggested walking tours. Calvary Cemetery next door and Jefferson Barracks National Cemetery are also beautiful and historical. (cemeteries.archstl.org/Locations/Calvary#485742-maps)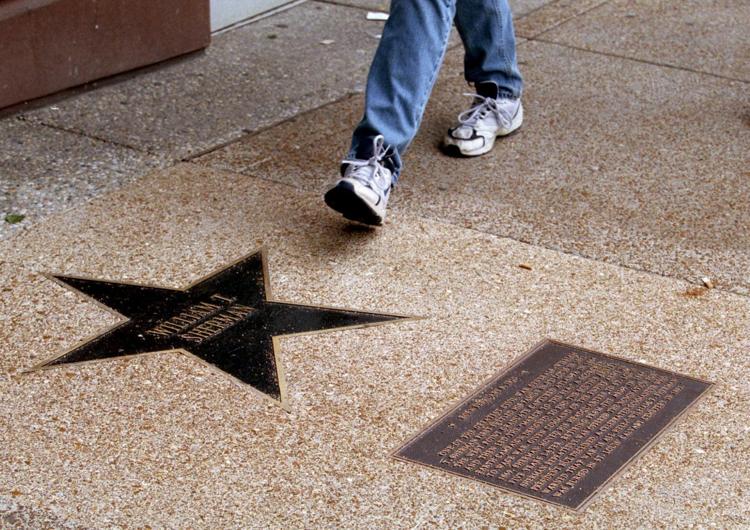 Take a stroll along the St. Louis Walk of Fame, which honors more than 150 prominent St. Louisans along six blocks of the Delmar Loop. The St. Louis Gateway Classic Sports Foundation Walk of Fame in downtown St. Louis, in the 2000 block of Dr. Martin Luther King Boulevard, honors prominent African Americans.
Be a good social distancing citizen and visit lesser-known parks and parts of them, or visit during weekdays or off hours to avoid crowds. Inside Forest Park, places like Successional Forest, Kennedy Forest, the circle around Jefferson Lake, Murphy Lake, West Pine Woodland, Round Lake Vista, Deer Lake Natural Area are usually quiet.
If you live in the city, try walking the alleys to discover backyard chickens, flower and vegetable gardens, carriage house architecture or basement treasures left beside trash bins.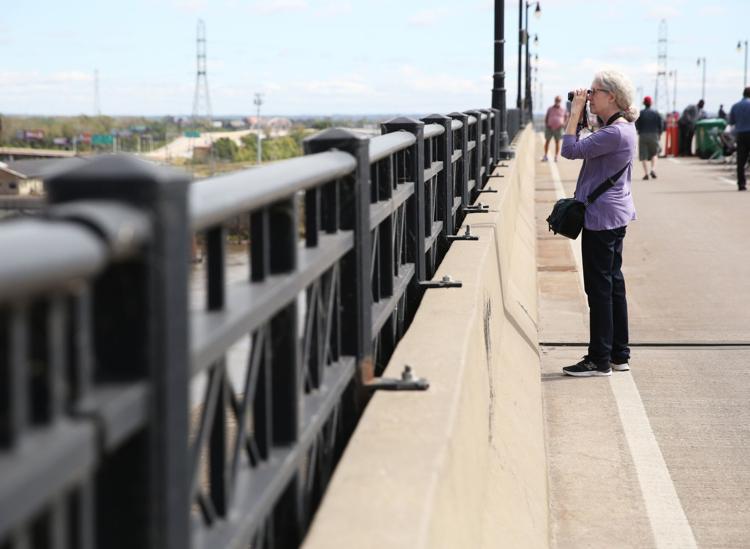 Find a bridge that has pedestrian access and enjoy the views: the Eads Bridge, Stan Musial Veterans Memorial Bridge, the old Chain of Rocks Bridge, and the Page Avenue Bridge all allow pedestrians. The Sandy Creek Covered Bridge State Historic Site in Jefferson County spans a creek that welcomes waders.
Find a spot to use your walk for contemplation or prayer. The Centenary Methodist Church in downtown St. Louis and the St. Peter's UCC Church and cemetery in Washington, Missouri, have labyrinths. The National Shrine of Our Lady of the Snows in Belleville has outdoor stations of the cross.
Challenge yourself
Humorist David Sedaris grew obsessed with walking once he got a Fitbit, reaching a point where he scoffed at himself for doing a mere 15,000 steps a day. "Not bad if you're on a business trip or you're just getting used to a new prosthetic leg," he wrote. Fitness experts and pedometer makers recommend 10,000 steps a day, or roughly 5 miles.
There are any number of apps and gadgets to measure distance and prod you to challenge yourself or a friend.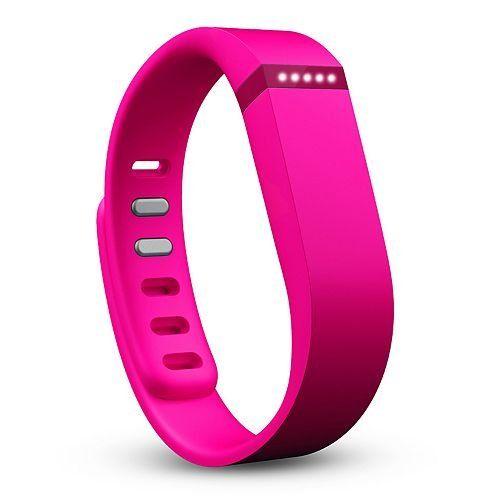 The St. Louis County parks 30 trails-30 minutes program encourages you to print a map, punch out a piece of it at the start of designated trails, and turn in the completed map for a prize. (stlouisco.com/Parks-and-Recreation/Trails/30-30-Hikes-Program)
Great Rivers Greenway advertises 10 more walks you can do in 30 minutes. (greatriversgreenway.org/30-walks-30-minutes-plus-10/)
The Missouri Civil War Passport Program points you to about 40 significant sites across the state. (mo-passport.org)
The Gateway Arch Park Foundation recently launched a challenge for fans to "climb" the steps of the Gateway Arch from home. There are 1,076 steps inside of each leg, and the foundation wants you to "climb" up and down the Arch as fast as you can to complete a total of 2,152 steps, just over one mile. Post your efforts on social media, tag @GatewayArchPark and use #GatewayArchStepChallenge.
No matter where or how long you walk, see if you can up your intensity to get the most health benefits, said Millner of the Fit and Food Connection.
"I recommend quality over quantity," she said.
Even if you're just beginning, set small goals to get your heart rate up so that you're not exactly comfortable, and it might be difficult to carry on part of a conversation, she said. You can add lunges, jumping jacks, go at a faster pace, walk up and down a hill or steps.
"That's how you make it fun" she said. "It won't really feel terrible, but the results will be huge. I teach that small changes yield big results."
Walk with a friend, or make new ones
If you can maintain a social distance, you can still walk with a friend, chat with a neighbor, or take a moment to smile at rather than ignore the people in your path. "We're just hearing from a lot of people — they obviously want to maintain their physical health, but also their emotional well-being," Klues said.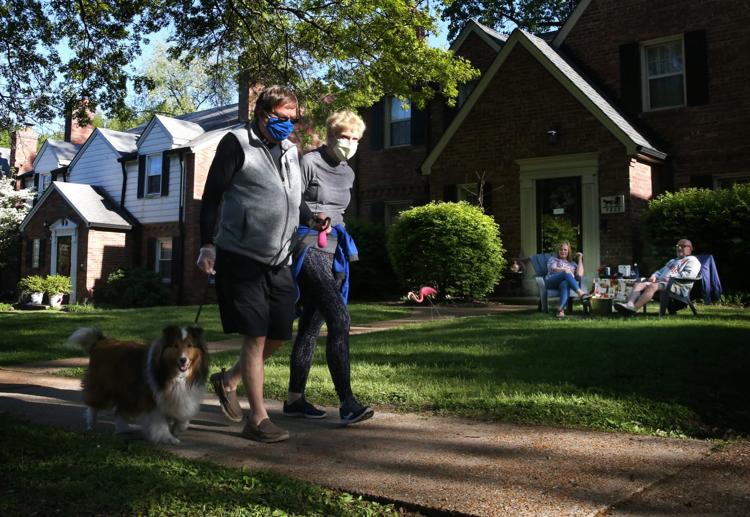 Even if people aren't talking to others directly, just to see people outside helps maintain a sense of community, she said.
Lois La Fleur is the president of the Gateway Milers, a walking club that is a chapter of the American Volksport Association. "Volksport" is German for "sport of the people." While the club's organized walks have been on hold since the pandemic, they maintain lists of recommended walks people can take anytime. Detailed maps for these walks cost $3 and are found in binders at designated starting points like libraries and YMCAs, though many binders aren't accessible now because the locations are closed.
Meanwhile, La Fleur stays in touch with the friends she's made through the club through Zoom meetings and socially distant walks with one or two friends.
"The AVA motto is 'fun, fitness and friendship.' And we're kinda like, 'walk, talk and let's go eat somewhere.' And when I started they were all strangers to me," she said.
The club welcomes new members and tries a new walk in a different spot every Saturday. She and other members have built vacations around walks in other cities, saying it's a great way to see places locals recommend.
For more information, visit ava.org.
For some of the best views in St. Louis, check out some of these places
Introduction
Everyone knows the best place to get a look at St. Louis is through one of 32 windows at the top of the Gateway Arch. Luckily, the trams that carry passengers to the observation deck 630 feet in the air reopened Wednesday after having been closed since November for upgrades.
But the Arch's view isn't the only one in town. There are others to appreciate, with many providing a look at our favorite metal monument.
We came up with 50 St. Louis-area locations to admire the scenic surroundings. Most are open to the public, some offer a look at downtown and others show off nothin' but nature.
Do you have your own great photos of these views? Or maybe you have more suggestions for our list? Tell us about them on social media by using the hashtag #stlviews.
Compton Hill Reservoir Park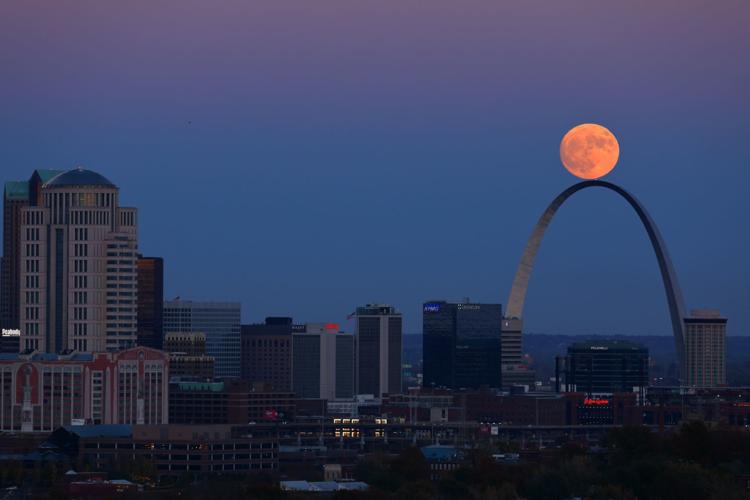 1700 South Grand Boulevard • Several fabulous views are to be had here: Walk the stairs up to the perimeter of the reservoir, which is great for running. One side runs along Interstate 44. Or wait until the water tower is open, usually on the first Saturday of the month or during a full moon, and climb up 198 steps for spectacular views in all directions.
Malcolm W. Martin Memorial Park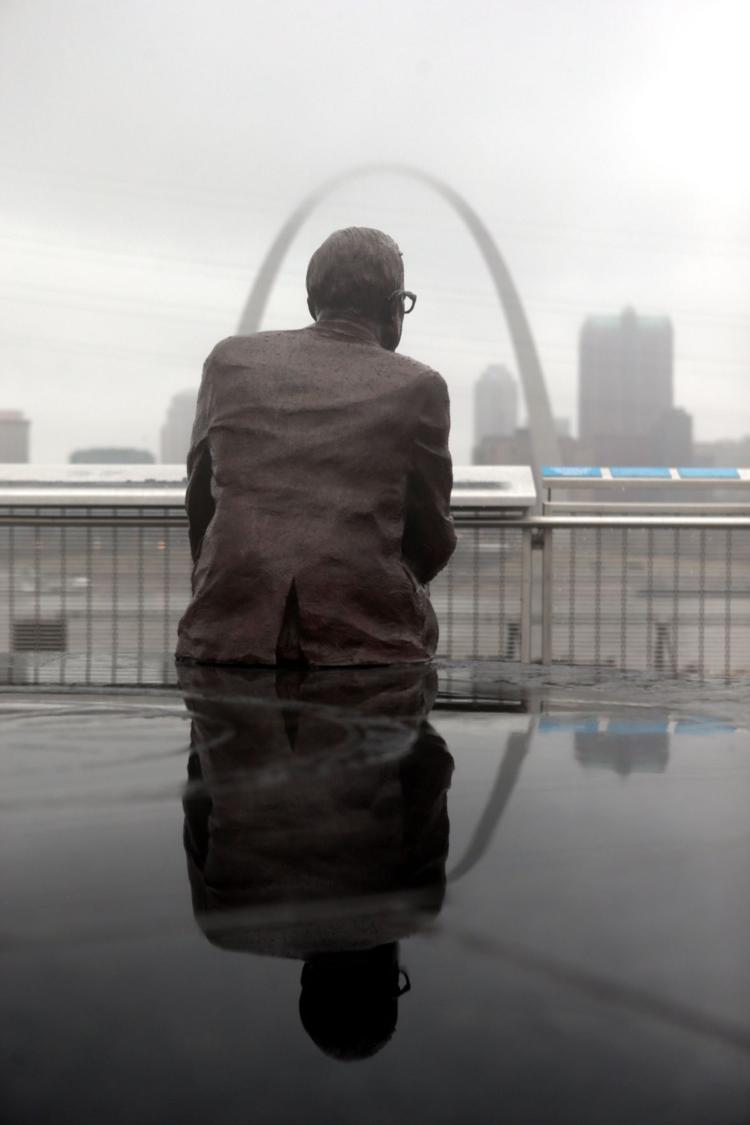 185 West Trendley Avenue, East St. Louis • This tiered Mississippi River overlook opened to the public in 2009 and offers a striking view of the St. Louis riverfront. Watch for the Gateway Geyser, the tallest water fountain in the country, which gushes up to 630 feet at noon, 6 p.m. and 9 p.m. from April through October.
Bellerive Park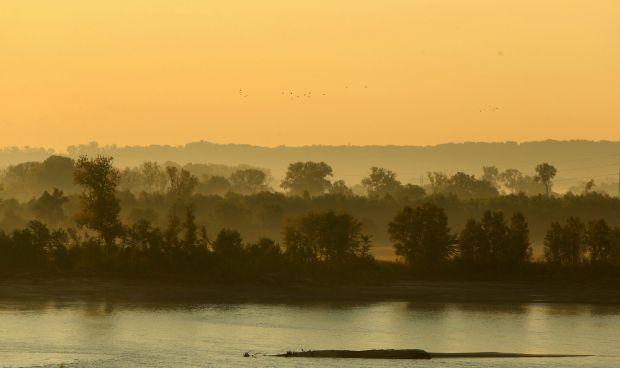 5570 South Broadway • Enjoy sweeping views of the Mississippi River from benches or the overlook at the pavilion.
Jefferson Barracks Park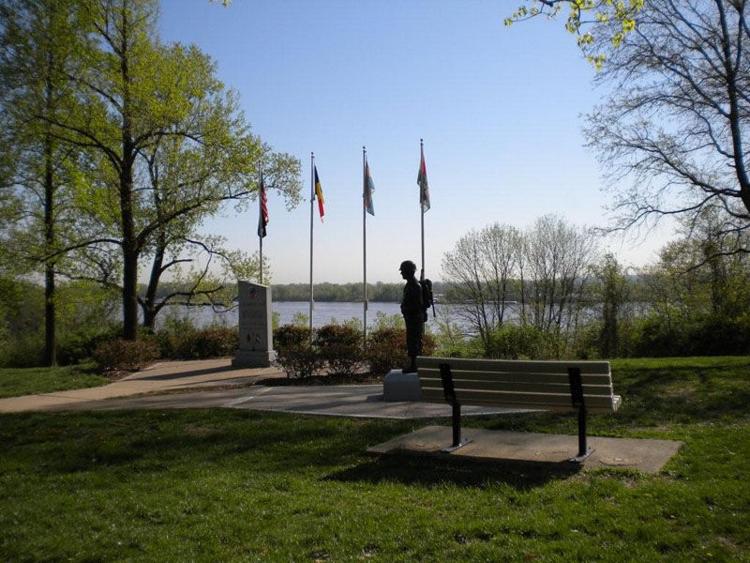 345 North Road • Several overlooks at this former military barracks will give you views of the Mississippi River and visiting deer. Check out the view from the patio of the free Powder Magazine museum.
Chain of Rocks Bridge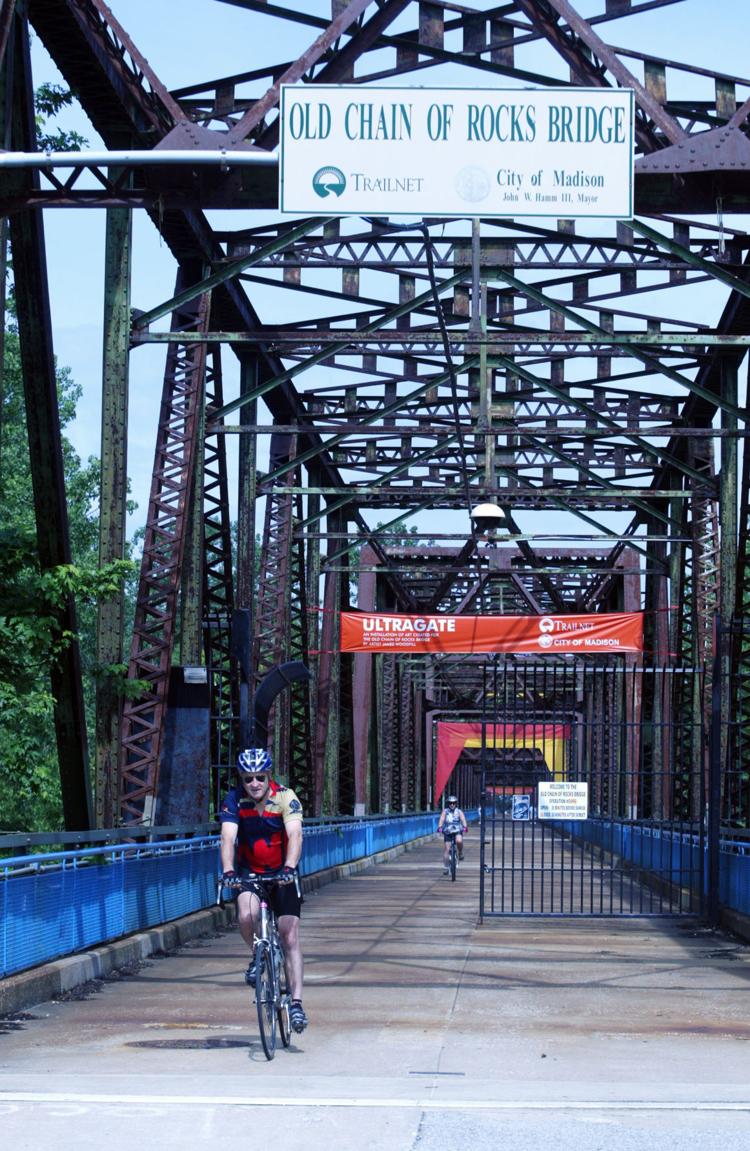 Parallelling Interstate 270 along West Chain of Rocks Road between Riverview Drive in St. Louis and Illinois 3 in Madison County • This historic bridge is open to bikes and pedestrians. Watch for the 30-degree bend in the middle of the bridge and for the castle-like pump station in the middle of the Mississippi River.
Weldon Spring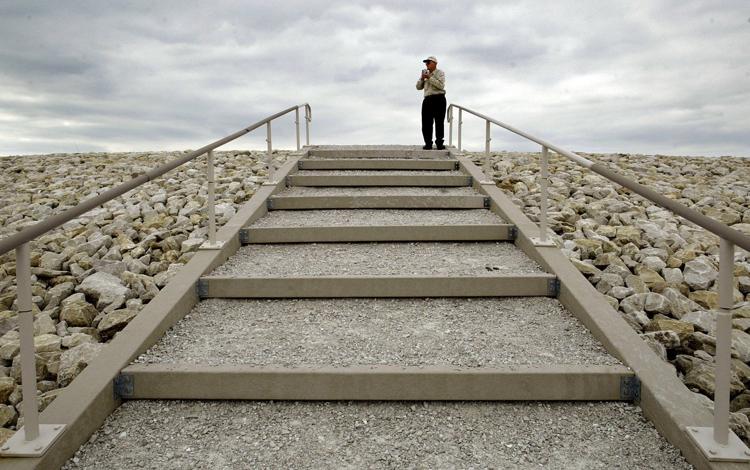 7295 Highway 94 South, Weldon Spring • Climb to the top of the 75-foot-high Weldon Spring Disposal Cell (yes, the government built this site atop old TNT, DNT and uranium ore processing facilities) and you can see panoramic views of St. Charles County and the Hamburg Prairie.
Busch Stadium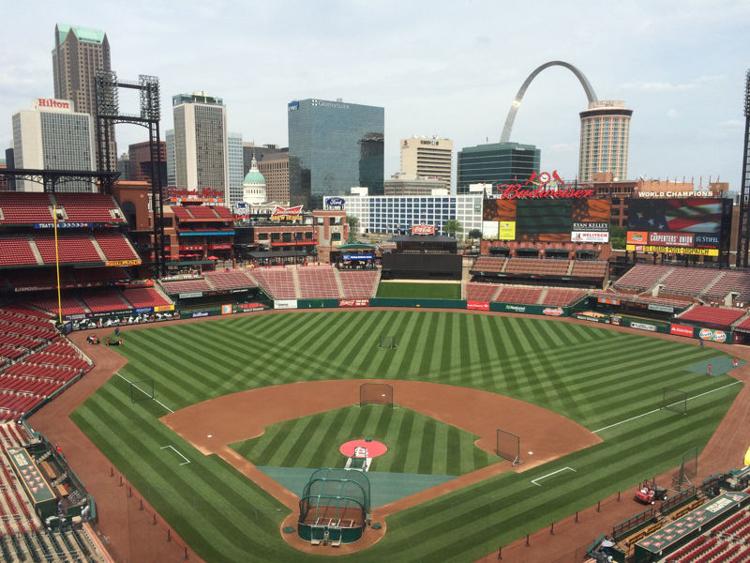 700 Clark Avenue • If St. Louis has the best fans in baseball, we might have the best views, too. The view of downtown when you glance up from a Cardinals game can't be beat. Go to cardinals.com to see the view from your seat.
Old North's Crown Square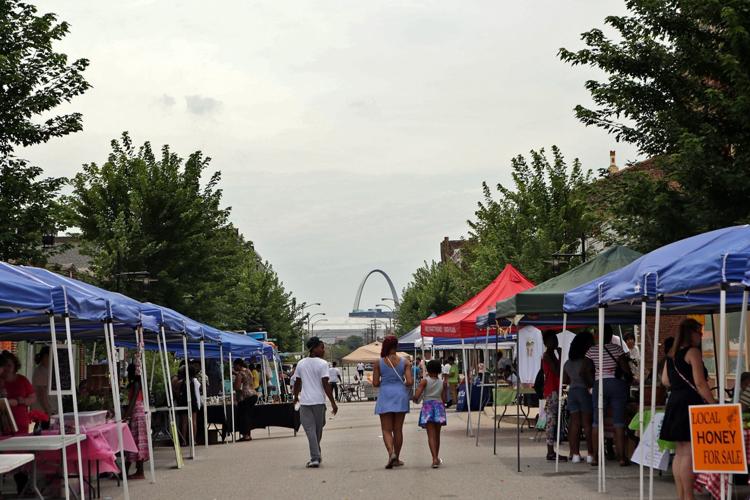 14th Street between St. Louis Avenue and Warren Street • If you're in this neighborhood just northwest of downtown, perhaps grabbing a chocolate-banana shake at Crown Candy Kitchen, you might have a moment where you look up and say, "Oh, hey." Just to the south you'll see a familiar friend, the Arch, rising above the Dome at America's Center.
Thomas F. Eagleton United States Courthouse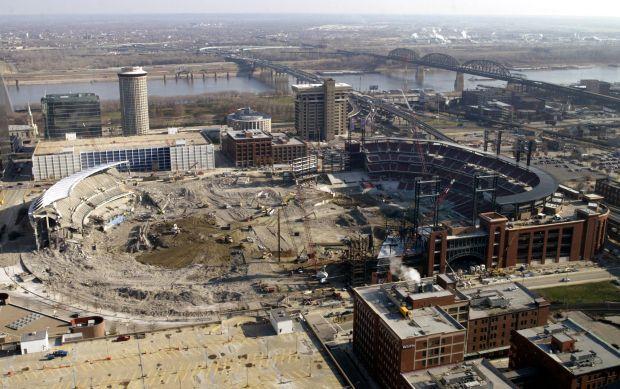 111 South 10th Street • Tours are available of this 29-story building, but provided you go through security, the views of the city are vastly different whether you look out a west-facing window on the 10th floor or an east-facing window on the top floor.
Eads Bridge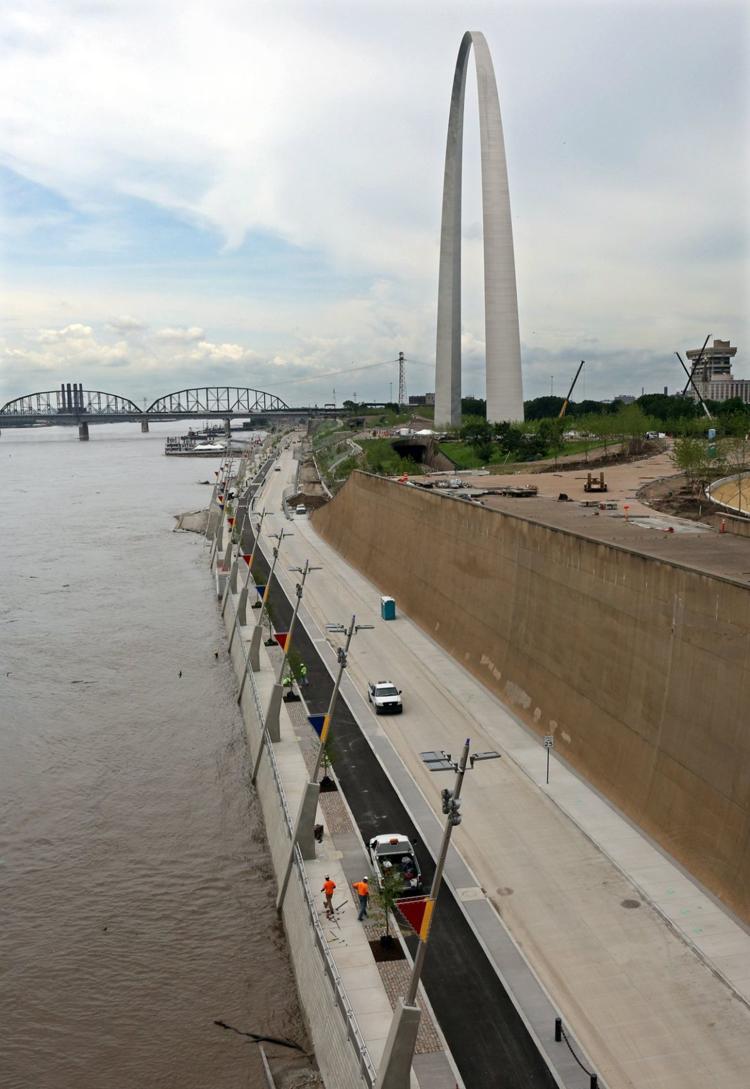 Pedestrian access at Washington Avenue and Memorial Drive in Missouri • A pedestrian walkway on this historic bridge also includes some overlook spots where you can pause and take in the view. Midway, look for the outlines of Missouri and Illinois on the concrete guardrail, and place one foot in each state.
The Boathouse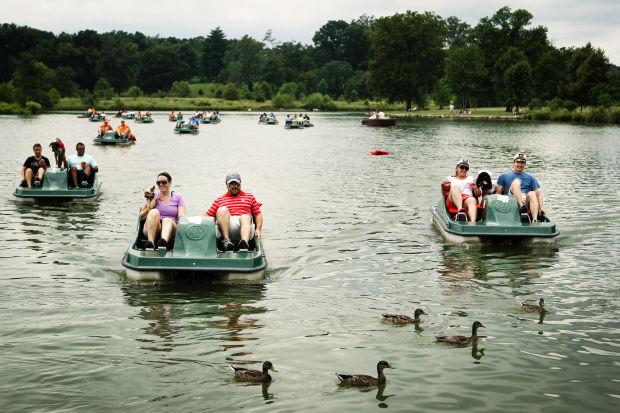 6101 Government Drive, Forest Park • Drink a beer on the restaurant's patio to take in the view of Post-Dispatch Lake, or rent a paddleboat and be part of the scenery.
Art Hill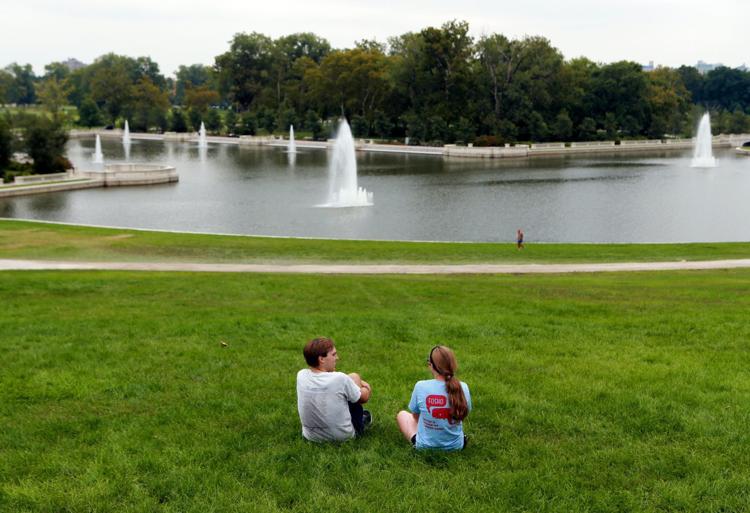 1 Fine Arts Drive, Forest Park • If you're not digging the view of the Emerson Grand Basin from the top of Art Hill, run, roll or sled to the bottom, and then turn around and look. There's a fabulous view of the St. Louis Art Museum and the statue of the city's namesake, King Louis IX of France.
Edward 'Ted' and Pat Jones-Confluence Point State Park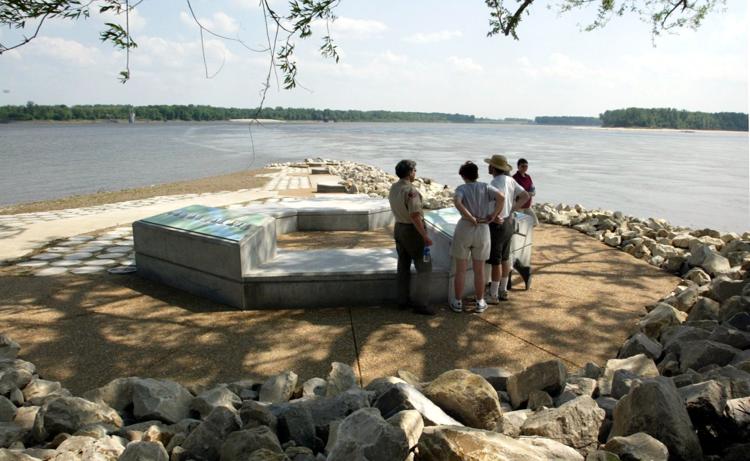 1000 Riverlands Way, West Alton • This is the St. Charles County point where the Mississippi and Missouri rivers meet, and it's a literal point of land that juts out into the water. It's a great place for bird-watching and for imagining explorers Lewis and Clark embarking on their journey to the Pacific Ocean.
Eckert's Millstadt Farm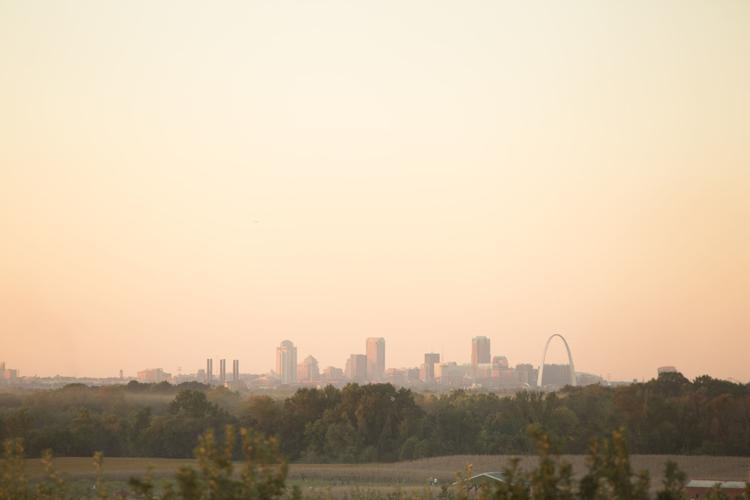 2719 Eckert Orchard Lane, Millstadt • Don't be envious of the goats' views from Eckert's infamous Gold Goat Bridge. Sit on the hay bales for the pig races, and get a beautiful view of the orchards beyond. Or take a seat near the Jack-O-Lobber, a cannon that chucks pumpkins into the fields. Beyond that you'll see the St. Louis skyline.
Bee Tree Park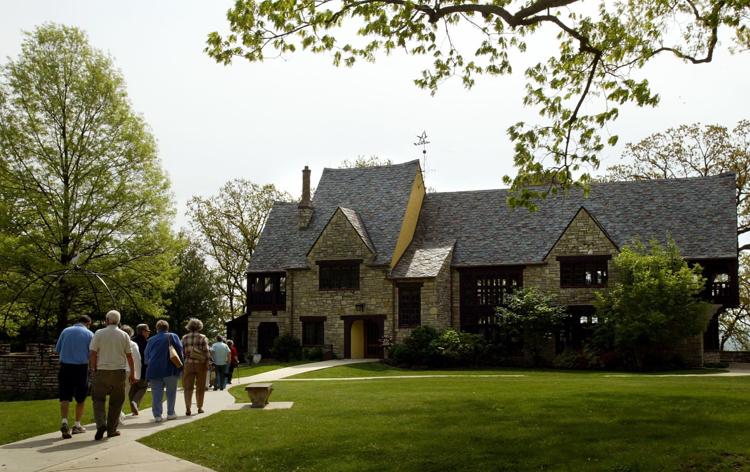 2701 Finestown Road • This Oakville-area St. Louis County Park offers a few great views of the Mississippi River, among them an overlook shelter and the gardens and grounds of the Eugene Nims mansion, built in 1929 as a country retreat. Hike the Mississippi Trail for more.
Montelle Winery
201 Montelle Drive, Augusta • No doubt many St. Charles County wineries offer fabulous views, but the one from the terraced decks and patios of Montelle Winery is one of the best.
Our Lady of the Rivers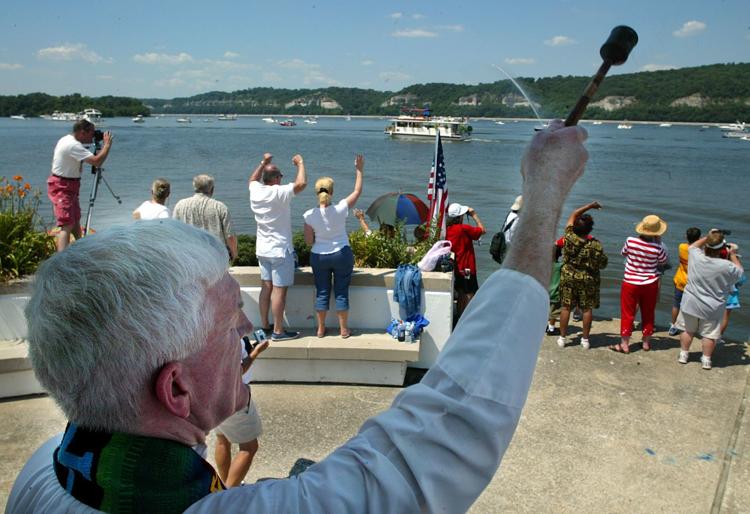 End of Le Seurre Street, Portage des Sioux • A walkway extends to this 25-foot-tall, white fiberglass statue of the Virgin Mary, dedicated there in 1957 to commemorate the time a levee break spared the town.
Three Sixty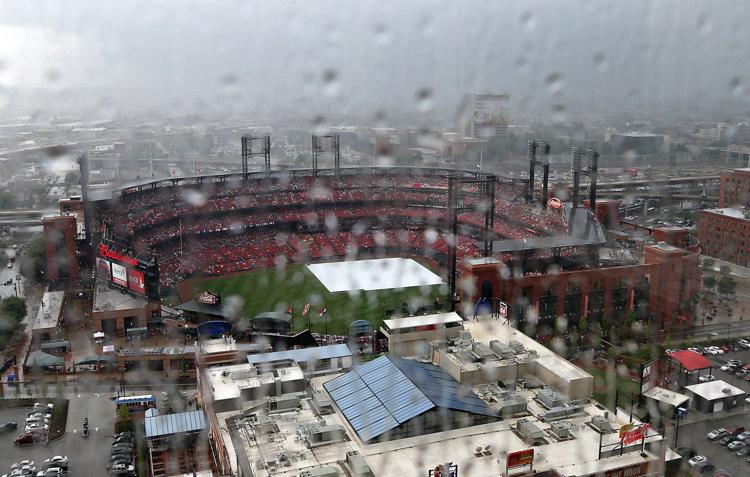 Hilton St. Louis at the Ballpark, 1 South Broadway • This downtown rooftop bar lives up to its name: views in all directions, and you can take them in while sipping a cocktail or having a bite to eat.
Cielo Restaurant and Bar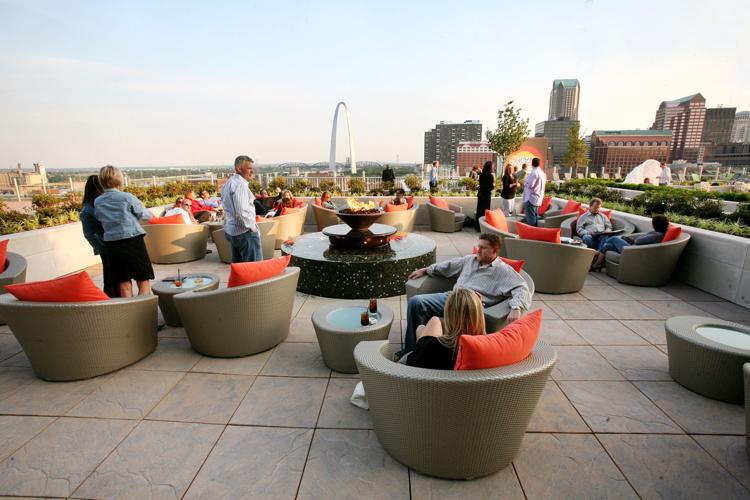 Four Seasons Hotel St. Louis, 999 North Second Street • Enjoy sunrise yoga classes on Sunday mornings, a family-style Italian meal or a cocktail, all while enjoying sweeping downtown views of the city.
Eclipse Restaurant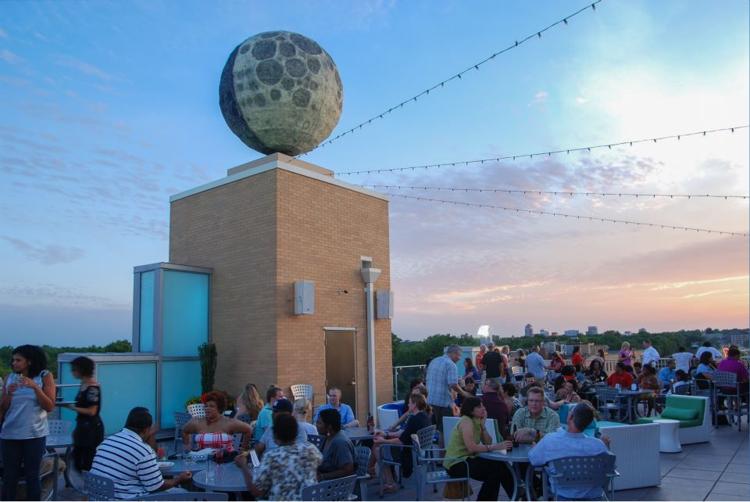 Moonrise Hotel, 6177 Delmar Boulevard • The space-themed venue offers the Rooftop Terrace Bar and the Twilight Room, where you can enjoy beautiful views of the Delmar Loop and beyond.
Vin de Set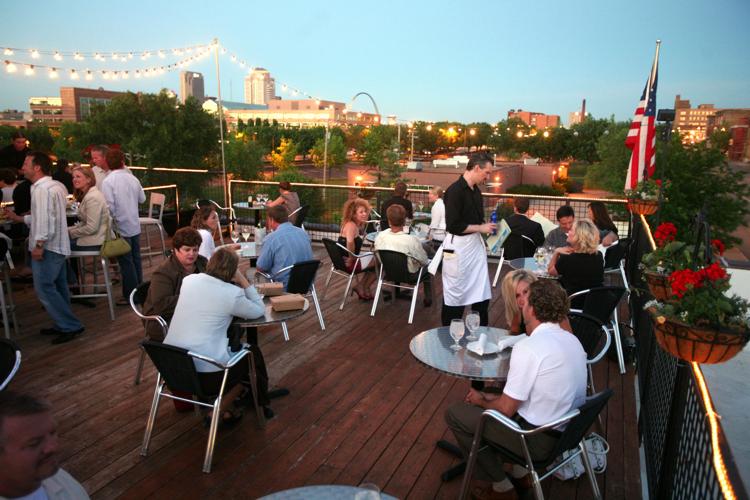 2017 Chouteau Avenue • This Lafayette Square bistro offers upscale yet affordable French cuisine with an American twist. Enjoy St. Louis skyline views as you sip and eat.
Kemoll's Restaurant and Top of the Met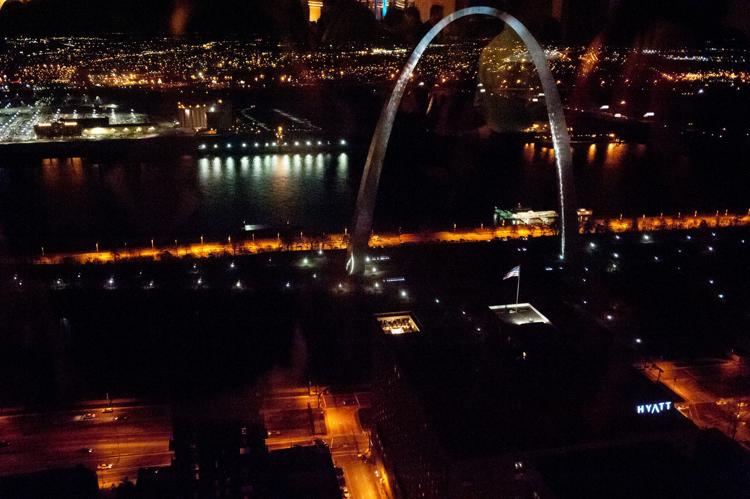 One Metropolitan Square, 211 North Broadway • The Kemoll family has been serving Italian food in St. Louis for 90 years. The restaurant is on the 40th floor of downtown's tallest building, One Metropolitan Square; banquet facilities are on the 42nd floor.
Klondike Park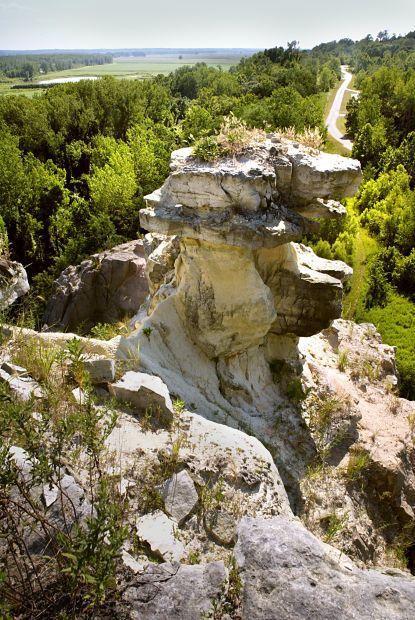 4600 Highway 94 South, Augusta • This 250-acre spot once was a silica sand quarry. It offers some of the few sandy beaches in the area and a lookout bluff with views of the Katy Trail and the Missouri River valley.
Gateway Arch Riverboats and Helicopter Tours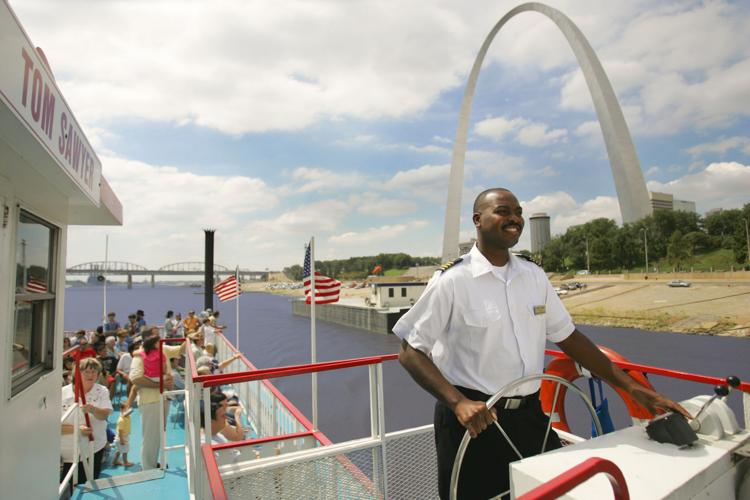 50 South Leonor K. Sullivan Boulevard • Travel up and down the Mississippi River on the Tom Sawyer or Becky Thatcher riverboat while a guide describes the architecture and history of Missouri. If you're feeling more adventurous, take in a bird's-eye view from a helicopter.
Lewis and Clark Confluence Tower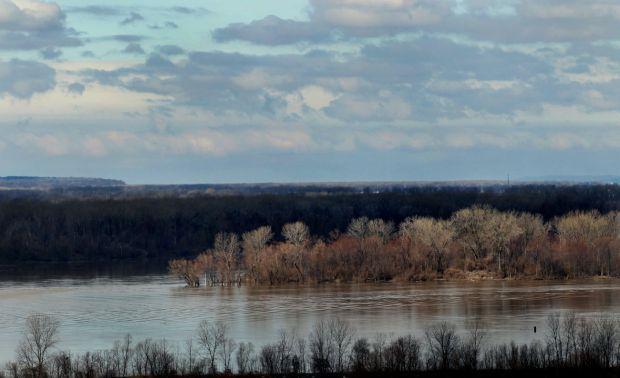 435 Confluence Tower Drive, Hartford • Check out views 50, 100 and 150 feet above the confluence of the Mississippi and Missouri rivers, and learn the story of the William Clark and Meriwether Lewis expedition. Stairs and an elevator reach the three levels. On a clear day, you can see downtown St. Louis, 19 miles away.
Columbia Bottoms Conservation Area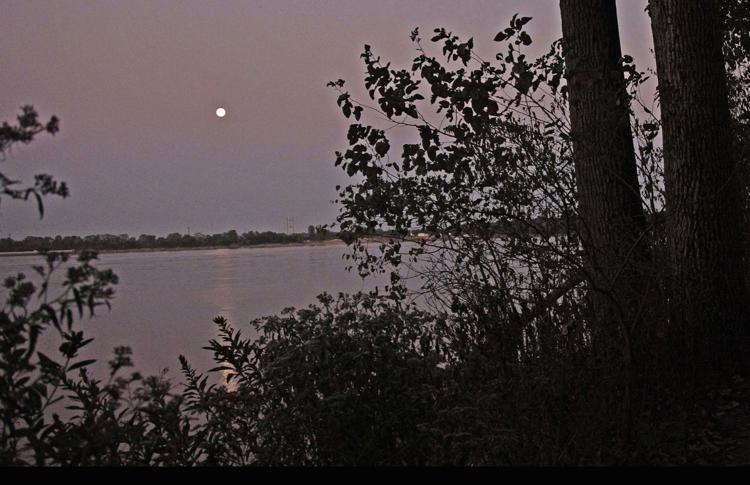 801 Strodtman Road • This is the St. Louis County location for the confluence of our two big rivers, just across the Missouri from Confluence Point State Park. You can see the Lewis and Clark Confluence Tower in Hartford from here, as well as hike trails and visit a nature center.
Castlewood State Park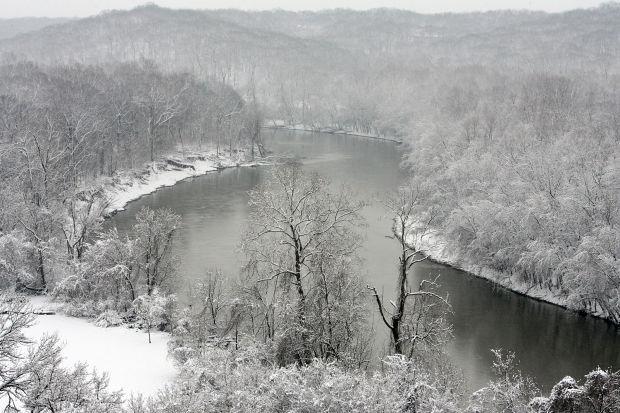 1401 Kiefer Creek Road, Ballwin • This park features about 26 miles of trails, including the popular River Scene Trail, which includes a wooden boardwalk that goes past the remains of the "grand staircase" to an old resort hotel and cabins. The trail provides views of the Meramec River Valley about 200 feet below.
Creve Coeur Park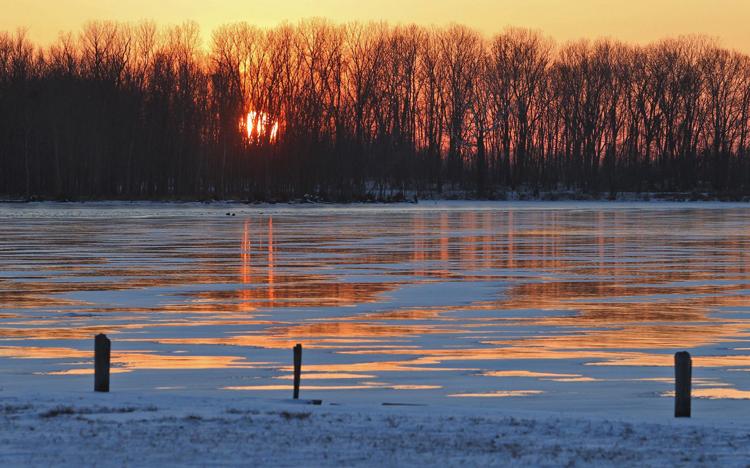 13219 Streetcar Drive, Maryland Heights • Try the Lakeview Loop, which will get you up close and personal with the waterfowl on Creve Coeur Lake. For more views, visit the unique, saucer-shaped Greensfelder Memorial Shelter, paddle along the Creve Coeur Water Trail or go on a Go Ape! zip-line adventure.
Colossus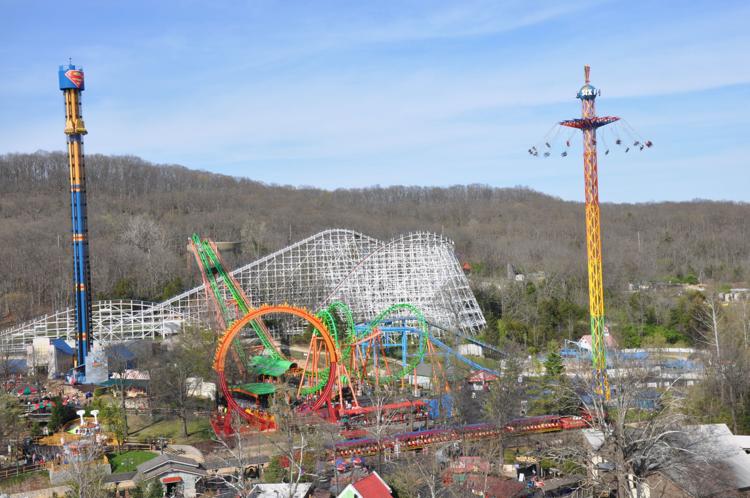 Six Flags St. Louis, 4900 Six Flags Road, Eureka • Climb into a covered gondola for a ride in Six Flags' 180-foot-tall Ferris wheel, which offers spectacular views of the park and its surroundings. It's lit up and runs at night, which provides a completely different viewing experience.
Mississippi River Greenway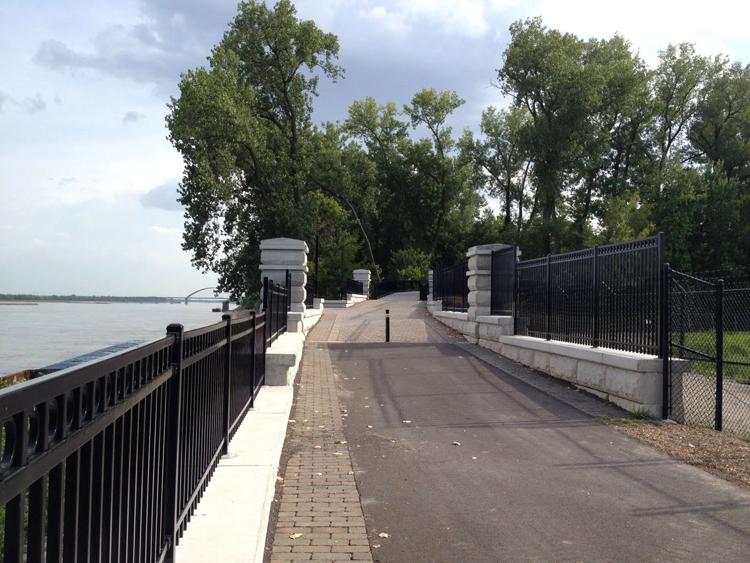 The 1.8-mile trail connects Jefferson Barracks Park to the north side of the River City Casino property and eventually to River Des Peres. Another part of the greenway, known as the Riverfront Trail, stretches from the riverfront at Chouteau Avenue to the Old Chain of Rocks Bridge. The mostly flat trail offers sweeping views of the Mississippi River and barge traffic.
Cahokia Mounds State Historic Site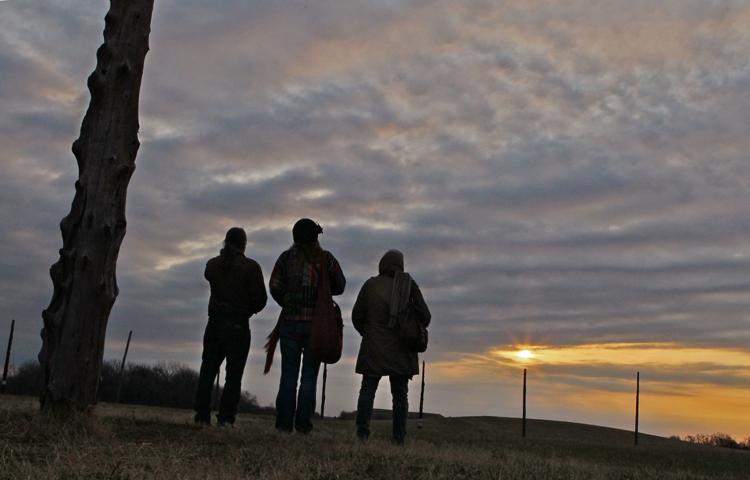 30 Ramey Street, Collinsville • For a pre-Columbian view, climb to the top of Monk's Mound, where you can get a gander at the St. Louis (post-Columbian) skyline. Inside the museum, visitors can learn more about the most sophisticated, prehistoric native civilization north of Mexico.
Bluff View Park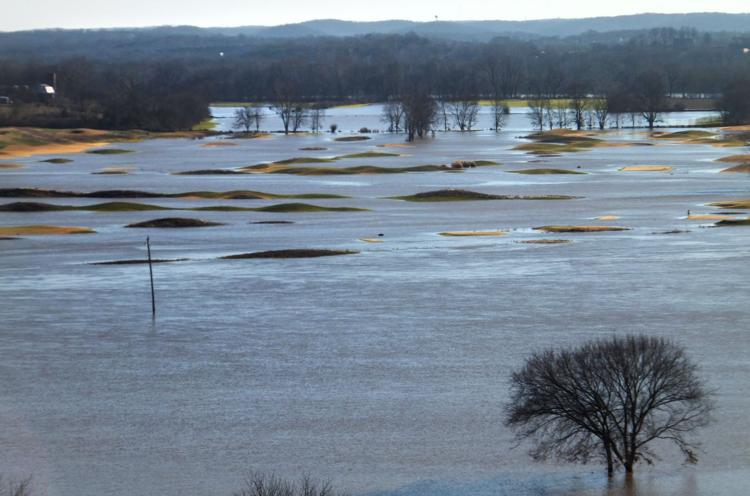 1900 Old State Road, Wildwood • This park includes the 2½-mile Bluff View Trail. The trail through thick woods is challenging but offers an expansive view of the Meramec River Valley at the end.
Fort Belle Fontaine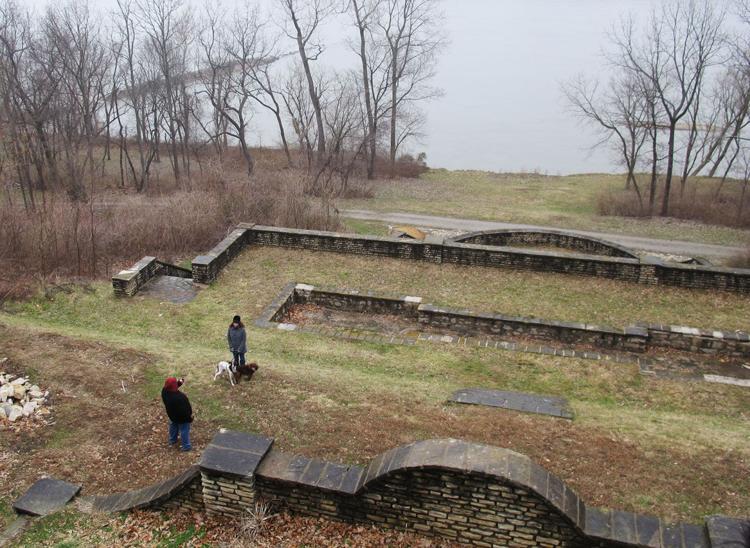 13002 Bellefontaine Road • This park overlooking the Missouri River is on the site of what was the first military installation west of the Mississippi River, established in 1805. Explorers Lewis and Clark stayed here, too.
India Palace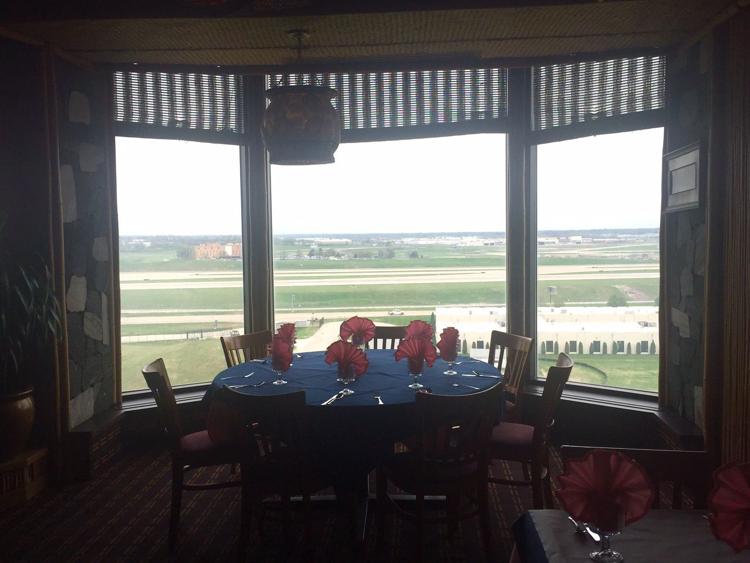 4534 Long Road, Bridgeton • Come for the food; stay for the views of the airport runways from this restaurant on the 11th floor of an old Howard Johnson's. The former tiki bar still boasts its distinctive decor.
Lewis and Clark Boat House and Museum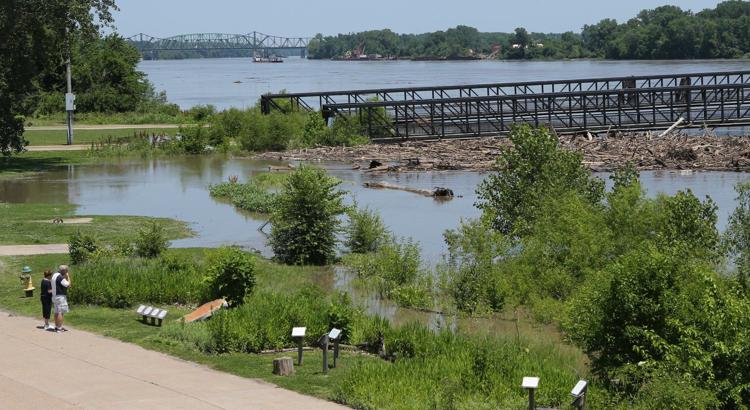 1050 South Riverside Drive, St. Charles • Enjoy views of the Missouri River from porches and a huge picture window as you learn about the explorers' journey to the Pacific. Kids and kids at heart will like the dioramas depicting historical scenes.
Pere Marquette State Park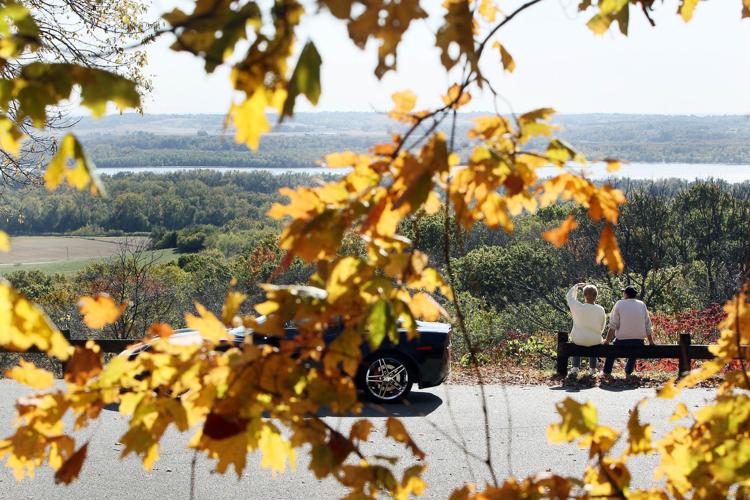 13112 Visitor Center Lane, Grafton • Views abound at Illinois' largest state park, which is on the Illinois River near the Mississippi River confluence. It's a great spot for eagle watching in January and February.
Riverview Park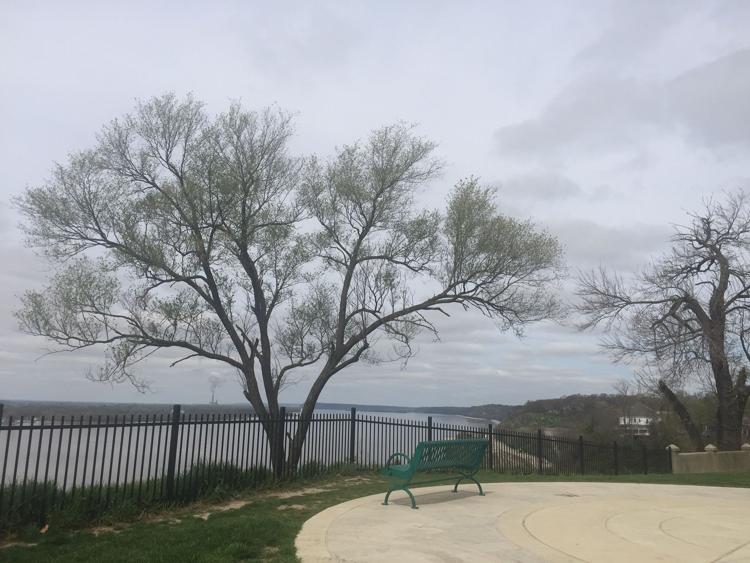 Park Avenue, Alton • This tiny park in the Christian Hill neighborhood of Alton offers sweeping views of the Mississippi River. The pavilion is a popular wedding ceremony spot and the site of municipal band concerts.
Great River Road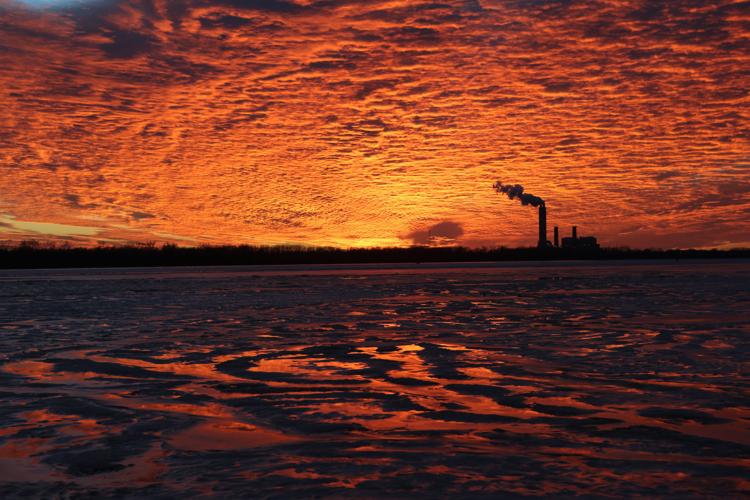 The Great River Road technically extends from Minnesota to the tip of Louisiana, but our local stretch is pretty fabulous. Pull over at the Piasa bird or visit the National Great Rivers Museum in Alton, or stop for a bite or a stroll in Grafton or Elsah.
City Museum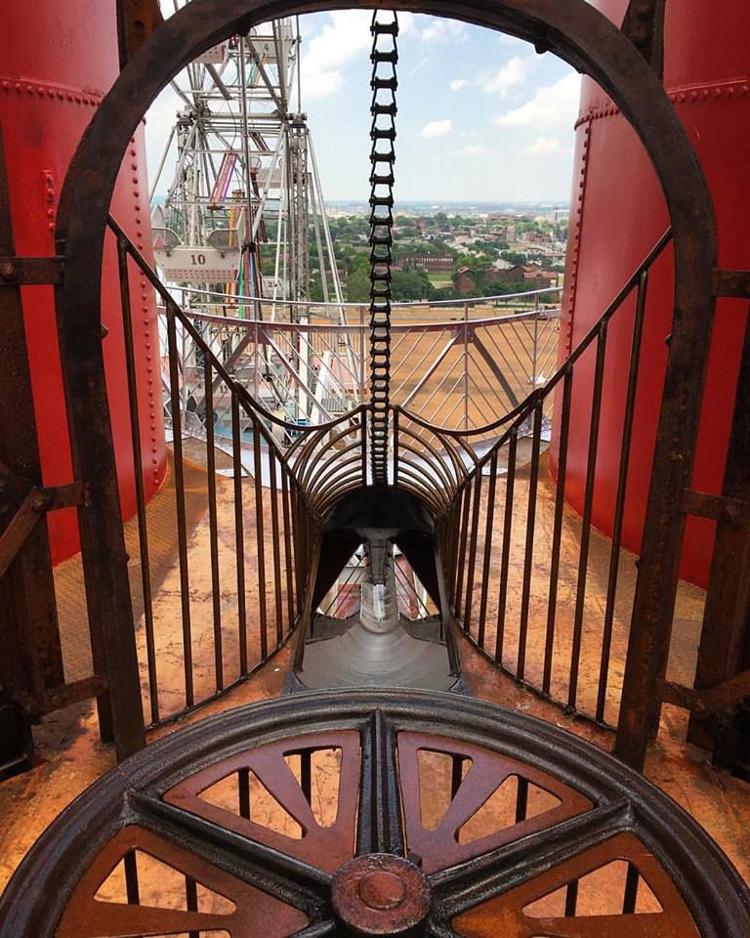 750 North 16th Street • It's worth the extra expense to go to the City Museum rooftop. Museum director Rick Erwin recommends city views from the Ferris wheel, the driver's seat of the school bus or the walkway around the water towers.
Graffiti wall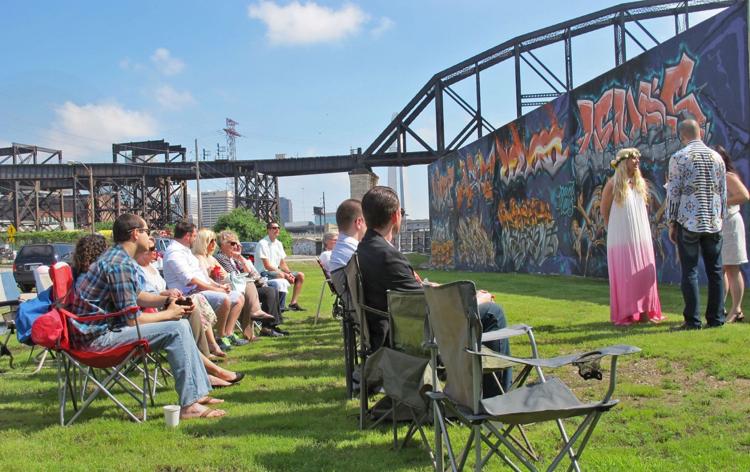 South Wharf Street • Yes, the Gateway Arch is nearby, but the graffiti wall along the riverfront steals the show. The artwork on the floodwall is always changing, visible from both land and river.
Shaw Nature Reserve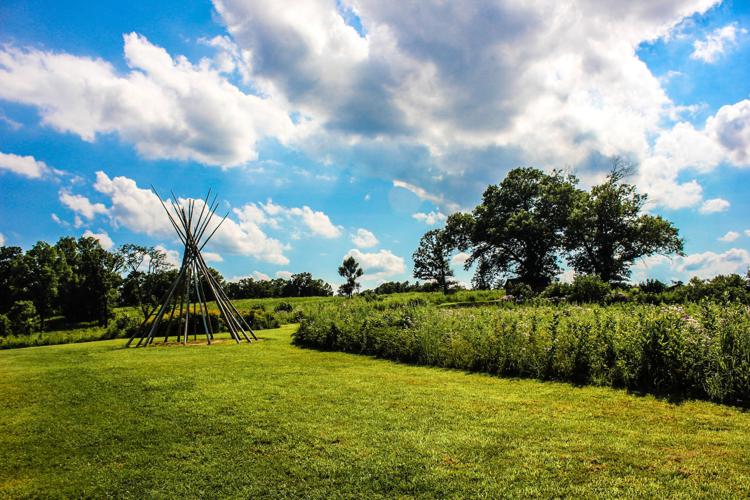 307 Pinetum Loop Road, Gray Summit • Enjoy 14 miles of hiking trails through a variety of landscapes, and take in the views from the overlook west of the Maritz Trail House and the paths in the glades, which come alive with wildflowers in the spring.
Don Robinson State Park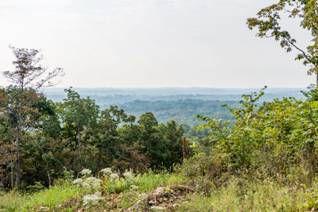 9275 Byrnesville Road, Cedar Hill • This state park, which opened this year, features cliffs, glades, forests and an overlook with rocking chairs. One parks resource steward says he can't think of another overlook in Jefferson County where you can look in all directions and not see another house.
Horseshoe Lake State Park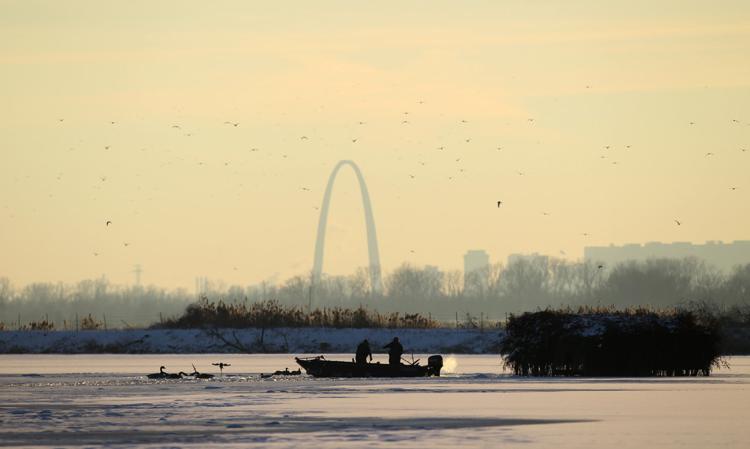 3321 Highway 111, Granite City • Horseshoe Lake was created from an old channel of the Mississippi River. Different Native American groups have lived here, the earliest evidence dating to 8,000 B.C. While you're fishing or camping, enjoy a unique view of the St. Louis skyline.
Chase Park Plaza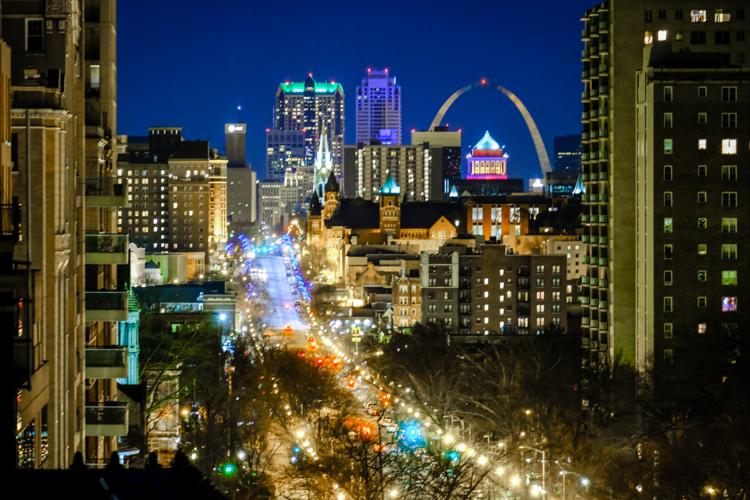 212 North Kingshighway • If you get invited to a wedding or special event on the rooftop terrace of the Starlight ballroom or in the adjacent Zodiac Room, go. If you're lucky, you'll get to see the sunset over Forest Park. If you don't get an invite, consider saving up for a condo, which comes with rooftop garden access.
Missouri Botanical Garden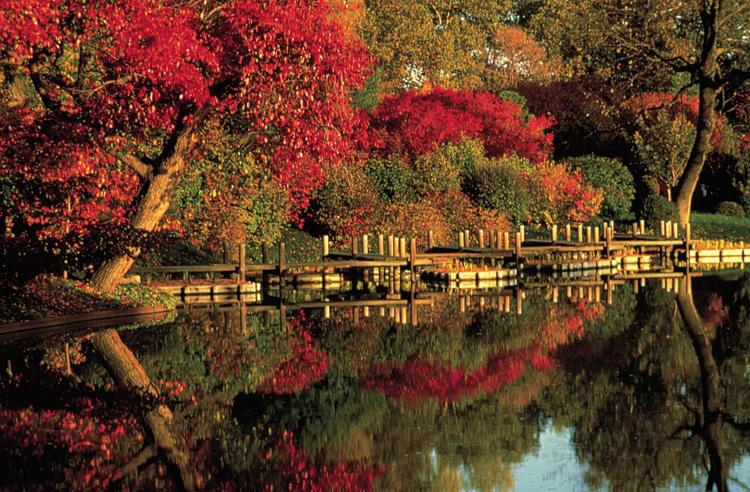 4344 Shaw Boulevard • It seems a little like cheating to mention a place where all you need to do is crouch in a field of tulips for an excellent view, but try the views from the bridges in the Japanese garden, the porch of the Spink Pavilion, the observatory above the hedge maze or the "throne" in the Ottoman Garden.
Grafton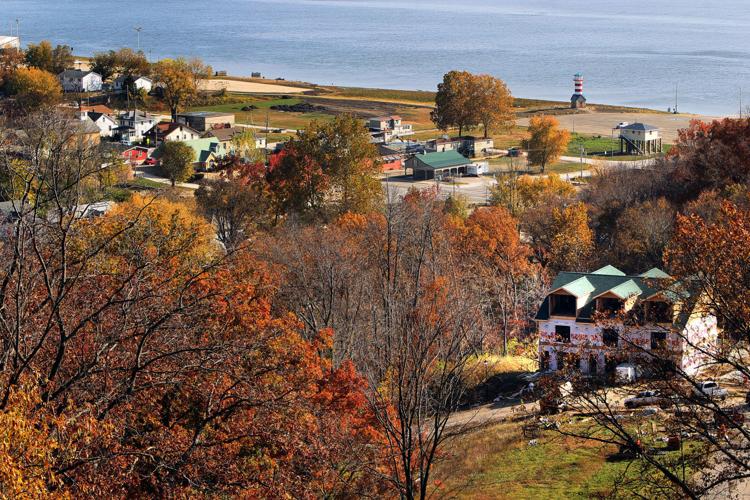 Whether you're diving into the wave pool at Raging Rivers water park, sipping wine at Aeries Resort and Winery, or sipping beer at the Loading Dock, the tiny yet scenic city of Grafton can help you take in a Mississippi River view.
St. Louis University Medical Center Stadium Track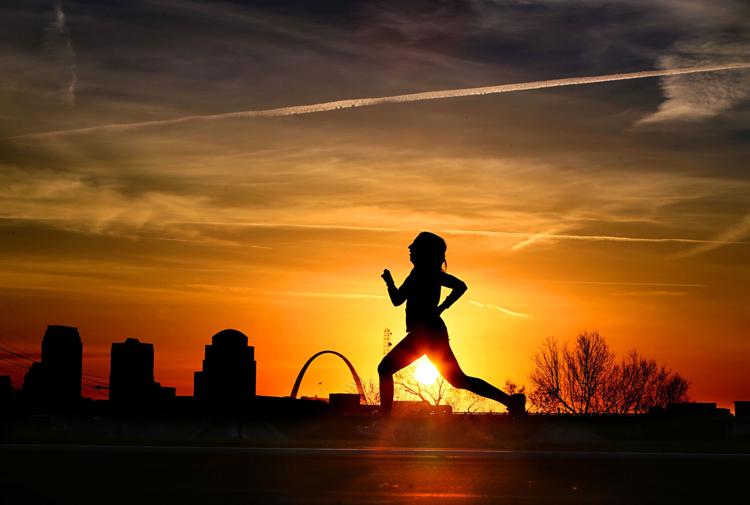 South Compton Avenue and Rutger Street • This eight-lane track and stadium is meant for students, faculty and staff of the university, but it's also a favorite of neighbors wanting to squeeze in a walk or run. The St. Louis skyline offers a scenic backdrop.
Steinberg Skating Rink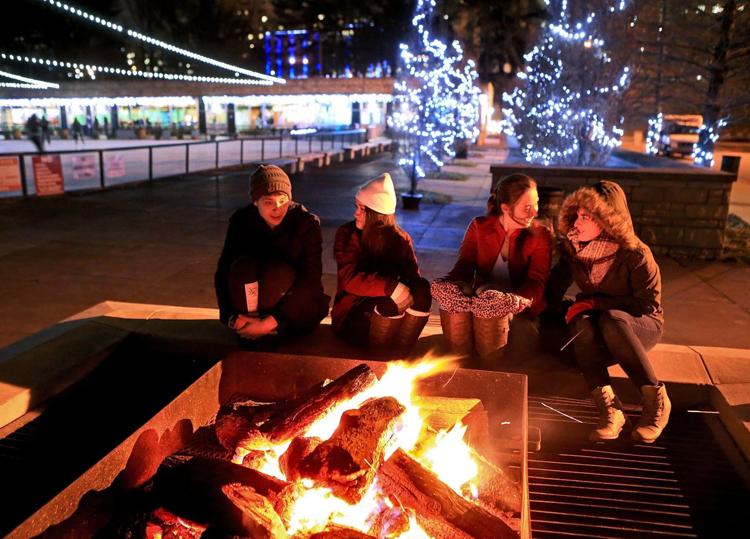 400 Jefferson Drive, Forest Park • The Midwest's largest outdoor skating rink is more than just the rink: Look up and enjoy the surrounding trees, the strings of lights overhead, and the glow of apartments and hospitals of the bordering Central West End.
Jefferson Barracks Cemetery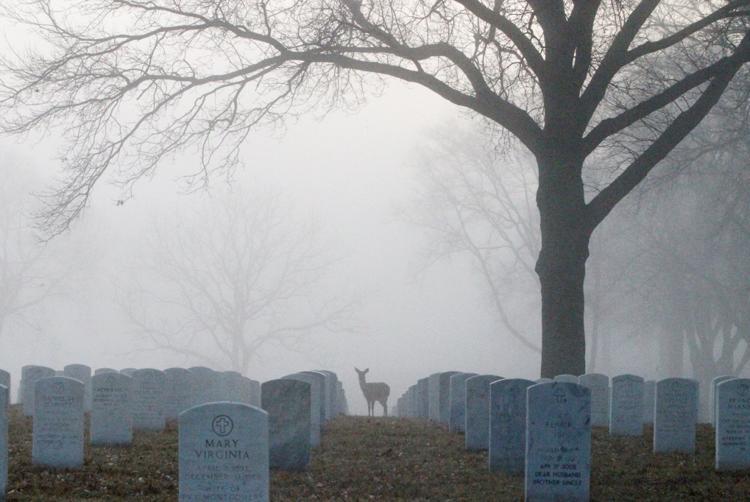 2900 Sheridan Road • Rows upon rows of white tombstones stitch the green hillsides. Some sections have views of the Mississippi River, and near the Memorial Wall Plaza, you can see downtown St. Louis. Often, the deer will join you.
Gateway Mall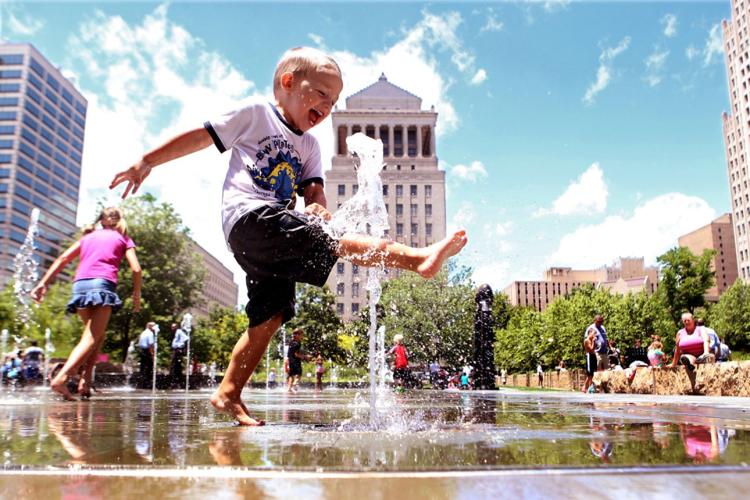 From the Arch to Union Station along Market Street • Yes, this is a no-brainer for St. Louisans, but to omit the Gateway Mall from our list of great views would be taking it for granted. Among the buildings and traffic of downtown, the green space is refreshing. And it will only get better as various construction projects (Kiener Plaza, Soldiers Memorial and the Gateway Arch) wrap up.
Build your health & fitness knowledge
Sign up here to get the latest health & fitness updates in your inbox every week!