Immunologist Robert Schreiber met Alvin Siteman about three years ago, at a small dinner party honoring two genomics researchers at Washington University School of Medicine.
He was excited for the opportunity to thank Siteman for all he had done. Schreiber has worked for Washington University School of Medicine for more than 30 years and saw the impact of the Sitemans' gift creating Siteman Cancer Center in 1999.
Schreiber was co-leader of a tumor immunology program at the center. His work had proven that a patient's own immune system could fight cancer. But much more was needed to use the science in patient care: state-of-the-art laboratory technology and a team of scientists.
Siteman was aware of his work, Schreiber said. They sat next to each other at the dinner, and Siteman quizzed the immunologist on his research goals.
"I explained the advances so far, and how it was time to take it from the discovery levels," Schreiber said. "I told him how it's such an exciting area right now, and Washington University could be one of the institutions to be known for conducting immunotherapy treatments for cancer."
During the meal, Siteman revealed to those gathered that he would help.
In spring 2014, the university announced the creation of the Center for Human Immunology and Immunotherapy Programs, which Schreiber would direct. No dollar figure from Siteman was mentioned.
It was typical Siteman — expertly and quietly giving, without much explanation or drama.
"That says a lot about him. It says he's in it for the right reasons," Schreiber said. "It's not for the personal glory, but to improve the health of mankind."
For years, cancer research at Washington University School of Medicine was splintered and spread across departments. That changed when Alvin and Ruth Siteman donated $35 million to create the Siteman Cancer Center.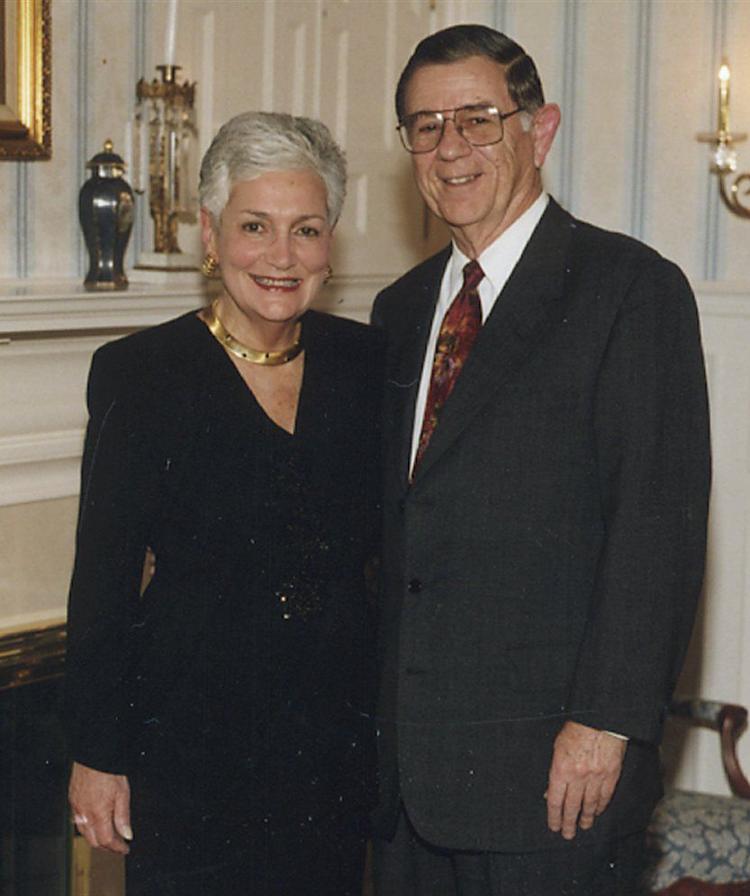 Siteman didn't want his name on the center, but it was key to raising the additional $75 million needed to build the facility and fund its programs, said Dr. Timothy Eberlein, director of the center. "As important — or even more important than his money — is the lending of his name."
The Siteman name gave the center credibility, the promise that it was going to be something big, Eberlein said. "Lots of individuals and companies said, 'Wow, that's significant,' and got behind the effort," Eberlein said. In just six months, all the money needed had been raised.
The building was completed in 2001 and, the same year, became a federally designated cancer research center. In 2004, the National Cancer Institute designated it a Comprehensive Cancer Center, placing Siteman among the most highly ranked cancer institutions in the nation. It is among the top five busiest cancer centers in the country.
Highest rating
At the age of 88, Siteman, known as an astute and no-nonsense businessman, still goes to his office in Clayton as chairman of Site Oil Company.
His oldest daughter said you would never see the father who taught her "modesty, morality and integrity" on the society pages of newspapers or magazines.
Intensely private, Siteman has never agreed to an interview with reporters. He prefers that the 40,000 patients who visit the center each year give barely a thought to its name.
But his donation led to the creation and construction of the center, which brought together disciplines at the university and Barnes-Jewish Hospital to work together to improve treatment, research and prevention.
Today, it receives more than $145 million in funding each year and attracts the best and brightest doctors and researchers.
At any given time, Siteman Cancer Center researchers are conducting more than 300 clinical studies, providing patients access to cutting-edge treatments.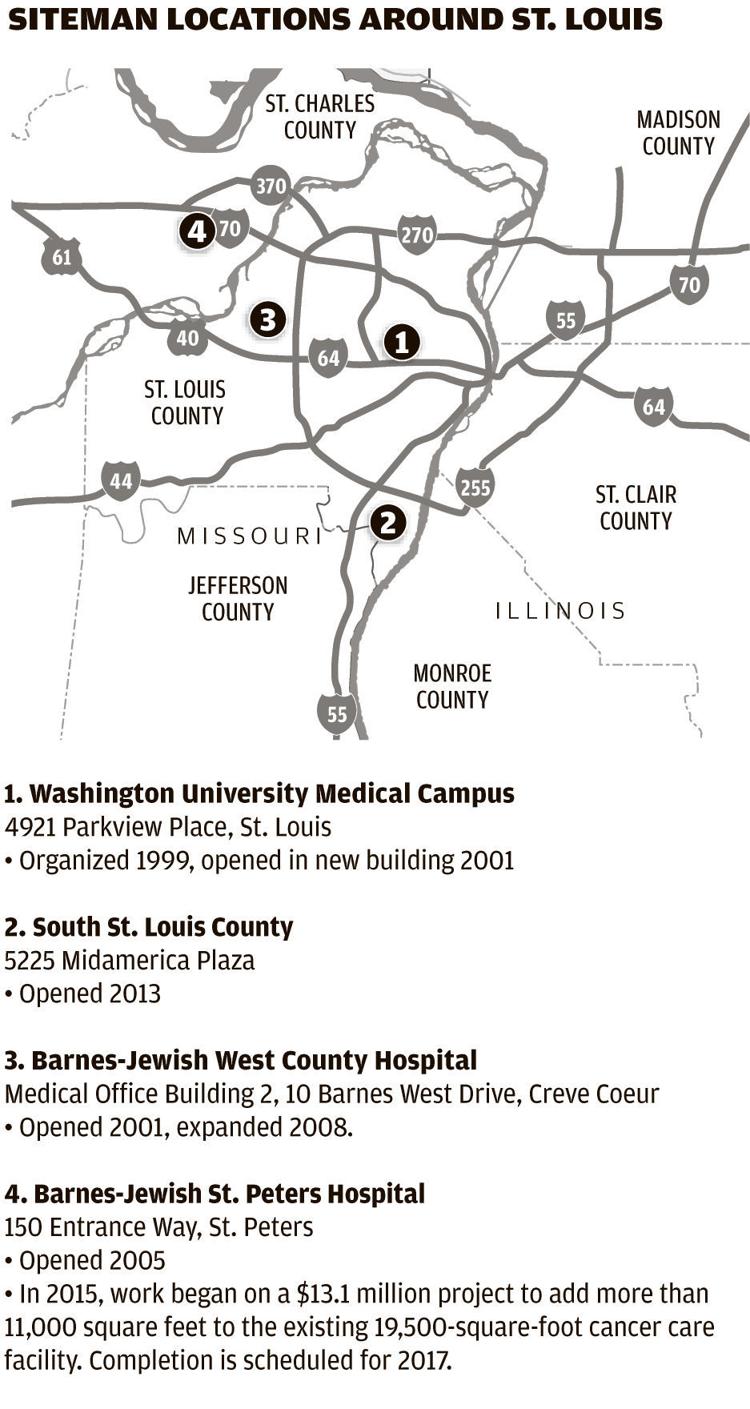 Construction cranes now fill the midtown skyline for work on two 12-story medical towers, one of which will help handle the cancer center's 9,000 new patients a year. Three satellite campuses have opened across the region.
"He likes to chuckle and say, 'By far and away, this has been the best investment I have ever made,'" said Eberlein, who has directed the cancer center since its inception and who Siteman calls his "managing partner."
Over the years, the Sitemans have given tens of millions to causes and organizations that champion civil rights, promote education and help the disadvantaged — everything from the St. Louis Art Museum to hospice services to a group that provides pianos to the needy. They've established professorships and endowments and served on numerous boards for nonprofits.
It's hard to know exactly, because Siteman insists on zero fanfare. Many people declined to talk about him, because they feared he'd be upset.
But when it comes to the cancer center, he's more willing to reveal bits of himself. Maybe that's because he sees the story as much less about him. For thousands, Siteman has come to mean life, comfort and hope.
Eberlein relayed Siteman's wishes for this story: "He said, 'I don't want to talk to a reporter, but you go ahead and talk to her, partner.'"
'Most important thing'
Siteman is the oldest of three children born to Bertha and Phillip Siteman, a Russian who immigrated to St. Louis as a child. Phillip Siteman and his father founded Site Oil Co. in the 1930s, and he led a property development and management firm. Bertha had Russian-born parents but grew up in Missouri.
Alvin Siteman went to Clayton High School, graduated from Massachusetts Institute of Technology when he was 20 and took over the family businesses. In 1986, he bought most of the Mark Twain Bancshares stock. Two subsequent bank mergers earned him more than $200 million, according to news reports.
Siteman served on the board of Jewish Hospital for more than a decade before it merged with Barnes Hospital in 1996. As a board member, he was aware of unsuccessful attempts to create a cancer center, Eberlein said.
In a rare video of Siteman, used for a fundraiser in 2012, he says the impetus for his gift came from a friend developing a very aggressive brain cancer. "I observed, as a close friend of the family, how very difficult it was for the family to have to go to Houston" for treatment, he said.
In 2010, Siteman endowed the Siteman Cancer Research Fund, which will provide at least $1 million annually to pioneering research, allowing the most brilliant scientists to pursue new concepts in fighting cancer.
Without much commentary, Siteman simply and sincerely says in the video, "It's made this the most important thing in my life, because it's so important to so many people."
An hour to make pitch
Siteman learned in 2007 that federal money is not enough when it comes to high-risk research.
Leukemia researcher Dr. Timothy Ley and the co-directors of Washington University's genome center, Richard Wilson and Elaine Mardis, needed $1 million. Newly armed with the latest genetic sequencing machines, they wanted to sequence the first cancer genome.
Scientists had been studying a small number of genes linked to cancer, but it was a new idea to look for answers to the disease in the entire 3 billion pairs of chemical bases that make up the entire genome of a tumor.
It was risky. They were unsure what they would learn. Comparing the genome of a person's cancerous cells to that of normal cells might be too complicated. It might not reveal anything. Their application for federal funding was denied.
Still, the scientists were convinced it had to be done.
Siteman learned of their desperation, and he invited them to his Site Oil office. They had one hour to give him their best pitch.
Not sure what to expect, they were met by a man who was intensely curious about the science, engaging and intuitive.
"He asked a million questions, not about the risks, but about what it all meant, what it could all lead to, what we could learn," Ley said. "He's an extremely smart man."
Siteman seemed to be testing whether they believed they could do it, they said.
"After 30 years of treating patients, I felt we had hit the wall with what we had been doing," Ley said. "I told him we needed to do something new, and this was the best way, to understand the face of the enemy."
The scientists were passionate. "Anyone who listens, we are excited to talk to," Mardis said, "especially when it is a big, bodacious experiment that could blow things wide open."
Later that afternoon, Siteman informed them through his staff that he would make the money available the next day. He wanted regular progress reports.
A year later, their findings were published. They had discovered key mutations and developed the blueprint to follow for unlocking genetic clues to cancer. The field of cancer genomics exploded. Thousands more cancerous tissues have since been sequenced, revealing new drug targets and therapies for all types of cancer.
"You can trace it all back to Al's gift," Wilson said.
Some say Siteman has an uncanny instinct about whom he should take a risk on. He tests not just an idea, but the brains behind it.
He did the same with Schreiber before agreeing to fund the immunology center.
"He is enamored with science and innovation and technology," said Eberlein, who has frequent lunches with Siteman to keep him up to date on the goings-on at the center. "One of the things he loves to see is new innovation and game-changing interventions."
That is what drove him to create the Siteman Cancer Research Fund. It targets high-risk research that might not receive federal funding but holds promise of transforming cancer prevention or treatment.
Awards have gone to efforts to develop cancer vaccines, attack treatment-resistant breast cancer, precisely target radiation treatments and determine which leukemia patients are likely to relapse and require different treatment.
"This is life-changing to have such philanthropic support," said radiologist Samuel Achilefu, whose award last year helped him discover a way to safely kill cancer cells using light. His research is waiting approval to be tested in humans and is a candidate for major federal funding.
"He realizes outcomes may not happen overnight; that it takes a combination of expertise, knowledge and innovation to arrive there," Achilefu said of Siteman. "That is what sets him apart. He is a visionary and a philanthropist. Those two combinations are very rare."
Valentine cards
Stellie Siteman's partner of 40 years, De Kaplan, jokes that Stellie is going to be taken out of the will for talking to a reporter.
Stellie, 65, is the oldest of Siteman's four daughters and probably the least private of the bunch. Outgoing and charismatic, she has worked as an actress, singer and comedian after graduating with a degree in theater from Webster University in 1974.
She and her father share a love for the '50s-era music of Frank Sinatra, contemporary art, great food and fly fishing — which he taught her as a child during summers at Lake of the Ozarks. Many see Siteman as quiet and reserved, she said, but he has a great sense of humor.
Five years ago, she and Kaplan co-founded Max & Louie Productions, a nonprofit theater company that tackles social issues with humor. Working in theater is a career full of rejection, Stellie said, but her father taught her persistence.
"He made us think we could do anything we set our minds to," she said. "When there are setbacks, you push through. You look for resolutions."
Her dad stressed hard work. He made her and her sisters get summer jobs. He yelled at them to turn the lights off because he "doesn't work for Union Electric." He disciplined with unarguable reason.
He is not a touchy-feely dad who frequently says "I love you," Stellie said. But his love is strong and unconditional. They felt it even when they disobeyed or failed. They felt it in the Valentine's cards he got them every year and in the playhouse he built in the backyard.
The family has a foundation, to which various causes apply for grants each year. As they recently reviewed one proposal from a food bank, Stellie recalls her dad saying, "I just can't stand the thought of anyone in this country being hungry." It struck her.
He doesn't reveal much about his feelings, she said. He doesn't go on about how much he cares or why it's important to give to back. He doesn't need to. His compassion is just felt.
The same could be said about the death of Siteman's first wife, for whom Stellie is named — Estelle Siteman. They married days after his 21st birthday. She died 10 months later while giving birth to Stellie, the death certificate shows.
Stellie said she grew up always knowing about her mom. Her dad never talked about losing her, but the impact and the heartache is a given.
"I love him tremendously," Stellie said. "I'm incredibly proud of him."
Eberlein says the only time he sees Siteman get emotional is when he relays stories from patients or patients' families who stop him in public when they hear his name.
While he typically avoids attention, he enjoys hearing their stories about how the care they received at the Siteman Cancer Center affected them, Eberlein said. "He comments about that every time we get together."
Siteman is proud of the center's accolades and millions won in federal grants. He is mesmerized by the breadth and depth of science happening under its roof. But his legacy is in the stories.
"For Al, it's very personal," Eberlein said. "It's very important to him that we not just have the technology and state-of-the-art care, but that we have the compassion. That we provide hope."
---
A timeline of the center
1999: Alvin and Ruth Siteman's gift of $35 million establishes the Siteman Cancer Center at Barnes-Jewish Hospital and Washington University School of Medicine.
Researchers participate in the Study of Tamoxifen and Raloxifene trial, one of the largest breast cancer prevention studies ever conducted in the U.S.
The National Institutes of Health awards $218.4 million to the Genome Sequencing Center – the largest grant in Washington University's history. The first human genome is sequenced, and the center played a major role.
2001: The 14-story Center for Advanced Medicine opens along Forest Park Parkway. The building houses Siteman Cancer Center.
Siteman earns federal designation as a cancer center by the National Cancer Institute, the government source of cancer research funds.
Immunologist Robert Schreiber and colleagues publish the first conclusive evidence that the immune system helps prevent tumor formation.
2004: The center is designated a Comprehensive Cancer Center by the NCI, placing Siteman among the most highly ranked cancer institutions in the nation.
2005: The cancer center expands to Barnes-Jewish St. Peters Hospital in St. Charles County.
2006: The center is selected to join the National Comprehensive Cancer Network, an alliance of the world's premier cancer centers, charged with setting the standard for cancer care.
2008: The cancer center, Washington University School of Medicine and the George Warren Brown School of Social Work partner to form the Institute for Public Health, playing a major role in cancer prevention.
Dr. Timothy Ley and genome center co-directors Elaine Mardis and Richard Wilson lead effort to sequence the first human cancer genome from a patient with acute myeloid leukemia, exploding the field of cancer genomics.
Cancer center services expand at Barnes-Jewish West County Hospital.
2009: A 24-hour urgent care center opens for Siteman at Barnes-Jewish Hospital.
The cancer center receives its first Specialized Program of Research Excellence Grant from the NCI, the first such grant used to study endometrial cancer.
2010: The cancer center is re-certified as a Comprehensive Cancer Center.
2011: The center performs its 5,000th bone marrow transplant, placing it among the top five cancer centers in the U.S.
2013: The Siteman Cancer Center in South County opens.
The S. Lee Kling Proton Therapy Center, the first single-vault proton therapy center in the country, opens at the cancer center. Proton beam radiation is a highly precise form of radiation therapy.
2014: Construction begins on a 12-story patient tower at the cancer center's main campus, helping consolidate and expand clinical care and develop space for other surgical services and programs on five floors of the building. Completion is scheduled for early 2018.
Dr. Kelle Moley, expert in reproductive endocrinology, is elected to the Institute of Medicine of the National Academy of Sciences, one of the highest honors medical scientists in the U.S. can receive.
The Center for Human Immunology and Immunotherapy Programs opens to accelerate basic science discoveries in immunotherapy into improved diagnosis and treatment for patients.
2015: Researcher Elaine Mardis is elected to the board of directors of the American Association for Cancer Research, one of the world's oldest and largest cancer research organizations; and Dr. Timothy Ley, is named to the National Cancer Advisory Board, which advises the U.S. secretary of Health and Human Services, the NCI and the president on the nation's cancer program.
The NCI awards the cancer center its highest "exceptional" rating, based on a review of Siteman's research programs. The rating accompanied Siteman's re-certification as a Comprehensive Cancer Center.
2016: Schreiber and Dr. Graham Colditz, deputy director of the school of public health, are named to an advisory committee for the National Cancer Moonshot Initiative, led by Vice President Joe Biden to streamline cancer research efforts.
Build your health & fitness knowledge
Sign up here to get the latest health & fitness updates in your inbox every week!