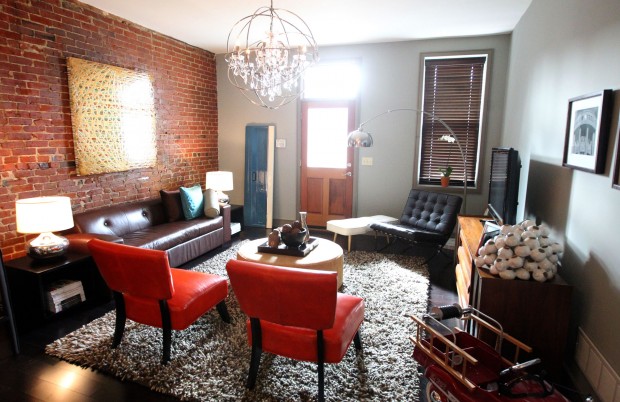 Pete Jusich was delighted to find his beautifully renovated townhouse in the Shaw neighborhood of St. Louis five years ago. Previously living in a condo in the Central West End, the St. Louis native says, "I was looking for a house but was also looking at lofts. I loved this place because it felt like a mix of both." Indeed it does, with high ceilings, exposed brick walls and an open floor plan.
The two-family building, split down the middle into separate townhomes has a long, narrow, "shotgun" layout similar to many homes in the city, but aside from a powder room, all the walls have been removed on the main floor to create one open, "loft-like" space, including a living/dining area, beautifully modern eat-in kitchen and small sitting area. Upstairs, another open sitting area serves as a cozy TV den, and two bedrooms and two baths provide ample private space.
In addition to a nice blend of mid-century modern and contemporary furnishings, the highlight of Pete's cozy city abode is his vast collection of paintings and photographs by local artists, which cover the exposed brick and white walls, injecting pops of color and visual interest in every direction. His favorites include several oversize paintings by Fern Taylor, a collection of architectural photographs by Ken Konchel and numerous brightly colored works of Charles Houska, among others.
The master bedroom has a Chinese influence, partly inspired by a gorgeous, 200-year-old Chinese apothecary cabinet that Pete found at a local antiques shop. A "drama mask" lantern purchased at auction from last year's Lantern Festival at the Missouri Botanical Garden makes a dramatic statement — and a very cool nightlight — against one wall. Chinese Foo dog lamps and statues complete the picture (and bear a tiny resemblance to Pete's adorable pug, Paxton).
Pete's townhouse is a celebration of local culture, and the perfect combination of homeownership and sophisticated city living.
---
Occupation • Senior manager, learning and development for Banana Republic