For local artist Karen Jones and her husband, developer Jimmy Powell, home is a nontraditional space where they can each express their creativity and passions. The couple currently lives in an enormous second-floor loft of a historic Midtown building that they own and are in the process of fully rehabbing into multiple residences.
Built in 1902 for Washington University in response to the World's Fair exposition as its new temporary dental school location, the building was designed by renowned St. Louis architects Ames and Young. Poet and playwright T.S. Eliot was born next door, where the foundation of his house still exists underneath the John Bauman safe company. William Greenleaf Eliot, founder of Washington University, St. Louis Public Schools and the St. Louis Art Museum, built the family house there and contracted the construction of the temporary dental school building.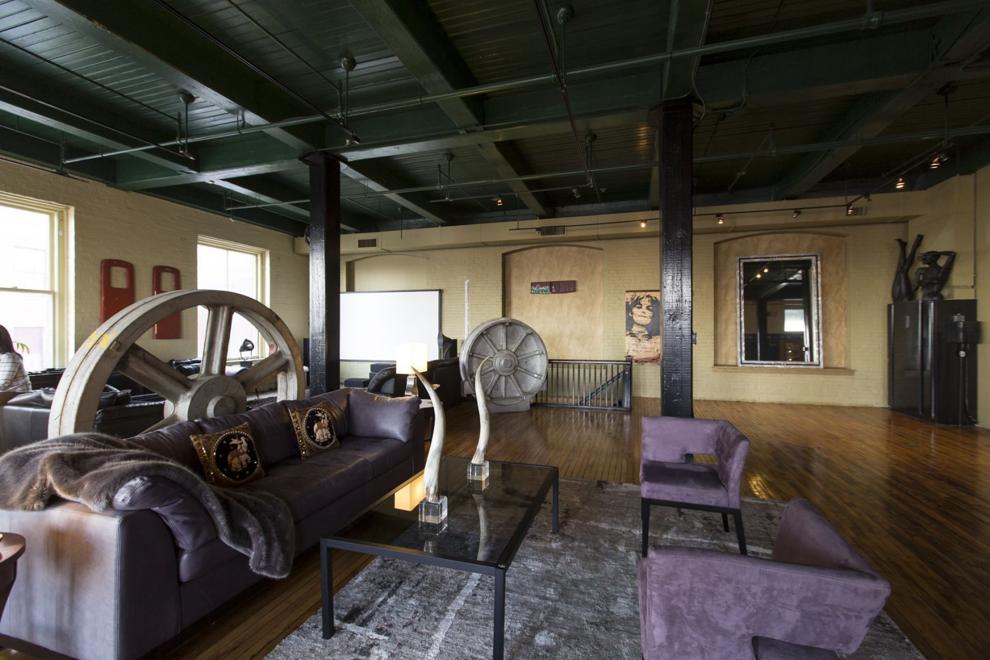 With five stories and 5,600 square feet of space per floor, Jimmy saw the property as a blank canvas upon which to create newly developed city living spaces in a historic and architecturally significant shell. Karen saw it as an opportunity to have the perfect home/studio space for making and selling her paintings and her clothing line, Sunday Jones, which features her artwork on affordable cotton clothing.
The couple purchased the building three years ago and moved into its only finished area on the second floor. Last year, they held their wedding on the raw, open fourth floor, adorning the primitive space with couches, tables, chandeliers and candles. When the building renovation is complete, they will move up to a new home/studio space on the fifth floor, providing bird's-eye views of the city in all directions.
With a style Jimmy refers to as "luxury steampunk," much of the couple's loft is filled with salvaged items from around the city, such as a number of large, industrial wheels that are actually wooden casts salvaged from an old foundry downtown that closed 50 years ago. Two panels of an old diesel gas pump that Karen found in a Dumpster and spruced up with a new coat of orange paint hang on a wall in the open living area.
"Almost everything in here was found in strange places," Jimmy says. "My favorite things are found objects."
Two unique items came from the historic Union Trust building downtown on Olive Street — an old safe that Jimmy fashioned into a bar, and a large, wood bank note file cabinet. He picked them up along with a number of the building's original doors, which he has stored on the fifth floor to be repurposed into his building during the rehab.
Painted brick, exposed ductwork and hard rock maple floors complete the look. A rather unusual freestanding fireplace sits between the huge windows in a corner of the living room. Ever the innovator, Jimmy constructed it himself by taking an old water tank from the roof and cutting in half. "We were having a party and we needed a fireplace," he says matter-of-factly.
Karen, meanwhile, is making the most of her large and comfortable art studio at the back of the loft. She formerly owned a yoga studio and an art gallery/coffee shop before she committed to showing and selling her own work and becoming a full-time artist seven years ago. "I thought, why am I doing this for other people and not myself?" she says. The studio has plenty of space for painting, large walls upon which to display her work and a seating area for relaxing or meeting with clients and friends.
The couple is making the most of their unconventional temporary home as they develop their new one and a new future together against the backdrop of the city.
---
Karen Jones and Jimmy Powell
Ages • Karen is 51, and Jimmy is 50
Occupations • Karen is a local artist (her work can be seen at karenannjones.com), and Jimmy is a real estate developer.