Moving into a newly constructed four-bedroom, 3½-bath home in Creve Coeur from a small residence in south St. Louis without much furniture, Dr. Thishara Merza knew exactly the look she wanted in her new house. Midcentury modern décor had to incorporate an abundance of natural light, colors and her love of nature.
The natural light in her family room comes from a parade of four tall windows. The draperies do not close but add color and interest to the room.
"The wall has extra windows that were added by me and were not in the builder plans," Merza says. "Light is so important to me, I made certain every room and all the décor was bright."
A sunroom features two walls almost entirely covered in windows.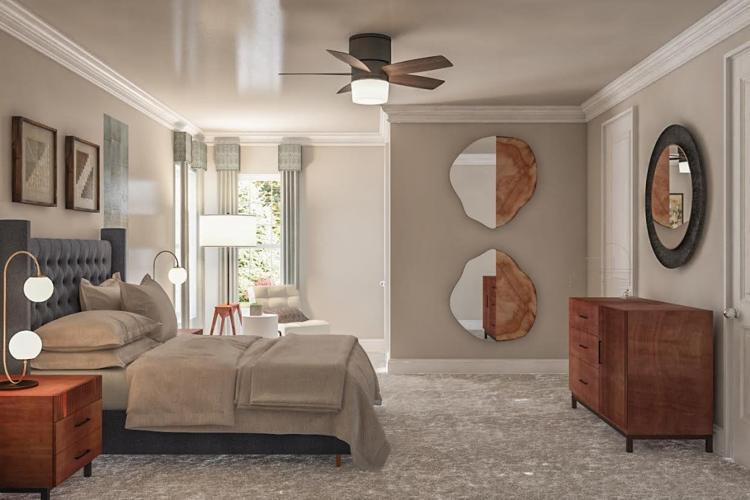 Guest bedrooms have 5-foot-tall windows that meet at the corner allowing 180-degree outdoor views with contemporary furniture incorporating reclaimed wood. Wall art in one guest bedroom includes two framed images of cross sections of colorful agate gemstones on a pristine white background. In a second guest bedroom, two large innovative mirrors are half mirror on one side and half thin slices of varnished wood from a large tree trunk on the other.
To capitalize on optimal light even after dark, lamps and chandeliers throughout the home incorporate clear glass globes into contemporary lighting fixtures. Most rooms have both an overhead light supplemented by contemporary floor and table lighting.
Still in the process of installation are six contemporary sconces to be mounted over the bed in the master bedroom that will create a dramatic background between the two tall windows that bracket the bed.
Nature is also part of the inside décor in an unusual manner. In a guest bedroom three hanging miniature glass terrariums contain small plants. In the office, a 4-foot-by-4-foot framed, hanging vertical garden displays 100-plus succulents arranged in a pattern, creating a color-coordinated conversation starter.
Merza built her home to easily accommodate frequent visits from her family and her fiancé's family. "We are not a formal, sit-down-at-the-dining-room table kind of family," she says. "I eliminated the dining room and substituted an office instead, but I did purchase a kitchen table that has two leaves and can be expanded."
Another consideration for the frequent family gatherings was an open floor plan. The pristine white kitchen is tucked into a corner but open to the breakfast table, sunroom and large family room.
Also, with the master bedroom on the main level and guest bedrooms on the second floor, a large loft area that looks down onto the family room from the top of the stairway provides even more gathering space.
The next project is the unfinished lower level. Planned is the addition of a fifth bedroom, bar area and more living space for guests.
"The advice I would give to anyone decorating a home who wants to turn their dreams into reality is to ensure they know exactly what they want," Merza says. "I spent years researching and finding the style I liked. Then I found Candice Wideman on the internet and liked the examples of what she had done for other homeowners."
Based on the file of décor ideas Merza had amassed, Wideman presented several conceptual designs for every room. "She got it. I do not think there was anything she suggested I did not like," Merza recalls. "I only had to open the boxes when everything arrived. I really love my home. It is exactly as I envisioned."
---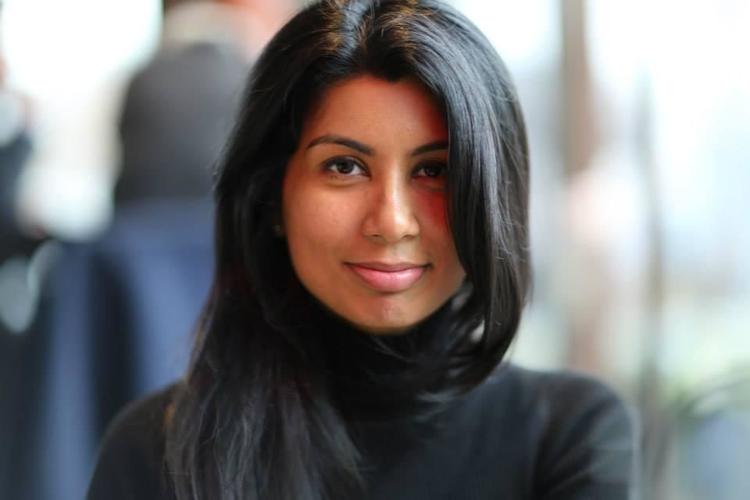 Occupation • Physician at Missouri Baptist Hospital
Family • She has two rescue dogs. Yuki is a 7-year-old boxer and Labrador mix. Saya is a 4-year-old mix of unknown heritage. "He must be part beagle, because he loves to howl," Merza says. She will marry Dr. Rahul Phatak in December.
Every week, we feature a St. Louis-area home to showcase, usually because of its great style; but sometimes, just being quirky earns it the distinction.