"When it comes down to it, as an architect, every one of us dreams about designing our own home," says Nick Adams, architect and owner of Mademan Design.
Adams realized that dream, along with wife Trisha Young, in designing their 2,250-square-foot modern home in Webster Groves, which was completed in April 2019.
There had been an existing house on the lot, and the couple's original intention was to salvage and remodel it — utilizing the first floor and adding a second. They even had the plans drawn up and approved. However, after the engineer dug under the basement, they discovered there was no existing footing under the foundation that would allow it to support any additional load. So they decided to tear down the existing house and start anew.
In an area known for its historic homes and traditional architecture, Adams had a responsibility to make sure the new house complemented its surroundings, even though it was a modern style.
"To do a good job as an architect, you need to make a house that not only satisfies the individual needs of the client, but that fits into a neighborhood," he says. There are a couple tricks we can do that on one hand make it fit in, and on the other hand, make it stand out."
The key to making it fit in was matching the setback, scale and height of the neighboring homes. The footprint of the new house is the same as the old one. Adams also added similar architectural features with a modern twist — such as the front-facing gable and large front porch.
"Our front porch is steel framed and the deck is cantilevered over concrete, so those subtle details make it fun but overall make it fit in," Adams says.
Entertaining and efficiency were two goals that were top of mind when designing the house.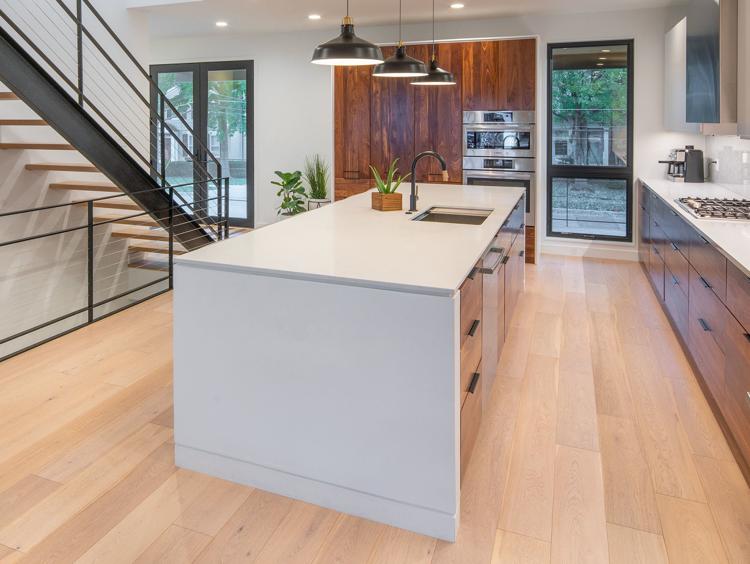 "It's just Nick and I, so we wanted something small enough for the two of us but where we could still entertain our families and friends and have the space to do so," says Young.
"We didn't want any unused space. We didn't want that one room no one ever goes into."
The first floor is dedicated to more public areas including the kitchen, living room and dining room, which spill onto the covered porch and patio through large glass French doors that extend the living and entertaining space.
The steel staircase designed by Adams, whose firm specializes in steel fabrication, creates a center that helps denote individual spaces.
"We put the stair right in the middle with a bathroom block behind it, so that makes you pinwheel around it," he says. "Though it feels open, there are four quadrants, and you recognize when you're in one or the other."
One of Young's favorite features is the huge kitchen island, wrapped in high-performance engineered stone, which is a popular gathering space. It is complemented by custom walnut cabinetry designed and built by Adams, and a marble backsplash. To keep the countertops free of clutter, Adams incorporated a space for everything, including designing an "appliance garage" complete with outlets that hides often-used small appliances such as the toaster and air fryer.
Wide-plank white oak floors flow seamlessly from the kitchen into the living and dining rooms. Adams used the same walnut as the kitchen cabinetry to create a bar in a nook behind the stairs as well as the large dining table and millwork under the gas fireplace.
The open staircase leads both downstairs to a fully finished basement and upstairs to the more private spaces including the master suite, a second master that shares a Jack-and-Jill bathroom with a third bedroom, and a second-floor laundry area. Both the front and back bedrooms have vaulted ceilings — which Adams says is an easy way to add ceiling height and architectural details.
The master bath features a separate free-standing tub and a spacious shower enclosure with a specially fabricated, nine-pane steel frame, detailed with bronzed hinges and a cork handle as a nod to Adams' love of fly-fishing. Though the shower was a challenge, he says, "I wanted to do this for us before I did it for a client so I could figure out how well it was going to work and wear. I'm really satisfied with it."
In addition to all of its custom aesthetic design touches, the house was built with many efficient smart home features including integrated, app-controlled, whole-house audio, lighting and door locks as well as a video doorbell monitoring system and energy-saving thermostats that respond to occupant sensors.
Adams and Young use every bit of their new home, which while still modest, is more than four-times the size of the studio apartment they previously shared on the Hill.
"One of the things that initially attracted us to each other was the idea that we both wanted to live simply," Young says. "We wanted to get away from the idea that you're supposed to buy all of this stuff and have big houses and fancy cars and be in debt for the rest of your life. We both like to invest more in travel and experience than in things."
---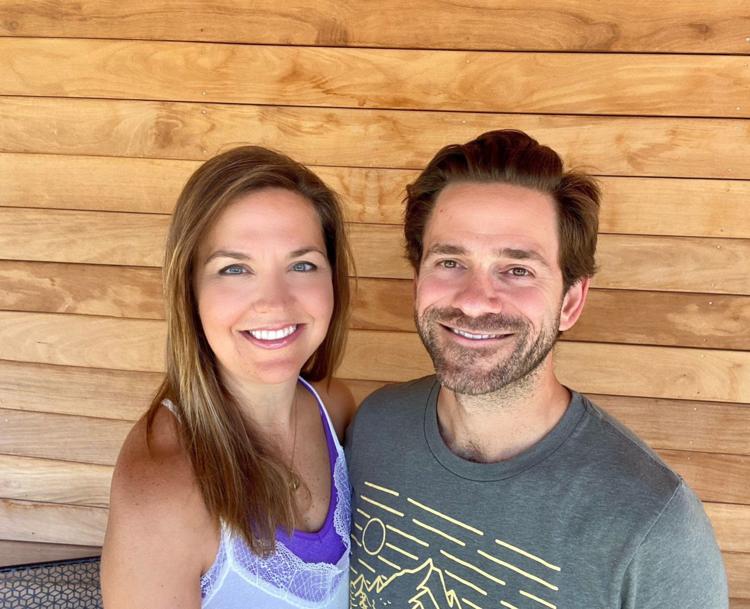 Nick Adams and Trisha Young
Ages • He's 35; she's 41.
Occupations • Nick is architect/owner of Mademan Design; Trisha is a dentist/owner Clayton Family Smiles.
Every week, we feature a St. Louis-area home to showcase, usually because of its great style; but sometimes, just being quirky earns it the distinction.