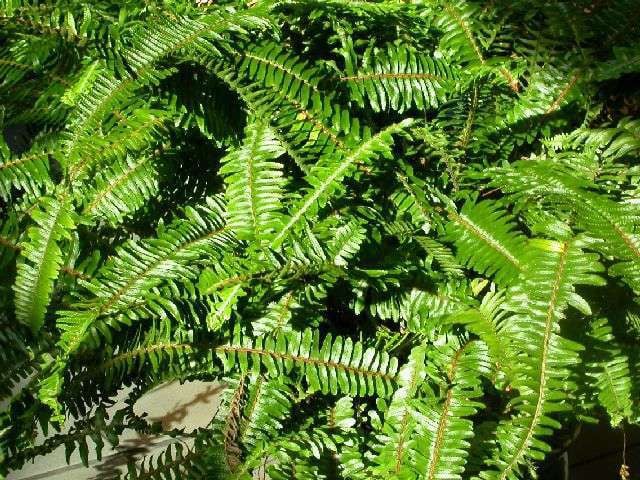 Q • Every year I winter our Boston ferns in a closed-off spare bedroom. In the spring I clip them back completely, and they grow back beautifully. My husband wonders why I don't clip them back before I winter them since they are quite messy. Would that kill them? Do you have any hints on wintering ferns?
A • There's no problem with cutting back Boston ferns in fall versus spring, though you'll be staring at a plant with a crew cut for several weeks until new growth occurs. On the other hand, it actually spares you the pain of watching them slowly deteriorate over winter and the hassle of constantly tidying up the litter. As your experience has shown, vigorous regrowth won't occur until after you put them out next spring.
Try to bring your ferns indoors in late September or early October, well before you normally turn the heat on. If you leave them outside later in fall, they'll survive temperatures down to freezing but become so thoroughly acclimated to outdoor conditions that when brought indoors to a heated environment, deteriorate rapidly.
At this time of year, a bright room with an eastern exposure and strong light throughout the day is preferred. A few hours of direct rays from the weak winter sun is OK until you put them back outdoors for summer. Cooler temperatures are ideal, with nights between 50 and 60 degrees, and warmer days. Don't locate ferns near sources of hot, dry air. The dimmer the light, the hotter the room, and the drier the air, the faster they will deteriorate once you bring them indoors in fall.
With reduced heat and light, plants require less water. Allow considerable drying to occur between thorough waterings, but never let the roots dry out completely. To avoid soggy conditions, always discard the drainage that collects in the saucer.