Chicken Tortilla Soup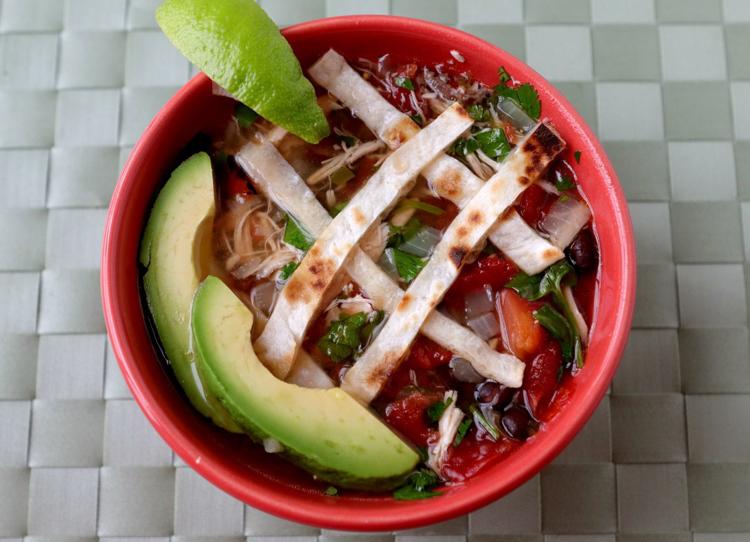 Yield: 6 servings
1 tablespoon vegetable oil
1 small onion, diced
2 tablespoons minced garlic
2 jalapeños, finely diced
6 cups chicken stock
1 (14.5-ounce) can fire-roasted tomatoes
1 (14.5-ounce) can black beans, rinsed and drained
1 (8-inch) flour tortilla
½ rotisserie chicken, skin removed, shredded
2 limes, juiced, plus wedges for garnish
1 cup roughly chopped cilantro leaves
1 (8-inch) flour tortilla
1 avocado, pitted, sliced
1 cup shredded Monterrey cheese
1. In a large saucepan, heat the vegetable oil. Add the onions and cook for 2 minutes. Once the onions have softened, add the garlic and jalapeños, and cook for 1 minute. Pour in the chicken stock, tomatoes and beans, and bring to a simmer. Simmer 5 minutes.
2. While the broth is simmering, heat a skillet. When hot, add tortilla. Cook 1 minute, until bottom is lightly toasted. Flip and cook 1 minute until lightly toasted. Remove from heat and cut into thin strips. Set aside.
3. Once the broth has simmered for a few minutes, add shredded chicken, lime juice and cilantro. Taste and season with salt and pepper if needed. Serve soup garnished with lime wedges, avocado slices, tortilla strips and a sprinkling of cheese.
Per serving: 437 calories; 20g fat; 8g saturated fat; 74mg cholesterol; 29g protein; 38g carbohydrate; 9g sugar; 10g fiber; 1,268mg sodium; 234mg calcium
Adapted from a recipe by Danny Boome, via Food Network
Chicken and Pasta Alfredo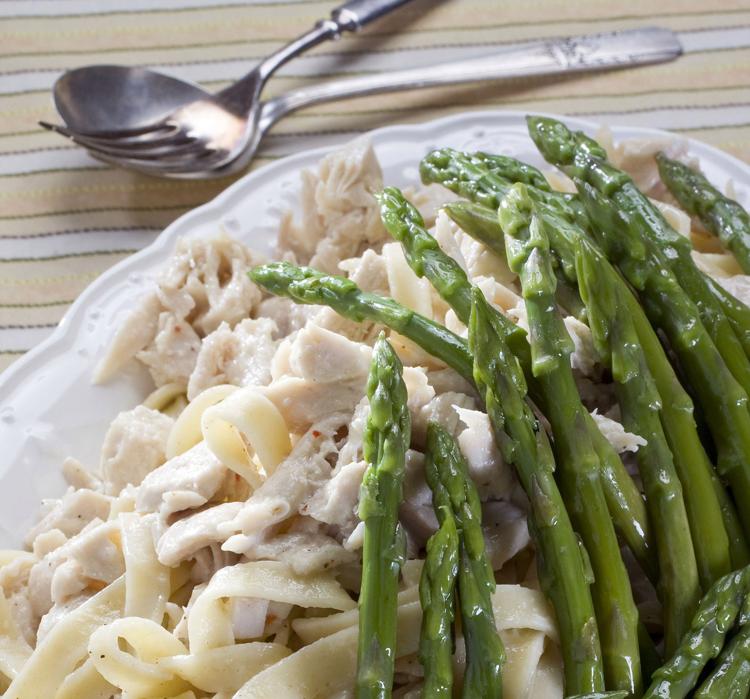 For a super easy dinner, throw whatever vegetables you have into a skillet. Start with an onion and add peppers, broccoli, spinach, just about anything. Add a jar of Alfredo sauce (we said easy!), then mix that with some cooked noodles. Add shredded rotisserie chicken and warm through. 
Szechuan Noodles and Chicken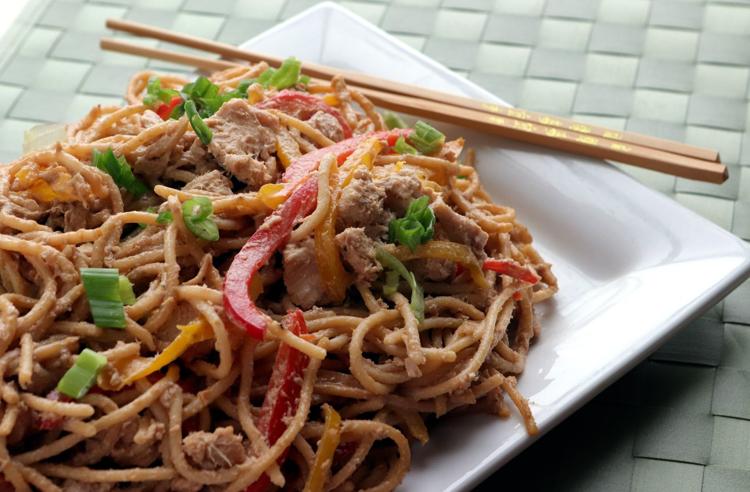 Yield: 8 servings
½ rotisserie chicken
6 garlic cloves, chopped
¼ cup fresh ginger, peeled and chopped
½ cup vegetable oil
½ cup tahini (sesame paste)
½ cup peanut butter
½ cup soy sauce
¼ cup dry sherry
¼ cup sherry vinegar
¼ cup honey
Dash sriracha, optional
2 tablespoons dark sesame oil
⅛ teaspoon ground cayenne pepper
½ teaspoon black pepper
1 pound spaghetti
1 cup red bell pepper, julienned
1 cup yellow bell pepper, julienned
4 scallions, sliced diagonally (white and green parts)
1. Remove the skin from the chicken and pull the chicken from the bones. Chop meat into small pieces, and set aside.
2. Place the garlic and ginger in a food processor fitted with a steel blade. Add the vegetable oil, tahini, peanut butter, soy sauce, sherry, sherry vinegar, honey, optional sriracha, sesame oil, cayenne and black pepper. Puree the sauce.
3. Bring a large pot of water to a boil and cook the spaghetti al dente. Drain the pasta in a colander, place it in a large bowl, and while still warm, toss with the chicken and ¾ of the sauce. Add the red and yellow bell peppers and scallions; toss well. Serve warm or at room temperature. The remaining sauce may be added, as needed, to moisten the pasta.
Per serving: 640 calories; 36g fat; 15g saturated fat; 27mg cholesterol; 22g protein; 11g carbohydrate; 13g sugar; 4g fiber; 1,037mg sodium; 59mg calcium
Adapted from a recipe by Ina Garten.
Chicken Salad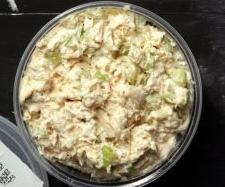 Save time on your favorite chicken salad recipe by using rotisserie chicken. Just remove the skin and chop or shred the chicken and mix it with your favorite ingredients. It's always easiest to remove it from the bone when its warm but store the chicken in the refrigerator a bit because you don't want warm chicken in most chicken salads. 
White Chicken Chili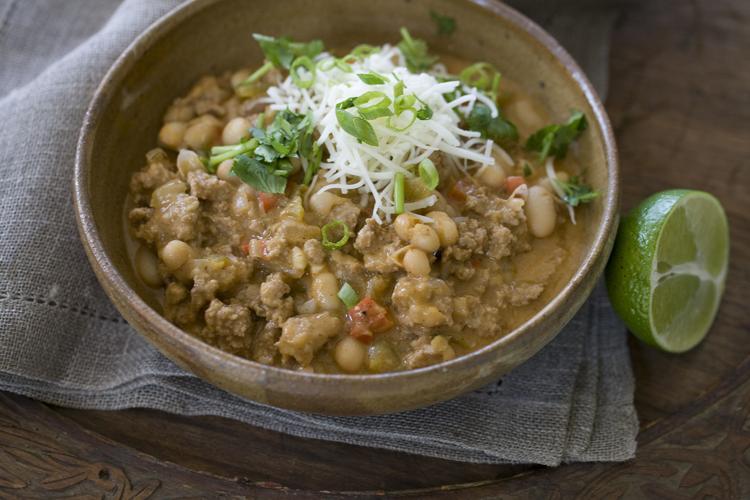 You can use rotisserie chicken in place of cooked chicken in your favorite white chili recipe. Just saute some veggies, add a little broth, white beans, chicken and then something to make it creamy (cream, half-and-half, sour cream, cheese or a combo). 
Chicken Burritos
For a burrito or a wrap, just shred your chicken and warm it with a little broth and taco seasoning. Then add it to your favorite tortilla with the usual fixings. 
Pulled Barbecue Chicken Sandwiches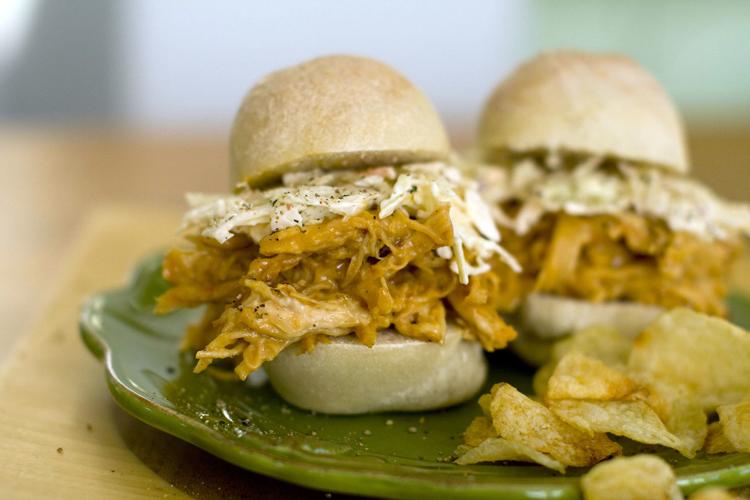 Shred your rotisserie chicken and mix it with some barbecue sauce. Add it to a bun with a store-bought slaw and dinner couldn't be easier. 
Rotisserie Chicken Quesadillas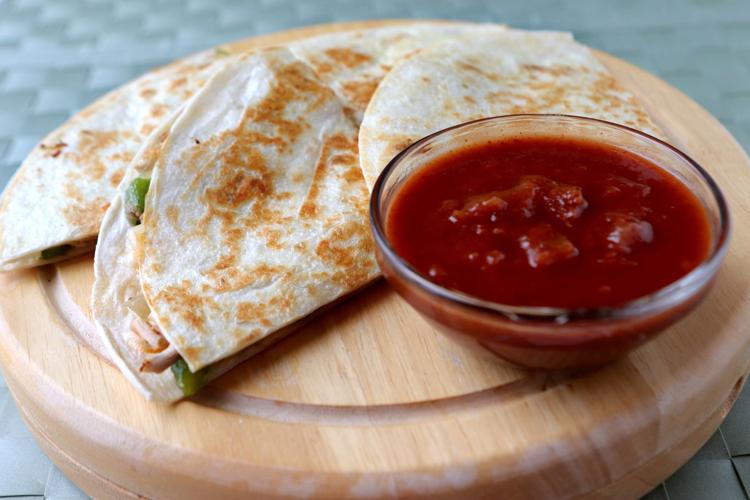 Yield: 3 servings
1 tablespoon plus 2 teaspoons oil, divided
1 cup onion, chopped
¾ cup green peppers, chopped
2 cups sliced mushrooms
½ rotisserie chicken, skinned and cut into small pieces
1½ cups shredded cheese, such as a Mexican blend
1. Heat 1 tablespoon of the oil in a skillet and add the onions, green peppers and mushrooms. Cook, stirring frequently, until softened, about 3 to 5 minutes. Stir in chicken and remove from heat.
2. Heat a separate skillet over medium-high heat and add 1 teaspoon of the remaining oil, swirling it to cover the bottom of the pan. Add 1 tortilla and cook 1 minute. Remove to a separate plate and add another tortilla to the pan. Scatter 1 cup of the filling over the tortilla and sprinkle with ½ cup of the cheese. Place the reserved tortilla on top, oil-side up, and lightly smash together with a spatula. Cook 1 minute until bottom tortilla is nicely browned. Flip and cook 1 minute more.
3. Repeat this process with the remaining 4 tortillas to make 2 more quesadillas. Because a little oil will be left in the pan, you will only need to add about ½ teaspoon of the remaining oil for each one.
4. Cut into wedges and serve with your favorite salsa.
Per serving:  583 calories; 23g fat; 10g saturated fat; 107mg cholesterol; 36g protein; 59g carbohydrate; 9g sugar; 4g fiber; 1,377mg sodium; 282mg calcium
Recipe by Daniel Neman
Amy's Chicken Pot Pie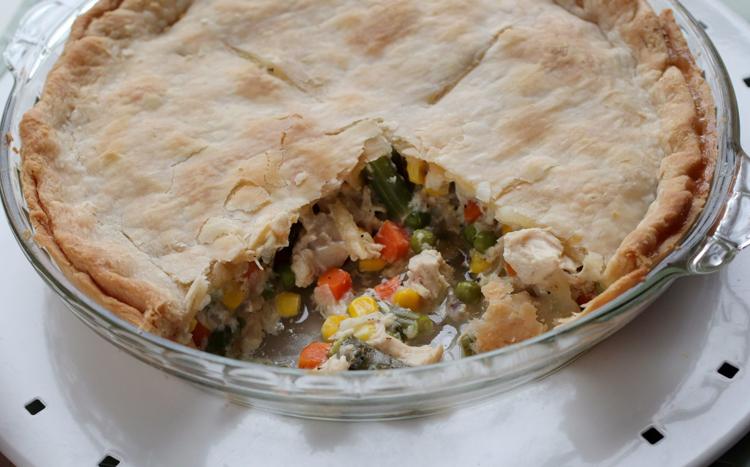 Yield: 4 to 6 servings
2 pie crusts (premade, refrigerated pie crusts are easiest)
1 tablespoon butter
½ large onion, chopped
Salt and pepper
1 (12-ounce) bag frozen mixed vegetables
1 cup chicken broth
1 cup whole milk
1 tablespoon sherry
1½ tablespoons all-purpose flour
½ rotisserie chicken, skinned, pulled off the bone and cut into small pieces
1. Preheat oven to 425 degrees. Place 1 pie crust in a pie pan, preferably glass.
2. Melt butter in large skillet or pot. Add onion, season with a little salt and pepper, and cook until softened, 3 to 5 minutes. Add frozen vegetables and cook until vegetables are no longer cool.
3. Stir in chicken broth, milk, sherry and flour. Bring to a simmer and cook, stirring occasionally, until thickened. Stir in chicken, taste and season with salt and pepper, if needed.
4. Pour filling into prepared pie pan and cover with other crust, pressing around the edges to seal the crusts together. Cut slits in the top crust and bake 30 to 40 minutes until flaky and golden brown. Cover edge of crust with foil after 20 minutes to avoid burning.
Per serving (based on 6): 464 calories; 26g fat; 8g saturated fat; 61mg cholesterol; 19g protein; 78g carbohydrate; 3g sugar; 4g fiber; 1,077mg sodium; 78mg calcium
Recipe by Amy Bertrand and Daniel Neman
Chef or Cobb Salad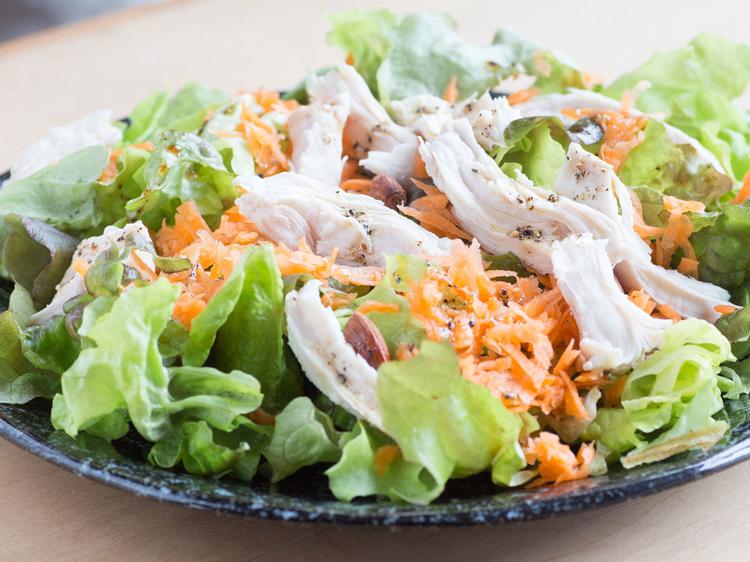 Add protein in the form of rotisserie chicken to a chef salad or use it to make a Cobb salad, which, according to Wikipedia is "typically made with chopped salad greens, tomato, crisp bacon, boiled, grilled or roasted chicken breast, hard-boiled eggs, avocado, chives, Roquefort cheese, and red-wine vinaigrette." 
Chicken Noodle Soup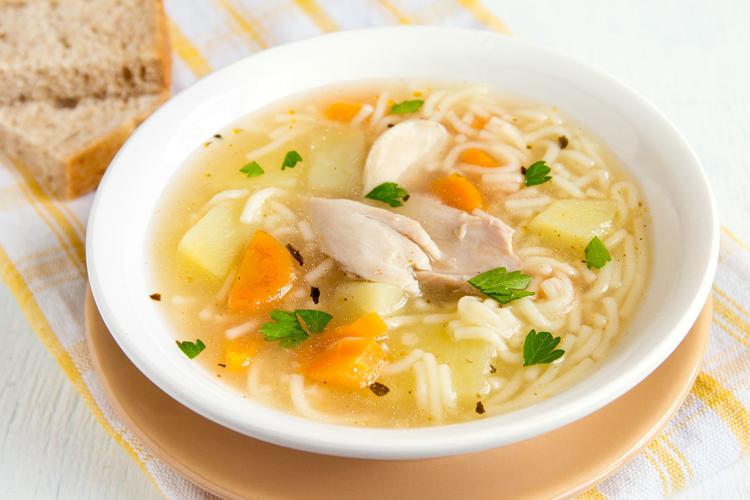 Saute some vegetables (onions, celery, carrots, even potatoes), then add chicken stock. Bring to a boil and add noodles. Once they are cooked, add shredded rotisserie chicken to the pot and warm. Top with parsley, if you want. 
Apple-Fennel Chicken Salad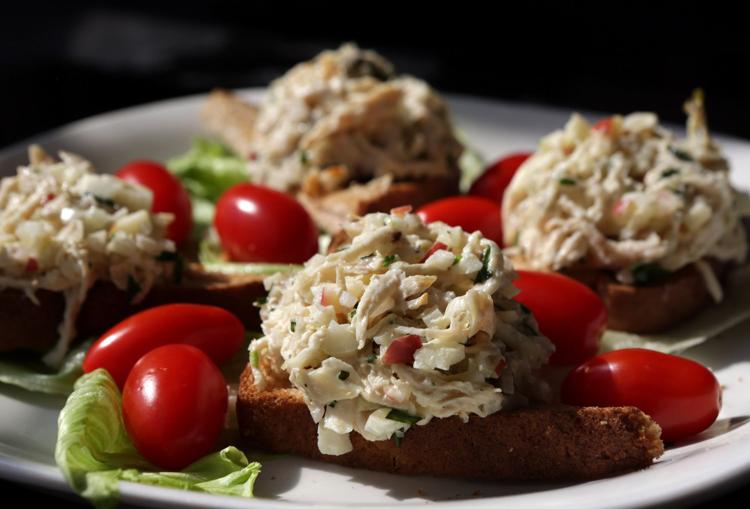 Yield: 4 servings
½ apple, finely chopped
½ fennel bulb, finely chopped
½ small shallot, finely chopped
8 ounces poached, roasted or rotisserie chicken, torn into bite-size pieces
3 tablespoons mayonnaise
1 tablespoon finely chopped fresh chives
1 tablespoon finely chopped fresh tarragon
2 teaspoons finely grated lemon zest
1 tablespoon fresh lemon juice, plus more if needed
Kosher salt
Black pepper
Using a fork, mix apple, fennel, shallot, chicken, mayonnaise, chives, tarragon, lemon zest and juice in a medium bowl until well combined. Season with salt, pepper and more lemon juice, if desired.
Per serving: 188 calories; 12g fat; 2g saturated fat; 47mg cholesterol; 15g protein; 6g carbohydrate; 3g sugar; 2g fiber; 395mg sodium; 33mg calcium
Adapted from bonappetit.com
Al's Famous Mardi Gras Gumbo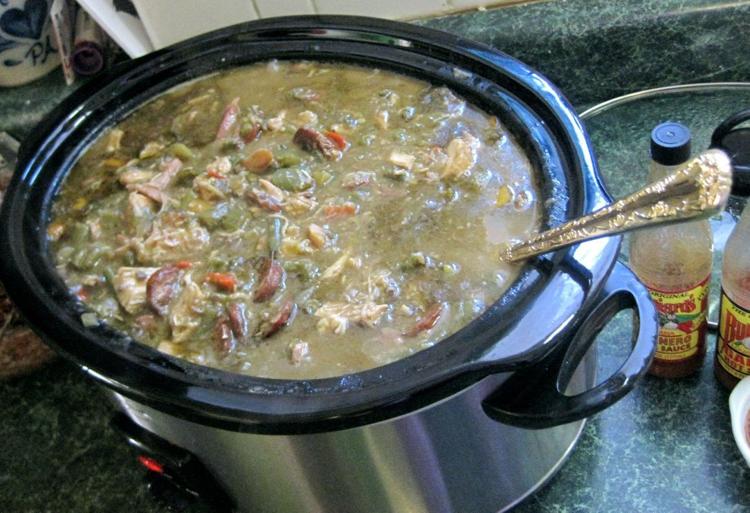 Yield: 12 servings
2 fully cooked rotisserie chickens
1 cup fat (chicken fat, bacon grease, butter or other)
2 cups all-purpose flour
2 tablespoons olive or vegetable oil
3 whole garlic cloves, peeled and roughly chopped
2 medium yellow onions, trimmed and cut in ½-inch dice
2 large stalk celery cut in ½-inch dice
1 large or 2 small red bell pepper, seeded and cut in ¾-inch pieces
1 large or 2 small green bell pepper, seeded and cut in ¾-inch pieces
½ pound green beans, ends trimmed, cut in ¾-inch pieces
1 large (8-inch) zucchini, cut in half lengthwise then cut in ¾-inch pieces
1 (8-ounce) bag frozen okra
1 ½ pounds precooked Andouille sausage, cut in ¼-inch slices
2 tablespoons filé gumbo powder
Salt to taste
Louisiana hot sauce
6 cups cooked rice (see notes)
Notes: The gumbo flavors blend best if the dish is made a day ahead. Hofer reheats the gumbo in a roasting pan covered with aluminum foil placed in a 425-degree oven for 45 minutes to an hour. Hofer uses red cargo rice for this gumbo.
1. The day before cooking the gumbo, make the stock. Remove skin from roasted chickens and place the skin in a large stockpot. Pull cooked meat from the bones. Cut chicken into ¾-inch pieces. Place in a covered container and refrigerate. Any meat left on bones will cook off during the making of the stock.
2. Add bones to skin in stockpot. Cover with water to a depth of 2 inches over bones and skin. Cook over medium high heat until it reaches a medium boil. Reduce heat and cook for 3 to 4 hours. Add water if necessary. Skim any scum off stock with a skimmer or spoon every 20 minutes.
3. Allow stock to cool, strain and refrigerate overnight. Remove hardened chicken fat from the stock and reserve for use in the roux.
4. The following day, make the roux. Use 1 cup of fat. It can be a mix of chicken fat, bacon grease, butter or oil. Heat the fat in an 8- or 9-inch skillet until it melts. Cast iron works well for this. Gradually add 2 cups of flour and stir into the fat to make a thick paste. Cook the flour paste, stirring constantly, until it darkens to a medium brown. It is essential not to burn the roux. If the roux burns, it will need to be made again. Remove from pan to a small mixing bowl, cool and refrigerate until ready to use.
5. Heat olive oil until it just shimmers in a 4- or 5-quart pot. Add garlic and stir to coat, reduce heat to low and cook 7 to 10 minutes. Don't allow the garlic to brown.
6. Add onions and celery to skillet, raise heat to medium low and cook for 5 minutes, stirring once. If needed, add a little chicken stock or water. Add red and green peppers, green beans, zucchini and frozen okra. Cook for 10 minutes.
7. Cover cooked vegetables with reserved chicken stock and bring to a slow boil over medium high heat. Stir in roux, a few tablespoonsful at a time, until desired thickness is reached. Turn heat to low and cook for 30 minutes. Add sausage and reserved chicken pieces. Season with salt and taste. Add filé gumbo powder and cook for 30 minutes longer. Taste, and adjust seasoning as needed.
8. Serve over cooked rice.
Per serving: 574 calories; 35g fat; 10g saturated fat; 117mg cholesterol; 36g protein; 30g carbohydrate; 7g sugar; 3g fiber; 905mg sodium; 72mg calcium.
Buffalo Chicken Nachos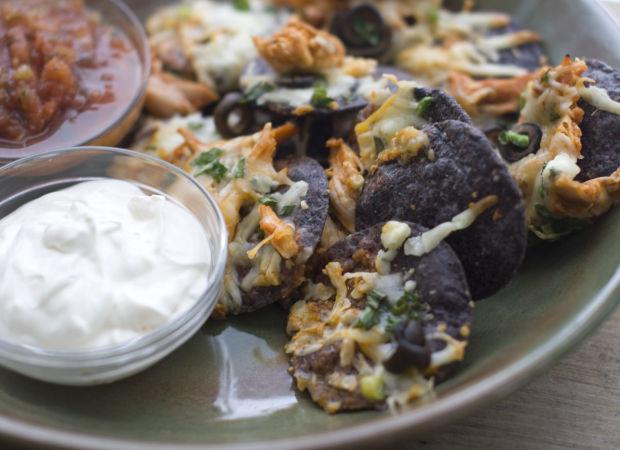 Yield: 8 servings
½ cup Frank's RedHot Sauce (original)
¼ cup barbecue sauce
¼ cup butter
2-pound rotisserie chicken
7 ½ ounces tortilla chips
8 ounces grated cheddar cheese
8 ounces Mexican-style shredded cheese
½ cup crumbled blue cheese
3.8-ounce can sliced black olives
1 bunch scallions, sliced
Salsa, to serve
Sour cream, to serve
1. Heat the oven to 400 degrees. Line a rimmed baking sheet with foil and coat with cooking spray.
2. To make the buffalo sauce, in a medium saucepan over medium heat, combine the RedHot sauce, barbecue sauce and butter. Heat, stirring, until the butter is melted and thoroughly blended. Set aside.
3. Remove all of the meat from the chicken, cut into bite-sized pieces and place in a large bowl. Pour the buffalo sauce over the chicken, then toss well to coat. Set aside.
4. Spread the tortilla chips in an even layer over the prepared baking sheet. Sprinkle the cheddar cheese evenly over the chips. Using tongs or a fork, spread the chicken evenly over the cheese and chips.
5. In a small bowl, toss together the Mexican-style cheese and the blue cheese, then sprinkle evenly over the chicken. Top with the olives and scallions. Bake for 10 to 15 minutes, or until the cheese is melted and just starting to brown. Serve with salsa and sour cream.
Per serving: 710 calories; 45g fat; 190mg cholesterol; 27g carbohydrate; 3g fiber; 4g sugar; 51g protein; 1,560mg sodium.
Rotisserie Chicken With Waffles and Gravy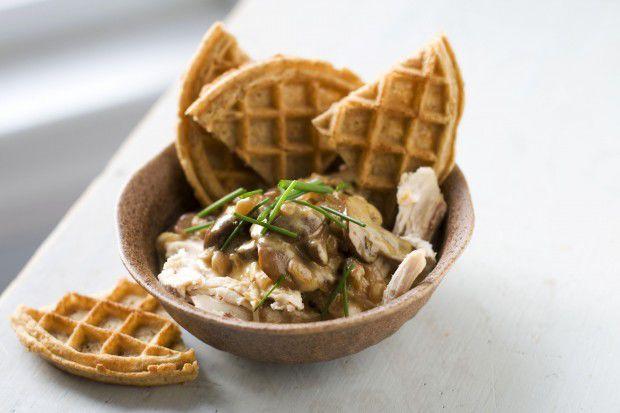 Yield: 4 servings
1 tablespoon olive oil
2 (4-ounce) containers sliced button mushrooms
1 medium yellow onion, diced
2 cloves garlic, minced
¼ cup white wine
1 cup heavy cream
Salt and ground black pepper
4 frozen waffles
Meat from a 2-pound rotisserie chicken, warmed and shredded
1. In a large skillet over medium-high, heat the oil. Add the mushrooms, onion and garlic, then saute until the mushrooms are browned and the pan is nearly dry, about 5 minutes.
2. Add the wine and stir to deglaze the pan. When the wine has evaporated, stir in the cream, then bring to a simmer. Season with salt and pepper, then set aside.
3. Toast the waffles according to package directions.
4. Place one toasted waffle on each serving plate. Top with a heap of warmed, shredded chicken, then spoon ample amounts of mushroom gravy over it.
Per serving: 510 calories; 32g fat; 165mg cholesterol; 23g carbohydrate; 2g fiber; 4g sugar; 29g protein; 1,310mg sodium
Food Editor J.M. Hirsch is author of the cookbook "High Flavor, Low Labor: Reinventing Weeknight Cooking." Follow him to great eats on Twitter at twitter.com/JM_Hirsch or email him at jhirsch@ap.org.