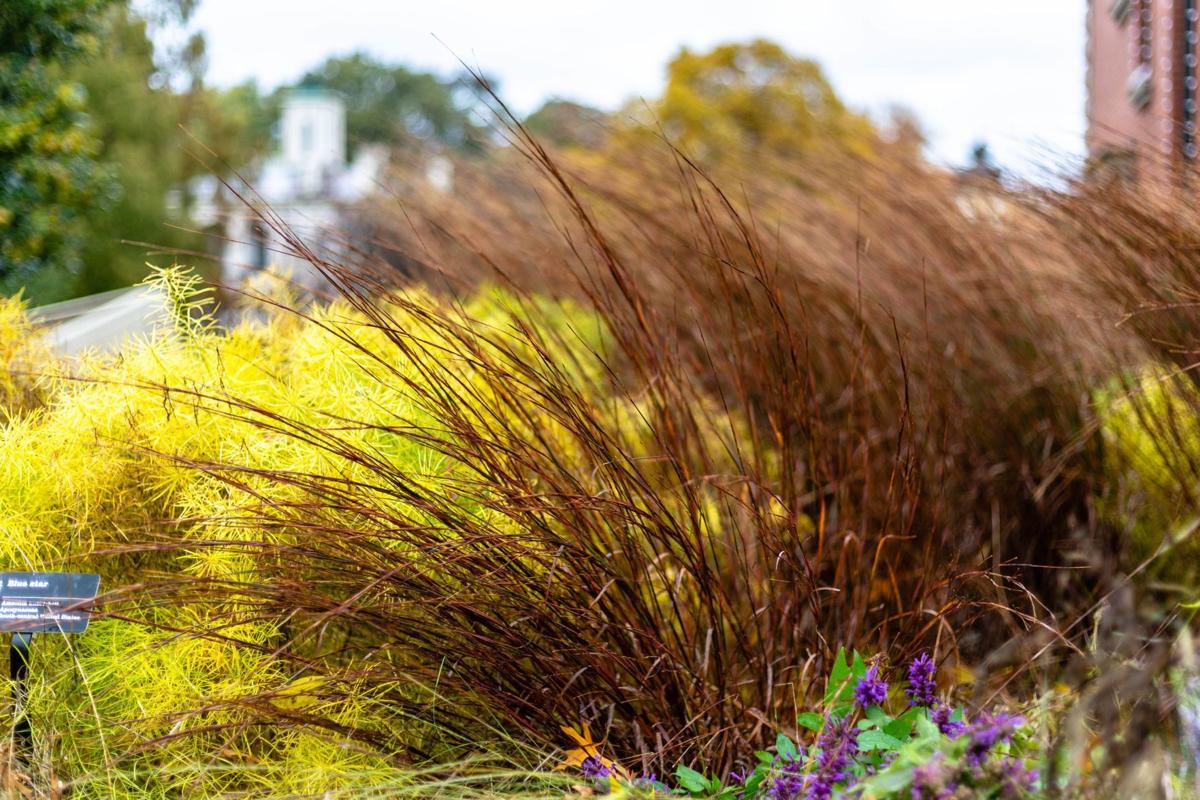 Gardeners often face a barrage of challenges to their best-laid plans, including hungry deer and rabbits, insect pests, clay soil and long stretches of hot, dry weather.
But in recent years, they've been dealt another obstacle — too much rain.
"Well, one of the good things is we don't have to worry much about watering," said Jean Ponzi, Green Resources manager of Earthways Center of the Missouri Botanical Garden and an enthusiastic supporter of using native plants to help manage rainwater.
In 2015, the St. Louis area was deluged by 61 inches of precipitation, 3 inches more than the previous record set in 2008, and 20 inches above normal, according to National Weather Service records. The years 2016-18 produced more normal precipitation, but we were on another soggy wave last year until a letup in the fall. Even then, the 54-inch tally was 13 inches over the annual norm. In three months this year, we're about 5 inches over normal (more than double that at this point last year).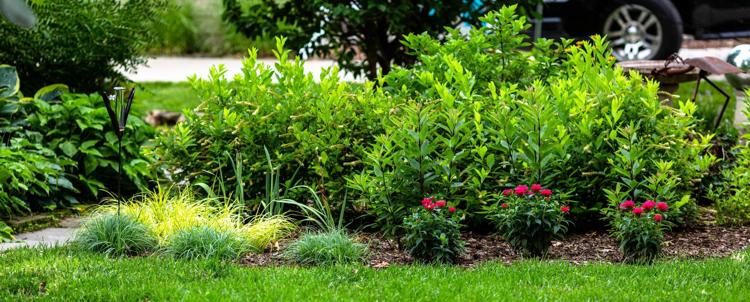 Not only are we getting more moisture, we're hearing an old saying more frequently — "it's raining like cats and dogs." Heavy downpours are increasing nationally, especially in the Midwest, where the amount of rain on the heaviest events has increased in recent decades.
According to the National Climate Assessment, Missouri and Illinois are among Midwestern states that have seen a 37% increase in very heavy precipitation (defined as the heaviest 1% of all daily events) from 1958 to 2012.
Rainscaping is a way for gardeners — and even homeowners who may have only a modest garden — to manage stormwater where it falls rather than allowing it to move through the sewer system.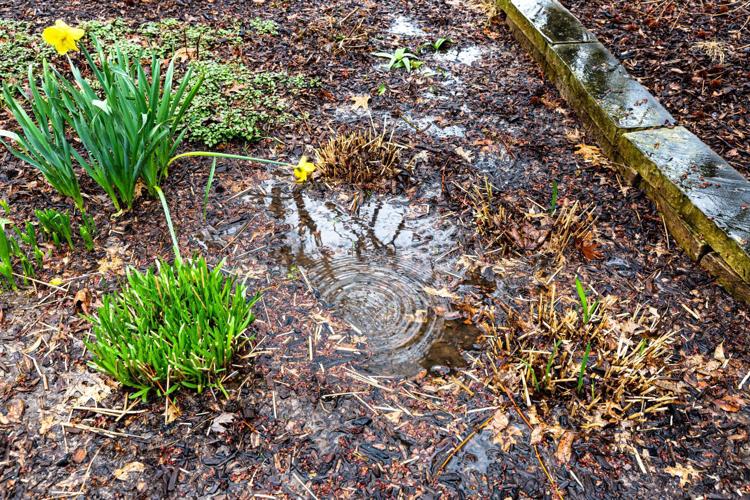 The Metropolitan Sewer District, which maintains nearly 10,000 miles of sewer systems and cleans about 350 million gallons of wastewater daily, is investing $120 million into such green infrastructure initiatives in a program called MSD Project Clear. Those eligible for grants in the area include homes, schools, churches, government properties, organizations and businesses.
A rain garden — populated with plants that can tolerate longer periods of wet conditions — is among the rainscaping strategies aimed at absorbing water flowing, say, from "up there" to the foundation of your house — or, if you're a thoughtful neighbor, next door.
More and more, regular garden beds are staying wetter longer, a condition that can cause plants to struggle or even die.
Ponzi recommends that homeowners look at the hydrology of their property — how water flows and how long it stands. She adds that a rain gauge is important for keeping track of the amount of rainfall.
"Work with that knowledge," she said. "We tend to garden based on the fact that we can get water to plants with a hose or an irrigation system any time, anywhere. Frankly, from a sustainability standpoint, that's not the best way to look at it. When you're practicing ecological gardening — native plant gardening — where there are plants that perform wonderfully in soggy places, those are the plants that are the workhorses for rainscaping."
Chip Tynan, head of the Missouri Botanical Garden's Horticulture Answer Service, says creating planting berms in the garden might be one approach to the problem.
"Based on the large number of calls I received last year from gardeners puzzled about rapid decline of plants, when I raised the question if the site might have received extraordinary rainfall events in the previous year, a surprising number said yes but had failed to connect the dots that even temporary inundation can produce long-term health issues that may not manifest until weeks or months after the fact," he said.
Scott Woodbury, manager of the Whitmire Wildflower Garden at Shaw Nature Reserve in Gray Summit, described extensive work required to address a path area that kept getting washed away.
Workers built a two-tiered rain garden with an overflow to a lower rain garden. When the lower one fills up, the water enters an overflow pipe that extends beyond a sidewalk. A trench drain was added to the sidewalk to capture that flow. And a pipe was added to a third source of runoff in which water enters the trench drain. All that runoff ends up in 4-foot-by-3-foot in-ground container with holes to allow for slow drainage.
"It fills up, too, but when it overflows, it's on the other side of the concrete walkway and it spills out into our prairie and causes no problem," Woodbury said. "So we have solved our problem with a lot of little solutions."
Experts agree that soil amendment is essential for plants to perform at their best, especially in wetter conditions. Dense clay tends to greet gardeners wherever they prep a new bed, and simply digging a hole and popping in the plant in such soil is what often infects gardeners with the dreaded "black thumb" disorder. But it's not contagious and its cure is an ample use of compost.
That soil conditioner is made up of decomposed organic matter that is the yin to clay's yang. (Make it yourself with grass cuttings, fallen leaves, coffee grounds and vegetable waste, or buy it ready to use in bags or in bulk.) Compost is chock full of nutrients crawling with the microbial activity plants love, allowing them to stretch out and breathe. The denseness of clay, in more modest amounts, helps in both nutrient and moisture retention. Cover your blended soil with an inch or two of wood mulch annually and as the mulch breaks down over time, your soil at large will improve and your plants will thrive.
Now back to all that rain. Good drainage is key, and you're not necessarily off the hook by noting the advantages of a bed on an incline. Evaporation is a better word to describe this action, and that will happen quicker in amended soil rather than in heavy clay. Deep-rooted native plants are a key partner in soaking up that water. (And, yes, for those who like to cut corners, some natives are more resilient than others in handling heavier clay soils.)
If you really want to harness excess moisture, plant a tree. Be sure to note the width of the mature tree's canopy, and don't make the common mistake of planting too close to your house.
"We are learning that we can harness the power of plants to manage water so it's not a problem and so that we don't lose it," Ponzi said. "Native plants are the workhorses for water management, for being drought tolerant and for being able to help absorb and stop the flow and stop the pooling of water."
Resources
The Missouri Extension Service's Gardener Horticulture Answer Service takes questions from noon to 3 p.m. Monday through Friday. Take a picture of a mystery plant or plant problem and email to stlgardenhotline@gmail.com. Or you may call 314-400-7657 and leave a message.
Fred Ortlip is a master gardener, garden designer and retired copy editor at the Post-Dispatch. fortlip@mindspring.com