Sometimes he's winking. Sometimes he isn't. Sometimes his eyes are half-closed, appearing more than ready for a long winter's nap.
Usually the tip of his jaunty, red hat curls over to create a handle. Sometimes his finish is crackly, which probably means he's a bit older than others.
Welcome to Heather Shayne's Santa mug room. It's just part of her vintage Christmas collection.
More than 400 mugs live in this smallish basement room in the two-story home she shares with her husband, Dan, in a Fenton subdivision. She chronicles her collection on Instagram, where she posts as @mrssantaclausss.
The collection is so extensive it caught the eye of producers of "The Kelly Clarkson Show," where she's scheduled to appear Wednesday (Editor's note: she appeared Dec. 18; this story originally ran Dec. 15).
It started innocently enough.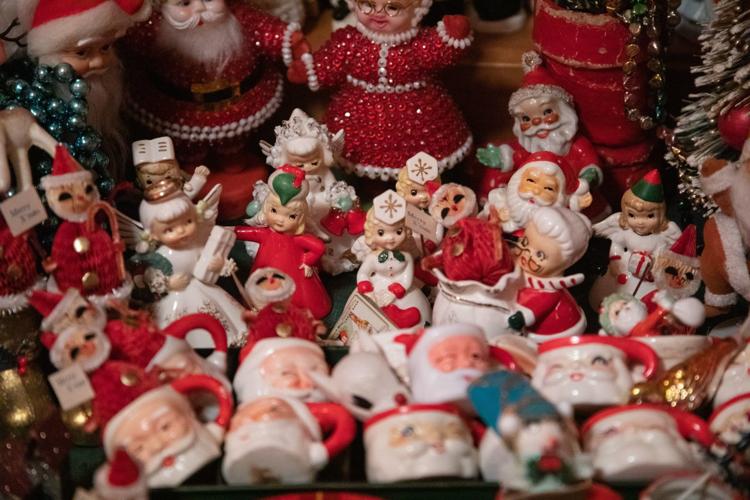 "I always tell people Pottery Barn is to blame for this," says Shayne, who spotted a set of four vintage-inspired replica mugs at the store four years ago and picked them up simply because she thought they were cute.
Shayne, who works as a sales assistant for a metal distributor, doesn't remember having seen a Santa mug before. At 33, her earliest Christmas memories are from the late 1980s and early '90s.
She grew up in Hillsboro, where her family decorated a tree, and she opened presents with her younger brother and sister. Happy, simple, but not dripping with kitschy, color-saturated nostalgia. And yet, "I like the vintage vibe," she says.
Soon after snagging the Pottery Barn mugs, she spotted a vintage mug at the South County Antique Mall. Then she realized they were a thing and visited eBay. Oh, eBay.
"On eBay, you can find everything," she says. "I had to get rid of my watch list like, 'OK, Heather, calm down.'"
As the Santa mug collection grew in a hutch upstairs, so did her collection of vintage Christmas kitsch. There are 10 trees, several of them aluminum — 20 trees in all, if you count the smaller ones on the mantel and along the stairwell. Glass Shiny Brite ornaments. Flocked plastic elves. Flocked plastic deer. Stuffed Santas with fluffy beards and rubber faces.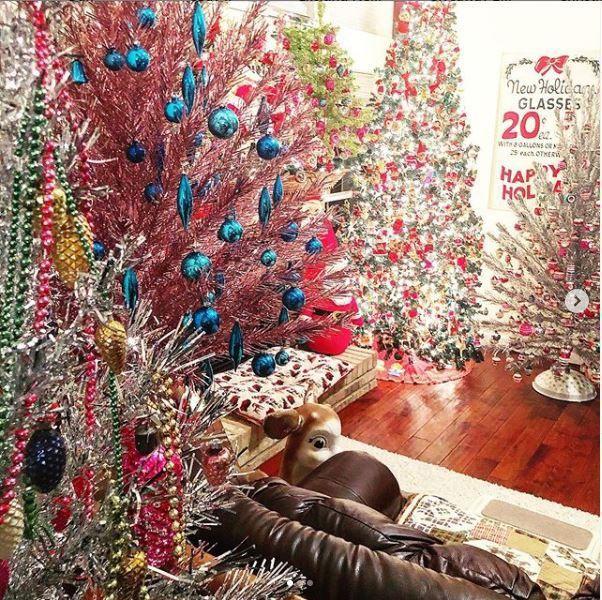 Shayne says she doesn't want to know how much she's spent — likely several thousand dollars. But this is her hobby, she points out.
"I'd rather have a pink aluminum tree than a designer bag," she says. "Christmas is my heart."
She created her Santa Mug room in July 2018. She held a grand opening for a few friends and family members, who thought it was cool but didn't really "get it," Shayne says.
"I guess to me the biggest thing is the hunt," she says. "It's more fun to go out and find things in the wild."
That's what she calls going to estate sales and antiques markets, and she'll travel all over the Midwest for a good one. Sometimes, her father, Greg Cullum of House Springs, travels with her as he hunts for vintage gasoline and oil signs for his own collection.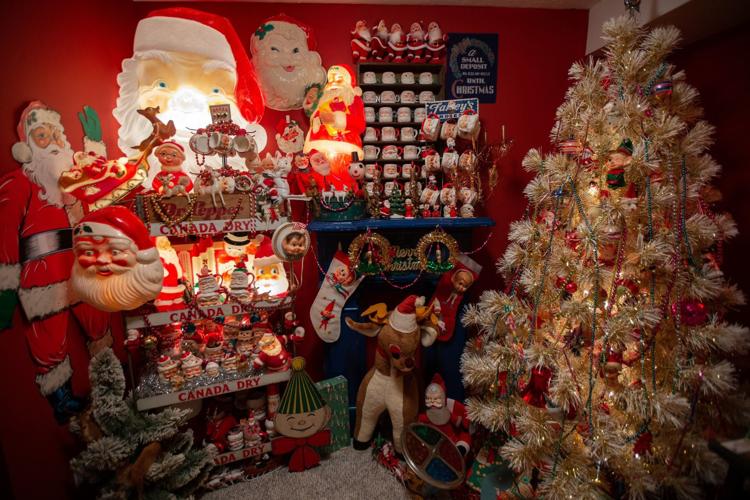 "I mean, I'm not into the big Christmas stuff, but it's cool," Cullum says. "We make fun of each other."
Cullum is 57, a young child of the '60s. Do the vintage Christmas things bring back any particular childhood memories for him? "No," he says, matter-of-factly.
Shayne has met up with friends she's made via Instagram, although not many locally. Once, she ran into a woman in the basement of an estate sale in Lemay. "I'm CocktailKitsch! I'm CocktailKitsch!" the woman said. Shayne didn't know what she was talking about until she realized it was Kim Burnett, referring to herself by her Instagram handle.
Each had followed the other's escapades online, sometimes missing each other by minutes at estate sales and antiques malls. Burnett, of the Tower Grove South neighborhood, likes collecting vintage giveaways from department store visits to Santa, as well as Christmas boxes.
Burnett, 62, says the appeal of Christmas collecting reminds her and others of childhood, like their grandma owning a certain ornament or their parents setting up an aluminum tree. Shayne has since invited Burnett to see her collection, and Burnett is excited about the prospect.
"She has pieces I didn't even know existed!" Burnett says.
Shayne's husband, Dan, tolerates her collection. He knows she enjoys her hobby, she says. She put together a tree just for him.
"This is my Dan tree," she said, laughing, motioning toward a tree covered with little bearded elves and hillbillies. Not so coincidentally, Dan Shayne also sports a long, dark beard. (He shied away from commenting for this story.)
"Booooo!" he calls off-camera, during a recent Instagram story of herself unboxing a vintage elf.
Santa mugs first came into vogue in the late 1950s, with the companies Lefton and Holt Howard in particular cranking them out. Lefton, founded in 1939 by Hungarian immigrant George Lefton, later produced pieces in Japan after World War II. Shayne has several reindeer-shaped mugs by Lefton. They're considered valuable — four of them recently sold on eBay for $280, she says.
Brothers John and Robert Howard and Grant Holt started Holt Howard in New York in 1949, producing all types of whimsical ceramicware. Shayne has an entire space-age set of Santa mugs with starburst eyes; sometimes they can go for $50 to $75 a mug, she says.
For now, she's not hoping for new mugs for Christmas — she stopped collecting them unless they're dirt cheap or ultra rare.
The Shaynes have no big holiday plans. It likely will be just the two of them at home on Christmas Eve, with family coming over for Christmas breakfast.
Maybe they'll make their own memories, sipping cocoa and coffee from Santa mugs.
Let us help you through the hectic holiday season! Includes our annual shopping guide, seasonal recipes, decorating tips and festive details on local events.