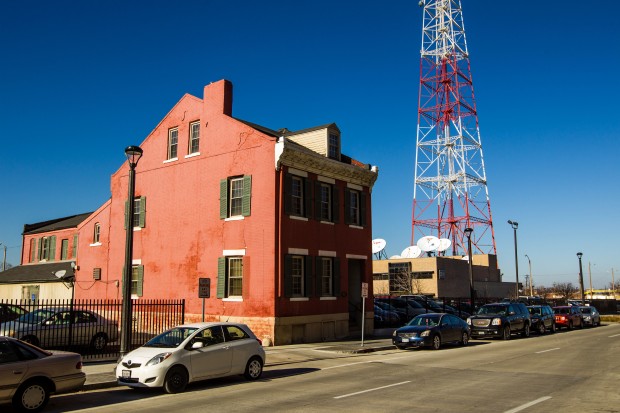 Not every home's pedigree includes occupancy by the St. Louis mounted police force, six of whose horses were stabled out back. But then again, how many local structures have been standing for 164 years — ample time to serve as a rooming house, apartments and also a restaurant?
Polish immigrant Drew Wojcik bought his 1849 home, with 3 ½-stories and 4,700-square-feet of living space, nearly a decade ago. An early Washington Avenue loft dweller, he was, by then, ready for a different abode.
And boy, did he find one. So dire was the condition of the house, which has Missouri landmark status, that Drew Wojcik (pronounced VOY-chick) spent 18 months collaborating with architects and contractors. Crews gutted the entire interior, removing non-weight-bearing walls, excess doors and once-trendy ceiling tiles.
As a result, Drew not only reclaimed the building's history, but he also gave his house a future. Now, despite ongoing street construction that has wreaked havoc with traffic, leading Drew to temporarily shutter the Rowhouse Gallery of art he operates from his first floor, he says he has no plans to leave.
How could he? His home is a marvel, a marriage of form and function, sandblasted beams and now-exposed bricks, often colorful artwork and walls whose hues he frequently changes, with a current palette from pale turquoise to bright red.
Summing up his design philosophy, he calls it "random things that I like that have sentimental meaning to me," many of them bought at area charity auctions or while on vacation. The clock on his kitchen's granite-topped island, for example, came from Italy. He stopped it at the moment he made the purchase.
Unlike those people on a quest for particular objects, Drew seemingly lets life happen. "I see something that strikes me. If I love it, I make it work."
---
Home • Downtown St. Louis
Occupation • Senior account director for Group 360 Worldwide, a downtown marketing firm. Once a professional kick boxer for Poland, he still plays occasionally. Also, "for the love of it," he's a photographer, tennis player and bike rider. Measuring 5-foot-7, he continues to weigh 145, just as he has since age 16.
Family • Single, with relatives who remain in Europe