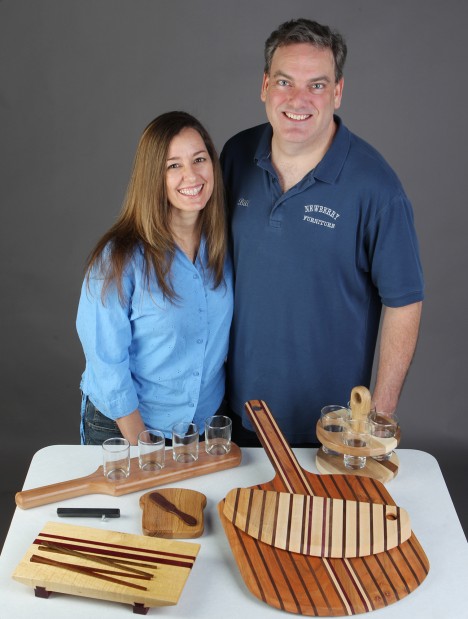 • When did you start woodworking? Bill: I started in 1993, and Julie started the craft in 1997 when we were married.
• What drew you to woodworking? Actually, it was my dad's hobby after he retired. One day, a friend asked me to make chairs for his dining room. The chairs (the friend wanted to duplicate) were from a Star Trek episode designed by Charles Rennie Mackintosh. The reproduction came easy to me. Chairs are usually the most challenging pieces. I made the four chairs in 1993, and the customer still uses them today.
• Do you build from scratch? Yes. In some cases we acquire logs. We have a saw mill and cut the wood into boards. Then we dry the lumber in a kiln and create our products. We also use reclaimed lumber from old barns, pickle barrels and flooring samples. One time we found a barn that was disassembled. The pieces were huge, about 21 feet long. We picked up the pieces, brought them back to our shop, removed the nails, cleaned it and turned the old wood back into fresh, new wood.
• How long have you been selling your work? About 15 years. We have over 70 original designs. We create items for the kitchen such as a pizza peel, pizza knife, chopsticks, beer caddy, beer flight, toast board and spreader and many more.
• What else do you make? We've made dining room furniture, beds, outdoor furniture, coffee tables and end tables.
• How do you come up with fresh designs? Some of our designs are created from things we love. For example, we like sushi, so we made a sushi table. We enjoy beer, and we crafted a beer flight.
• What's your favorite piece? It would have to be an 8-foot-high hutch that we made for a customer's bathroom. They wanted an authentic piece. A Walmart was moving into a location near us, and we got permission to cut the trees during the clearing process. It was figured lumber with tiger stripe designs. It was a beautiful custom order piece, and the customer recently ordered a bed.
• What tools are needed for woodworking? We use a jointer, a wood planer, table saws and sanders.
• What are your prices? In photo: Sushi table ($47), chopsticks ($12 a pair), pizza peel ($47), pizza knife ($32), bottle opener ($12), toast board and spreader set ($12), beer flight ($20) and beer caddy ($60).
Every week, we feature a St. Louis-area home to showcase, usually because of its great style; but sometimes, just being quirky earns it the distinction.