Matt Rulo's art — his expressive oeuvre — encompasses more than the eye can see. His creativity isn't limited to the marks he makes on a scrap of paper, a page or a canvas. It resonates throughout his life in the music he makes in the streets, in clubs, at open-mic events and in the quiet confines of his own space. It informs his respect for street artists, magicians, dancers, art outsiders, fellow musicians, fashion designers and creatives whose arts defy easy categorization.
In fact, his own works don't fit easily into neat boxes; they range from expressive pen-and-ink stick-figure drawings to direct prints to paintings made in both two and three dimensions.
Rulo is a self-taught artist. "I've always been intrigued with the visual arts. I visit art museums and spent several years studying different artists in books, online and through documentaries," he says. He admires and learned from the works of Jackson Pollock, Picasso, Gerard Richter, Van Gogh, Mark Rothko, Andy Warhol, Leonardo da Vinci, Jean-Michel Basquiat, Salvador Dali and Banksy.
Discovering art in the ordinary • An arresting collection of his large original direct-ink prints of manhole covers, street grates, letters carved in stone and unusual signifiers present but rarely seen is on display and for sale now through mid-October at Kitchen House Coffee in Carondelet. These artworks celebrate the beauty we walk by and walk over and reveal the spare elegance of letters carved in a low wall of a grand museum we may not have noticed.
Low tech and high relief • To create the graphic images of grates and street graphics, Rulo resurrected an age-old process and tweaked it. "As a kid, I started out taking a piece of paper, then rubbing over a quarter or a leaf with charcoal," he says. "I wanted to do it on a bigger scale. I'm using rolls of paper 36 to 48 inches wide and 100 feet long. I lay the paper on (the object), then press it into the grate or the seal to get the high definition. It's not like you can just roll paint onto a surface and get a good print. I use a good ink, so they wont smudge, and roll over it with a brayer. Each print is an original."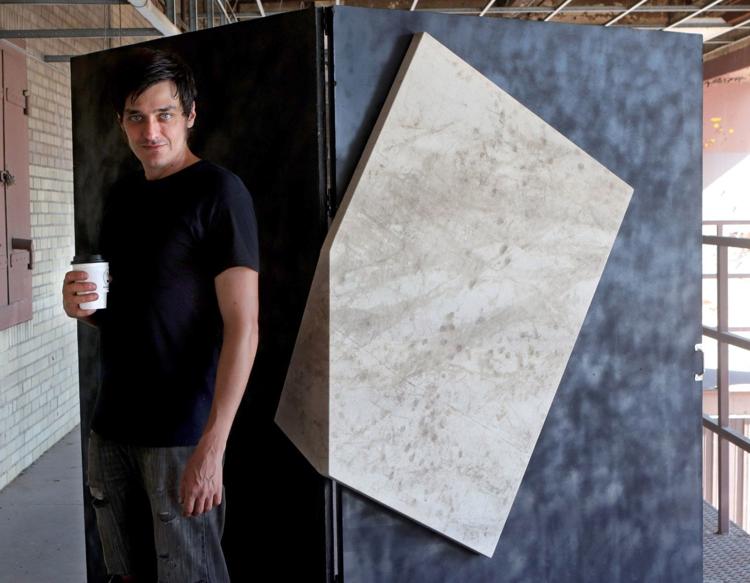 Torque it, twist it and shape a painting to a space • "My main thing is my 3D canvasses," Rulo says. "I make my own 3D frames — concave, convex, all angles." Rulo creates shaped frames that wrap inside or outside corners in a room, fit into the spaces under a staircase or define an architectural element like a column.
Rulo's practical skill set includes carpentry. "I built a tiny home when I was in my 20s, before they got popular," he says. He doesn't make a scale model for the frames ahead of time. "I sketch, but mostly I try to channel the energy and then create. I do think about a project a lot before I execute," he says.
Incorporate the unpredictable • Rulo regularly explores new approaches to art making. Like his three-dimensional frame work, he's thinks outside the box about mark making as well.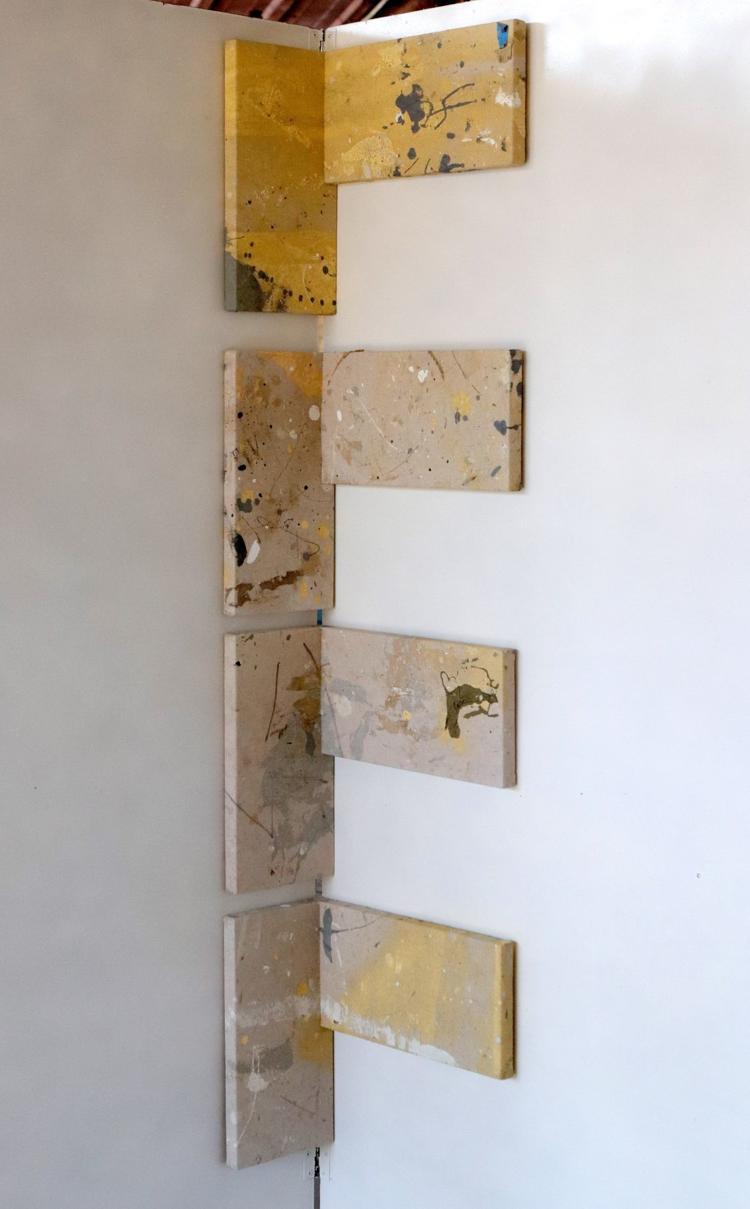 "I love painting in the rain or dragging a canvass through the mud and grass. It's like nature has its way with the process and outcome of a piece. It's unpredictable and captures moments in life that can never be replicated or duplicated," he says.
Rulo celebrates accidental art. "I like repurposing used painters' drop cloths because it totally removes me from the process. ... Whether the paint is sprayed, spilled, poured, dripped or dropped on, it becomes anonymous art and captures images of the everyday life of working-class heroes."
---
Every week, we feature a St. Louis-area home to showcase, usually because of its great style; but sometimes, just being quirky earns it the distinction.