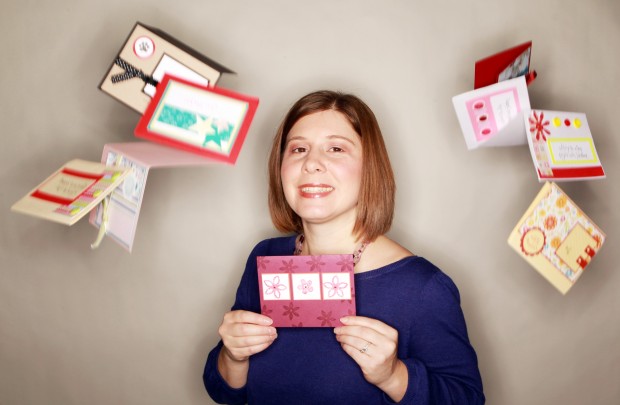 Tell us about yourself. • I'm originally from Minnesota and went to college at Bradley University and Washington University. I work at Cardinal Glennon Children's Medical Center as a pediatric oncology social worker. My goal is to lift patients' and families' spirits, seeking to make a difference for them by connecting to resources and offering support. I find financial resources, transportation, lodging and home assistance. I also started the Card Care Connection, a nonprofit organization that provides supportive cards and hopeful messages to people with cancer across the United States. Card makers donate their time to create handmade cards, and volunteers personalize a handwritten message on each card. After starting the program, I began creating cards. I found it's a wonderful way to express my creativity for a good cause.
What type of cards do you create? • I create all types of cards for the Card Care Connection program, and I collect cards with general themes and hopeful messages including "Thinking of You," and "Have a Nice Day." We avoid the "Get Well Soon" cards because many of our recipients are terminal. I use a variety of coordinating embellishments such as buttons, rhinestones, paper cutouts, brads and ribbons.
What is your role at Card Care Connection? • I am the founder and executive director. My two primary roles are to gather cards from card makers and distribute them to appropriate referrals. I spend about 10 to 20 hours a week identifying potential recipients, connecting with card makers and supervising the day-to-day operations.
How can our readers get involved? • If they would like to make cards for patients, they can visit cardcareconnection.com.
---