Ceramic artist Anthony "Tony" Borchardt's approach to teaching and mentoring his students at Fontbonne University pays dividends to him as an artist every day he's on the job.
He's a Fontbonne University alum who spent seven years there earning his bachelor's and master's degrees in fine arts.
He brings a wealth of real-world experience to the classroom. He's worked as a production potter in Branson, Mo. His ceramic pieces toured the country with him as he traveled to juried art shows. He also taught part time as an instructor at community colleges. He created his life as an artist one step at a time. Today, he teaches as an assistant professor and also works as the gallery director at Fontbonne. "I can explore more with my art because of my teaching," he says.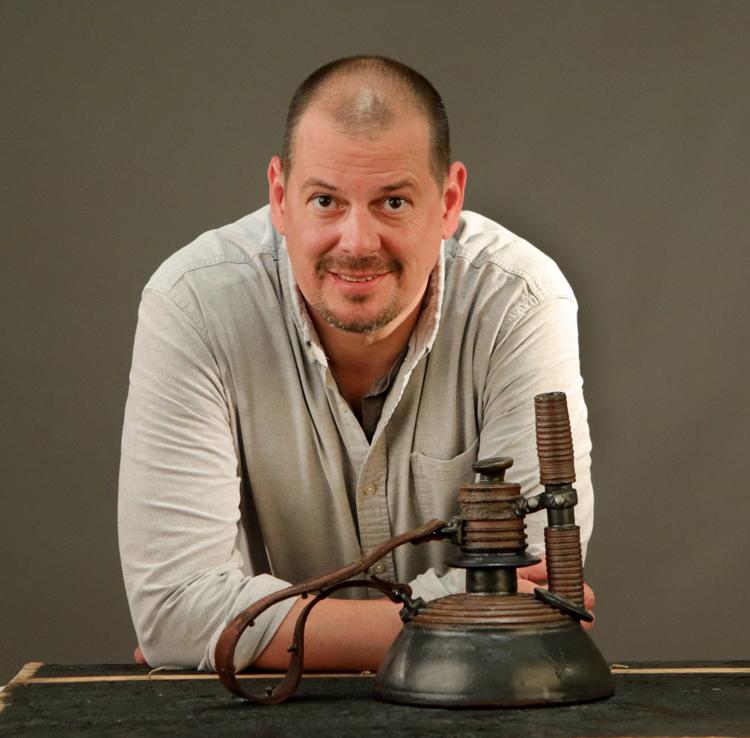 Students can also be teachers • "The pieces I'm working on now stemmed from a Steampunk design project I gave my students," he says.
Steampunk style embodies the spirit of the Industrial Revolution. Pieces employ anachronistic, sometimes fantastical machine parts, gears and constructions that seem almost magical. For Borchardt, his students' art triggered memories of times past.
The wisdom of old men and the wealth of their garages • "My newest pieces are informed by my experiences as an artist growing up. Both grandfathers were handy at making things," he says. His imaginative sculptures of iconic gas cans, funnels, oilcans and industrial containers recall the garages and workshops packed with tools and useful objects and working with his grandfathers to create things.
"My mother's father, John Wheelehan, was a firefighter. One of my most prized possessions is his fire helmet. It's been through so much," he says. "My father's dad, Marvin Borchardt, was an ironworker who built things his entire life."
His newest pieces, which are ceramic, also include small bits of metal, barnwood and leather, things he had seen in the garages of his youth. Borchardt researches and creates the label art and symbols he applies to these pieces using a decal developed just for ceramics.
Past perfect • Collectors of Borchardt's fine porcelain functional teapots, sculptures and presentation pieces may be surprised by his latest work, but Borchardt says his porcelain phase lasted about seven years.
"I've taken a break from porcelain and slip work, pieces that are all form — clean and crafted. Fine, functional work, like teapots," he says.
Future tense • "My current work is rustic and industrial, where I'm not worried about smoothness. I enjoy developing ... more substantial clay bodies and my own glazes. I use decals to transfer the symbols and images to the clay; images from the 1940s and '50s I saw at my grandparents'. I've adapted the graphic symbols, brands and messages I've found for these pieces."
Taking art on the road • As an artist, one of Borchardt's great joys is to see how people interact with his work. "I will always do art fairs," he says. I enjoy the travel and getting my work out there. It's a different setup from galleries; it's more one-on-one."
Support your local artist • Borchardt credits his success as an artist to his family and to his teachers, who encouraged and inspired him. "My mom's influence manifests itself in my life's work," he says. "She always works hard. She never gives up."
Borchardt also relies on his two brothers, as they rely on him. The three often work together on projects at elder brother Matt's restaurant, Edibles & Essentials. "Matt's the cook, I'm the artist, and Andy? He's a numbers guy. Everybody needs a numbers guy in their family."
Teacher and mentor • Borchardt not only makes art, he teaches others how to make art. In 2018, he received two significant honors from Fontbonne. The Joan Goostree Stevens Excellence in Teaching award is the highest recognition the university bestows on its faculty members. He also received an Emerson Excellence in Teaching Award, honoring his accomplishments.
He credits his experiences at Fontbonne during his student years for his continued passion for art and teaching. When he graduated from the Masters program in 2002, he sat down for a final critique with his teacher, mentor, and friend Cat Connor. "She looked me in the eye and said, 'Tony, I have two things for you to do. First, you have two weeks to pack up your stuff and move out. Second, never stop making.'"
---
Artist • Anthony Borchardt
What he makes • Borchardt creates art pottery using a variety of clay bodies, glazes and techniques. His current work of ceramic sculptures and objects with an industrial feel reflects his relationships to his paternal and maternal grandfathers.
Where to buy • Borchardt's work is available at his brother's restaurant and market, Edibles & Essentials. He exhibits at local, regional and national juried art shows including Art Outside, the St. Louis Art Fair and Shaw Art Fair in St. Louis, and the Cherry Creek Art Fair in Denver as well as others.
How much • $100 to $1,300