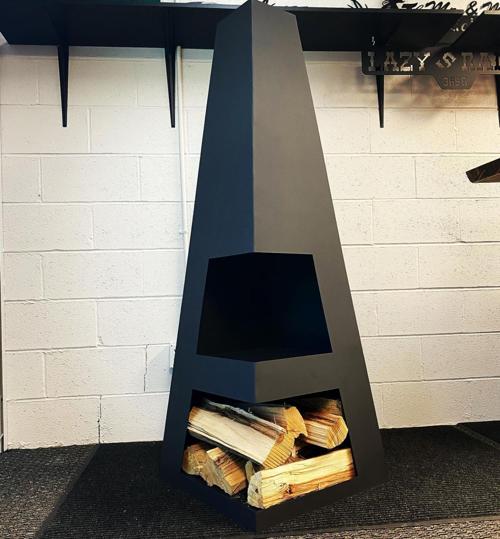 When Curt Wasser and Brad Heffernan started CMP Metal Arts during the COVID-19 pandemic, the two entrepreneurs keyed in on two areas of growth that sustained their nascent business: They took advantage of the boom in home improvements and outdoor living.
"I started working in metal fabrication in 2016," Wasser says. "The company I worked for was in the location we work from today (in Weldon Spring). They had a very different product line making steel shooting targets, selling to law enforcement and the military," Wasser says.
"Their business slowed down over time. I wanted to expand the products and do something different. The plant had the capability to do anything metal related. I was the manager, so I started dabbling in metal art and home décor to keep things going. In 2020, when the pandemic put the nail in the coffin for the steel target line, the company went out of business," Wasser says.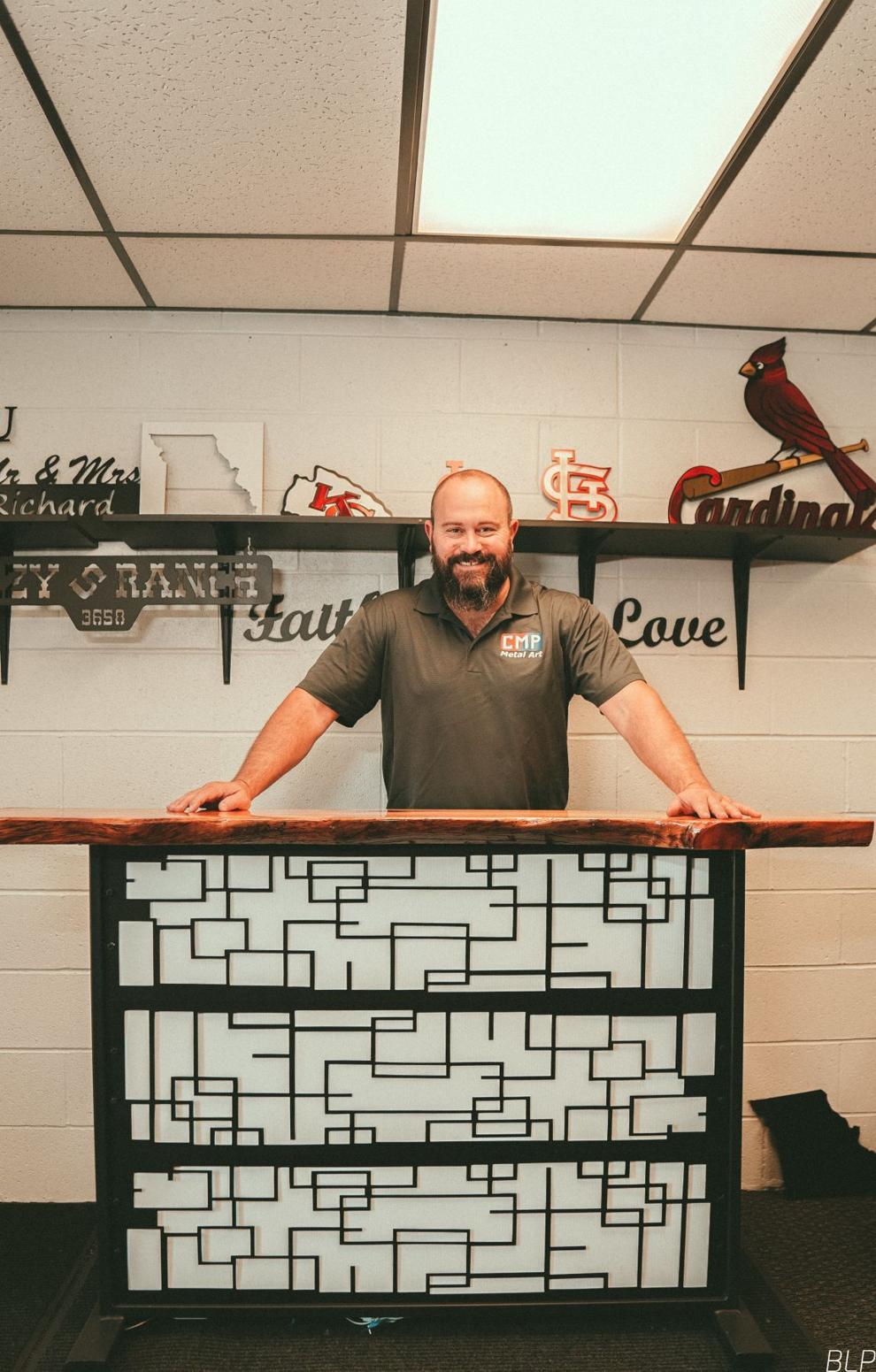 His partner, Brad Heffernan, had also been an employee at the target business. Together, they started CMP Metal Art and now work from the old shop.
Straight shooters Wasser and Heffernan moved the business away from purely functional shooting targets finished in black and white into a colorful line of home décor and designer pieces.
CMP originally featured patriotic items of flags and military motifs because of their previous clientele for shooting targets, but as time went by most of their orders turned to custom designs, commissioned project by project. "This opportunity has been really neat in allowing us to be a little crazy and see what we can come up with," Wasser says.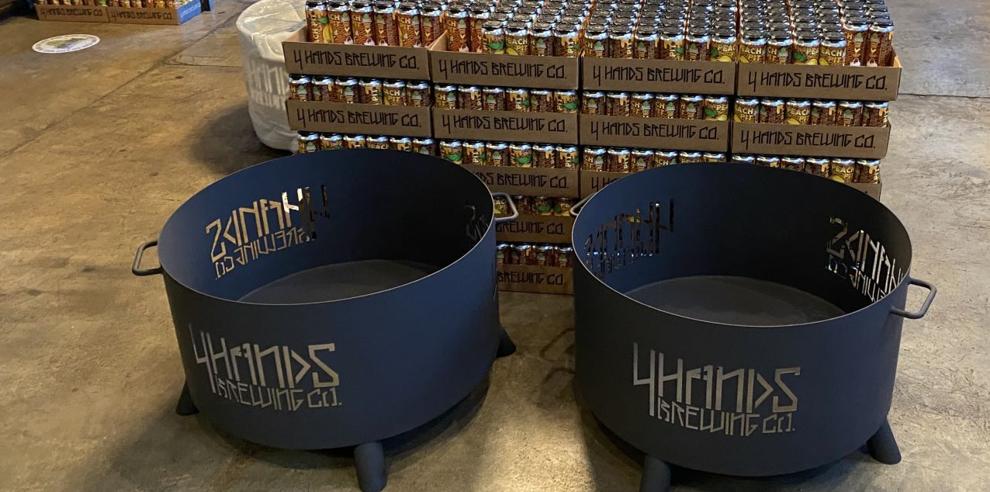 Playing with fire and rain • Their good-kind-of-crazy designs for fire pits took off with word of mouth and postings on social media. "It had to do with people being at home more due to the pandemic for sure," Wasser says. "Some were extremely detailed like the gambling design we did, which featured a royal flush, poker chips and dice."
Others were more commercial, like the fire pits they made for 4 Hands Brewery. "We put their logo on them, and they turned out really well." Some were strictly for fun, like the one they made for a recreational league that featured the team logos.
The duo went beyond the basics when they added chimineas to the mix. Clay chimineas originated in Spain and Mexico nearly 400 years ago, but CMP's very modern metal design fits right in with today's avant garde home designs.
"The concept of that shape, narrow at the top and larger at the bottom, is so you can have a fire while even in the rain and the rain won't extinguish it. The fire area is larger than the vent. The ancient ones are rounded. Ours is more of a pyramid shape. Very geometric with a more modern look," Wasser says.
Sweet screens and practical magic • Privacy and decorative screens also had a good year. "These went up on patios, on balconies and in areas where people needed a stop or a barrier," Wasser says.
Wasser didn't go to art school, but he has always made things. "I keep up with popular trends. We've gotten away from making generic pieces in advance. Most of our orders are all custom now.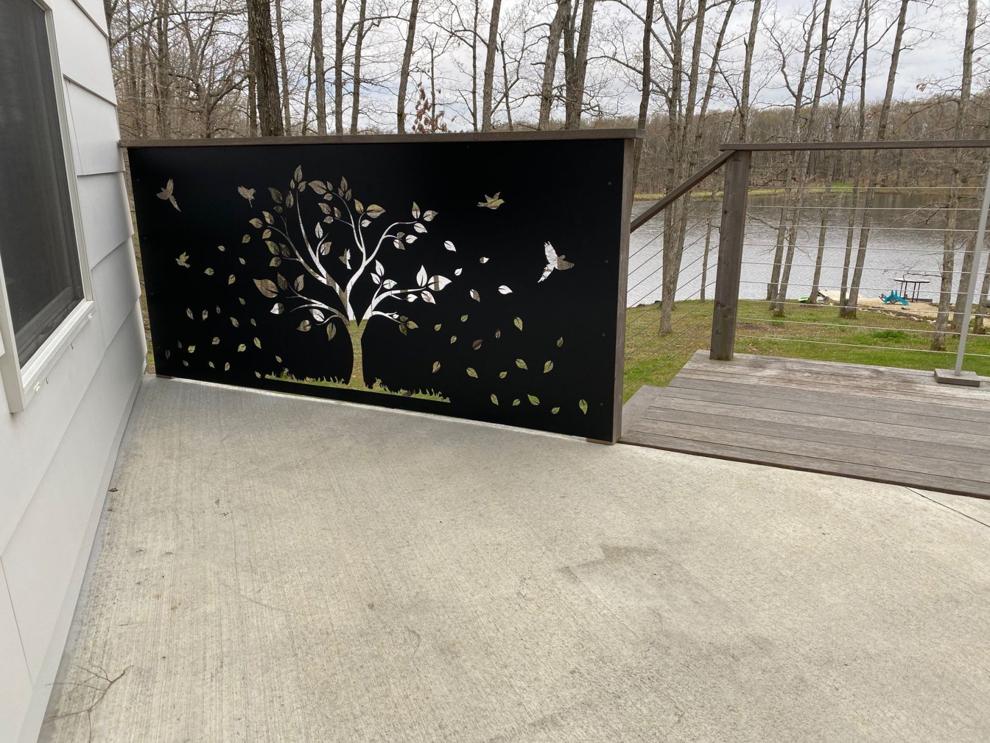 Designer accents, high-end colors and finishes • Some of the duo's recent work includes custom design elements in metal that carry throughout the home. "We did a big light fixture for one customer that runs around their living room. We have a video of that job on our Facebook page. We actually did a gate design for that client and other pieces that create a theme throughout their house," Wasser says.
The high-style interior color finishes and durable exterior finishes come from Wasser's knowledge of high-end automotive coatings and paints, a skill he picked up before he began decorative metalwork. "I worked 16 years for another company here in St. Louis that did automotive coating, so I was able to bring that knowledge with me to our business," he says.
Target audience • Since Wasser and Heffernan took over an established metal shop to make completely different products, their target audience shifted, landing squarely in the area of affordable custom design for homeowners and businesses alike.
Owners and designers • Curt Wasser (pictured) and Brad Heffernan
Ages • Wasser is 41; Heffernan is 34.
Families • Wasser and his spouse, Molly, have two children: son Brad, 20, and daughter Lucy, 11. They have a 1-year-old rescue pit bull, two cats and four chickens. Heffernan is single.
Homes • Wasser lives in St. Louis; Heffernan lives in St. Charles.
What they make • CMP Metal Art makes a wide range of metal goods from flags and seasonal home décor to custom firepits, gates, privacy screens, ranch signs, decorative panels and more. They take on challenging projects like metal work integrated with lighting, custom backsplashes, intricate logos and more.
Where to buy • CMP Metal Products are currently sold by appointments or at cmpmetalart.com.
How much • $50 for small items to $1,500 for large items. Custom orders quoted on request.