"I've always liked drawing, ever since I was a child," MaryJo Clark says. "In elementary school, we didn't have trained art teachers, but high school was better.
She eventually got a bachelor's degree from Mizzou and a certificate to teach art in high school.
"I liked the idea that the students have the ability to do things on their own," she says. "I like working with teenagers, although there are some challenges from time to time," she says. After two stints at other schools, Clark joined the faculty at Cor Jesu Academy, where she would stay for 17 of the 32 years she spent as a teacher.
Drawing for life • "My first love was always drawing," she says. "I took lots of drawing classes in college," she says. She belonged to a sketch group that met regularly.
She also took professional development workshops and classes on her own. A workshop in pastels in 2002 opened new avenues for Clark. "I am not a painter, but I love color. That's why I like working in pastels. I can combine drawing and making marks, with color and composition."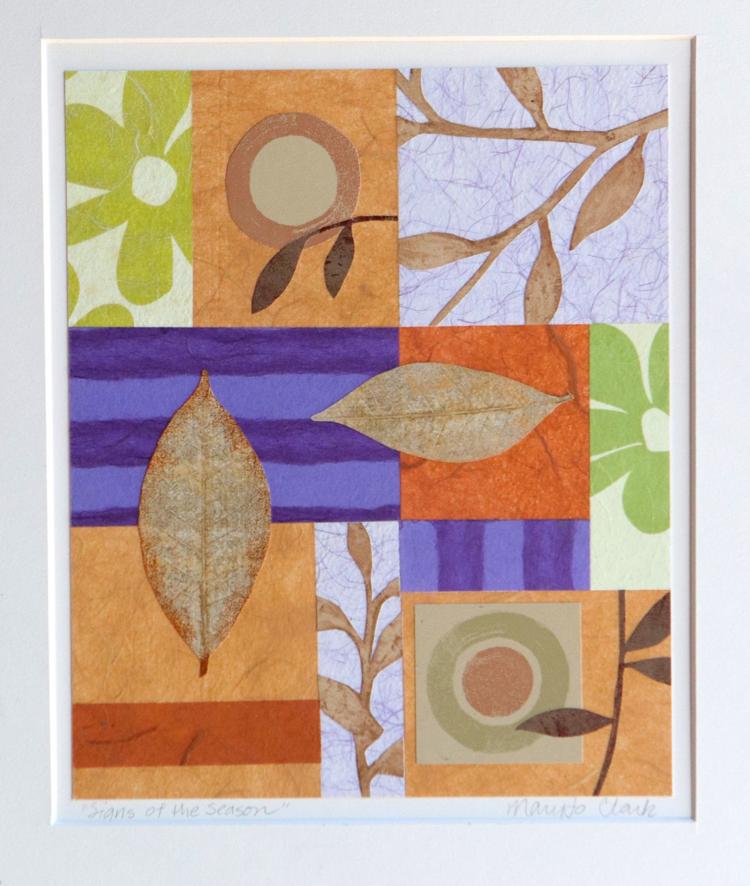 Fill the frame • Clark often uses pastels to render floral images. Clark's tightly cropped blooms, rendered in pastel in deeply saturated colors, reflect the sensibilities of a painter she admires — Georgia O'Keeffe. Clark is not working in large scale as O'Keeffe, but the iconic painter's compositions struck a chord with Clark.
Clark works from photographs she takes from journeys all over the country. "I've worked on location, en plein air, but not often," she says.
Contrast • Some of Clark's are very different from the naturalistic flower pastels. They have an architectural feel, both in the collages and in pastels. "We lived in the city for years before moving to Manchester. My drawings and collages of buildings aren't actual cityscapes. They are completely contrived. I like architectural element as well, like capitals on columns," she says. "I like arranging geometric shapes in my work."
Focal points • Clark's interest in collage stems directly from her efforts to teach her students the importance of arranging elements in an artwork, and the mechanics of composition.
"I would often make a piece to work out how to teach it to my students," she says. Clark found that making paper collages worked well. Her teaching aids soon became a path to new artworks.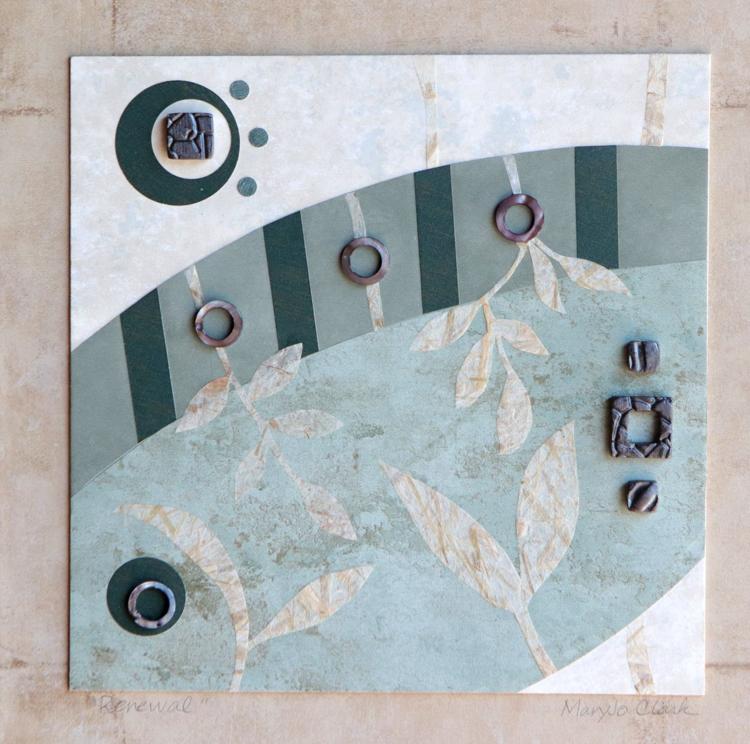 Leading lines • Her carefully constructed collages are made from a plethora of papers and accented with diverse elements such as stones, buttons, snaps and more that add a depth to her collages. She works with wallpapers printed and textured, papers with reflective surfaces or with coatings that absorb light, and transparent tissue to create lively, quirky artworks that draw people in for a closer look. There's a mystery to these works, and an implicit invitation to construct a story about them.
Clark recently retired from teaching. She has more time for her own art now, and she's using it to her advantage. Look for more new works at the Green Door Gallery.
---
Family • Husband Jim Clark; daughter Sarah; son-in-law Adam Falkson; grandson, Oliver, 2; son Bryant; daughter-in-law Lizz Clark; daughter Meghan Clark
What she makes • Clark specializes in collages and in pastel drawings. She also produces mixed-media pieces and ceramics.
Where to buy • Purchase Clark's work at the Green Door Gallery, or through her website, clarkart-stl.com
How much • Two-dimensional works $40 to $375; ceramic magnets $4 to $5.50