The offbeat, whimsical paintings and sculptures Laura Lloyd creates invite the viewer in for a closer look. The faces she captures in clay and paints in glorious color portray the human spirit in its foibles and in its triumphs with sharp humor and kind compassion.
"I don't want my art to be boring," she says. "I want it to be fun, but with an edge, and not too cutesy."
Lloyd's peripatetic art journey began in rural Wisconsin.
Handwork at home • Lloyd grew up in Browntown, Wis., in a home of makers who encouraged her talents. "My mother and my grandmother were always making things — they knitted, sewed and crocheted. It was a natural thing for me. When I saw something I liked, I'd think 'Oh, I'll make that' rather than buy it."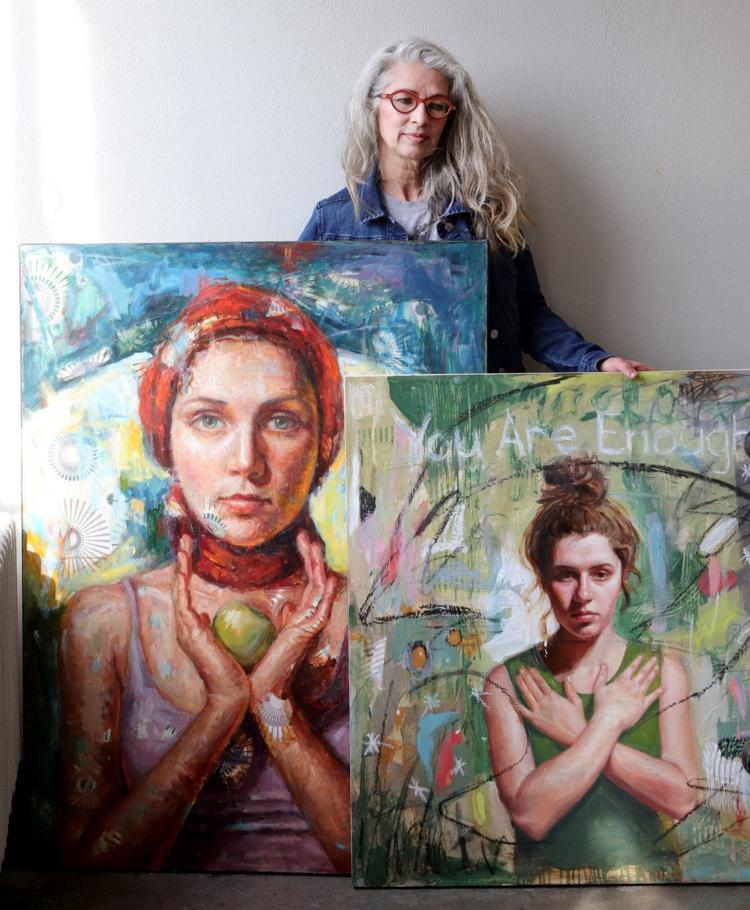 She was always drawing as a child, mostly putting faces on things animate and inanimate. "I have always been fascinated by faces. I drew faces on everything when I was little — on flowers, clouds — everything had a face. I remember watching television just to watch all the faces."
Head, heart, hands and health • Her rural community supported a strong 4-H club, where Lloyd exhibited her art and her crafts at fairs. "I would enter all the arts categories in 4-H — sewing, floral arranging, art, crochet and knitting. "Each first-place ribbon paid $3. I counted on the money from my wins."
Her early success led Lloyd to pursue a career in art. "I always thought, 'I've got this in my back pocket — I'm gonna be an artist.'"
Dream catcher, daydreamer, dream weaver • To make that dream come true, Lloyd earned a two-year associate degree in commercial art from Madison Area Technical College. "I worked in the commercial art department for a large silk screen company," she says.
Lloyd fell in love, married and moved to St. Peters, a much larger metropolitan area than Browntown. When she and her husband started their family, she quit working full time and began her life as an independent artist. "I would do art during nap times and at night," she says. "I entered lots of local shows, won prizes and learned to paint. My children were my models."
By 2016, when she was 54, Lloyd won the Emerging Artist award at the St. Louis Art Fair. "Through the fair, I learned how to present my art, and how to sell." One the perks of winning the award was an automatic place in the 2017 show. In 2018, Lloyd submitted her work to the jury in two categories, in sculpture and in painting. She was accepted in both.
Everyday moments of joy and daily dilemmas • Lloyd's accessible paintings and sculptures depict the everyday moments of her subjects' lives with tongue-in-cheek humor paired with deep insights. We see the moment of joy when music floods the headphones on a happy fellow.
We recognize the resigned look on a teen's face, her head shrouded in a flap-eared hat, the background rife with clues. The word "mad" in the upper right corner, with the words "You're late," and "Drink me" barely visible. Lloyd paints a rabbit on the run, a curious cat, a rabbit hole with a ladder. The teen springs to life, poised on the cusp of Wonderland.
Debonair dogs and obliging beasts • In Lloyd's world, we find real animals painted in doggy dreamscapes and sculpted imaginary animals, humanized. "Our dog, Monster, is on my Instagram site," Lloyd says. The portrait shows a tiny black Pomeranian, sporting a perky white bow, with sunny eyes and a playful smile, and we realize Lloyd's tongue-in-cheek descriptor isn't even close.
Pattern recognition • Throughout her artistic life, Lloyd has challenged herself to do more, and she has given herself permission to let her art develop. "It's fun to start a new painting," she says. "The middle part is always the hardest, but I would encourage artists to sit with the work for a while; don't judge your work too soon. If you're not satisfied you just try again."
Lloyd still sets up experiments in art, like when she painted a series of portraits on pre-printed patterned backgrounds that ranged from simple to complex. The ordered cadence of the patterns pops her portraits off the page.
She's thinking of a new challenge as well. "More and more I've been in a stuck place recently," she says. "I've been thinking about abstract work." With Lloyd, thoughts become deeds and actions make memorable art. Stay tuned for the next chapter.
---
Lloyd Fine Art
Family • Married to David Lloyd, her husband of 30 years; three sons, Owen, 27, Conrad, 22, and Michael, 20, and; two daughters, Dana Derby, 25, and Katherine Lloyd, 20; one grandson, Grey, 1.
What she does • Lloyd is a painter and ceramic sculptor whose colorful, whimsical creations depict the human (and nonhuman) conditions in wry and witty ways.
Where to buy • Artisans in the Loop (ceramics only); The Foundry Art Centre in St. Charles; at her Etsy shop and through her website, lloydfineart.com
How much • Her ceramic sculptures range from $50 to $2,000; paintings range from $150 to $3,500